If you're into BDSM or the chastity lifestyle, you've probably tried or considered spiked chastity cages.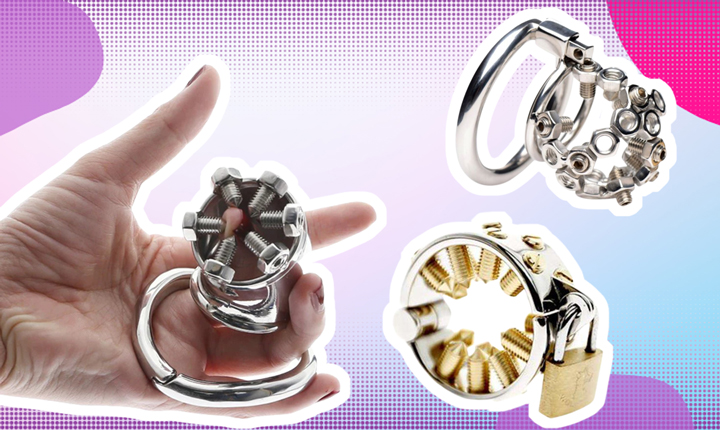 Spiked chastity cages add that extra oomph to regular chastity cages, so make sure you sign a chastity contract with your partner beforehand and choose the right kind of chastity cage for your needs.
I've tested some of my favorite chastity cages below with pain and pleasure and can confidently say these are the most arousing spiked ones out there.
Let's begin with our top three below!
---
Top 3 Spiked Chastity Cage In 2023
---
The 9 Best Spiked Chastity Cages In 2023 (For Painful Pleasure)
The Guardian CBT spiked chastity cage is our favorite pick. This 3D printed design is made of comfortable nylon stretchy material in both pink and black with internal spikes to prickle you whenever you get turned on.
The cages and base rings are interchangeable with other models, and the cage comes in different sizes ranging from a S 1.97 inches (total length) to an XL at 3.93 inches. You can buy rings in sizes between 38-60mm.
The design of the Guardian CBT is very high quality and would be perfect for people just getting into chastity cages since it's stretchy and adjusts to anyone's penis.
If you were looking for a very extreme chastity cage, this might be too soft for some.
---
With its traditional metal chastity design, this Flower of Thorns chastity cage is one of the best quality cages on our list.
It has six different adjustable screws to get the exact amount of pain you want, whether erect or soft, and its stainless steel design keeps everything stable. The fastening for this cock cage is done with a padlock, meaning only your partner can decide when to take off the cage.
The cock rings come in sizes between 1.41-1.97. A minor downfall of this chastity cage is that it is tough to remove when aroused, so we would recommend this spiked chastity cage only for advanced users.
---
This small Spike chastity bracelet cage, made from high-quality stainless steel, is perfect for people who want a tighter fit for some more tension when wearing their cage.
It also has curved rings between 1.4 to 1.97 inches, depending on your desired size. It includes six adjustable screws to adjust different pressures to your pain threshold.
One set of keys and a padlock are included with the cage and a velvet bag so you can carry your chastity cage discreetly. It's great as a portable option.
The ring options may still be a little large for some people.
---
Kalis's teeth-spiked chastity cage is an excellent choice if you're after as much pain as you can handle.
The cage comes with 2/4 rows of teeth and measures 16mm. Its design comes with a steel shackle and is very lightweight and portable. You can adjust the spikes according to the pain you want to inflict, preventing orgasms and masturbation. It can be used as a ball stretcher, too!
The cage is locked into place with a padlock. Note that this spiked chastity cage is not for the faint-hearted; with all these spikes, getting an erection can truly be painful but fun!
---
Mike's Spikes adjustable spiked chastity cage is an all-in-one design; you can use the cage as a ball stretcher, chastity cage, and cock ring.
Featuring 28 adjustable spikes from all directions, which are also removable and an insertable length of 1.5 inches, this chastity cage has lots of adjustability for just the right amount of pain.
The cage can be locked via its padlock, making it perfect for a dom/sub scenario.
---
If you're looking for a softer spiked chastity cage, this ABS nylon cage is more comfortable than metal designs yet still spiky enough to cause discomfort.
Its pink or purple design is perfect for submissive play; the spikes are enough to give that extra discomfort, but you can wear this cage long-term since it's lightweight. Rings are available in sizes between 1.65 – 2.36 inches and cage tubes between 1.65 – 2.36 inches.
The cage fastens with a padlock and key and can even be worn under your everyday outfits for an extra turn-on since the design is discreet.
---
Want to try some CBT on your own? This Skewer Spiked CBT chastity cage could be well worth a try.
The design is made from surgical stainless steel and has both a ring and urethral insert for some extra fun. The screws on the ring are adjustable, so you can choose the right amount of discomfort.
This penis plug still allows you to ejaculate or masturbate and measures 38mm in length, while the ring/cage measures 1.75 inches. It does not come in different sizes, which is a drawback.
There is an Allen key included with the cage for locking. Although the design of this chastity is excellent for solo play, the urethral plug is said not to be centered, making the fitting difficult.
---
The Bolted chastity cage from the Master Series does not hold back on its CBT design, and it is full of hex nuts and 10 different adjustable screw holes for different kinds of torture.
Its steel cage is designed to squeeze for increased sensitivity and also stop erections. The material is high quality and durable, with an internal diameter between 1.3 and 1.95 inches, depending on your chosen ring.
Two keys and a padlock are included. Since the design has many screw holes, it would have been good if they included more to insert into the holes. There are only two sizes included too, small and large, no medium.
---
Compared to the other traditional metal chastity cages, this leather pouch cage is unique but perfect for beginners since it uses pinpricks on the inner lining rather than sharp spikes.
Each pinprick inside the leather pouch measures ⅛ inch long, just the right amount to scratch rather than poke the skin. There are 190 pinpricks in total, but they will cause pain if you get erect, and that's part of the game.
The design of the leather bag is held in place via an elastic band at the top and a thin leather strap. This can be locked in, but beware, the lock is not included.
---
The Best Spiked Chastity Cages Buying Guide
If you're new to buying a spiked chastity cage, knowing what design or size to pick can be overwhelming for beginners.
After trying out a few cages, I've compiled everything into a buying guide below to ensure you choose the right chastity cage.
---
Size
Finding the right-sized chastity cock cage is super important. You need to measure your penis correctly; otherwise, the cage can cause the wrong kind of pain or even potential injury.
To measure, you must ensure your penis is flaccid; you will find the right circumference by measuring around the thick part of your shaft behind your testicles.
You can also use a calculator like the one on Oxy shop here to make life easier.
---
Materials & Quality
Chastity cages come in various materials, some more comfortable than others.
The most common kind of material is metal; it's the most durable, and the quality lasts the longest. However, these are also the most restrictive kind of cages, so beware if you're a beginner.
You can also find plastic and leather chastity cages. Plastic options tend to be more lightweight and cheaper but don't provide a lot of airflow, while leather cages are great for beginners but don't provide much restriction. You also cannot get leather cages wet.
---
Comfort & Safety
The comfort of your chastity cage is essential; ensure the spikes are adjustable if you're just trying out these cages and the circumference isn't too restricting.
Ensure you're comfortable with how your cage fastens, and try to get an anti-slip ring to avoid rubbing on sensitive areas. For hygiene purposes, you need to make sure you clean your cage often and take breaks.
---
Price/Budget
There are many budget chastity cages out there, some made with plastic and others with metal.
Note that some cheap chastity cages often have poor-quality material and fewer spikes, so choose carefully.
The higher your budget, the better the cage, so if you want to use one long-term, consider investing.
---
Accessories/CBT Tools
If you're looking for some add-on tools for your CBT cages and toys, there are lots to pick from; we've listed a few of our best picks below.
The spike ball crusher is a great addition as a CBT accessory. Although not cheap, this ball crusher is very high quality and has a thumb screw-style ball that you can adjust to give the right amount of squeeze.
---
The glans ring with spikes is perfect for a bit of pain pleasure and can be worn around your shaft or below the glans. It has six screws you can adjust for different kinds of pain. It unlocks and locks with an Allen key.
---
A different kind of CBT accessory is these hands-off vampire locking gloves. The gloves are lined with small spikes on all five fingers; they dig in further when the grip is tightened.
These gloves are perfect for BDSM and sensation play in the bedroom.
---
Ball stretchers are great for aesthetics, and BDSM and this parachute stretcher, particularly, are great for CBT, thanks to the spikes.
The leather stretcher has tiny little ⅛ tacks to prick the skin and a snap closure to keep everything stable.
There are metal o-rings attached below that can be used with leashes or chains for BDSM play.
---
FAQS
What are spiked chastity cages?
Spiked chastity cages are used for caging your penis; the spikes inside are meant to provide pleasurable pain, preventing erections or masturbation. Most people use them for CBT or BDSM.
---
How do you use a spiked chastity cage?
If it's your first time experimenting with a spiked chastity cage, we recommend lubing up first to make the process easier and kinder to your skin.
You can then correctly put on the chastity cage (guide here) and experiment with different pain pressures. Now lock it up and get ready to play!
---
How do you clean a spiked chastity cage?
Keeping a clean spiked chastity cage is very important for hygiene; things get sweaty down there, especially when wearing your cage for long periods!
To clean the cage, use warm water and an appropriate sex toy cleaner. You can boil metal cages for extra sterilization. Porous materials like plastic must be cleaned often and will not last as long, while meat cages last much longer.
Allow your cage to dry properly before wearing it again.
---
What's the best lube for spiked chastity cages?
Lubing up before putting on your spiked chastity cage will ensure it doesn't rub your skin and helps you fit into the cage more easily.
Ideally, it would help if you used a water-based lube with your cage to avoid any sticky residue, and it's also kinder to your skin.
---
Do I need a partner to use a spiked chastity cage?
You can use a spike chastity cage solo for some CBT fun or with a partner, which works great in a sub/dom scenario or some BDSM.
Playing around solo with a spiked chastity cage allows you to explore your pain thresholds and what feels good for you before trying it out with a partner.
---
Can I get a chastity cage that doesn't have spikes?
If you're not into the spikes, you can get plenty of regular chastity cages for delaying ejaculations and preventing masturbation.
We have a great guide to the best chastity cages without spikes here.
---
Where can I buy the best-spiked chastity cages?
You can buy spiked chastity cages from many major sex toy shops online. Some we recommend are Oxy shop, and you can also find chastity cages and other BDSM accessories from these best shops.
---
Final Thoughts
Spiked chastity cages are a must-have in the bedroom if you love CBT and BDSM. The spikes just take regular chastity cages to another pleasure level and are a great way to experiment with submission in the bedroom.
If you are wondering what you can do with your chastity cage or want some new ideas to spice it up, we have some of the best chastity games you can play with your partner here.