Deep throating shouldn't be a hard job with the best deep throat spray & anti-gag spray. We've tested & tried it all, so you find one that really works for you.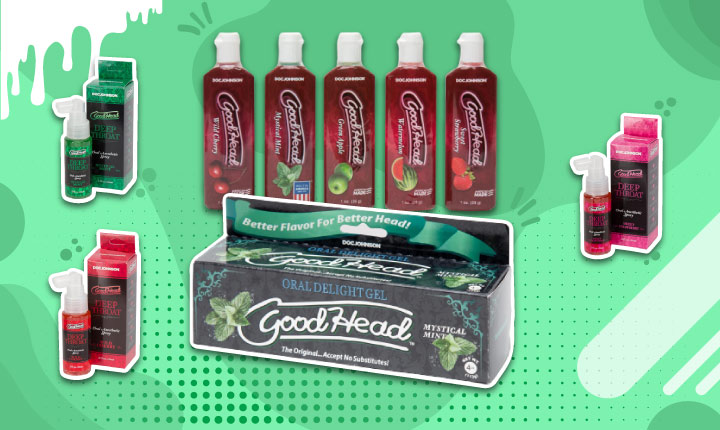 Deep throating can be tricky. It takes a lot of practice and patience to master the technique. And it can be pretty uncomfortable for beginners to do.
It's not impossible to learn how to deep throat, but you will need to start with the right tools.
While there are some great tips and techniques out there, the best way to master deep throating is to use a deep throat spray. In this article, we'll look at 5 of the best deep throat sprays I've tried that actually work. Plus, some tips for finding the right one for you.
Let's start with my TOP 3:
If you're looking for the perfect blend of numbing and cooling agents (and you just love the taste of mint), the Doc Johnson Good Head Deep Throat Mystical Mint is for you. Unlike other deep-throat sprays on the market, this spray has tingling properties that add to the overall oral experience. Plus, it leaves your mouth smelling super fresh even after doing the deed, and who doesn't want that?
For your first-time deep throat experience, you want a spray that's easy to use and comes with a pleasant taste and scent that you're familiar with. The Doc Johnson Good Head Deep Throat Wild Cherry gives you just that. It even comes with an extended nozzle so that you can direct the mist into the back of your throat with ease.
Finally, the Doc Johnson Good Head Deep Throat Sweet Strawberry is perfect for fresh fruit lovers. Like the first two, it's formulated with benzocaine and glycerine that work in combination to numb and soothe your throat comfortably so you can take your oral skills to the next level. It doesn't leave any strong aftertaste, too.
---
Top Deep Throat Numbing Sprays in 2022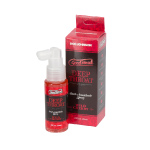 Doc Johnson Good Head Deep Throat Wild Cherry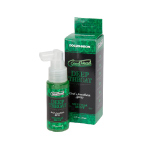 Doc Johnson Good Head Deep Throat Mystical Mint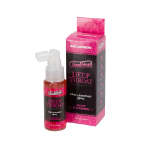 Doc Johnson Good Head Deep Throat Sweet Strawberry
The Good Head Deep Throat Mystical Mint formula is a unique blend of numbing and cooling agents that will make your mouth feel tingly, like fresh breath mints.
It tastes fantastic, especially if you're into anything mint-flavored. Plus, it makes your mouth smell super fresh even after doing the deed.
Like other oral anesthetic sprays from Doc Johnson, this spray is 100% cruelty-free with 5% local anesthetic and 33% glycerine that work together to numb and soothe your throat so that you can go deeper with pleasure.
But what sets this spray apart from other products on the market is the tingling sensations that it brings. I didn't get that from the Wild Cherry and Sweet Strawberry variants.
The tingling adds to the overall experience, especially to my partner. And the cooling effect from the mint makes the soothing effect more noticeable, relieving any pressure from what you're expected to do.
---
The Good Head Deep Throat Wild Cherry by Doc Johnson is perfect for first-timers who love the pleasant taste and scent of cherries.
The first time I smelled and tasted this spray reminded me of cherry-flavored bubblegum and candies I came to love when I was younger. So, if you're new to deep-throat sprays, you should love the familiarity it brings.
The spray has an extended nozzle that allows you to direct the mist into the back of your throat and control the amount you want to spray. This makes it easy to use.
Its unique formula is 100% vegan, safe, fun, and effective. It contains 5% benzocaine – a local anesthetic that reduces the gag reflex to make deep-throating possible and BJs even more enjoyable for both parties. Plus, it coats the throat with 33% glycerine to minimize friction and soothe it as the penis goes in and out.
Its size may be akin to your typical hand sanitizer bottle, but let me tell you. One spray goes a long way. It's enough to numb your throat and go all-in for 15 minutes max.
---
At this point, you've learned all Doc Johnson Good Head Deep Throat sprays work mostly the same. (Well, except for our Mystical Mint top pick with its unique tingly sensations.)
They're all formulated with benzocaine and glycerine that work in combination to numb and soothe your throat comfortably so you can take your oral skills to the next level.
Plus, all of them come with an extended nozzle so you can directly spray them to the back of your throat, which makes spraying super easy and fast.
You can expect all these things from their Sweet Strawberry spray variant. I do recommend this one for folks who prefer fresh fruity flavors. It doesn't leave the same strong aftertaste as the Wild Cherry variant.
---
If you're not yet ready to give your lover a deep-throating, numbing experience, then the Good Head Mint Oral Delight Gel is a good treat.
It comes in a flip-cap bottle, making it ideal for travel and weekend getaways with your lover. Simply put a few drops of this gel to your mouth or penis and take your oral pleasure to the next level.
Although it's not the same as the first 3 deep-throat sprays on our list, its menthol ingredient provides skin-tingling sensations and a soothing effect. These are more than good enough to make you relax and keep going.
Even if there's no numbing component to this product, I was surprisingly able to take all of my man in without gagging. That experience was defo one for the books.
---
Some folks don't want to dabble into deep throat territory yet, and that's fine. Others want to explore different flavored lubes before going all-in on numbing spray, which is also fine.
If this sounds like you, you need to get the Good Head Flavored Lubricant set. It comes in Doc Johnson's 5 best-selling flavors in 1-oz bottles – wild cherry, mystical mint, green apple, watermelon, and sweet strawberry so that you can find the best flavor for you.
While they're not specially formulated for deep-throating, you can apply any of these lubes to the penis or vagina to add a tasty twist to your oral sexcapades. They're perfect if you want to feel more comfortable and confident with your partner up close and personal.
Although only the mint-flavored lube gives you that tingling, soothing sensation, all 5 flavors are among the best-tasting flavored lubes that we've tried so far. Plus, they're water-based, making them compatible with all types of sex toys and condoms.
---
Buying Guide: How to Choose the Best Deep Throat Sprays
Flavor
When trying to decide which throat-numbing spray product will work best for you, the flavor is a major consideration. If you hate the taste, it won't effectively relax your throat, making it all the more frustrating!
The best throat numbing spray is the one that features a cooling sensation you'll enjoy while not carrying tastes you don't like. This way, you won't be tempted to gag when using the spray on your throat, which is exactly what you're trying to avoid!
---
Safety
The best deep throat sprays should contain numbing agents and delicious flavors and scents that enhance the experience. Safe, quality numbing agents are made with benzocaine.
If you're allergic to any other drug or other kinds of local anesthetics that end with "caine," you should talk to your doctor before using these throat sprays and gels.
Additionally, if you suffer from any breathing problems such as asthma, it's a good idea to ask your doctor about it. These oral sprays are designed to numb the throat, making breathing more challenging for some people.
---
Packaging
While the inside counts for most products like deep throat sprays, the packaging often reflects its quality. As much as possible, stay away from sprays with poor packaging or presentation. Choose sprays with fancier packaging and sturdy bottles or containers for top-notch performance.
---
Reviews
It's impractical to test all available numbing sprays out there until you find one that works for you. That's the point of the Internet and the availability of online reviews.
Make sure you check out review sites run by legit sex toy reviewers who test and get the ins and outs of how each product works. They are the best people to go to when you want to choose what's suitable for you after gaining insight into each recommended product. What's more, it would save you the stress of wasting money on ineffective deep-throat sprays.
---
FAQ
Do deep throat sprays work?
Yes, deep throat sprays work. However, you must use a deep throat spray correctly. These sprays are intended to help you get used to being deep-throated. It's easier to learn how to deep throat on your own, but if you're not comfortable, the spray can help you relax.
These sprays gently numb your throat and suppress your gag reflex so that you can open your mouth and take a penis to the back of your throat. Remember that they only numb the throat region, not the whole mouth.
It's advisable to use the spray before you start working on taking a penis down your throat, but it doesn't mean you can't use it as you practice. You can use it every now and then to keep you comfortable and help you take more.
---
How to use deep throat sprays?
Use your choice of deep throat spray before you give your partner head. Before spraying the product, make sure to open your mouth wide. Place the nozzle directly into the back of your throat.
All our recommended oral anesthetic sprays come with an extended nozzle for precise spraying. If you miss or direct the mist on other parts of your body, expect them to get numb. Only for a bit – don't worry.
One to two spritz should be enough for one session. The effects of most sprays wear off after 15 to 20 minutes tops. That's more than enough time to get the job done. However, you can add more spritz if the spray stops working before your partner has finished. It's okay to use all Doc Johnson sprays up to 4x per day unless your doctor or dentist advises otherwise.
---
How to give a deep throat blowjob?
Use a deep throat spray that works
This is a no-brainer. Make sure to use any of the numbing sprays I mentioned at the start of this article. It's the key to giving your man the best blowjob performance of your life. It keeps you from gagging and makes you relaxed so that you can go as deep as you want.
Use the left thumb pinching technique with your spray
This popular dentist's trick surprisingly works for me each time I try to put my partner's peen into the back of my throat. Simply form a fist with your left hand and lightly squeeze your first, making sure to pinch your thumb. Now, you've suppressed your gag reflex. This technique might not work for you. But there's nothing wrong with giving it a try.
Practice swallowing a large dildo
Yup, you read that right. You don't learn to deep throat overnight, but you can practice taking huge dildos by mouth. If you can take dildos this big, then you'll be a DT expert in no time. Plus, you can always use it to penetrate yourself if you're tired of using your mouth.
---
Should you spit or swallow?
It all comes down to personal preference. Some people like to spit it out, while others prefer to swallow the entire load.
As for me, it's easier to deep-throat if you're into swallowing. The taste will be more enjoyable, especially if you combine it with your favorite flavored numbing spray. But if you're more comfortable spitting his load, don't worry. It's not going to erase all of the hard (and deep) work you just did for your man. *wink*
---
Final Thoughts
It's no secret that deep throating is something many people WANT to do and many penis owners LOVE to receive. Whatever floats your throat, don't forget to use a good deep throat spray to get the job done.