So… Who Are The People Behind The Site?
We have plenty of contractors who help us with research, writing, extra perspective, photography & editing, sex toy testing (yeah, it's a job), relationship building.
And yes, we have several more full-time team members who prefer to stay behind the scenes.
But we have 3 public faces behind the company:
---
About Aliyah Moore 
Aliyah Moore (she/her) is a resident sex expert at SexualAlpha. She's a certified sex therapist with a Ph.D. in Gender & Sexuality Studies.
Aliyah is a proud Black, bi-sexual femme passionate about empowering minority voices to embrace their sexuality and identity.
She loves to write about everything sexual wellness and gives no-nonsense sex and relationship advice.
Read a bit more about Aliyah's story and experience here.
---
About Sophie Cress
Sophie Cress is a resident expert at SexualAlpha. She's a Licensed Marriage and Family Therapist (LMFT) and Certified Gottman Therapist who specializes in helping couples to find harmony, understanding, and renewed connection.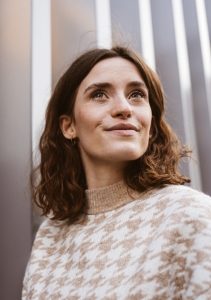 With over 8 years of experience as a psychotherapist and an additional 6 years providing community-based social services, she has worked with diverse clients in various settings, including hospitals, counseling centers, and even a prison.
Her mission is to create a healthier, happier, and more fulfilling life for you and your loved ones.
Read more about Sophie's story and experience here.
---
About Dainis Graveris
Dainis Graveris is the strategy guy, editor, and sex educator behind SexualAlpha. He ensures that standards are kept up, that goals are set & stuff gets done.
He's a self-motivated, copywriting & SEO-savvy relationship and sexual wellness writer. He enjoys working under pressure and getting stuff done under tight deadlines & multiple projects.
His work & advice has appeared on sites like HealthLine, PopSugar, Cosmo, Men's Health, Women's Health Mag, InStyle, MindBodyGreen, WellAndGood, Greatist, and Marie Claire, among many others.
Read more about Dainis' story and experience here.
---
Our Mission:
"We help people to improve their love life with  the best sex toys & education."
We Are The NaughtyOnes.
The
Misfits

. The Rebels. The Troublemakers.

Who are "the naughty ones"?

"They are the ones who see things differently. They are not fond of rules. And they have no respect for the status quo."

Enough with Steve Jobs reference…but it sums us up nicely, huh?

Naughty Ones are open-minded, sex-positive individuals & couples who believe that their bodies are meant to be enjoyed and explored.

They believe that sex is awesome, and cannot get enough of it.
A naughty one is anyone who is drawn to a more orgasmic life that leads to renewed variety & spice in their sexual relationships.
They don't believe that using a toy somehow makes them less of a person, quite the contrary.
Toys empower them, add variety, fix weaknesses, and lead to effortless earth-shattering orgasms!
For example:
Maybe you're young at heart, but sometimes back disagrees? Sex wedges are life-savers for pain-less and effort-less enhanced positions.
Maybe wifey is a size-queen, but you're less than average? Penis sleeves transform you into a well-hung pornstar, and you're still the one driving that thing! (vs using dildo).
Maybe she has never orgasmed and believes squirting orgasms are a myth? The right clit suckers or rabbit vibrators will shatter her limiting beliefs and lead to bliss..!
Maybe you just want to spice it up? Vanilla sex isn't exciting anymore? Toys can transform vanilla into spicy hot overnight!
Maybe you want to satisfy her in other ways? …but your fingers or tongue go limp way too soon. The right toy will do the HARD work in less time letting you focus on pleasure and connection.


---
At SexualAlpha we have gathered the team who has the unique ability of  "SENSE MAKING".
We have the skills to turn floods of information into real knowledge.
Over the years we've sharpened our "bullshit detectors" to effectively filter through fake reviews, lies & marketing ploys exposing the crappy toys and let ting the best toys rise above the noise.
Our mission is to help fellow kinksters to add variety, overcome sexual challenges & fulfill their deepest fantasies by finding the best sex toys for them.
We help you navigate the wild jungle of the sexual wellness industry because:
There are no regulations on sex toys, and many companies still get away by using cheap and toxic materials (jelly, for example) in their toys that cause rashes, infections, and long-term health risks.
Amazon, eBay, AliExpress still to this day house tons of counterfeit brand goods and toxic toys.
Most of the Amazon reviews you've grown to trust are fake.
There are tons of toy companies that hide behind the great marketing (and huge affiliate commissions) to waste your hard-earned money with disappointing products.
---
Our goal is to become:
 The #1 Adult Sex Toy Recommendation Site
The secret weapon for naughty ones who want to save time and stress of figuring out what to buy. 
Whatever sort of sex toy you need – G or P-spot toy, fantasy dildo or sex pillow — we make shopping for it easy by telling you the best one to get.
Reviews are based on rigorous research and hands-on testing by veteran sex toy experts.
We typically spend up to 40 hours – and in some cases a lot longer – researching and writing a single review article.
We look at a product from top to bottom to find the right metrics, expert articles, other people reviews and scour the forums to uncover the truth.
So you focus only on the best things?
We look for what we think is best for most people.
We don't look for the most feature-packed or trendy item.
We do deep-dive research to see which toy gave the best results for MOST PEOPLE to avoid us being biased with our personal preferences (everyone is different after all).
It's hard to be disappointed by the toy that consistently performed great for 100s of people.
If the toy is best for people with specific circumstances, but not others – we point that out in the review.
That's why you'll always see specific recommendations – best overall, best budget, best for X in our reviews.
---
At SexualAlpha we believe in
honesty

,

quality

, and

life-long learning

.

Here's how these qualities reflect at SexualAlpha:

HONESTY
#1 — We will never recommend a bad toy. It's simply bad business, and we're in it for the long term. We want to earn your trust and make sure you come back again and again. Not to mention: we're focused on adding real value to the world, not taking away from it.
#2 — We will never accept paid placements on our site. We are 100% reader-supported. When you buy through links on our site, we may earn an affiliate commission.
 #3— We focus on serving YOU first.  We uncover the best toys first, only then we look if they have affiliate programs (sometimes there's not, and we still include these recommendations)
QUALITY
that's why most of the guides take around 40 hours to create.
Quality research takes time.
We believe in this mantra – "Whatever is worth doing at all, is worth doing well."
LIFE-LONG LEARNING 
"The only constant is change" – Heraclitus. Toys get discontinued. Better toys are being created all the time.
We embrace the change by updating our guides every three months.
This ensures you always have access to the BEST of the BEST that the sexual wellness industry has to offer.
Do your affiliate commissions make you biased?
Upfront: Our writers are charged with unbiased research first, and only after the best products are discovered, the main editor looks if there are affiliate relationships that can be made.
Finding the best products is always the first priority.
And listen:
Yes, if you choose to buy the products we recommend as a result of our research, comparisons, and testing, our work is often (but not always) supported through an affiliate commission from the sex shop store when you make a purchase.
However, if you return your purchases because you're unhappy or the recommendation was bad —  we make nothing. zero. nada.
There's no incentive for us to pick inferior products or respond to pressure from toy shops or other toy creators — in fact, we've flipped the balance completely.
We think this is a fair system that keeps us devoted to serving YOU (our reader) first.
The most precious thing for us is the trust we have from the readers.
If we were to recommend something because we are biased or lazy, readers would call us out and wouldn't support our work.
In our connected society, crappy services quickly get exposed.
We also invite you to fact-check our pieces – we carefully outline the time invested, the logic and the data behind our conclusions.