The chastity lifestyle isn't for everyone; I'll be the first to say that. Some aren't into it, and it's all good. However, everyone can go on their sexual journeys and find what works for them—especially custom chastity cages.
But after trying out some of the best chastity cages on the market, I will say this—don't knock it till you try it.
When you find that perfect cock cage and feel the rush of restricting yourself (maybe even with a chastity contract?)… the sweet sensation of holding back… the RELEASE at the end of it all. It'll send you to another planet!
You can go the route I did and try on several uncomfortable devices before finding the right one. OR, you can get a custom chastity cage and the perfect fit right from the start—and that's exactly what I'm going to help you do today.
To keep things accessible and not get too crazy with the cost, I've only listed two custom-made models. However, if you're a newbie, chastity cage bundles are PERFECT for finding your ideal fit.
So, let's find your best friend and closest companion a fun little cage, shall we? If you're in a hurry, here are my TOP 3 choices:
A custom chastity cage at the price of a mass-produced one, the Custom Steel by Oxy is just fantastic. However, this one goes further and has excellent build quality, is hand polished, and is completely customized to your size. It also lets you engrave a special message on it (or possibly even a safe word).
Best 3D Printed Custom-Made Chastity Cage
With the magic of modern technology, this 3D Printed Custom chastity cage is even cheaper and equally good. Made of sturdy nylon, new users will find this more comfortable than metal cock cages. As a bonus, this is fun to wear in the shower or bath.
The Steel Guardian Sizes Bundles remember those convenient chastity cage bundles I mentioned? Well, this is the best one! Two cock cages of different sizes, two cock rings, and many other locks to play games with. This is the perfect starter kit. Note that this is NOT a custom cage; you must choose a size when you order.
Top 3 Custom Chastity In 2023
BEST 3D PRINTEDCUSTOM-MADE CHASTITYCAGE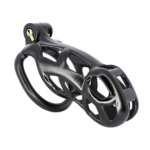 $$
Custom
Custom
Custom
Yes
Nylon
SEXUALALPHATOP PICK
BEST STEEL CHASTITYSET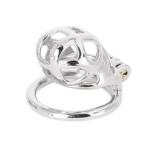 $
55mm/2.16inch to 38mm/1.54inch
33mm/1.29inch to 38mm/1.54inch
Yes
---
Best Custom Chastity Device
Don't you love high-quality products that seem expensive but don't break the bank?
The Custom Steel chastity cage by Oxy looks and feels like it should cost thousands of dollars, but it can be bought for a fraction of the cost.
The CNC engraving process and hand finishing (no, not THAT kind of "hand finishing") make this a sturdy metal device that will last you many years.
And since it's custom-made, you can be sure it will fit you perfectly. But, of course, this also means you cannot return it, so be sure to measure yourself accurately while placing your order.
You also get a one-year warranty and a free key container to play kinky BDSM games with.
The folks at Oxy will engrave the piece to give it an even more personalized touch. There is also an integrated lock so you can be locked comfortably inside for long periods.
However, since it is made of stainless steel, it can begin to feel a little heavy if worn for long periods.
---
Another winner by Oxy, this is the best custom chastity cage for beginners. It is made from a sturdy nylon material, which most will find more comfortable to wear than metal.
It is lighter, more flexible, and can be worn in the shower or bathtub, making it very versatile. It is also relatively easy to wear under your clothing without feeling awkward (trust me, I've tried!).
Since it is 3D printed and customized to your size, this lovely comfy cock cage is cheaper than its metal counterpart and fits just as well.
In addition, you get a personalized cock tube and ring and can choose between black and pink colors.
---
This may not be a custom cock cage, but it offers something more valuable—experience. Measuring yourself for a chastity cage is one thing, but to truly get a feel for it, you must wear the device.
The Steel Guardian Sizes Bundle lets you do exactly that!
The package comes with two stainless steel cages and two cock rings, each different size. Therefore, you get to try our four combinations to see which one fits best.
You can choose between XS, S, M, and L sizes for the cock cages. If you decide on XS, your bundle has an XS and an S-sized tube.
You get to then separately choose the cock ring dimensions. The website also has some helpful size suggestions.
This is a great deal because you get two high-quality stainless steel cock cages for the price that you would pay for one high-quality device. And since the sizes are similar, you can use both occasionally.
This is a good option if you want a fully customized chastity cage.
---
The Guardian Sizes Bundle gives you even more value for money by including not 2 but 3 cock cages in a single package.
It also has 3 cock rings of different sizes. Therefore, you get 9 combinations to try, helping you find the ideal fit.
These 3D-printed nylon cock cages are sturdy, waterproof, and flexible enough to wear comfortably for extended periods.
You also get a few nice freebies in the bundle, including an airlock and a number of disposable padlocks that you can use with your key container.
Locking up the keys to your cock cage opens up a world of kinky BDSM games.
---
Another great chastity beginner set, The Phantom, includes three cock tubes and base rings you can mix and match to try out many alternatives.
The pieces in this kit are made of a sturdy yet soft nylon material that is comfortable to wear for long periods.
The kit also comes with several non-metal padlocks that you can use to lock up the keys to the integrated lock on your cock cage. What fun!
Regarding what the kit comes with, there is an optional carry case with a number lock that you can order with these chastity cages.
Now, you must be wondering—it's all good to have .three different cock cages to try, but what do you do with them once you've found your ideal one?
Well, here's one option—you can use them for training your penis (something that the people at Oxy call the "Shrink your dick" concept.) This means once you have spent some time and become accustomed to one of the cages, you can move on to a smaller one.
Over time, your penis can become more compact, and you can wear a smaller cage comfortably. This is another good reason to use this bundle before purchasing a fully customized unit.
Once you have worn cages for an extended time and in different situations, you understand what truly feels good. As I said earlier, measuring is one thing, but there is no substitute for experience!
---
The Best Custom Chastity Cages Buying Guide
You've seen the best available but still want to look around more. Here's what to consider when searching for the best custom chastity cage.
Cost
This is an obvious one when buying anything. Still, it becomes all the more important whenever you buy a custom device. The cost can be a double-edged sword.
On the one hand, you want to spend a decent amount of money to get a high-quality product that looks good, feels great, and works well. But, on the other hand, I have locked my junk in some cheap cages, and trust me; it's NOT A GOOD FEELING.
However, you also don't want to break the bank, especially if it is your first custom piece and you are not sure how long you might use it.
If you're a beginner, investing in high-quality non-customized cages is best to get a feel for things. Once you have some experience and know what you want, invest in a more expensive customized piece. You wouldn't want to learn how to drive a Ferrari, would you?
---
Size
Another crucial aspect of your cock cage—is its size. If the fit isn't good, you don't get to enjoy it to its full potential. It's not just about taking a ruler and seeing how long you are. Look at our guide on How To Measure For a Cock Cage for some important tips.
When you order a custom chastity cage, you will be asked for a few different measurements:
Cage Overall Length
Cage Inner Diameter
Base Ring Diameter
Measure each following our guide and adjust to ensure the cage is comfortable. You can also use Oxy-shop's size calculator to ensure you send out the best possible measurements for your custom cage.
---
Comfort
Yes, BDSM (especially chastity play) is all about being restricted in one way or another. But this doesn't mean you shouldn't be comfortable.
On the contrary, comfort is the single most important factor for any sex toy that you buy.
When it comes to a custom chastity cage, ensure you get one that you can wear comfortably in the situations you plan to use it in.
Whether in the shower or under your clothes and wearing it out and about, your chastity cage should not leave you sore. There are other, more fun, ways to get sore.
---
Materials
The material of your cage is decided by how you plan to use it. There are two basic options—stainless steel and nylon, though you can also find some good rubber and silicone ones.
Metal cages give you the feeling of being in a proper "cage," and their hard smoothness feels good against the skin.
However, they are significantly heavier and cost more. They are also not flexible, so a beginner cannot wear them for extended periods.
Alternatively, nylon cages are light, smooth, and flexible—perfect for wearing in any situation and for long periods. You also get some color options with them (though, for me, nothing looks as good as BLACK).
Ultimately, your choice of material depends on how you plan to use your chastity cage.
---
Features
Compared to many other sex toys, chastity cages are relatively straightforward. There are only so many things that you can add to a cage.
However, the sex toy industry happens to be one of the most creative in the world, so there are a few exciting features you can look for.
First off, there are a number of different locks. First, there is the traditional key lock, but also numbered ones and others that are made of plastic and can be snapped off.
Cages also come with a separate key container that can be locked, giving your caged fellow another layer of security.
Many customized metal cages also let you engrave a special word or message on them, making the cage truly yours.
---
Where To Add to Cart And Check Price Of Custom Chastity Devices
Wouldn't it be great if you could just walk into a shop, try on cock cages, and buy the one that felt best?
But, unfortunately, that's not possible. So the next best thing is to order online because that's where you'll get the best variety and prices.
One great place is the online Oxy shop, where you can customize and order some of the best chastity cages on the market.
The website even helps you measure yourself and ensure you choose a cage that fits you well.
---
FAQs
What are custom chastity cages?
Custom chastity cages are designed to accommodate and lock up your penis in a flaccid state. Since they are used in such an intimate area, often for long periods, they must fit your anatomy well.
There are penises of every shape and size out there. While many sizes of chastity cages are available, nothing will fit you as well as a custom-made one.
---
How to use a chastity cage?
A chastity cage is part of broader BDSM play and can heighten pleasure to new levels. The base ring is worn first, followed by the cock cage, which is locked in place with the ring.
Here's our complete guide to how to put on a chastity cage.
Different chastity cage models have other locking mechanisms. Still, they all have the same function—to lock your penis up in a flaccid state.
Having a lock with a key on your chastity cage is a lot more fun because it can then be given to your partner or locked inside a key container with a separate lock. But, of course, this brings a whole new level of bondage.
---
How to clean a custom chastity cage?
Cleaning a chastity cage is as important as cleaning any other intimate toy or device, especially because you can tend to have it on for extended periods.
Bodily fluids, as well as lube, can get deposited in little nooks and corners. Trust me; you don't want the lock of your chastity cage getting jammed!
The best option is to use warm water and gentle hand soap, which is non-corrosive.
This keeps the texture of the cage intact, doesn't chip the paint or polish that might be on it, and also helps maximize the use you can get out of it.
However, suppose you have a particularly expensive or delicate chastity cage (as some custom cages can be). In that case, we recommend using a sex toy care kit to clean it.
---
Which is the best lube for chastity cages?
Using a bit of lube when putting on your chastity cage is best. It is almost ALWAYS a good idea to use lube. When in doubt, use lube!
The best lube you can use with a chastity cage is one that doesn't damage it.
Some silicon-based lubes can leave a stain or be difficult to wash out. Some could even damage the paint on your cage.
Therefore, the best option is to use an unscented water-based lube that is easy to put on and (more importantly) easy to wash off. Here is our take on the best water-based lube.
---
Conclusion
There's nothing quite like a custom chastity cage. Now that you know where to get a great one without breaking the bank, I guess your "fellow" will be comfortably locked up soon.
If you're anything like me, this is just the beginning of a long and erotic adventure. Here are some chastity games to help get you started. Once you get more experience, this list of the best CBT toys will show you how wild things can get!
Be safe and have fun, my Custom Caged Comrade!