I spent hours testing the most discreet vibrators, so you'll find the best quiet vibrator for you. The result? 10 of the quietest vibrators of 2023! You have NOT to hear it to believe it.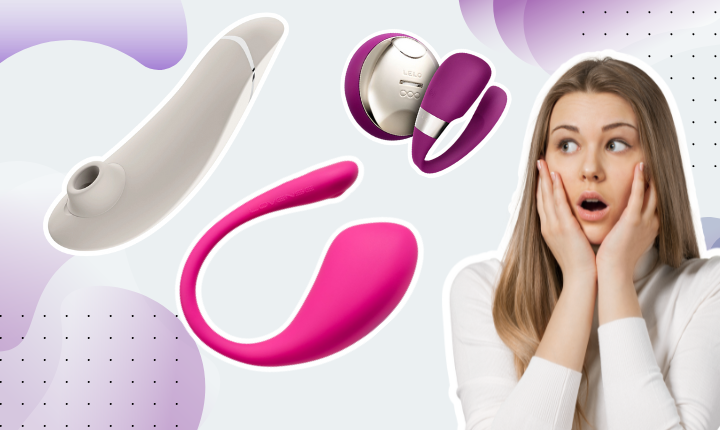 You could keep your gasps and moans under control. But if your vibrator is buzzing like a heavy-duty vacuum, you'll wake up everyone in the house and announce you're doin' the deed with your boo.
Every pleasure-seeker needs a quiet vibrator.
It could be that you have kids in the house, want some me-time without waking up your partner beside you, or are into exploring public play.
Whatever your reason is, it's nice to have one armed and ready within reach.
Shhh.
Lovense Lush 3 is one of the quietest toys on this list, but it doesn't lack power. This egg vibrator is wearable, adding spice to your couple's play while staying discreet. And you can continue the fun even when your partner is away as it enables long-distance sex via the app.
Womanizer Premium 2 is a great treat if you don't mind splurging a bit. It's a discreet clit suction toy that stimulates your clitoris without direct contact, especially as this pleasure button could get sensitive. It also comes with a wide range of intensity levels for you to start with gentle pulses to mind-blowing sensations.
Best Silent Couples Vibrator
LELO Tiani 3 is a silent vibrator that your partner could really enjoy as well. This wearable vibrator has two motors for clitoral and G-spot stimulation, and you can wear it while your partner is INSIDE you. Your partner could also feel the vibrations, making penetrative sex more pleasurable.
---
Best Quiet Vibrators In 2023
If you could only have ONE vibrator for discreet play, get Lovense Lush 3.
First, it's small and wearable. You can wear this egg vibrator when you're out and about. It's compact enough to be worn when walking, sitting, running, biking, and so on.
You don't have to worry about using it in public because it won't die down on you. It's probably one of the longest-lasting vibes out there. You could use it for around 4.5 to 5 hours!
Second, it's quiet. The loudest vibration setting of Lush 3 is only up to 43 dB—which is really hush-hush for a vibrator.
It's also a G-spot vibrator, which means it goes inside your vag. Your body then dampens the sound even more.
No one's going to side-eye your crotch for something buzzing, for sure.
In use, Lush 3 gives you rumbly and super strong internal vibrations. Its vibes are POWERFUL for its size, and it starts quite intense.
I like this power, but it's not one if you're into gentler vibrations with more buildup range.
It has a fixed tail with a body-hugging fit, so it stays in place. While it only has one vibrating motor, you can feel a few residual vibes in your clit because of its design.
Plus, it has a very intuitive mobile app where you can unlock more features like vibration patterns, music sync, and long-distance play.
You can share your toy's control with your partner. It's kinky for public play—having your SO across the room, navigating your Lush's settings.
But Lush 3 knows no distance as your partner could control it via the app even when they're in another country! It's an innovative toy that makes virtual sex interactive.
Read our Lovense Lush 3 review to learn more.
---
Womanizer Premium 2 is for vulva-owners who get off or love clit play.
It's a luxurious clit suction toy that stimulates your clit without direct contact. This is for you if you like your clit getting attention but also find directly touching it too stimulating.
This toy is nearly silent at only 40 dB at its highest levels. You can use it discreetly and drown the sounds with your Netflix show.
Moreover, it has a Smart Silence feature.
Regular clit sucking toys sound startling when it breaks contact off your skin. But with Premium 2, it automatically goes on standby mode.
It doesn't work every time for me, but it works more often than not.
A luxurious toy comes with a luxurious price tag. And that's the case of Womanizer Premium 2.
If you're a newbie to air pulse toys, you could start with something more affordable to know if you actually enjoy it.
It feels different from vibrations as it uses pressure waves without touching the skin. Similar to oral sex yet more focused.
Premium 2 has 14 intensity levels ranging from low, teasing pulses to intense, OMG-yes-please suctions.
And if you want to be surprised during use, you can activate its Autopilot mode, so it automatically switches between intensity levels.
It's not entirely random, though, as this tech is developed based on the feedback of the toy's testers. Rest assured that it feels good.
It's a well-designed toy with a curved handle that makes it easy to hold so you can angle it wherever feels good to YOU. But it's pretty hefty to be used during sex, so I recommend it more for your spicy solo sessions.
---
LELO Tiani 3 is a discreet couples vibrator. You can wear it DURING sex.
And you can do so without alerting everyone in the house because it's silent. It only sounds up to 50 dB.
Tiani 3 is a wearable vibrator with two motors, giving you internal and external vibes on your G-spot and clitoris. And your partner could SHARE these vibrations while he's inside you.
My partner enjoyed the vibes. To me, it was a liiiittle bit uncomfortable having the toy and my partner's peen inside at the same time.
But nothing a good amount of lube couldn't solve. (Just something to note if you're quite tight.)
SenseMotion Technology is… interesting. Basically, it's designed to let you adjust its intensity levels on the remote controller in two modes: holding it and tilting the remote horizontally or vertically OR moving it in any direction (like shaking).
The idea is unique and cool, but it's quite tricky in use. During the heat of the moment, you could adjust the levels accidentally.
Its vibrations gave me great feelings, but there's definitely some learning curve to its remote control.
This wearable vibe is easy to insert. But that also means it easily slips off, especially in various sex positions like doggy style.
It feels good, but you'll get sucked back into reality as it's quite difficult to stay put. Most of the time, I end up holding it with one hand.
Not a big deal, but it's definitely not a toy that you can use completely hands-free.
Read our LELO TIani 3 review to learn more.
---
While small, bullet vibrators aren't usually quiet. You'll most likely hear its buzzing noise in various ranges. However, Tango X is on the quieter end.
Its max noise level of 60 dB is pretty low. And when you keep it flush within your body, it dampens the sound to around 40-ish dB.
Tango X is a small bullet vibe that packs a lot of power. It's designed for pinpoint clit stimulation.
The handle part is made of silicone, which works well in insulating your fingers, so they don't feel too much tingle while you're holding the toy.
Meanwhile, the tip is made of hard and glossy plastic. This is not for you if you prefer the softness of silicone on your clit. But this is great if you're into hard, pinpointed stimulation.
With Tango X, it takes two to tango. You can enjoy sex with your partner without it getting in the way.
Unlike most We-Vibe toys, Tango X is NOT compatible with the We-Connect app. You can't use it for long-distance or in-person control play.
That said, the buttons on the toy are simple to navigate through. It has '+' and '-' buttons, so you can easily increase or decrease intensity levels, unlike other bullet vibes that require you to cycle through all the settings with one button.
Read our We-Vibe Tango X review to learn more.
---
LELO Mona 2 is one of the best G-spot vibrators out there.
The best part? It's super quiet as well.
When you use it externally, it's quite audible. Kind of like the hum of the refrigerator in the dead of night.
But if there's ambient noise, you could easily drown the sounds. Plus, when you use it internally—which is what it's designed for—the vibrating sounds are even more muffled.
It measures around 50 dB at its highest level.
This G-spot vibrator has a tapered tip that makes insertion easy. Then, it widens midway to a bulbous shaft that gives you a good stretch in your vag.
The tapered tip stimulates your G-spot well, but some might find it too pinpointed for their pleasure hotspot. You can use it on your clit as well by switching on the tip or wide part of the head for a focused or broad sensation, respectively.
Its vibrations are mostly rumbly with a bit of buzziness that feels nice to give you an extra tingle, especially on the clit. For me, this is the tipping point for the Big O.
Mona 2's long handle also makes it very easy to hold during partnered sex.
Read our LELO Mona 2 review to learn more.
---
Touch X is another compact lay-on vibrator by We-Vibe. It's a multi-purpose vibe that you can use on your several erogenous zones like the clit, nipples, and more.
And, of course, it's perfect for partner play. It's slim, so it settles snugly between your bodies.
Importantly, it's quiet at only 50 dB.
We-Vibe Touch X has a tongue-like scoop. It sits right on your clit, and you can grind on it easily if you're into those sensations.
But you can do so much more depending on how you position the vibe. For one, you can direct the pointy tip to your pleasure hotspot if you like focused stimulation. You can also rub the toy sideways—its width is almost the same as a finger.
Touch X's scoop is rumbly. It's not the most powerful vibrator of its kind, but that's not necessarily a bad thing.
This is great if you're into gentler sensations.
Its soft and smooth silicone material also makes it the better option for you if you find Tango X too stiff and glossy.
Like Tango X, Touch X also doesn't connect to the We-Connect app. You can't use it for LDR or remote control. But it's fantastic when you hand it over to your boo during foreplay or sex.
---
Too adorably cute.
A penguin clit sucker WITH A BOWTIE?! *hands over credit card*
Satisfyer Penguin is one of the cutest air pulsation clit toys. And it won't break the bank as it's a pretty affordable sex toy.
Whether you're a fan of penguins or not, it's too adorable not to get. But aside from its cuteness, it's also a really good clit sucker.
It's compact with a curved handle that fits really well on my hand. The angle of its "mouth" is also angled more naturally, so it fits during partnered play.
Satisfyer Penguin is so hushed. That said, it's also not the strongest or most intense toy. It might leave some wanting more, but I find it really good at building up the sensations.
The mouth is quite large to accommodate various sizes of clits and labia. And you can spread your labia to position the hollow part of the oval head to feel its gentle pressure waves.
It's great for beginners with its low price and softer power.
Black toys like Satisfyer Penguin could easily pick up spots. You could remove these spots with some extra cleaning steps. Not such a big deal, TBH, but something you might want to note.
Read our Satisfyer Pro Penguin review to learn more.
---
Rabbit vibrators sound great—G-spot and clitoral vibration in one?!
But the distance between the vag opening and the clit is shorter for others while longer for some, making these toys very tricky for different bodies.
And that's what We-Vibe tries to achieve with Nova 2, which I think they did great.
Its clit arm is super flexible, so you can adjust it to massage your clit while thrusting the vibrator into your vag.
As you can expect from a We-Vibe toy, it's rumbly. The vibrations will travel deep into your erogenous hotspots.
Nova 2 is discreet, with around 50 dB for its highest noise levels.
It's on the pricier end, but you do get what you pay for with this one.
It connects to the We-Connect app (finally!), enabling long-distance play. It's a rabbit vibrator you can use with your partner while you're together or miles apart.
It has some learning curve when you use it manually with the physical button on its handle. It has A LOT of buttons—5 in total.
You can control its vibration strengths, patterns, and toggling between having both motors off, using only one, or turning on both.
I find the app easier to use, but you can get more familiar with its operations over time.
Read our We-Vibe Nova 2 review to learn more.
---
If you're into wand vibrators, you can get VeDo Wanda for discreetness.
It has deep rumbly vibrations that are pretty strong. They're not mind-blowing strong, but they feel good, for sure.
The head is flexible, so you can glide across your body and angle it in the way that feels best to you. Its handle is also slim, which fits your hand comfortably.
It's rechargeable, unlike many wand vibrators with cords. You can use it for up to 1 hour. The running time isn't THAT long, but plenty enough for one sesh.
And the trade-off is great. No wires will get in the way, making it convenient and handy to use solo or with your boo.
Using it is pretty easy as well because it only has one button that allows you to navigate its 10 vibration modes.
Wanda is waterproof; you can send your sex session into the shower or bathtub.
Cleaning is easy-peasy since it's waterproof and made of silicone. But its metallic accents need extra work as it's made of ABS plastic.
---
As we're listing down quiet sex toys for couples, let's not forget your penis-owning partner as well.
The Lovense Gush is a glans massager that your partner could use hands-free. Basically, he only needs to wrap it around its shaft and then let the vibrations do their thing.
Or you can spice up your handjob by stroking him using the massager. With plenty of lube, of course!
It has an adjustable slap bracelet design, so it should fit most peen sizes.
You can use the band it comes with to make it tighter if you want to or make the sensations more intense. People who are older or have erectile dysfunction could use this for more targeted stimulation.
My partner says it doesn't give the strongest vibrations, but it feels great and could get him off. And it's great for pleasure seekers who are more sensitive and prefer a gentler caress.
It's one of the quietest toys, with a noise level of up to 45 dB.
As a couples toy, we like that we can use it for long-distance play and close-range control. The Lovense app's connectivity is always reliable, so using it via the app is smooth and stress-free.
Read our Lovense Gush review to learn more.
---
The Best Quiet Vibrators: A Buying Guide
Materials
Your vibrator's build is probably one of the most important indicators of discreteness. The material it's made of basically decides its quality.
Skin-safe Materials
Vibrators go in contact with your most intimate and sensitive parts. Hence, you should find a vibrator made with skin-safe materials.
That means it should be made of non-toxic, phthalate-free materials.
One thing to consider as well is if it's non-porous.
These sex toys don't collect or build up bacteria or STIs, ensuring they're safe to use. Especially if you're a vulva-owner, as the vaginal flora and fauna are extremely sensitive.
Nonporous materials can also be sterilized and are easier to clean.
The best example of a nonporous, skin-safe material is silicone and ABS plastic.
Silicone vibes feel soft and smooth, while ABS plastic ones are harder and usually glossy to the touch.
Figuring out which one feels better for you is up to personal preference.
---
Thick Materials
Thickness could be a factor in muffling your vibrator's noise.
It vibrates, which means it has a bzzz-ing sound.
The quality of the vibration is crucial in this aspect too.
Buzzier vibes are more surface-level, so they are often louder.
Rumbly vibes travel on a deeper level into your flesh. Hence, they tend to be quieter.
Then, the motor should be encased in a medium with noise-cancellation capabilities.
Notice how sounds are suppressed underwater or beneath your thick sheets? Well, the concept is similar.
For example, platinum-cured silicone is a thick material that performs well in keeping the vibrating sounds down. PVC plastic also does this, but they're porous and not body-safe in most cases.
---
Textured Materials
The texture of your vibrator doesn't really affect its noise level. So feel free to go for a smooth or textured toy.
Toys with a textured shaft like ribs and nudges give you more sensations and friction, especially if it's designed for thrusting.
Meanwhile, most vibrators actually have a smooth surface. The stimulation of your toy relies on vibrations, after all.
---
Features
The features of today's vibrators range from A to Z. To save the time of the day, let's focus on the essential ones you should check out.
Integrated Motors
Your sex toy's vibrating motor makes it, err, vibrate.
Basically, manufacturers encase the motor deep into the device. With this, its quaking components don't result in unnecessary and loud movements on the handle or shaft.
Another benefit is that you won't finish your Big O with a numb, tingling hand.
It's not something you can easily eye out for when shopping for a sex toy, but something worth knowing.
---
Intuitive Controls
Using a sex toy should enhance your sex session. NOT fumbling over complicated buttons like you're operating an outdated TV remote control.
Go for quiet vibes with simple, intuitive buttons where you can quickly cycle through its settings.
Plus, it's nice if your vibrator could connect to an app where you can control and customize its vibration patterns and intensity levels.
---
Interactive Capabilities
Today's sextech offers A LOT of possibilities.
For one, you could give your toy's control over your partner. Doing so adds a level of surprise and anticipation, making it even hotter than normal.
This is essential if you're getting a quiet vibrator for public play. You won't be able to change your settings manually on the toy when you're in the club, for instance.
Another thing to note is teledildonics which means you can enjoy interactive virtual sex with your partner long-distance.
---
User-friendly Settings
On the same page as having an app, a vibrator with user-friendly settings lets you navigate through its features more easily.
And that's essential so you can switch settings and even customize them to your needs. Plus, activate other functionalities like sound-syncing and VR.
---
Rechargeable Batteries
Most vibrators today are USB rechargeable, so you don't have to worry about getting weak AA or AAA batteries anymore.
They're a bit pricier, but you could actually save more in the long run as you don't have to keep buying new batts.
---
Durable Batteries
Good-quality toys come with long-lasting batteries.
Your vibe's battery life matters to its noise levels because when it dies, it whines. Not only does it make a sound, but it's also such a bummer to have your orgasm get cut off by low power.
---
Budget
You don't have to break the bank to get a good quality silent vibrator.
There are nice ones that are decently priced.
That said, others are indeed on the pricier side. You get what you pay for, so you may go for the bells and whistles if you don't mind splurging.
Prices could range from $50 to $100. Meanwhile, premium silent vibrators could go up to over $150.
---
What to Avoid When Buying A Quiet Vibrator
Quiet vibes are investments. And you should get your money's worth.
Now that you know what to look for in a silent vibrator, you should also know what to avoid. This is important to prevent purchasing low-quality vibrators.
Avoid these things when looking for a quiet vibrator:
Cheap materials
Not body-safe materials
Seams in the surface
Complicated controls or operations
Weak vibrating motors
Loud buzzing
Broken components
Unsafe dimensions
No warranty
---
Pros and Cons of Quiet Vibrators
No sex toy is perfect.
You may have to trade off some features of quiet vibrators in exchange for others that are more important to you.
Here are some pros and cons you should consider:
PROS
Public play is more discreet.
Great if you're into exhibitionism.
Some vibrators double as a massager.
Helps make orgasms more intense.
Ideal for pleasure-seekers who have roommates or need to be discreet.
CONS
Sex toys with no travel lock might turn on inconspicuously.
Some could feel weaker.
Others are on the more expensive side.
---
Ways to Find What You Need in a Quiet Vibrator
Most importantly, how do you find the quiet vibrator FOR YOU? Here's a summary:
DO understand your skin. It's the largest part of your body, and you wouldn't want any reactions from using the sex toy. Make sure to only go for safe materials for you if you're sensitive or have allergies.
DON'T let the manufacturer decide what toy you should pick. Prioritize what feels good to you and what features you want, then go from there.
DO experiment within your limits. Going for the biggest or most intense toys wouldn't mean they could bring you to an orgasm.
DON'T go for the cheapest vibrator if it has poor quality and unsafe materials. Get the most out of your money by buying one that could last you a long time and you'd actually enjoy using.
DO communicate integrating sex toys with your lover if you want to use them for partnered play. Make sure everyone's onboard and comfortable with it.
---
FAQs
What is a quiet vibrator?
No vibrator is TRULY and COMPLETELY silent. Those toe-curling vibrations have to come from somewhere.
Quiet vibrators have muffled motors and lesser moving parts. They're more muted than their noisier peers that freely whir to life like an angry lawn mower.
New sex technology makes it possible to have discreet vibrators in small sizes while still maintaining their power.
---
What makes a vibrator silent?
Various factors make silent vibrators hushed.
Their vibrating motors are muffled and integrated to dampen the sound. They're also made in a material that cancels the noise well. Overall, they are designed to not have too many moving components that could rattle when it quakes.
Thanks to sex toy innovations, manufacturers give us discreet toys one decibel at a time.
---
How do I use a quiet vibrator in public?
Quiet vibrators are meant to be discreet, but not all of them are for public play. Depending on how adventurous you are, that is.
For public play, it's better to use a wearable vibrator. That means it stays inside when you're standing and walking.
It should also be app-controlled. It's not modest to bend down to your underwear to switch your vibration mode!
Vibrators from Lovense, like the Lush 3, are really great for this.
Check out our tips on how to use a vibrator in public.
---
Where can I buy the Quietest vibrators on the internet?
First off, Lovense. This sex toy brand offers the quietest vibrators on this list. Getting them directly from the site gives you the best discounts as well.
Another brand is We-Vibe. Their rumbly vibrations make their sex toys pretty hushed.
A great sex toy shop you can go for is SheVibe if you want to check out various brands and types. They're reliable, discreet, and offer great rewards programs.
---
Conclusion
You deserve to masturbate in peace and quiet.
With these tips and suggestions, hit Add To Cart and treat yourself to a muted vibe.