I've been using this G-spot vibrator for almost six months now, and in this LELO Mona 2 review, I'm thrilled to tell you what makes it so awesome. Read on: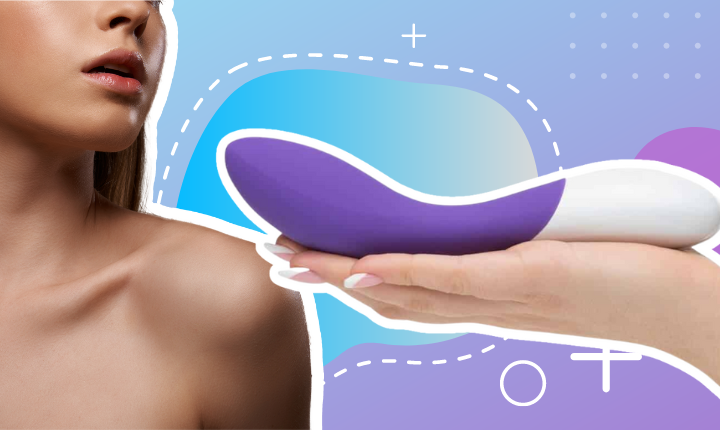 Around 40% of women find it difficult to orgasm from penetration alone. Well, at least when they can't hit the right spot.
The good news is that the explosive vaginal orgasm you crave is achievable with a little help from the wonderful world of sex toys, namely – G-spot vibrators.
The G-spot is one of the most sensitive parts of a woman's body, maybe even on par with the clitoris. Give it some love, and you'll experience a climax that'll make you see stars.
I've tested many G-spot vibes, but a certain one has climbed to the top of my favorites list (and the top of my bedside table): LELO Mona 2.
I've been using the Mona 2 by LELO for almost six months now and am thrilled to tell you what makes it so awesome.
LELO is a luxury brand that delivers the best when it comes to quality and function. Mona 2 has an ergonomic shape with a slight bend at the bulbous tip, so even beginners can easily target and stimulate their G-spot. The vibrations are rumbly, so you feel them deep inside you. There are 6 vibration modes you can adjust individually, so you get EXACTLY what you're looking for.
Quality comes at a price, so the Mona 2 is not a budget-friendly pick. The cap that covers the charging port is kind of flimsy, which puts your otherwise water-resistant toy at risk of water damage.
LELO Mona is a great choice for anyone who wants a powerful G-spot vibrator, even if they're newbies to G-spot stimulation or sex toys in general. But you have to be prepared to splurge for luxury.
LELO Mona 2 is for you if:
You want broad and pinpoint stimulation.
You enjoy powerful and customizable vibration functions.
You want targeted G-spot stimulation, whether you're a newbie or experienced.
LELO Mona 2 might not be for you if:
You're looking for a budget-friendly toy.
You want double stimulation.
You prefer a flatter or blunt tip.
---
My First Impressions of LELO Mona 2
LELO always delivers when it comes to luxurious packaging.
The Mona 2 comes in a very simplistic and elegant box. It's black and slick, with a window on the lid so you can see the toy inside. It feels like you ordered accessories from a high-end designer brand.
When you open the box, you'll find the Mona nestled there, as well as a few other things.
You get a black storage pouch to protect your new toy from debris and germs. It also helps keep your sexy buddy incognito.
You'll also find a charging cable because Mona 2 has a rechargeable battery, as all high-end toys should.
Underneath all of the stuff is an instructional manual, so you know how to use your toy safely. You'll also find a warranty registration card – if you have any problems within one year of purchase, LELO will take care of it.
LELO also likes to throw in a little extra present with all their products – a small sachet of their premium quality lube. You can start playing with your toy right away!
---
Let's Talk About Tech Specs
The presentation is nice, but it's far from the most important thing when you're getting a new toy. I know that what interests you are the tech specs. Here they are, in raw data, so you can see the most important things about Mona 2 at a glance:
Now let's dive deeper and see what these specs mean for your playtime.
---
How Does the LELO Mona 2 Look & Feel?
You know that the LELO Mona is a high-end toy the moment you see it in the box.
Mona 2 comes in a matte silicone finish which feels super soft and silky to the touch. The handle is made of glossy ABS plastic, where the 4 control buttons are placed.
This toy has an ergonomic shape, so it can fit in your natural curves, and you can handle it with ease.
The head is bulbous and has a slight angle for targeting your G-spot. That shape and size make this an easy task even for beginners. It is just enough to put firm pressure on your G-spot without causing you any discomfort.
The tip of the head is slightly tapered, so insertion is easier for those newbies to penetrative sex.
The insertable part of the vibe tapers slimmer towards the handle. This thinner neck makes maneuvering your toy inside you easier, so you won't have problems aiming the vibrations exactly where you need them.
The buttons on the handle are raised, so your fingers can easily find them even when you're not looking. They're also kind of "sticky," so your fingers won't slip even if they're covered in lube.
There are 4 buttons in total – 2 are for changing the intensity, and 2 are for adjusting the vibration modes.
At the bottom of the toy, there is a charging port covered by a cap. You always have to make sure the cap is on there tightly whenever you're not charging your toy – that's what makes it water resistant.
BE VERY CAREFUL!
The cap is kind of flimsy, especially after some use, and if the port is not properly covered while you're washing your toy or playing in the shower or bath, water might enter your vibe's inner mechanics and damage it.
---
LELO Mona 2 Key Functionality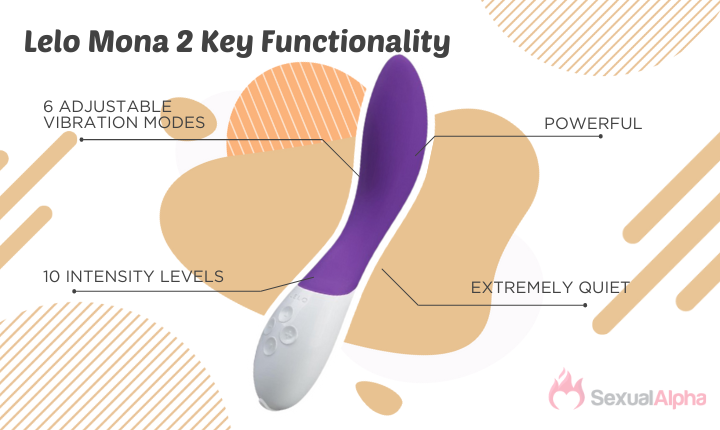 Vibration Power and Patterns
This vibe has some very fun times in store for you, no matter if you're super sensitive and prefer softer stimulation or a power queen who likes to kick things into high gear.
This toy's vibrations range from a very soft whisper to a powerful growl.
There are 10 intensity levels.
You can hardly feel the lowest one inside of you, but it's amazing as a starter and great for extra sensitive ladies. You can also use the lower intensity vibrations on your clit if you decide to use the tip of the Mona as an external vibe.
Mona is surprisingly powerful on the high levels, so it's perfect if you want extra stimulation inside you.
The vibrations are very rumbly on every level, so you can feel them deep in your vag muscles, and they won't leave you numb as buzzy vibrations do.
There are 6 vibration modes.
You can play with the steady vibration, but there are also pulsations, waves, and more. Each vibration mode can be adjusted to your preferred intensity level.
All of this makes the Mona highly customizable, so I'm certain you'll find something that's just right for you.
---
Noise Level
Mona 2 is very stealthy…. On the lower intensities. In fact, you can barely hear it.
Once you reach the higher levels, the buzzing of the toy definitely becomes noticeable. It reaches up to 50 dB at its highest settings.
I have to say that it's still extremely quiet, CONSIDERING the power of the toy.
I also have to mention that when the toy is inserted, your own body muffles the sound a bit.
If stealthy mode is a must for you, consider sticking to the lower end of the power options, and don't leave it running when it's not inserted.
---
How to Use LELO Mona 2
Button Control
Playing with the LELO Mona 2 is simultaneously simple and offers a lot of possibilities.
There is a 4 button control panel on the handle. Not only are they raised, but they also light up, so it's easier to locate them in the dark or when you just rely on sight.
Long press the plus button to turn your toy on.
Short presses on the plus (+) and minus (-) buttons increase and decrease intensity.
The left and right buttons change vibration modes.
Long press the minus button to turn off your toy.
---
Charging and Battery Life
A cap covers the charging port, which you have to remove to plug in your charger. It's a simple USB charging cable, but I wouldn't recommend plugging the toy into a computer – it charges too slowly.
It's best to charge your Mona in an outlet. The cable doesn't come with an adapter, but any standard USB adapter will do. You can even use the one from your phone.
The charge time is approximately 2 hours, giving you up to 2 hours of playtime. Pretty nice deal if you ask me – 2 hours is a short time for a recharge, but plenty of time to have some fun with your new toy.
Also, Mona will keep its charge up to 90 days – as long as you charge it after use, your toy will be ready to go when you are, whenever that may be!
---
My Experience With LELO Mona 2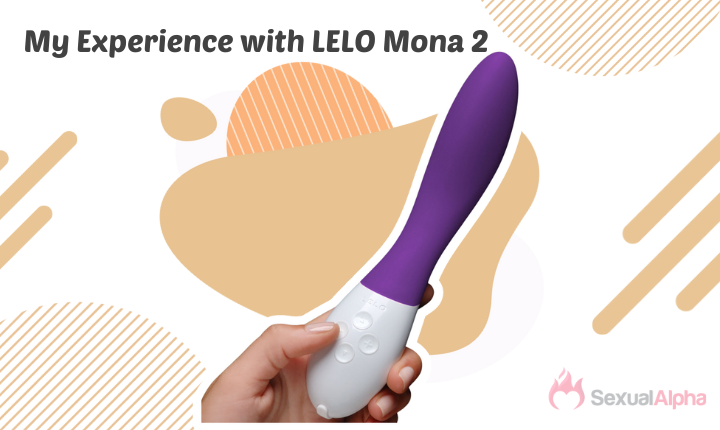 I was super excited to get the Mona 2 because I had already heard so many good things about it. And I'm glad to say my expectations were met and even exceeded.
The first time I used the Mona was during a solo play session. I set the mood, made sure nobody would bother me… and began having fun.
I used the little sachet of lube from the box for a little external warm-up. I personally think there is not enough in it, even for a single-play session.
But… I love the premium feel of this lube, so I always use the tester when I get a LELO product. I just make sure that I also have a proper bottle of lube in arm's reach while playing.
I started with Mona on the lower settings and used the toy to play with my clit. The vibrations were soft but rumbly, so the feeling was immensely pleasurable without making me overstimulated or numb. I even played around with the different vibration patterns.
I took my time with the foreplay to prepare my body for penetration – I'm extra sensitive, and rushing things might cause me pain. I also knew that arousal makes the G-spot swell up, so it's more sensitive and easy to find, which was exactly what I was aiming for.
I put on some more lube both on myself and the toy and got down to business.
OH, WOW, what a rush!
Insertion was smooth and easy, but the bulbous head still made the toy feel big inside me. I was able to hit my sweet spot pretty easily. All that was left was to crank that power up. The pleasure was so amazing; I might have gotten a bit loud… sorry neighbors.
I cycled through all the vibration modes, and each one felt awesome. However, the pulsating one is probably my favorite and the one that pushed me to climax… a deep, toe-curling climax.
The Mona was just as amazing when I used it with my partner.
Here's a suggestion
Let your partner use this on you while they're giving you head.
Thank me later.
---
How to Clean It
It's important to keep your Mona clean.
Make sure to do so before and after every use to keep germs and debris away from your privates. Since this toy is made of silicone, it can be cleaned easily and properly.
Warm water and soap will do the trick just fine. You can also use a toy cleaner if you prefer.
ALWAYS MAKE SURE THE CAP FOR THE CHARGING PORT IS IN PLACE.
If you don't, water might enter the inside of the toy and damage it.
---
LELO Mona 2 Price, Where To Buy
Always buy toys from trusted vendors so you don't end up scammed – it happens way too often with sex toy purchases.
You can find Mona 2 on SheVibe for $169 – a great source for getting quality sex toys for every taste and budget. Look around, and you might find more products that catch your eye. Don't forget to pick a nice bottle of lube while you're there!
---
What Do Other People Think About It?
Don't just take my word for Mona 2's qualities. Let's see what other people think about it. Off to Reddit!
I think the Mona 2 is a great beginner toy because of its versatility. You can use the whole head for broad clit stimulation or use the tip for more pinpoint clit stimulation. And it can be used internally, of course.
BUY IT
don't hesitate. Seriously. It's one of my favorite toys ever. Boyfriend can confirm.
---
LELO Mona 2 Alternatives
LELO Mona 2 doesn't exactly do it for you? Well, there are some alternatives you can try.
LELO Mona 2 vs. Pillow Talk Sassy
If you need more pressure on your G-spot, the Pillow Talk Sassy has a harsher angle at the tip which will be noticeable right where it counts. It also has a single button control panel for those of you who don't want to hassle with buttons.
It's also VERY budget-friendly, unlike Mona 2.
Keep in mind that fewer buttons mean fewer customization and vibration options. Also, the affordable price means you won't get that luxurious experience regarding materials and the power of the motors.
---
LELO Mona 2 vs. LELO Gigi 2
The flat head and edge of the Gigi 2 give you a different kind of experience than Mona's bulbous head. You can go for pinpoint pleasure with the edge or broad stimulation with the flat head.
No one option is better than the other – it's just a matter of personal preference. Consider that the blunt head might make insertion more difficult for some.
However, I should mention that the Gigi 2 has 2 more vibration patterns than the Mona, which might pique your interest.
---
LELO Mona 2 vs. We-Vibe Rave
The We-Vibe Rave has a slimmer shape that offers pinpoint stimulation and easy insertion. It's great for extra tight girls but doesn't offer the full feeling the Mona 2 does.
The Rave is compatible with the We-connect app, which makes vibration patterns virtually endless because you can create your own modes. The app also brings a bunch of other extras to the table, like long-distance play.
However, the Mona 2 keeps things simple, and some people prefer that.
For more vibrating content, check out our best vibrators guide.
---
Final Thoughts
LELO always provides us with premium quality toys, and the Mona 2 is no exception. This is your pick if you want some fun with a classic, well-made G-spot vibe. Have fun with the mind-blowing orgasms that await you!