Let our LELO Tiani 3 review help you decide if this discreet remote-controlled wearable vibrator for couples is worth your money and your time. Read on: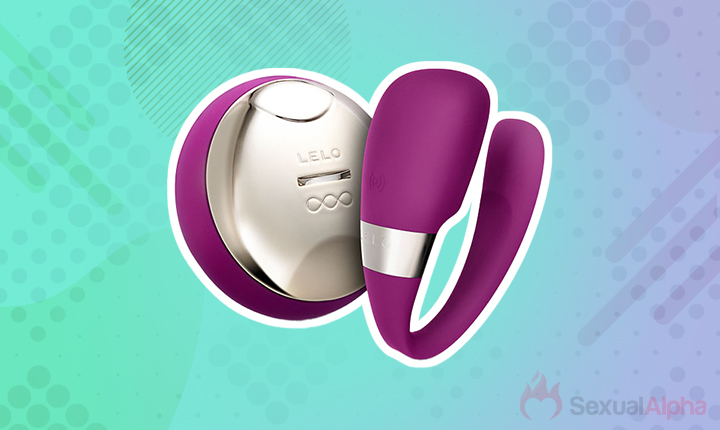 Are you searching for the perfect pleasure upgrade? Look no further than the Lelo Tiani 3, a revolutionary couple's vibrator designed to take your intimate experiences to new heights. This comprehensive review will provide an in-depth analysis of the features, benefits, and overall performance of the Lelo Tiani 3, guiding you towards an informed decision for your pleasure-enhancing endeavors.
As we embark on this exploration of the Lelo Tiani 3, we can't help but mention the equally captivating offerings within the Lelo Tiani lineup, including the coveted Lelo Tiani Harmony. A one-of-a-kind remote control vibrator and a long distance sex toy.
Prepare to discover a realm of unparalleled pleasure and intimate connection as we unlock the secrets of the Lelo Tiani 3 and delve into the enticing world of pleasure-enhancing devices.
LELO Tiani 3 is a wearable vibrator that allows you to enjoy internal and external stimulation at once. It emits powerful and rumbly vibrations to enhance your pleasure. You can control the vibrations using the buttons on the remote control or simply by flicking your wrist.
LELO Tiani 3 tends to slip out of the vagina in sex positions, especially when the toy is placed vertically (e.g., reverse cowgirl). By default, the toy's intensity is set to full power. Overwhelming to beginners, but you can adjust the settings using the remote control.
If you're looking for a vibrator you can wear during sex with your partner, the LELO Tiani 3 may just be the perfect fit. This sleek little gem packs a powerful punch and is a pleasure to use.
LELO Tiani 3 is for you if:
You enjoy powerful rumbly vibrations
You want a remote-controlled toy
You're looking for a waterproof toy
You're looking for a discreet couple's toy
You enjoy broad external stimulation
LELO Tiani 3 is not for you if:
If you're looking for a toy for long-distance play
If you want to make your own vibration patterns
If you prefer a massager with 2 vibrating motors
If you like a toy that works well with any position
---
Unboxing LELO Tiani 3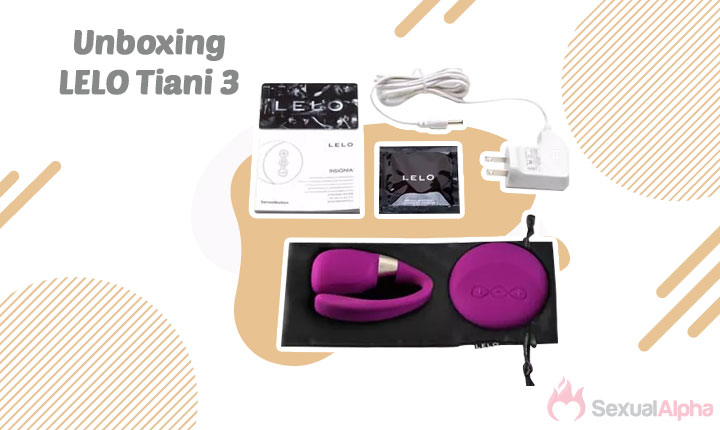 As expected from this Swedish luxury brand, LELO Tiani 3 came in a simple yet elegant black box. It has a transparent window through which you can see the toy peeking at you.
The box contains the following items:
TIANI™ 3
Wireless remote controller
USB-charging cord
Satin storage pouch
Warranty registration card
Detailed instruction manual
2 AAA batteries for remote
---
LELO Tiani 3's Tech Specs
---
LELO Tiani 3: How It Looks and Feels
LELO Tiani 3 has a luxurious and sleek look with a smooth silicone body and a matted finish. The toy is designed with comfort and ease of use in mind, so it should be easy to operate even for beginners.
It has two arms: one for internal stimulation and another for external stimulation.
The insertable arm is very flexible and can be bent at different angles to conform to the shape of the wearer's body.
The other arm has a rigid square-ish bulb that provides broad vibrations to the clitoris. This bulb can be detached from the main body of the toy to access the toy's charging port.
The toy's vibration intensity is set to 100% by default, which can be too overwhelming if you're not fully aroused.
Tiani 3 doesn't let you adjust the vibration intensity through the control button located at the toy's clitoral stimulator. Instead, it offers you a wireless remote control that you can use to adjust this.
---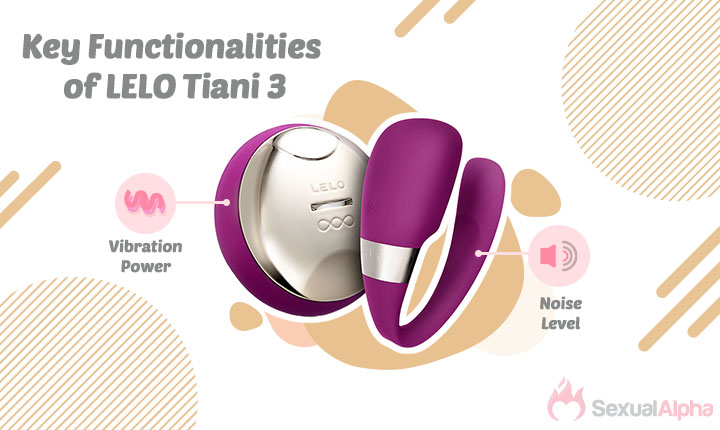 Key Functionalities of LELO Tiani 3
Vibration Power
LELO Tiani 3 provides simultaneous stimulation not only to your G-spot and clit, but also to your partner's penis.
This pleasure machine can produce up to 7,500 revolutions per minute. This is pretty high for a wearable vibe. I recommend you use lower settings when using the toy for foreplay to avoid any discomfort.
Tiani 3's single vibrating motor is located in its external bulb. It produces broad and deep vibrations that feel pleasurable on your clitoris and labia.
The vibrations are transmitted up to the end of the toy's insertable arm to stimulate your G-spot. And these travel to its internal arm, stimulating your partner as well during penetrative sex.
This toy has 8 built-in vibration modes: 6 standard and 2 SenseMotion modes. You can cycle through these vibration presets and set the intensity using the toy's remote control.
It features an innovative and handy SenseMotion technology that allows you to control the vibrations by flicking your wrist. (I'll talk more about this unique feature later.)
---
Noise Level
The Tiani 3 is designed to provide discreet pleasure without compromising power. It has an ultra-silent motor that won't distract you from enjoying your sex sessions.
At the highest level, it only produces 50 decibels, comparable to a quiet suburb's ambient sound. For additional reference, the ambient sound of a quiet library is around 40 decibels, while a normal conversation measures 60 decibels.
Tiani 3 is lightly audible if you listen TOO CLOSELY. But it's definitely unnoticeable if there is ambient noise.
It will barely make any noise if you use it at the lowest setting. You can even wear it during the day and have no problem holding a face-to-face conversation.
---
battery life
The Lelo Tiani 3 is a popular couples' vibrator that offers a range of exciting features, including impressive battery life. With its powerful motor and innovative design, the Tiani 3 is designed to provide extended pleasure without interruptions.
The device boasts a rechargeable battery that allows for up to two hours of continuous play on a single charge. This generous battery life ensures that users can fully indulge in their intimate moments without the worry of the device losing power too soon.
When it's time to recharge, the Tiani 3's convenient USB charging cable makes it easy to power up the device, ensuring minimal downtime between sessions. The long-lasting battery of the Lelo Tiani 3 enhances the overall experience, allowing couples to explore and enjoy each other's company to the fullest.
---
Versatile Remote Control
The Lelo Tiani 3 boasts a range of versatile remote control features that elevate its pleasure-inducing capabilities to new heights.
With an ergonomic design and intuitive controls, this remote offers effortless control over the Tiani 3's stimulating vibrations and patterns. Whether you're using it in the bedroom or exploring adventurous scenarios outside the confines of your home, this remote ensures seamless operation and discreet pleasure.
Its wireless functionality allows for exciting couple play, as your partner can take the reins and explore your pleasure with ease. The remote control features a range of up to 12 meters, providing ample space for exploration and experimentation.
Additionally, the SenseMotion™ technology enables the remote to respond to the slightest movements, translating your motions into corresponding vibrations for a truly immersive experience.
With its versatile and user-friendly remote control, the Lelo Tiani 3 empowers you to effortlessly explore new realms of pleasure and intimacy.
---
Wireless Connectivity Range
The Lelo Tiani 3 offers a remarkable wireless connectivity range that enhances the pleasure and versatility of its use. With its innovative technology, this intimate wearable ensures seamless connectivity within a considerable distance, allowing for unrestricted movement and uninterrupted enjoyment.
Whether you're indulging in solo play or exploring intimate moments with a partner, the Tiani 3's connectivity range provides freedom and flexibility. With its reliable Bluetooth connection, you can control and customize the Tiani 3's vibration patterns and intensity effortlessly using your smartphone, adding a new dimension to your sensual experiences.
This exceptional connectivity range ensures that the Tiani 3 remains responsive and responsive even at a distance, granting you the freedom to explore and savor pleasure without limitations.
---
LELO Tiani 2 Vs. LELO Tiani 3: What Changed?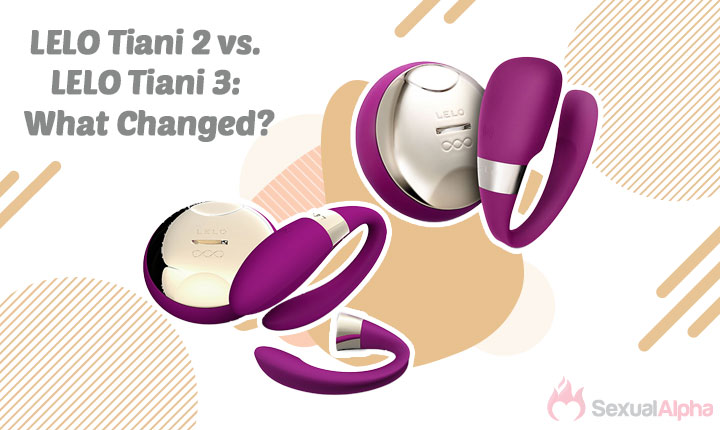 I was curious to see how the new toy would compare to its predecessor. After all, I had used the Tiani 2 for quite a while.
Compared to its predecessor, the new Tiani 3 offers a number of improvements.
Tiani 2's external bulb is oval-shaped, while that of Tiani 3 is squared. The design of the newer model provides more surface area to stimulate your clitoris, while the predecessor provides more targeted stimulation.
Tiani 3 has a slightly longer insertable arm. It's now 3 inches long compared to 2.9 inches. Even though it's not a huge difference, it's still nice to have a bit more length to play with.
Now let's move on to the most important aspect of the toys—their vibrations. Both toys' motors are extremely powerful. However, I would say that the vibrations of the newer model are stronger.
While the sensations of both toys are super pleasurable, I definitely prefer the newer version.
---
How To Use Lelo Tiani 3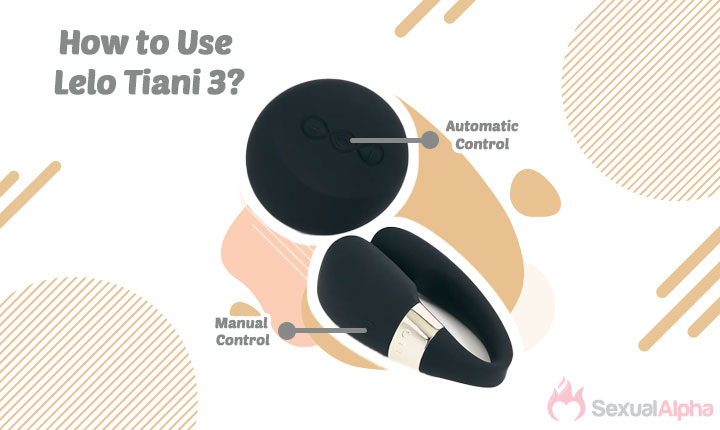 Using LELO Tiani 3 is simple but can initially be quite confusing. There are two main modes of operation that you should know about.
Manual Control
Charge the toy for two hours. You will find the charging port at the base of the toy's detachable clitoral stimulator.
Attach the clitoral stimulator to the rest of the toy.
Bend the toy's flexible arm and insert it into your vagina.
To switch it on, press the control button located in the middle of the clitoral stimulator.
Press the same buttons to cycle through the toy's standard patterns.
To switch off, press the same button for 3 seconds.
---
Remote Control
Switch on the remote by pressing the + or – buttons. The toy will initially be set to SenseMotion mode 1.
Tilt the remote to control the vibration intensity (horizontal = lower intensity; vertical = higher intensity).
Press the middle button to activate SenseMotion mode 2.
Shake the toy to adjust the vibration intensity (slower = lower intensity; faster = higher intensity).
Press the middle button to change to cycle through the toy's built-in vibration patterns.
Press the + or – buttons to adjust its intensity.
To stop the vibrations, press the middle button for 5 seconds.
To switch off the remote, press the – button for 3 seconds.
Pro Tip
You can simultaneously press the + and – buttons for 3 seconds to activate/deactivate the toy's safe lock feature to avoid accidental activation.
---
My Experience with LELO Tiani 3
The moment I held Tiani 3 in my hand, I knew this toy would be special. Its smooth silicone exterior and ergonomic shape felt so good.
I inserted the toy's smaller bulb into my vagina, and it glided smoothly inside me without causing any discomfort.
When I tested the toy, I found that the vibrations were really powerful and rumbly.
One thing that I love about this toy is how flexible it is. I can bend it into different angles to get the perfect position that hits my G-spot and clitoris at the same time. Once comfortable, I just leave it in place or hold it with one hand to enjoy the vibrations.
I am a big fan of LELO's SenseMotion mode because it lets me control the toy's vibrations with my wrist movements. I found this feature highly useful and enjoyable, especially during partnered sex. Whenever I want to enhance my experience, all I need to do is tilt or shake the toy to adjust the intensity.
Or, better yet, give the wheel to my partner.
He really enjoys shaking the remote slowly and then gradually increasing the speed until we are both satisfied with the intensity.
Pro Tip
Use lots of lube! Having the vibrator inside you will make you tighter. You would need extra lubrication to make things glide-y and avoid discomfort.
I also love Tiani 3's safe lock feature because it prevents the toy from accidentally switching on when not in use. This helps me save the toy's battery power, especially when traveling.
The only downside with this toy is it tends to slip out of your vagina in some sex positions. However, I'm pretty sure that you will quickly figure out which sex position works best for you to keep the toy in place.
---
Sex Positions That Work Best With The Tiani 3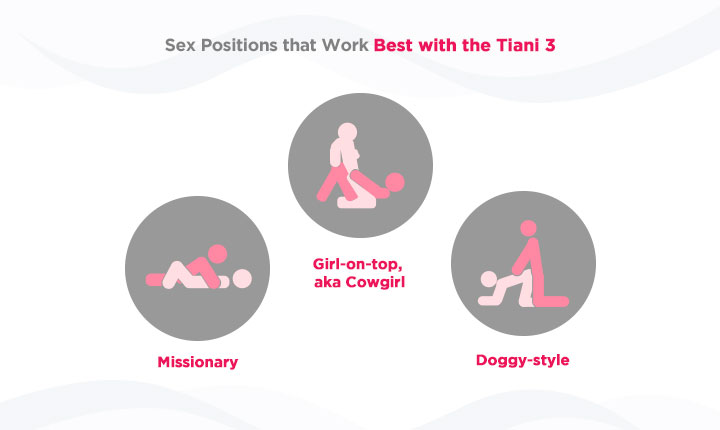 I tried all the possible sex positions I could think of. And after experimenting a lot, I've come up with some that I think are especially effective for using the Tiani 3.
The good old missionary position is the easiest and most comfortable way to use the Tiani 3. The toy will stay firmly in place as long as you're at the right angle.
You can relax and enjoy the sensations while your partner and the toy work together to stimulate you like a queen.
Another way to get the most out of the toy is by trying the girl-on-top, aka cowgirl position. This is perfect if you enjoy grinding against the toy's vibrating pleasure point while you ride your partner. I personally love this one because I can control how fast I want to go.
If you're into deep penetration, you can try the doggy-style position. Combined with the stimulation you receive with each thrust, the toy's vibration will give you an extra boost of excitement.
However, the toy might still slip out of place during doggy style and reverse cowgirl positions.
The external arm that rests outside the body is heavier and thicker, so you'll be working against gravity.
The vibrator could slip out of your vag if you don't hold it in place.
---
How to Clean LELO Tiani 3
You can simply wash the whole toy under running water (as it's 100% waterproof!) and mild soap to remove any bodily fluids and residual lubricant.
Then dry it thoroughly before storing it away.
---
Price, Where To Buy the LELO Tiani 3
Tiani 3 is currently sold at LELO's official website for $135.00.
For those unfamiliar with LELO, their products come with a 1-year warranty. If you have any issues with the toy, don't hesitate to contact the company directly.
---
What Do Other People Think About the LELO Tiani 3?
The vibrations are strong and considering when you're having sex, you have a cock coming in and out, it creates extra friction too. Also, the head of the Tiani 3 is noticeably larger than its other versions.
The Tiani 3 feels luxurious, for the price point I would hope it does. I haven't played with it a lot, just got it last week, but I haven't had and issues with the remote yet. The shape is a little weird to fit inside of me, but that's just a personal problem.
---
LELO Tiani 3 Alternatives
LELO Tiani 3 Vs. LELO Tiani Harmony
TIANI Harmony is among the latest wearable vibes released by LELO.
It is a dual-action couple's massager with two vibrating motors located at each end. It provides stronger stimulation to the G-spot because the vibes are now focused and not just transmitted.
Harmony doesn't offer the SenseMotion technology, which is a key feature of other Tiani variants. But no biggie. Instead, it has a more advanced Bluetooth technology.
Unlike the Lelo Tiani 3, which is only compatible with a remote control, TIANI Harmony can be paired with your smartphone and operated through the LELO app. This app is perfect for couples who want to have fun together, no matter the distance between them.
TIANI Harmony also offers a wider range of intensities to give you different levels of stimulation. Like the Tiani 3, it has 6 built-in standard settings. But once you connect your TIANI Harmony to the app, you'll be able to access four more additional vibration modes.
The newer TIANI Harmony is more expensive than the Tiani 3, though.
---
LELO Tiani 3 Vs. We-Vibe Sync
Customizability is probably the main factor that sets these two toys apart.
You can connect your We-Vibe Sync to your smartphone via the We-Connect app. This gives you access to 12 vibration presets and allows you to create your own patterns. You literally have no limits when it comes to customizing the vibrations.
However, the toy's Bluetooth connection is far from perfect. For instance, it tends to disconnect occasionally, even when your phone is within reach.
That said, this shouldn't be an issue because the toy can also be controlled using its remote control.
Lastly, the We-Vibe Sync's battery is inferior to the Tiani 3. It only provides a maximum of one and a half hours of continuous playtime.
---
LELO Tiani 3 Vs. We-Vibe Chorus
We-Vibe Chorus has a more comfortable fit than the Tiani 3. Unlike Tiani 3, which tends to slip out of the vagina in certain positions, Chorus has a snugger fit and doesn't move around as much.
Chorus features an innovative technology called Touch Sense—comparable to Tiani 3's SenseMotion. This feature allows you to adjust the vibrations by squeezing the remote control. This is very convenient because you don't need to physically touch the toy or press buttons to activate the vibrations.
I found Chorus' remote control more ergonomic and easier to use compared to the remote control of the Tiani 3. It has more button options, making navigating through the different functions easier.
One thing that might make you halt before checking Chorus out of your cart is the price. It has a wayyy premium price tag.
You can check out our compilation of the best vibrators if you're interested in other options.
---
Final Thoughts
I would give the LELO Tiani 3 a 4 out of 5.
Although I believe LELO can still improve the toy's design to make it fit snugly and avoid slipping out, it performs great in many aspects, including its ability to deliver powerful vibrations for dual stimulation and its unique SenseMotion Technology.