In this We Vibe Tango X review, we'll look at how the Tango X compares to the OG Tango and if it's the best bullet vibrator you can buy right now. Read on: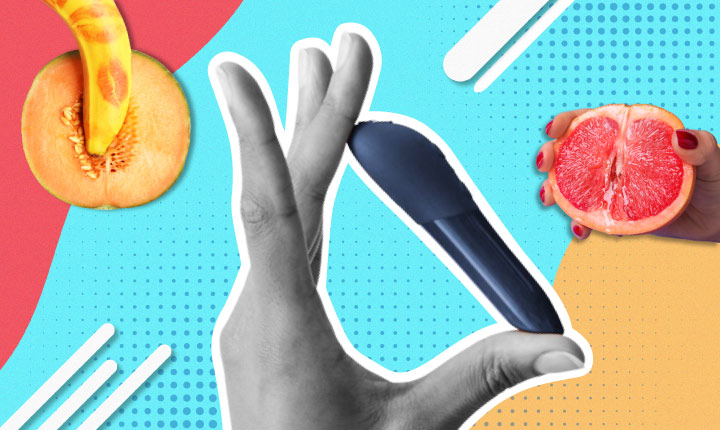 Bullet vibrators are literally a small wonder. They're the best choice when you want something versatile and easy to handle. They work great for both solo and partner play and are very travel friendly.
You probably already have a bullet or two… or more. They come with other toys that are bullet-powered, like dildos or clitoral stimulators. You even can find bullets that are no more than 3 dollars.
However, I wouldn't recommend these way-too-cheap bullets whether or not you get them with some toy or buy them separately. No, I'm recommending something else – the Tango X bullet vibe from We-Vibe!
WHY? Because 1) it's a worldwide hit and 2) I've tried it and love it!
Let me tell you more about the Tango X, and you'll see you'll love it too!
The Tango X is the most powerful and rumbly bullet vibe I've ever tried. There are 7 vibration patterns, and each one has 8 levels of intensity. It's easy to control, wash, and store.
The plastic body may feel too hard for some people. You can't use the silicone handle in other toys because of the material. It's also a bit expensive for a bullet vibe.
The Tango X offers high quality and a lot of variety, and I would definitely recommend it to anyone. But you have to have the money to splurge on a product like this.
Tango X is for you if:
You want a high-quality bullet vibe.
You need a small handheld product.
You appreciate having a variety of vibration patterns.
Tango X might not be for you if:
You're looking to save money.
You're looking for a bullet to use as an insert for other toys.
---
My First Impressions of the Tango X
I love opening my new toys; it's like a year-round Christmas morning present thing. The Tango X was no exception.
The box is made from pretty thick cardboard, and it's quite sturdy with a picture of the product on it. It feels nice, and you know you got yourself something of quality because of the way it's presented.
When you remove the lid, you'll find your Tango X inside. I got mine in cherry red. It is quite small since it's a bullet vibe and not a full-blown vibrator.
Under some more cardboard, you'll also find a bunch of extras.
The most important is the magnetic USB charging cable. There is no adapter, but you can use any USB adapter or just plug it into your laptop when you want to charge.
You'll also find a warranty card. We-Vibe offers a 2-year warranty when you buy from their site!
Don't misplace your card – anything can happen, so it's great to have peace of mind knowing that the manufacturer will take care of them if there are problems.
There is a small instruction booklet you would want to read before you start using your new toy. Everything is quite simple, but it's always good to read these things carefully, so you know how to keep your vibe in optimal condition and not damage it.
There is also a small packet of lube you can use for your first play session. However, I recommend you have more on hand when you're actually using it, in case you need any.
There is also a storage pouch to keep germs and debris away from your bullet.
The bullet itself has a pretty simple design, but the quality of the materials is noticeable even by just looking at it.
I'm getting ahead of myself: let's take a look at the specs of the Tango X, how it compares to the original Tango, and then I'll tell you more about how the product looks and feels.
---
Let's Talk About Tech Specs
---
How Does the Tango X Look and Feel
The Tango X is a small vibrator, AKA a bullet vibrator, and can comfortably fit in the palm of your hand.
The toy is made from ABS plastic (for the stimulation arm) and silicone (for the handle).
The ABS plastic is hard and provides a more intense sensation to your sensitive areas. The silicone on the handle gives you a good grip and prevents your toy from becoming too slippery if you get lube all over it.
This vibrator is shaped like lipstick. That means it has a flat tip at an angle.
The shape provides you with a lot of stimulation possibilities. The flat surface will be more suitable for sensitive people because it will deliver softer stimulation. The edges and points are for precise pinpoint pleasure that is much more intense.
The silicone handle is a bit bulkier than the traditional slender bullet shape, making it easier to grip. On it, you'll find the 3-button control panel. There are plus and minus buttons for controlling the intensity and a button for changing the vibration modes.
The materials feel luxurious against your skin, even the plastic body. The toy is light but doesn't at all feel flimsy.
---
We-Vibe Tango vs We-Vibe Tango X – What Changed?
The Tango was already one of the most powerful bullet vibes on the market and was beloved by users worldwide. So did it really need an upgrade?
Turns out – YES. The new features elevate this toy's performance to a whole new level.
The classic Tango does not have a bulky handle, making it hard to grip. On the bright side, the slim and smooth design made it IDEAL to place in any toy that works with a bullet vibe. It is as thin as the 3 dollar bullets that come with the toys but much more powerful and durable.
The Tango X has the bonus of a silicone handle.
The silicone makes gripping the toy easier, even if your hands are wet. It helps with button control too. The handle is a bit bulky, making it easy to grip, but you also lose some insertable length. The bullet won't fit as easily in classic bullet-powered toys as its predecessor.
The original Tango also makes your fingers numb after holding it for too long because the vibrations travel through the whole body of the toy. The silicone handle softens the vibrations so you can hold it without the annoying numbing side effect.
The original toy has just a single-button interface, so you have to cycle through all the modes to get to your favorite one. The 3 buttons on the X version allow you to control the intensity of each pattern separately. That means more variety, better customization, and more control over the sensation.
The Tango and Tango X both have magnetic chargers, but the one for the X version has a stronger hold, so you don't disconnect it by accident.
Also, the Tango X is updated with a travel lock function, so it won't turn off by itself in your luggage when you're taking it on holiday. That'll save you some awkward moments!
Last but not least, the Tango X has rumblier vibrations than the original Tango. They penetrate deeper into the muscle tissue for more intense and non-numbing sensations.
All in all, if you're mainly using the Tango as an insert for other toys, you'll do better with the original. But if you prefer to hold on to your bullet, upgrading to the Tango X will make ALL the difference!
---
How To Use Tango X
Operating the Tango X is quite simple. It has a more complex interface than the original (3 buttons vs. 1), but that actually makes setting the toy to your favorite pattern and intensity easier.
Long press the plus button to turn the toy on. You can change intensities with the plus and minus buttons – there are 8 levels of intensity for each vibration pattern.
Between the plus and minus buttons, there is a mode button. Press it to cycle through the different vibration patterns. There are 7 patterns in total. Multiply that by the number of intensity levels, and you get 56 possible combinations! Ain't that a treat!
To turn the toy off, just press the minus button for a couple of seconds.
Use a water-based lubricant when playing to make your experience more pleasurable. The wetter – the better!
Lube will make you more sensitive to vibrations and protect your sensitive skin from unpleasant sensations. Stimulating dry skin is NOT fun at all!
The lipstick shape of the vibe gives you room to play with the type of sensation different angles give you. Use the flat part for a softer stimulation and the edges for more intense pinpoint pleasure.
Explore the positions of the toy on your clit, and see what works best for you. The Tango X is also suitable for some shallow penetration.
Of course, bullet vibes are very versatile and can be used to caress every erogenous zone of your body, so experiment away! Nipples, neck, thighs… whatever you can think of.
You can use the Tango X when you're solo, but that's not the only way to enjoy it. It's small and quiet, so it will also fit seamlessly into partner play. You could stimulate your clitoris during intercourse.
The Tango X could be used to stimulate male erogenous zones, too, like the perineum, testicles, the head of the penis, and so on. It's only nice to share all the fun you're having!
Don't forget! The Tango X is entirely waterproof so that you can take it with you to the shower or bath for an even more versatile experience.
---
My Experience With The Tango X
I had already tried the original We-Vibe Tango, so I was very curious if the new version would be that much better.
I soon found out that YES. It really is.
I've used the Tango X both solo and with a partner, and I have to say, this is now one of my top toys. I keep it in my nightstand drawer, so I always have access to it.
I'm pretty sensitive, so I usually don't go for the highest intensity levels when playing. That's awesome because I can always kick things up a notch if I want extreme sensations.
Plastic can feel a bit hard on my sensitive parts, so I use a lot of either water-based lube or my panties as a barrier, depending on the situation.
The rumbly vibrations feel deeply penetrating and don't leave me numb after prolonged usage, which I LOVE!
When I'm using it for solo play, the Tango X can take me over the edge in MINUTES. If I feel like taking my time, I warm up by using it on my nipples before going below my waist.
Using it with a partner is one of my favorite things about the Tango X. It's quiet and small, so it doesn't distract me or get in the way. I use it both on myself and my partner, and it's a nice little gadget for incorporating some extra power in our play sessions.
Of course, I sometimes lose it somewhere in the sheets during partner play because of the small size.
Honestly, that last one is on me and not the toy. What can I say – I'm too caught up in the moment to keep track of where I left my stuff.
---
Cleaning the Tango X
Cleaning the Tango X is easy – since it's completely waterproof, you have nothing to worry about. Wash with soap and water before AND after every use is more than enough. You can use a fancy toy cleaner if you want, but you'll manage just fine without one.
Dry it very well and store it in a cool and dry place away from direct sunlight.
---
Where To Buy The Tango X
Don't buy your sex toys off Amazon because you're at high risk of getting a cheap knockoff, which is terrible for your health AND your wallet.
If you ask me, either buy from We-Vibe's official site or visit trusted vendors like SheVibe and Lovehoney. I use them all the time and am always happy with the service!
---
What Do Other People Think About It?
Are you still torn about whether the Tango X is for you? Maybe you should read what people on Reddit have to say:
I have the Tango X and the Nova 2, and while I love the Nova, the Tango's vibrations are superior, IMO. They feel a lot deeper to me, and the shape is easier to control. Not sure if they're stronger, but I definitely prefer them.
I think because of the shape and material of the Tango X, the rumble (which is a definite improvement from the past Tango models) is felt more deeply. For me, at least, obviously, results will vary from person to person. The Tango X is the one I will reach for most often!
---
Tango X Alternatives
The Tango X is great, but it might not be EXACTLY what you're looking for – because of the features, the shape, or even the price tag. No worries! There are other great bullets out there you can try!
The Tracey Cox Supersex Bullet Vibrator is a budget-friendly and beginner-friendly option. This toy is quiet, waterproof, and has one constant vibration speed – everything you need to have a fun time!
If you are looking for a premium product, you want Lelo Lyla 2! This toy has a remote control with 36 meters of range and 8 vibration functions. The remote vibrates with the toy and can be operated by motion. This makes the whole experience very intuitive and exciting for solo players and partner fun.
---
Final Thoughts
The Tango X is one of the best bullet vibrators on the market right now. It's also a personal favorite, and I'm pretty sure it could be yours.
Trust me on this – this is one bullet you shouldn't dodge!