There's nothing embarrassing about ED. In this article, I will show you the best sex toys for ED to help you last longer and stay firmer without taking pills.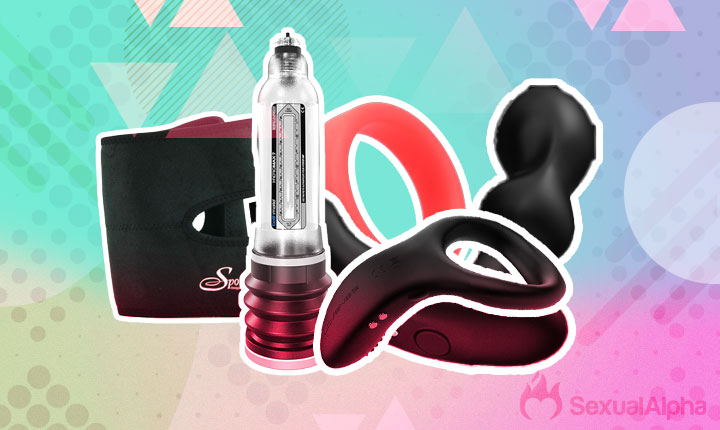 Intimacy is an essential aspect of any healthy relationship, and sexual satisfaction plays a crucial role in maintaining that connection. For individuals experiencing erectile dysfunction (ED), seeking alternative ways to enhance pleasure and intimacy becomes a priority.
In this article, we will explore the world of sex toys specifically designed to address ED, offering solutions that cater to different needs and desires. Whether you're a person looking for sex toys for virgins exploring new territories or a man looking to amplify pleasure with sex toys for small penis, we've curated a comprehensive list of the best sex toys available to help you reclaim and reignite your intimate experiences.
Let's delve into a realm where pleasure knows no bounds, where every individual can find fulfillment, irrespective of their circumstances.
---
The Best Sex Toys For Guys With ED In 2023
---
The Lovense Diamo isn't just a fix for ED. It's a damn fun sex toy for anyone to use.
It's a C-ring with powerful vibrations primarily designed to stimulate the perineum (i.e., taint), which can help you maintain stronger erections. Oh yeah, and it also feels amazing.
On top of that, the Diamo works best when controlled by the Lovense app you can download to your smartphone.
You can choose from infinite patterns, create your own, or make it sound-activated to let the vibes take you wherever they go. And, of course, there are manual controls too.
Diamo is versatile, too. It's primarily meant to be placed so the tongue part with the motor rests against the perineum. But you can actually turn it the other way around, where it will press against your female partner's clitoris, turning it into a vibrator.
All in all, Diamo does everything with all the fancy bells and whistles. It will help you stay hard and give you a lot of new tricks to play around with.
---
Sleeves and extenders can be great for confidence and partner pleasure, but they can also get seriously expensive.
Fortunately, there are cheaper options that still do the job.
This offering from Calexotics is a brilliant deal for the price. It's a comfortable and simple penis-extending sleeve with a maximum internal length of 3.25 inches – perfect if you struggle to get hard.
The shaft then has 3 inches of solid plastic which keep the whole thing rigid for smooth and fun penetration.
The harness is adjustable, so it will fit most people, and it's all designed to be simple and convenient for sex that's not a hassle to get started.
---
If you want the best penis sleeve in the business, RX Sleeve is probably the place to start looking.
All their sleeves are made of the highest-quality platinum silicone that looks and feels awesome. And they're extremely detailed, so they're very convincing. It would be easy for your partner to forget it's just a sleeve!
There is a range of sizes and colors for you to get the ideal fit for both you and your partner.
And every sleeve has the option of a filling inner rod to shore up the potential gap if you struggle to get hard at all.
And then there's a Grip System. This innovative harness loops behind the testes to keep the RX Sleeve firmly in place in a way that's much more effective than you might expect. Compared to your average strap-on, it's better, faster, and more comfortable.
Go with the RX Sleeve if you want the best and most convincing replacement.
Read our in-depth review of this product, check out our RX Sleeve review.
---
Lovense makes some pretty smart kits, and the Edge 2 is their idea of the future of prostate massagers. 
If that's the kind of thing you like the idea of, read on.
Prostate or P-spot massage is a highly effective way to achieve an erection while also stimulating the infamous "male G-spot" for explosive and intense orgasms.
The Edge 2 has dual motors, one of which stimulates the P-spot itself while the other one vibrates on your perineum.
That makes it extremely pleasurable, especially given the quality of the vibrations you experience. They're ridiculously powerful and rumbly for deep stimulation.
It's small enough that beginners should be able to use it and powerful enough with plenty of tech features for the connoisseurs.
Smartphone app control makes it easy for you or your partner to use, so you have more to play with than just your hard dong!
Read our in-depth review of it in our Lovense Edge 2 review.
---
The Atom Plus is one of the best cock rings with some highly impressive tech features. 
First, it has two motors. Once you fit it on (around the balls and over your shaft), you have one vibrating motor above your shaft and one below, giving sensation to your perineum.
These work in tandem to blend sensations together and also stimulate your partner's clit (assuming they have one, of course).
What's really cool is that they manage this while keeping the cock ring part stretchy, so it's still one size fits most despite the fancy wiring on the inside.
Vibrations are potent enough to make sure you get hard and stay that way, and it will keep blood where it needs to be, too.
All this combines for a fantastic blended sensation that will have you enjoying sex and vibrations together.
---
Cock rings can be a minefield of confusing information and shoddy products, especially at the cheaper end.
Fortunately, Tantus has made choosing your first c-ring very simple with their Super Soft.
It's a simple cock ring that stretches from 1.5 to 4.75 inches, so it can comfortably fit most men.
Plus, you can wear it over or under the balls, depending on how intense you want the effect to be.
As the name suggests, the silicone is extra soft and stretchy, so anyone can wear it comfortably for 20-30 minutes. Note that you shouldn't wear cock rings for longer than that because it could affect the circulation in your penis permanently.
So if you want something cheap and cheerful that does everything you need, the Tantus Super Soft is a brilliant choice.
---
If you want to expand your horizons about how to have sex, then this thigh harness might be just what you need.
Made of comfortable, securely fitting neoprene, it almost looks like a knee support if you've ever had surgery. Actually, some of those knee supports have holes in them too…
But anyway, that's where the similarity ends, unless you want an extremely awkward trip to the physiotherapist.
This harness has a stretchy ring that accommodates dildos of a girth up to 2.5 inches, which is plenty big enough for most couples.
Adding a new dildo or removing it is a breeze, unlike many other harnesses where it's a complicated mess of straps. Just slide it in and push it through, and you're golden.
What's more, it's comfortable for the person wearing it – it stays in place firmly, but it won't cut off your circulation.
And it's easy to clean!
For sheer convenience and the fun of trying new things, you owe it to yourselves to try one of these.
---
If you'd like more reliable erections as well as an appreciable increase in size, then Bathmate have got just the thing for you.
Hydromax7 is their medium-sized (5-7" penis size) water pump that's effective and doesn't need an engineering degree to figure out.
As a water pump, it's more reliable than a cheaper air pump because it creates a more uniform vacuum for a more even and comfortable pump.
Improved comfort pads help make pumping a more pleasant process, and the whole thing is durable to ensure that it won't break on your first try, as many pumps are notorious for doing.
Bathmate recommends 3 sessions of 5 minutes per day, which can help you get bigger and harder erections for up to 2 hours after you're done. So it's great as a way to prepare for a special sexy occasion.
If you want to keep things natural as much as possible without introducing toys, the Bathmate series can be super helpful.
---
The Best Sex Toys for ED Buying Guide
Type of Sex Toys
There's a whole world of sex toys for guys with ED to try out and enjoy sex with. Here are the most relevant:
Hollow Strap-ons – Strap-ons aren't just for lesbian couples. There are hollow versions that your penis can fit into, allowing you to penetrate your partner and give enjoyable sensations to everyone involved. Some have softer sleeves inside for better comfort and sensation, while others have extra features like bullets in the shaft for vibration. But the simplest options are often the best here.
Sleeves and Extenders – Similar to hollow strap-ons in function and what they offer, sleeves and extenders usually don't have a waist strap, so they're less obtrusive. They can be expensive but also give a more realistic experience to everyone.
Thigh Strap-ons – A strap-on that goes on your thigh, so you can sit on a chair while your partner rides it. There might be less of an intimate feeling than a regular strap-on, but it allows for more creative play if you have some sexy imagination.
Cock Rings – Whether a vibrating cock ring or just a plain band of silicone, cock rings restrict the flow of blood going away from the penis, so it stays hard more reliably. A comfortable cock ring can make your penis bigger and harder while also giving your partner something textured to enjoy. 
Male Vibrators – Some vibrators are designed specifically for men, curving around to pleasure the shaft and tip in intricate and intriguing ways. These can help with erections as they introduce novel and highly effective sensations.
---
Materials
If it's going inside someone, it should be made of body-safe materials like silicone. Otherwise, it's likely to start getting smelly after a while, which means it's home to the bacteria now.
Ultimately, material choice is mostly a matter of what you need and what you want it to feel like.
Silicone is common for most toys with a motor, as are certain kinds of plastic like ABS.
---
Features
Before you buy anything, you should think about what it can do. After all, if you need a toy that vibrates, what's the point of getting something that doesn't?
Rechargeable, waterproof, and different modes are also things to look out for when a toy has moving parts.
And finally, size and adjustability are features that shouldn't be overlooked. Otherwise, you might end up with something perfect in every way except for the part where it doesn't fit.
---
Budget
Varied sex toys are available to help with ED regardless of your budget.
You can use a simple and affordable cock ring or go all out with a penis sleeve, extender, or pump! You don't have to spend a lot, but it's good to have options should you want them.
For other great options, check out our best male sex toys guide.
---
F.A.Q.
What is erectile dysfunction?
Erectile dysfunction sounds a lot scarier than what it really means. Officially, erectile dysfunction is when a man can't maintain an erection hard enough or long enough to have sex.
Normally, the brain sends signals for blood flow to the penis to increase, where it fills up the spongy tissue and gets trapped. If not enough blood flows into the corpora cavernosa, or it doesn't stay there properly, that's how you get ED.
The only surprising thing about it is how common ED really is – it's estimated that between 30 and 50 million men are affected by it in the United States alone. That's either 1 in 5 or 1 in 3!
---
What are the causes of erectile dysfunction?
ED has many causes. A lot of these causes are related to other health problems. Most commonly: diabetes, high blood pressure, high cholesterol, alcoholism, heavy drug use, and obesity.
Hormone problems are more common in older men. For example, not enough testosterone might lead to ED.
Mental health problems can also affect your sex life. Factors like anxiety, depression, and stress can all have major implications for healthy penis function.
---
Are there other ways to have intimacy and sex for ED without using sex toys?
Of course! A hard penis represents one way to have satisfying sex, but it's hardly the only way.
Even if you don't want to use any sex toys, that leaves every erogenous zone available to play with.
You presumably have two hands and a tongue, so – use them!
And even if it can't get hard, a penis is still good for being intimate with. You can do pretty much everything with a soft penis that you can do with a hard penis, the exception being penetration.
But that leaves touching, oral… whatever you can think of, try it.
A friend of mine told me she prefers to sleep with men with very small penises because they're better in bed.
How? I hear you ask, clutching your dongs in outrage.
Because they're CREATIVE.
They try new things and learn other sexual skills that their partners actually like.
So have a go at that.
---
Conclusion
There's more to life than sexual performance, and there's more to sexual performance than your penis. But now you can find some of the best toys to alleviate any worries you might have. So get out there and have fun!