Strap-on action is for everyone, and trust me, there's a harness out there that's perfect for you. We've looked at the best plus sized strapons — their price, material, and sizing options — so you can have a fun and secure bedroom adventure.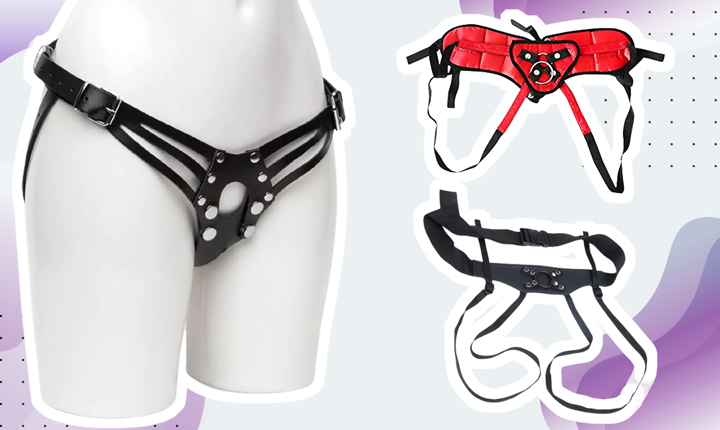 Whether it's for roleplay, switching positions, or some dom-sub play, a strap-on can really change things up in the bedroom. Using one has helped many people live out fantasies that would have otherwise just remained in their imaginations.
The best strap-on sets can also help bring a lot of variety into your lovemaking. For those curious about pegging, you might find some exciting bedroom toys in our listing of pegging strap-on sex toys.
Strap-ons are not just for queer couples; they're for everyone. And it's not just about having a penis. Ultimately, it's all about pleasure, and being able to attach the dildo of your choice to your hips can only lead to fun.
So, if you've wondered about using a strap-on but have not tried one yet because you worry about what it might say about your sexuality or question whether you'll find one that's the perfect fit, I'm here to tell you to stop worrying and jump right in!
If you're looking for a small to medium-sized one, check out our take on the best strap-on harness.
For the best plus-sized strap-ons and harnesses, read on!
Divine Diva Strap-On Harness: This harness brings comfort and flexibility into your strap-on adventures without being too expensive. You can use it with different-sized dildos without worrying about things getting loose, making it great for pegging. The incorporated back brace keeps it comfortable during long sessions.
Lovehoney Full-Back Strap-On Harness: At just $30, this is the best balance of budget and quality for a plus-sized harness. It also comes with different-sized O-rings, so you can securely attach dildoes of different sizes. It is also machine washable.
Best Vibrating Strapless Strapon
Strap-On-Me: This exotic-looking strapless strap-on does away with all those complicated straps and fasteners. It is, therefore, the fastest and easiest one to wear. With three vibrating units, including one for the giver, this toy gives out tons of vibrating pleasure to everyone involved!
---
The 13 Best Plus Sized Strapon Harnesses
---
13 Best Reviewed Plus Sized Strapons In 2023
The Divine Diva Strap-On Harness is a great place to start for any plus-sized user. Its design may be simple, but that also makes it super effective and adjustable. We found that this harness comfortably fits almost every medium to large body type.
The broad back brace is a great design feature as well. It makes the harness more comfortable and prevents the narrow straps from biting into your skin. And this makes it great for long sessions and also keeps it secure.
Finally, the extra three O rings of different sizes will let you attach dildos of different sizes to your harness. For flexibility and comfort, the Divine Diva is hard to beat!
---
The Lovehone Full-Back Strap-On Harness is another excellent option for your first plus-sized harness. It comes at a pocket-friendly price and has all the features you'd expect from a good harness.
Even at this price, the kit includes three O rings (1.25″, 1.75″, 2″), which is a very nice touch. These will help you fit dildoes more securely to your strap-on.
And what about pleasure for the wearer? Well, this harness is also covered with a little pocket where you can insert a bullet vibrator.
The full-back support design is also great for keeping things comfortable and holding the harness in place without making the straps uncomfortably tight.
The only drawback is that putting on and off the harness can take time and effort. But I promise you'll get better at it with some practice!
---
The Strap-On-Me actually has no straps! Instead, this anatomically shaped strap-on stays in place by the vibrating egg which the wearer inserts. The other end features a vibrating dildo, which you can use to give pleasure to the receiver.
This toy has actually won awards for its design, and you will realize why when you use it. Unlike conventional strap-ons, this one gives pleasure to the wearer and the receiver.
There are three integrated vibrators:
One in the dildo for the receiver
Then another in the egg for the wearer
And one at the base of the dildo for mutual pleasure
With the toy's supersoft silicon and waterproof capability, it is great fun in many situations.
The only drawback here is that because of the lack of straps, it doesn't fit as securely as other harnesses. Therefore, there are better options for hard-pounding action.
---
This harness is a master of functionality and comfort. Instead of straps, the designers have cleverly used stretchable material, making it easy to wear and wash. It also stays more securely in place, and you don't have to fiddle with too many straps and fasteners. Instead, it has a velcro locking mechanism.
Though it doesn't come with interchangeable O rings, the flexible ring attached to this harness can expand up to 2 inches, enough to accommodate most regular-sized dildos.
There are 2 size options available — A (for up to 50-inch waists) and B (for up to 65-inch waists).
---
This harness is as easy to wear as a pair of briefs. In fact, if you ignore the subtle O-ring in the front, this pretty much looks like sleek underwear. However, the Tobboi Harness Brief hides some exciting secrets.
There are two hidden pockets for bullet vibes to make things more exciting. Since these briefs are made of nylon, they are great for wet play and dry quickly. The fit is so snug that you'll never find them slipping off during intense sessions. The O-ring also does an excellent job of holding dildos securely.
However, the great fit does have some drawbacks. Due to its brief-like design, this harness is non-adjustable, and you must purchase it according to your size. The good news is that seven different sizes and multiple color options are available.
---
Now, we're getting some advanced harnesses where things get more exciting. The Supersex Strap-On Pegging Kit comes bundled with a textured silicone dildo and a bullet vibrator. Therefore, it's ready to give pleasure straight out of the box.
An included dildo with the harness will also generally fit the best, so this harness will also hold up during those wild sessions.
Use the remote to add an extra dimension to your strap-on play. Deciding who gets to control the vibration can be great fun. Now, even the receiver gets to control some of the pleasure.
I also really like that this kit is waterproof. It's always nice to have the option to take your sex toy into the bath or shower.
It may seem expensive, but it's a sweet deal for everything this kit includes.
---
Once again, Lovehoney brings incredible value with this harness kit, including a lovely curved dildo. This one is for sexual explorers constantly searching for ways to hit the G-spot and P-spot.
There are also 3 O-rings of different sizes so that you can use them with various dildos.
The harness is quite basic, and I'm not a big fan of the straps, which can start rubbing against the skin in a not-so-pleasant way during long sessions. However, let's get to the good stuff.
The included dildo feels realistically soft and has a really nice curve. The hidden bullet vibrator pocket is also a great addition. Note that this kit doesn't come with a bullet vibrator.
---
This one's for experienced users who enjoy watching the action as much as feeling it. With its leather cutouts and sleek design, this strap-on looks straight out of someone's sexual fantasy. And trust me, if used correctly, it can fulfill many of those sexual fantasies as well.
The included O-ring is super flexible and can stretch as wide as 2.4 inches to accommodate various dildos. The waist and thigh straps are also adjustable, so you can get a perfect fit. Unfortunately, this harness is only usable for waist sizes up to 46 inches.
This harness is a piece of art and will make your dom and BDSM adventures look absolutely gorgeous. However, it might not be the best choice for beginners or large users.
---
Aslan makes high-quality leather harnesses, and this one is a classic. Sitting low on your waist (picture yourself as a sexy cowboy or cowgirl), this black and bronze harness will make you feel ready for adventure.
Sure, it has no additional pockets, doesn't come bundled with a dildo, and is a little difficult to clean. But then, luxury has a price. This kind of harness will make you feel good just by wearing it.
And talking of feeling good, you can also purchase the Aslan Double Up Dildo Cuff to attach another dildo or butt plug to the harness. This way, the wearer and receiver can simultaneously feel the pleasure of penetration.
---
The Vac-U-Lock system is great for quickly changing sex toy attachments, and this harness allows you to do just that. If you've already got a Vac-U-Lock toy, this getting this is a no-brainer.
It also comes with 3 O-rings, so you can use it with other dildos.
This harness is also quite versatile. The cushioned back makes it comfortable to wear, and the neoprene material is easily washable. It is a good choice for beginners looking for a well-made, pocket-friendly strap-on harness.
---
Frankly, regular harnesses often look and feel too plain. Sure, they do their job well, but why must they look so boring? On the other hand, the really nice-looking harnesses are generally more expensive and are less sturdy, comfortable, or secure than their uglier counterparts.
The Sportsheets Lace Corsette Strap-On brings the best of both worlds. With its gorgeous lace trimmings and silky corset looks, this is one of the best-looking harnesses out there. The red color also helps make things extra spicy.
And it's not all looks. The four-way adjustable harness will fit most body sizes quite well. The adjustable straps and lace-up back combine to give the wearer a nice, snug fit. However, slimmer users might find the back too wide, and the harness might not fit as well on them.
It also includes 2 metal O-rings (1.5" and 2"), which you can easily switch out, and is machine washable.
At this price point, this strap-on harness packs in a lot into one gorgeous package.
---
Some users will love the look of this minimalist harness, while others might find it too plain. Personally, I find the broad leather band on the waist combined with the narrow straps quite a sexy look.
The snap-on fasteners are also quite lovely, and you can quickly put on this harness and jump into the action.
However, the minimalist design does have its drawbacks, and there is nowhere to put a bullet vibrator or add an extra dildo to pleasure the wearer. However, you get two O-rings of different sizes, so you can use the harness with various dildos.
---
This simple strap-on kit by Tantus is perfect for beginners who want to experiment with strap-ons. It comes with everything you need to get started, including a bullet vibrator, at a really pocket-friendly price. Even if you get a few good uses out of it, you'll get your money's worth.
The silicon dildo is smooth and has an insertable length of about 5.5 inches. The bump at the end is excellent for stimulating the G-spot or P-spot. Of course, if you're looking for deeper penetration, you must switch out the included dildo and use one of your own.
Basically, this is a pocket-friendly, low-maintenance harness that you can have a blast with and then throw into the washing machine or dishwasher to clean so that it's ready for your next erotic adventure.
---
What is a Plus-Sized Strap-On?
A strap-on is a sex aid that allows the wearer to attach a dildo or any other penetrative sex toy to their pelvis and use it to penetrate their partner. Though they are usually for vaginas, anyone can wear a strap-on.
Plus-sized strap-ons refer to the harness size, which can comfortably accommodate larger wearers. It helps keep all aspects of sex inclusive and allows everyone to enjoy the joys of using a strap-on.
---
How to Choose a Comfortable Plus-Size Strapon Harness?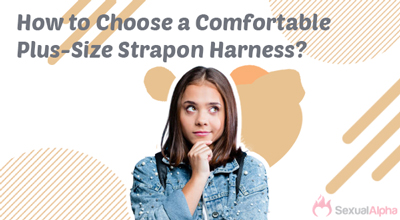 Here are the most important factors to consider when choosing the perfect plus-size strap-on harness.
---
Materials
Since you'll wear your harness often, its material should be comfortable and not irritate your skin. It should also be easy to maintain.
Leather harnesses look and feel great. They also age well if they are carefully maintained. However, they do require more careful cleaning and cannot be machine-washed. It is also difficult to disinfect leather, so you cannot share your harness with others.
Alternatively, harnesses made of nylon, spandex, and other fabric materials are easy to wash and reuse. They are also soft, flexible, and usually easier to put on and take off. However, they can sometimes miss out on leather harnesses' rich feeling.
If aesthetics are important to you and you are okay putting time and money into your harness, a leather harness might suit you. And I suggest getting a fabric one if you're just starting and trying out your first harness.
---
Types Of Harness
There are a few different types of harnesses available, and you should pick the one that matches how you intend to use it.
Double Strap Harness: This is the most common type of harness and features one strap around the waist and two more around the thighs. These harnesses are usually the most secure and adjustable.
Thong Harness: As the name suggests, such harnesses are shaped like thongs. These don't give much access to the wearer's genitals as the sex toy sits high on the pelvic bone.
Boxer brief harness (strap-on underwear): These are basically briefs that you can slip on and have an opening in the front to attach a sex toy. They are the easiest to wear, comfortable, and usually very secure. However, they are generally non-adjustable, so you must get one that fits you exactly.
Double-penetration harness: These harnesses have openings for two dildos for double the pleasure. They are best for giving your partner some double penetration action.
---
Size And Measurements
Most harnesses are adjustable, so you need to check whether you fall within the size range of a particular harness. You can generally adjust the waist and thigh straps, so getting the right fit is easy.
For boxer brief harnesses, more traditional underwear sizing is often used, and such harnesses are available in various sizes.
Therefore, you will always have enough size options to find the right-fitting harness for yourself.
---
Which Dildo is Best for Plus Sized Strapon Harnesses?
The Fuze Tango is a fantastic hands-free strap-on that offers lots of vibration pleasure to the receiver and the wearer. So how can you make it better? Well, by combining it with a harness!
You see, the one drawback that strapless strap-ons have is that they are not too sturdy and can slip out during intense sessions. Using it with the sturdiness of a harness gives you an explosive combination of vibration and comfort that will stay in place no matter how wild things get.
And while we're on the subject, there is no better combination than the Fuze Tango and the Spareparts Joque Type Harness for pegging.
---
The Fun Factory Sharevibe is another great dildo to use with a strap-on. It is slightly more expensive but has a lovely soft feel and powerful vibrations. And this is why it gets our vote for the best luxury dildo to use with a strap-on harness.
You'll never go back once you try this combination out!
---
If you're on a budget, Lovehoney will save you with its adjustable strapless vibrating dildo. This dildo is unique because you can change the angle of the two dildos. This way, both the wearer and the receiver can get the perfect penetration, and with a harness, you can be sure that things will stay in place until the explosive end.
---
How to Use Plus-Sized Strapons?
Manufacturers usually include instructions on how to use strap-ons in case some complicated steps are involved. However, most strap-ons are pretty straightforward to figure out how to wear.
The ones that have lots of straps can sometimes seem a little intimidating. If you're confused and cannot find instructions, visit the manufacturer's website and look up images of people wearing the harness. That should give you the right idea, and you'll soon be on your way!
---
How To Clean Plus-Sized Strapons
How you clean your strap-on depends on the material it is made of. Once again, the manufacturer will generally provide clear instructions on cleaning their product and what not to do.
Leather harnesses require gentle cleaning with mild soap and water and a wipe-down with some leather cleaner. Fabric harnesses are easier to clean, and many of them are machine washable.
Make sure that there is no electronic dildo or vibrator connected to your strap-on when you clean it with water.
---
FAQ
Why Do I Need A Strapon?
Strap-ons add a new dimension to your lovemaking by allowing the user to penetrate their partner. People with vaginas or penises can use strap-ons, and they can use this for vaginal or anal penetration.
---
Can I Use A Harness For A Pegging Dildo?
Absolutely! One of the most popular uses of a strap-on is for the wearer to penetrate their partner anally, also called pegging. Check out our detailed take on the best pegging dildos on sex toys to find the perfect one for you.
---
Can I Put Some Vibrations Into My Plus-Sized Strapon?
A slight vibration never hurt anyone. In fact, it almost always increases pleasure. So, yes, of course, you can add some vibrations to the mix! Many harnesses come with a pocket or two that can hold small bullet vibrators. Additionally, you can also use a vibrating dildo (like the ones we mentioned above) to add some vibrations to your plus-sized strap-on.
---
Final Thoughts
Well, with all the options out there, I'm sure you're feeling quite inspired to find a plus-sized harness for your strap-on adventures. Trust me, it adds an entirely new dimension to your lovemaking. If you're getting your first strap-on, I suggest picking one that's easy to use and clean. If you're a veteran, you've probably already found one you like from our list.
So, strap in and strap on!