Lipstick vibes are some of the most popular bullet vibes – they're portable, discreet, and fun! So here's a list of the best lipstick vibrators on the market today.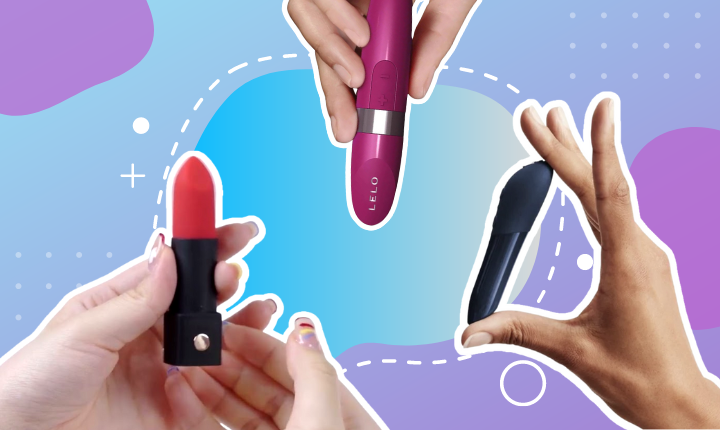 Not everyone is a fan of the "clearly-a-vibrator" vibrators.
There are different reasons for that – maybe you have nosey roommates or kids in the house, maybe you want to take your toy on the go, maybe toys that look too much like a severed penis creep you out, whatever.
Those of you that feel this way need an undercover vibrator – something fun that you can hide in plain sight. And what more ingenious way to hide a vibrator than to make it look like lipstick?
Lipstick vibrators are some of the most popular bullet vibes – they're portable, they're fun, and they're stealthy!
For all you gals in search of the perfect lipstick to put on your downstairs lips, I've made a list of the 12 best products on the market today. We begin with the TOP 3.
---
The Best Lipstick Vibrators In 2023
A lot of lipstick vibrators tend to have just the bare minimum of functions. Not the Lovense Exomoon!
This toy actually LOOKS LIKE A LIPSTICK—no one will suspect you're carrying a vibrator in your purse! The charging port is hidden behind a bottom cap to complete the illusion.
Speaking of charging – the Exomoon has a magnetic charging port which makes it completely waterproof so that you can take it with you under the shower or in the bath!
The vibrations of this toy are VERY powerful for a bullet vibe, so you can assure it will deliver during playtime.
Best of all? Like most Lovense products, this toy can be controlled by the Lovense Remote app. It lets you fine-tune your pleasure by creating your own vibration modes and syncs to music and ambient sound.
The app also turns your phone into a remote that can control your toy from anywhere in the world, so it's perfect for couples' play and long-distance play.
If you don't want to fidget with the app, you can always play with your lipstick vibe manually!
I have to note that this toy is a bit expensive, but when you consider the product's exquisite quality and techy features, it is all worth it!
---
One of the best uses for a lipstick vibe is taking it with you on the go. If you plan to travel with your toy, you should get a load of the Lelo Mia 2.
It holds the basic lipstick shape without going all the way to mimicking it to a T. You still get all the benefits of the lipstick design – the shape offers both pinpoint and softer stimulation, the size makes it portable, and the general shape makes it stealthy.
The Mia 2 is quiet, so no one can eavesdrop on you having fun.
Also, it's easy to play with, and you won't struggle with controls when things are hot and heavy.
This bullet comes with an antibacterial storage pouch to keep your toy safe while carrying it in your bag and a travel lock so it won't turn on when it shouldn't, causing embarrassment at airport security or something similar.
Mia 2 is a bit expensive for a bullet, but not as expensive as a high-end toy like this could be. Considering the prices of other Lelo products, I would even call it a bargain!
---
In general, lipstick vibes and bullet vibes are weaker and sacrifice powerful motors for small size and versatility. But when you look at Tango X by We-Vibe, you'll realize that a lipstick vibrator really can have it all!
The design elevates the lipstick shape with a few distinctive touches – the handle is made out of silicone for a better grip, while the body is made of ABS plastic for a smooth feeling.
Get ready for this lipstick to rock your world because it has some surprisingly INTENSE and rumbly vibrations that will satisfy even a hardcore power queen! Still, the lower levels are gentle enough for more sensitive ladies.
If you love a good marathon, Tango X has up to 120 minutes of play on a single charge. Get ready for a ride!
This lipstick vibe is also completely waterproof! (Safe to take in the shower or bath) and has a travel lock (safe to take on the go).
If there were anything I would add to this toy, it would be a silicone sleeve for the body for a softer feel. If the plastic is hard for you, too, try adding more lube or using your underwear as a barrier.
Read our We-Vibe Tango X review to learn more.
---
You want your lipstick vibe to be almost indistinguishable from your actual makeup so that you can take it with you wherever. The Iroha lipstick by Tenga offers just that.
This vibrator looks almost exactly like lipstick, so it's very discreet. No one will know it's a vibrator unless you turn it on!
You control this vibe with a simple dial, so you can easily set it to your power level preference. Keep in mind the vibrations get a bit buzzy on the higher settings.
Unlike basic lipstick vibes, this product has a soft silicone tip that won't go too hard on your sensitive parts. Silicone is also hypoallergenic and non-porous, so you can clean it perfectly and minimize the risk of irritation and inflammation.
The Iroha stick is also very affordable, so it's a great choice for beginners who don't want to splurge on expensive toys just yet.
---
Most lipstick vibes have the classic lipstick shape with a slanted tip. The sharp edges can be great for some but overstimulating for others.
If you're extra sensitive, you might prefer a design like CalExotics Hide & Play.
This vibe has a soft silicone rounded tip, which offers more gentle sensations than other lipstick vibes. This is perfect if you aren't a fan of the intensity of the pinpoint stimulation.
You have 8 functions to play with, which is a better variety than other basic lipsticks like this.
The silicone tip is not only soft but makes the toy safer for your body. It is hypoallergenic and can be thoroughly cleaned so you can have fun without worrying about bacteria buildup over time.
Sadly, this vibe isn't rechargeable, but it makes up for that slight inconvenience with a super budget-friendly price tag!
---
Dame Kip doesn't try to mimic an actual lipstick, but takes all our favorite lipstick vibrator features and takes them to a new level.
First of all, Kip's whole body is silicone- making the vibrations softer, the toy safer for you, and the handle very easy to grip. It won't slip out of your hands, even if they're covered in lube.
The tip combines a fluttering point for pinpoint stimulation and a cupping angled face for broader and softer pleasure.
It has 5 modes and 5 intensities, so you have a lot to choose from when deciding what type of vibration to get off to.
This toy comes with a storage bag to keep it safe from debris and bacteria. The pouch is cotton, which leaves lint on the silicone, but you can always wipe it down with a damp, lint-free cloth before use.
---
If you want to get something ultra easy to use that will practically blend with the rest of the contents of your purse, take a look at Rose Lipstick Vibe by Blush.
This is the perfect product for minimalists – simple lines, easy controls with no added fuss! And it looks just like an actual lipstick!
Just twist the base as you would on an actual lipstick – this extends the tip and turns the vibe on. Nothing else is needed!
Some of you may miss the extra features and modes other vibes have, but sometimes it's great to get back to basics – easy controls and strong vibrations.
---
Rocks-off is a more rounded version of the lipstick shape.
This vibe still has that angled tip, but all the corners are very soft. That gives you a more sensual experience.
You can choose between a more pinpoint stimulation and a broader one while avoiding sharp angles. The sensation is intense but won't overwhelm you if you're sensitive.
The silicone material is perfect for your delicate areas and protects you from allergic reactions.
Many lipstick vibes are restricted when it comes to functions, but not this one! You get 10 vibration modes, and I'm sure you'll find one that pleasures you just the way you love.
If I had to complain, it would be about the long charge time – 3 whole hours. On the bright side, that gives you 3 hours of pleasure, so I'm willing to make the sacrifice.
---
One of the great things about lipstick vibes is that they can be used anywhere on your body. The Lush Lina is a great example.
This vibe has 10 vibration functions – 3 speeds and 7 patterns, so you're bound to find a mode that gets you off.
The difference here is that, unlike other lipstick vibes, the "lipstick" part is quite longer than the handle. It's made of silicone and has a rounded tip, so it's perfect for all sorts of stimulation.
Pleasure your clitoris and vulva or any other erogenous zone on your or your partner's body.
The silicone coating and long stimulation tip also make it perfect for shallow penetration. The toy is splashproof, so it's perfectly safe!
Keep in mind that splashproof does not equal waterproof. You'll have no problem squirting or cleaning it under running water, but don't submerge it in a bath or pool.
---
Sometimes you're low on cash but still want to get yourself a little pick-me-up. A budget lipstick vibe is just the mini-present you deserve to give yourself.
My Secret Screaming O is a simple vibrating lipstick with a soft silicone tip for a gentle type of stimulation.
It has just a single button for controlling the toy and cycling through the different vibration modes. You get 3 steady speeds and a bonus—a pulsating "tease" mode for a slower build-up and a more fulfilling orgasm.
The lipstick design makes it stealthy, so you can keep it wherever without anyone getting suspicious. It's also whisper-quiet, so no one will overhear you having fun (as long as you don't moan too loudly).
This vibe isn't rechargeable, but it's still a great deal at its price!
---
This is more of a bullet than a lipstick vibe, but it does have the lipstick style tapered tip and similar size. Plus, the warm pink color of this product will make it blend seamlessly with your other cosmetics, so keep that incognito factor we love lipstick vibes for.
The whole body of the toy is made of silicone, so it's safe for your body. And you can grip it easily.
This toy has 3 vibration speeds and 7 patterns for all sorts of thrilling fun, so you have a lot to explore and have fun with.
The battery run time is not as long as it could be, but the vibrations are very powerful for a toy this size – you'll be getting your big O in no time.
---
If you're about to get your first sex toy, a lipstick vibrator might be a great choice for you!
Consider Oh! Kiss Me by Lovehoney.
It looks exactly like a lipstick, so you can keep your first toy incognito.
It's very affordable, so you don't have to worry about spending too much money.
It's also easy to control and has a single vibration speed, which is perfect if you've never experienced vibration as stimulation before and want to try it out.
The classic lipstick shape allows you to change the type of stimulation by changing the angles at which you hold the toy. The tip is great for precision and intense stimulation, and the flat face is great for softer sensations.
The toy isn't rechargeable, but you might not care about that considering the ultra-low price tag.
---
The Best Lipstick Vibrator Buying Guide
Buy at Official Websites
Don't get your toy just from anywhere. If you're not careful, you might end up with a knock-off or faulty and dangerous product.
Trust official websites. Purchase your lipstick vibe directly from the manufacturer – we have some nice picks from Lovense and Lelo on this list.
If you want to browse a bit more, I wholeheartedly recommend sites like SheVibe, Lovehoney, and Peepshow Toys.
All of these sites are easy to navigate, have an enormous collection of sex toys to offer, and a lot of helpful reviews you can read before you buy. You never risk getting a faulty product from here!
---
Materials
Toys have to be made of body-safe materials that won't cause you irritation or infection. Lipstick vibrators are mostly made of plastic and/or silicone.
Silicone is the best material for female toys because it's hypo-allergenic and non-porous. That means it won't cause any allergies and can also be COMPLETELY disinfected after use. You won't have to worry about bacteria build-up over time that can cause you grief.
Make sure that any plastic your lipstick vibrator is made of is marketed as "body-safe," meaning it's non-toxic and phthalate-free.
For more vibrating content, check out our best vibrator guide
---
Features
Lipstick vibrators are basically bullet vibrators, so they're small, portable, and easy to use.
What other features can they have?
Number Of Vibration Modes
When it comes to vibration functions, the more, the better! A wider range of options means you're more likely to find something that suits your needs.
Remember that more patterns and speeds often also mean a more expensive toy, so consider the price-to-functions ratio. If you're a beginner, you'll do just fine with fewer vibration modes.
---
Controls
Most lipsticks have very simple controls – dial control or a single button. That means you won't be fidgeting with the toy when what you should be doing is having fun.
However, more complex controls like app controls or more buttons let you customize your experience and fine-tune the vibration patterns and power. Think about what's more important to you – customizability or ease of use?
---
Shape
Lipstick vibrators generally have the classic lipstick shape with an angled tip.
However, some have sharper angles; some are more rounded, some are wider, some have a fluttering tip, and so on.
Make a decision based on whether you prefer intense targeted stimulation on your clit or gentler and broader sensations.
---
Budget
Lipstick vibrators, overall, cost less than other sex toys because of their small size and simple functions. Still, there are more high-end choices and more affordable ones.
There are quality toys for every budget, but remember that suspiciously cheap toys will probably cause you some grief. Chances are they are faulty or even dangerous.
Only shop from trusted manufacturers and sellers. Avoid getting your sex toys from Amazon – it's a huge marketplace, and knock-offs resurface on the regular.
For more vibrating content, check out our best vibrator guide.
---
FAQ
How do you use a lipstick vibe?
Using a lipstick vibrator is easy! Because of its small size, you can play solo or with a partner.
Always clean your lipstick vibrator before using it to ensure there is no debris or germs on the surface. I know it's a bit annoying, but irritation, inflammations, and infections are far more annoying.
Make sure your toy is charged or that you have spare batteries.
Set the mood – do whatever you need to get turned on. That might be erotic films or stories, music, candles, foreplay with your partner, or whatever. Make sure no one will bother you and interrupt your play session.
Put some water-based lube on your privates and your toy and… go to town!
Lipstick vibes can stimulate more than the vulva and clitoris. They're great for every erogenous zone you can think of and can also be used on guys. Neck, wrists, nipples, lips, shaft, testicles, perineum… the possibilities are endless.
Avoid using the lipstick vibrator for anal penetration because they don't have a wide base to prevent them from getting in too deep.
Don't forget to wash it after every use!
Read our guide about how to use a bullet vibrator like a PRO to learn more.
---
How do I clean the vibrator lipstick?
Most lipstick vibrators are at least splashproof, if not fully waterproof. That means you can safely clean them under running water.
Use warm water and soap.
Make sure to dry your toy thoroughly because bacteria can develop in leftover moisture. Use a lint-free cloth to dry your toy, especially if it's made of silicone.
---
Is there a proper way to store lipstick vibrators?
Store your lipstick vibrator like you would store any other sex toy.
It's best if your toy has a pouch or box that protects it from debris or germs. Most lipstick vibrators come with their own cap, just like actual lipsticks.
Put it in a cool, dry place away from sunlight, like a drawer.
If you want to take your toy with you on a sexy date or vacation, the lipstick vibrator will be incognito in your purse, just like cosmetic lipstick.
---
Conclusion
Lipstick vibrators are stealthy, portable, and very fun to use! They're a must-have in any sex toy collection because of their simplicity and versatility.
There are many types of lipstick vibrators on the market, so go and find your perfect match!