In this We-Vibe Ditto review, I'll share my honest thoughts on this beginner buttplug vibrator, my experiences with it, and how to get the most out of it. Read on: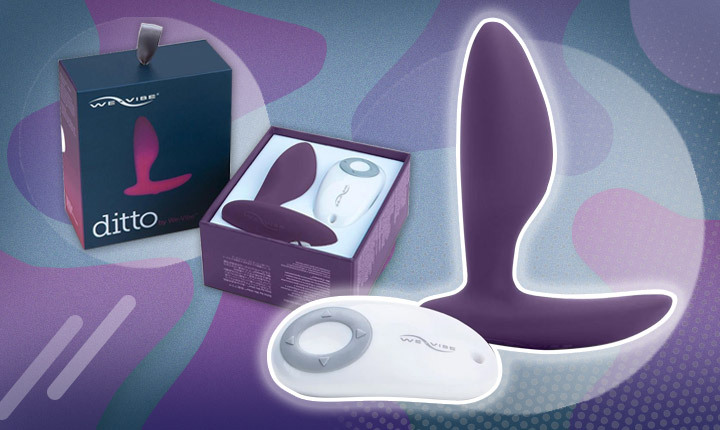 So you (or your partner) are ready to open the back door to adventure.
Congratulations!
I remember the first time I took anything in the ass. It was exciting but also scary! After all, it's usually an exit, and as with ALL sexual pleasure, it's not for everyone!
But you'll never know whether it's for you unless you give it a try!
And for those looking for an excellent first time – or those just built for smaller toys – the We-Vibe Ditto is a perfect choice.
The small size is perfect for beginners or anyone intimidated by the huge and unusual selection of anal instruments. It has a wide range of rumbly vibration sensations and strengths for your personal pleasure. And, it can be worn quite comfortably during vaginal sex, so everyone can have a little more fun!
If you're an old pro at anal, this isn't the toy for you as the size will leave you disappointed. Also, many people report issues with Bluetooth connectivity. If this is a MUST HAVE for you, scroll down for some other options.
The We-Vibe Ditto is an EXCELLENT vibrating butt-plug choice if you're intimidated by the size or shape of other products or just uncertain about vibrating anal play. Plus, the We-Connect App allows you and your partner to control each other's We-Vibe toys, whether you're in the same room or across the globe!
We-Vibe Ditto is for you if…
You have a butthole, regardless of your gender.
You are new to anal play.
You are looking for a comfortable, light fit, perfect for longer wear.
You want to try long-distance play with your partner, in public or private!
It is NOT for you if…
You are experienced at anal play
You are looking for a fuller experience.
You are looking for the deepest penetration.
---
We-Vibe Ditto First Impressions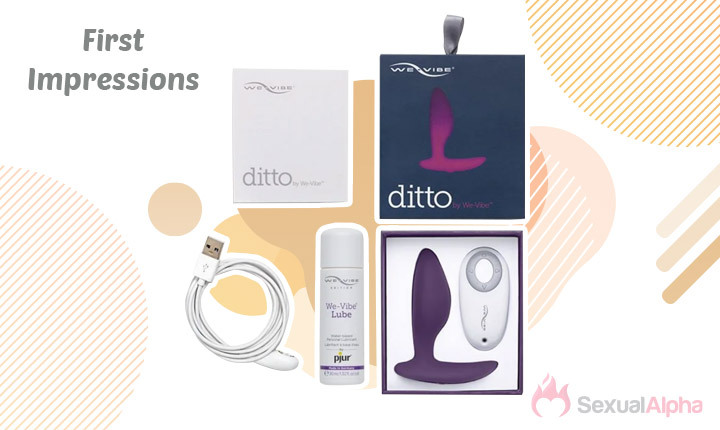 I always love a color choice, and We-Vibe's Ditto gives you TWO: Purple or Midnight Blue.
I got purple because something about that color always just makes me feel like royalty, but you do you! This is all about your pleasure, after all! 😉
The box is neat and compact and comes with almost no garbage.
The Ditto and its remote are the stars of the show when you open it. Then there is also the magnetic USB recharging cable and a little pillow packet of We-Vibe Lube (by pjur). The quick start guide and user manual are also included, natch.
---
Let's Talk Tech Specs
---
We-Vibe Ditto: The Look & Feel of Pleasure
The moment I had the Ditto in my hands, I knew it was a different kind of toy.
First off, the feeling of the silicone is so unique. It has a different texture than most real-feel silicone toys, making it even silkier than most. More like that soft satiny feel of a guy's member or the inside of your forearm.
It's also much softer in the squishy sense than you might imagine!
Then, there's just something cute and friendly about the shape of it! Depending on your screen size, it may look like it's huge, or it may look like it's tiny. But in my hand, the insertable part is just a little longer than my first finger and a little fatter than my thumb.
This is something that most consenting adults should have no trouble with, even if this is your first anal play experience!
---
We-Vibe Ditto Key Functionality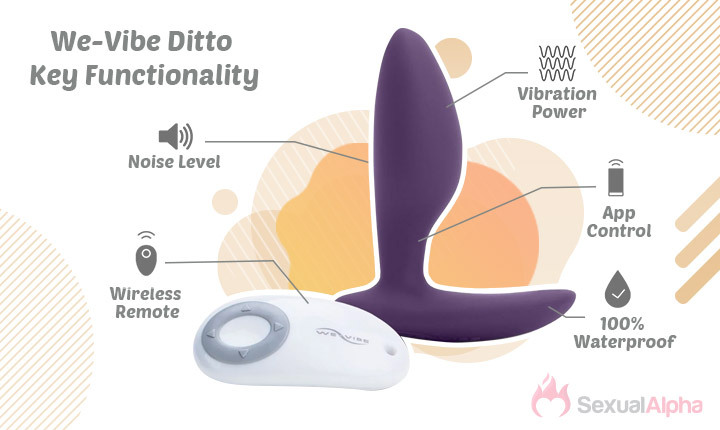 Don't let the smaller size of this toy fool you. It's packed with functionality, perfect for almost anywhere you want to play, in public or private!
Noise Level
If discreet play is something you worry about, then fear not! The vibrations from the Ditto are powerful, but the motor is incredibly quiet.
Outside the body, it's about 45 dB.
31-45 dB is considered a "faint" noise—just a little louder than a ticking watch, so it's whisper-soft when outside and almost impossible to hear when inserted.
---
Vibration Power
The vibration strength in the Ditto is fully adjustable across 10 strength settings (clicking up and down on the remote) to give you just what you want when you want it.
And there are 10 different vibration patterns programmed in (left and right on the remote) to help you truly tailor your titillation.
That makes literally 100 different options, just using the remote (and even more when you connect using the We-Connect app)!
---
App Control
Of course, part of the fun is using this Bluetooth-enabled toy with the free We-Connect app. Use it to program your own vibration patterns, OR to give TOTAL CONTROL of your pleasure to your partner, whether they're in another room or another country!
---
Wireless Remote
Sometimes, you just need the security of simple, close-range control. That's where the Ditto's wireless remote comes in!
Whether you're literally handing control to a partner or in control of your own sexual destiny, it's as simple as your TV remote.
---
100% Waterproof
It's no secret that I love to play in the bath, so waterproof is always a must with my toys! What I really love about the Ditto for bath play is that it's so comfortable, even when I'm sitting up in the tub.
Some toys – especially butt plugs! – can be uncomfortable in different positions.
NOT SO with the We-Vibe Ditto! The soft silicone made it so that even as I moved around in the water (and I moved around with this little bum-buzzer rumbling inside of me), I was always perfectly comfortable.
---
Using the We-Vibe Ditto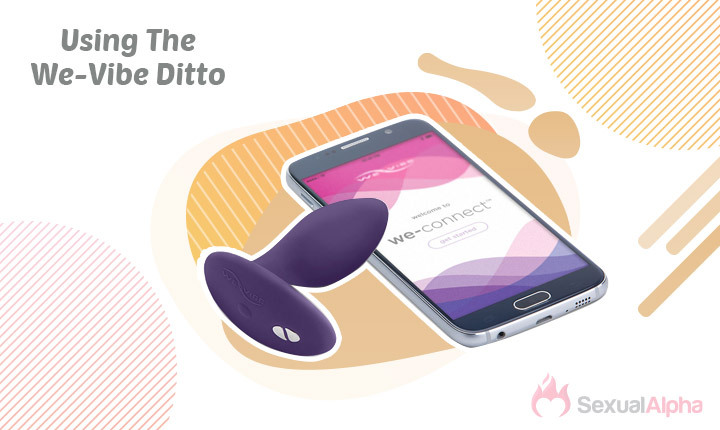 I'm a fumble-finger sometimes, especially when I'm cumming, so I don't like using remotes in the bath. Fortunately, the onboard button in this toy is easy to use, and you can change things up with just a few touches to find what's right for you in the moment.
A long hold turns it on and off, and a short press will cycle through the 10 vibration patterns.
Connecting it to my phone was as easy as connecting my earbuds.
Here are quick instructions on how to operate your Ditto in three ways…
Operating Ditto's physical buttons:
Turn it on by pressing the control button.
This is the same button for changing the vibration modes.
Turn it off by long-pressing the control button for 2 seconds.
---
Connecting to Ditto's remote control:
Hold Ditto's control button for 5 seconds until it pulses twice.
Hold any button on the remote control for 5 seconds. The Ditto signals it's paired with the remote when it pulses.
The up and down buttons control the intensity settings for the vibrations.
The left and right buttons cycle through the vibration patterns.
You can operate the remote up to 3 meters away from Ditto.
---
Pairing Ditto with the We-Connect app:
Download the app on your phone.
Open the app and follow the on-screen pairing instructions.
Hold Ditto's control button for 5 seconds until the device pulses twice.
Now, they're paired!
---
My Experience With the We-Vibe Ditto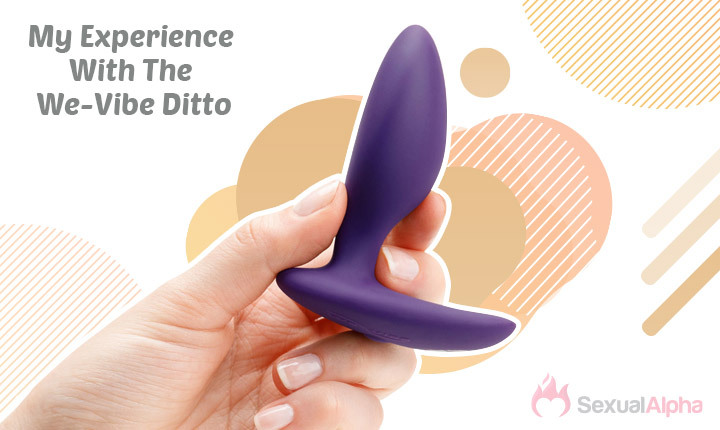 Alright, friends, if I'm being honest, this toy is a little on the light side for me. I also had a LOT of trouble keeping the device connected via Bluetooth on both my and my partner's phones.
In fact, the only time I DIDN'T have connectivity issues was when wearing it during sex. My partner and I were doing the doggy, and my phone was in his hand about 12 inches away. Then it was flawless.
But we never had any problems with the included remote control!
The vibrations are wonderful, and the 10 different patterns are unique and fun. I'm just a bit more experienced taking the dirt road home than the ideal user for this toy.
I LOVE the forward-facing design that delivers all the best rumbles deep inside, exactly where I like them. But the overall size left me…wanting more. (Which wasn't bad, especially when I hooked up with my fella to find it!)
I got it because a close friend is new to anal play, and he came to me for advice (obvi).
He wanted something comfortable and fun, something he could try without getting in over his head. I knew my partner is a fan of his Ditto, so I got one for myself to try.
If you're like my friend, curious about the pleasures anal play offers but afraid of the astonishing variety of sizes and shapes, then the Ditto is a must-try.
If Bluetooth functionality is a must-have for your situation, then there are other options with better connectivity. However, if you're not picky about Bluetooth and are just happy with a remote, the Ditto is a serious consideration.
---
Cleaning Your We-Vibe Ditto
Because it's fully waterproof, you can submerge your Ditto in warm water with a mild detergent. Then, give it a quick pat dry with a lint-free cloth.
You can also just wipe it down with your favorite sex toy cleaner.
Easy, peasy, lemon squeezy.
(Seriously, though, don't use lemons to clean your sex toys. OUCH!)
---
How to Get Your Own We-Vibe Ditto
If your friendly neighborhood sex toy boutique doesn't have the We-Vibe Ditto, then you can order from SheVibe for around $125 US and FREE shipping.
---
Don't Just Take My Word For It…
So if you want a physical remote and you want to wear this toy for several hours at a time, I think Ditto is your best option.
The Ditto […] size might be just right for me right now, but a $100 investment is quite a bit for something I may outgrow quickly, but not really sure how that works. I just noticed it's way smaller than the competitors.
I had a similar experience with the We-Vibe Ditto – it has trouble staying connected in use even when the remote (or phone) is within 2 feet of the device.
---
Are There Any Alternatives?
We-Vibe Ditto vs. We-Vibe Vector
If the Ditto sounds a little timid for you, then consider the Vector.
The Vector has many of the same features: waterproof design, body-safe silicone, remote, and We-Connect App. But it hits you a little deeper, and the shaft is a little slimmer. Also, the Vector is designed primarily for those with a P-spot instead of a G-spot, though you can wear it no matter your anatomy.
---
We-Vibe Ditto vs. Lovense Hush
These two are pretty comparable overall.
The Ditto is easier to insert and more comfortable to wear long-term. Lovense Hush tends to have better connectivity, a plus if that is a MUST-HAVE feature for you. Lovense Hush is also a bit bigger than the Ditto.
---
We-Vibe Ditto vs. OhMiBod Lumen
If you're new to anal penetration play, then the Ditto is tops over the Lumen.
The Lumen's ridges and broader base make it both more intimidating and less comfortable than the Ditto, but it would be a good option if you're looking to step your game up!
Note: If you're experienced at anal play or just built for accepting more, check our Best Anal Toys for more options.
---
Last Impressions
Overall, We-Vibe's Ditto is a great little toy, perfect for beginners and those with a more delicate anatomy. Also great for longer wear and wearing while sitting.
As long as the connectivity issues aren't a deal breaker, this is a wonderful investment for you if you are looking to explore your little bit more!