Have you ever wondered: Do condoms work in the shower? Well, yes! Here are the best waterproof condoms to help ensure your safety & pleasure during shower sex.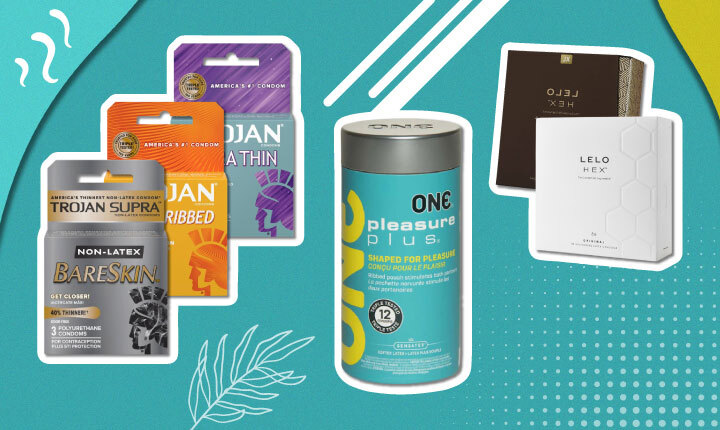 Shower sex is a popular fantasy for a lot of couples out there. You might even call it a wet dream. *hehe*
But SAFETY is always the most important thing, which can make it hard to live out those wet sexy fantasies.
It might seem impossible to find the right condoms that will make shower sex actually viable instead of being something you try once and then wish you hadn't.
So, without further ado, here are the 7 Best Shower Sex-Friendly and Waterproof Condoms of 2023.
TOP 3? Say no more, bud.
LELO HEX™ Original condoms do everything you need from a waterproof and shower-friendly condom while also feeling better than pretty much anything else. Damn near perfect.
Trojan Ultra Thin condoms are, well, ultra-thin, so they feel great and fit like a skin-tight glove. And they're much cheaper than most other options.
Best Large Waterproof Condom
LELO HEX™ Respect XL condoms are the same as the Hex Original but BIGGER. Comfortable, almost invisibly thin, everything else, just in a larger package.
---
The Best Waterproof Condoms For Sex in 2023
Superbly thin, very strong, and with an internal texture that keeps them from going anywhere even if there's more friction than you'd want – if I didn't know better I'd have said the Lelo Hex condoms were made specifically for shower sex.
The transfer of heat and sensation is excellent, even under running water, and they're extremely unlikely to break even if you get a little rough.
Even more surprising when you feel just how THIN they are – you'd expect one to break as soon as you even mention the words shower sex, but they're as TOUGH as rubbers come.
The one drawback to using them for shower sex is that you might not notice if one of the cells does break, so you have to be extra careful and check it properly when you're finished.
But everything else about them is ideal for shower sex. The texture adds sensation for both partners, and they're stretchy enough to fit most sizes in comfort and style.
So slap on plenty of silicone-based lube and dive in!
If you want to know more details about the LELO Hex Original, we have an in-depth review here.
---
For transfer of feeling and heat, these are some of the best condoms whatever your environment happens to be.
They're stretchy enough to accommodate most sizes and very reasonably priced for such good condoms.
The thinness also helps them feel snugger and form-fitting than your average condom, which helps you feel SAFER when it might be harder to notice slipping.
And for some reason, they're less irritating than most latex condoms seem to be, which can help in the shower, where it's already a more stressful environment for your skin. (That doesn't mean you can use them if you have a latex allergy, just to be clear.)
Just make sure you ADD MORE LUBE than you might think to yourself as well as your partner. That will ensure the best possible feeling for both of you.
---
If you're on the bigger and broader end of the spectrum but want all of the benefits of the Lelo Hex in the shower, these are exactly what you're looking for.
They've got the same hexagonal design that won't slip off or break, the same unbelievably thin feel, and the same tensile strength in use.
But they happen to be bigger than the Original. So if you're larger, then you need these.
The texture on the inside of the condom makes them feel amazing for both partners while also making sure it stays on without rolling or slipping off, and it won't break easily either.
---
If you want an oil-based lube for your shower-based escapades, then you're pretty short on options.
BUT the best one is right here. Trojan Supra Bareskin condoms are made of polyurethane, which is oil-friendly.
And – though I'm not recommending it – soap or shower gel won't damage the plastic.
They're extra thin, which is great for shower sex, where your sensation is likely to be less compared to in bed. You can really feel your partner's skin through them, even with a thick waterproof lube.
And they won't trigger any latex allergies if that's an issue for you. They're some of the safest and also best-feeling condoms you can buy for shower sex.
---
Larger guys might have an especially hard time in the shower (pun not intended). Since there aren't as many condoms that fit guys with big penises, finding a good fit that's still shower-safe can be more challenging.
But there's good news! One of the most popular large-fit rubbers is also an excellent shower sex option.
It's BIG, meaning it's for larger than average guys and up, but it's also tapered in shape. That shape helps it stay on more securely and makes it less likely to slip.
It's also good if you have a larger head THAN your shaft.
They're safe and easily strong enough to stand up to the stress of watery sex while also feeling thin and ignorable so that you can enjoy the actual sex.
---
Shower sex can be fun and hot, but it's not without its drawbacks. For one, both partners can feel less sensation because of the water and the need for thicker lube.
Enter the Trojan Ultra Ribbed. Or rather, put on a Trojan Ultra Ribbed, and enter.
They're very thin, so you can feel a lot of your partner. And they have lovely ribs lining the condom, so your partner feels more too.
The ribs have a BONUS, too – they ensure the condoms will stay on more securely than a smooth one might. Like some EXTRA GRIP.
They feel clingier and more secure than an untextured condom, which is better for your peace of mind when you're in the shower and less likely to notice slipping.
Not many textured condoms are great for shower sex, but these manage to tick all of the necessary boxes and still feel good for everyone involved.
---
If you need some extra headroom in your rubber, then these are great for you.
Each condom has a pouch at the head with frills inside, meaning there's plenty of space and more stimulation for your most sensitive spot.
They're waterproof and come with silicone lube pre-added, so you can put it on without adding extra lube to yourself first.
Pro Tip
You should still add lube before starting sex, though, as there's not enough for shower or underwater action.
The wide head and average-girth shaft mean they will FIT MOST penis shapes comfortably, including uncircumcised guys who might feel restricted by straight-walled condoms.
As long as you're not packing a very wide penis, these are a good option to feel more and be safe.
---
Waterproof Condom Buying Guide
Size
It is essential to find a size that's comfortable and secure for you.
Any issues with fit you might have on dry land are AMPLIFIED in the water, so a tight condom is more likely to break, and a loose condom is more likely to slip off.
So get the best size closest to your own measurements, and test a few of them out to find which is the most comfortable. Then, test for looseness by pulling on the end of the condom. If it moves, it might not be the best for shower sex.
If you don't know what size condom you need, check out our recommendations for small to biggest condoms to help you choose the right condom size for you.
---
Materials
You have a choice of 3 in total when it comes to getting busy in water:
Latex is the standard condom material that also works fine for shower sex. It's waterproof and reliable, and you have the most choices in terms of sizes and styles.
Polyisoprene is a synthetic rubber that works like latex but doesn't trigger rashes or allergic reactions. It's safe to use underwater and is usually softer and stretchier than latex.
Polyurethane is a soft plastic that works as well underwater as it does on dry land. It also works with oil-based lubes, making them a decent option for anyone who doesn't like silicone lubes and still wants shower sex.
---
Features
A few special features are compatible with shower sex, like
Textures – ribs, dots, frills… you name it; you can use it. Just remember to add a little extra lube to compensate for friction.
Thickness – Extra thick or thin condoms will still work underwater as well as standard size. If you're using extra thin condoms, though, you'll want to add more lube to prevent breakage.
---
Frequently Asked Questions About Waterproof Condoms
Is it safe to use condoms underwater, like in the pool or shower?
Most condoms are impervious to water and, therefore, should be safe to use in the pool or shower.
The main thing to remember when looking for condoms for shower or pool sex is LUBRICATION. If there's enough lube that stays where it should be, you won't have any problems when it comes to watery sexy times.
One thing to remember, too
– Never use shower gel or soap around the condom.
The active ingredients in soap can break down the condom material, not to mention all the irritation your partner is likely to have!
---
How do I make sure the condom doesn't slip off or break in the shower?
First, you'll want to make sure the condom you're using FITS well.
Some, like the Lelo Hex, have anti-slip features that make them stay on even better. But any condom that fits your penis well should stay securely in place even in the shower.
That is, as long as you have adequate lubrication.
Dryness and friction aren't just unpleasant during sex – they're likely to cause condom breakage. So make sure you've got plenty of lube for your slip n slide. You may also want to consider checking out our best sex lubricants in this post.
Basically, just pay attention! Take a little extra care to ensure condoms don't slip or break, and they won't.
---
What sex positions can work in water?
With some practice and creative problem-solving, any of them could theoretically work either in the shower or underwater.
If you're going for shower sex, then you'll want to use positions where you can both keep your feet planted firmly on the ground, like standing doggy-style. If you have good balance and a bath mat, then having your partner wrap one leg around your waist while falling on each other is also a good choice.
If you have a seat you can sit on, then your options get a whole lot broader. Cowgirl anyone?
And if you're both underwater, say in a hot tub, then you can use whatever position you like as long as you have enough lube (silicone-based is really a must here).
---
Conclusion
Safe sex is a must, even if you're in the middle of the ocean. Pregnancies and STIs can occur on dry land and at sea alike. Just ask a pirate or a mermaid, and they'll tell you.
Fortunately, now you know what are the best ways to stay safe while you have the wettest sex it's possible to have. Enjoy!