During my time, I've been lucky enough to test thousands of sex toys, from the best masturbators to the best handjob machines. Still, the Arcwave Voy was one that I was genuinely excited about.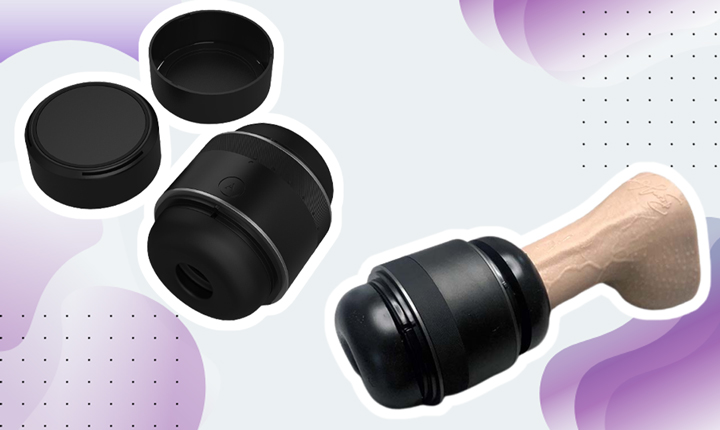 With a custom fit adjustable design, compact size, and clean tech silicone, I knew this masturbator would be good, but how good compared to other compact masturbators on the market?
Does it compete with its rival, Arcwave Ion? (check it our on our Arcwave Ion review)
Well, I've done the hard work for you (yes, I know, backbreaking work) and tested out this sex toy for a few months.
So now I know all the pros and cons of this toy, and I'm confident enough to give you my complete verdict on if it's worth it.
This Arcwave stroker differs from regular masturbators thanks to its adjustable stroking mechanism.
This makes it feel as if it's custom designed for your penis; it's also super discreet and compact, so perfect for travel.
The soft silicone (which is very easy to clean) and crafted pressure points make it very pleasurable too.
The biggest drawback to the Arcwave Voy is its limited size; if you're packing a penis thicker than 5.5 inches, you will struggle to fit into this masturbator.
This toy does make a crackling noise when stroking, which can be off-putting.
If you're not into automated masturbators, then the Arcwave Voy is one of the best manual compact toys on the market and is guaranteed to give you a pleasurable experience.
But if you're looking for a manual stroker that can fit your entire penis, ditch this one and go for male strokers.
Who Is It For?
You're looking for a compact masturbator.
You want something high-quality which is easy to clean.
A customised fit and adjustability are essential to you.
Who Is It Not For?
You want a quiet toy.
Your penis girth is bigger than 5.5 inches.
You are on a budget.
---
Unboxing The Acrwave Voy (First Impressions And Features)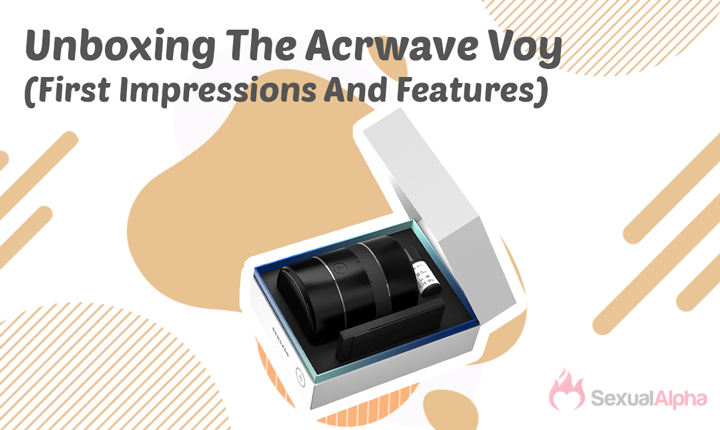 Upon unpacking the Acrwave Voy, I was impressed.
The toy was packaged discreet high-quality way, and the product felt premium; it would even make a great gift to a friend.
When you unbox the toy, they include a bottle of lubricant and a three-step, easy-to-use guide for the masturbator.
Again, you can see the manufacturers paid attention to detail off the first look.
---
Let's Talk About The Tech Specs Of The Arcwave Voy
These are the techy points about the Acrwave Voy if you're interested.
---
The Design And Feel Of The Arcwave Voy
If you didn't know that the Arcwave Voy was a sex toy, you could mistake it for a camera lens instead.
Its design is discreet and stylish.
Discreet
When looking at the design of the Arcwave toy, the first word that comes to mind is discreet.
The logo is a simple A, and the adjustment ring has dots for guidance; as we said, a premium-looking toy.
---
The Silicone Canal
Once you lift the caps of the canal, you're exposed to the shiny double-walled canal.
At first, the round bulging sides can look slightly tacky, but after I felt them, I knew smooth, soft surfaces would be excellent for stroking.
---
Open-Ended Design
The Archive is designed to be open-ended with two different entryways.
This means that no matter the size of the penis you have, it can fit on either end.
One end is oval-shaped, measuring 1×1.2 inches, while the other is 1.4 inches.
---
Main Features Of The Arcwave Voy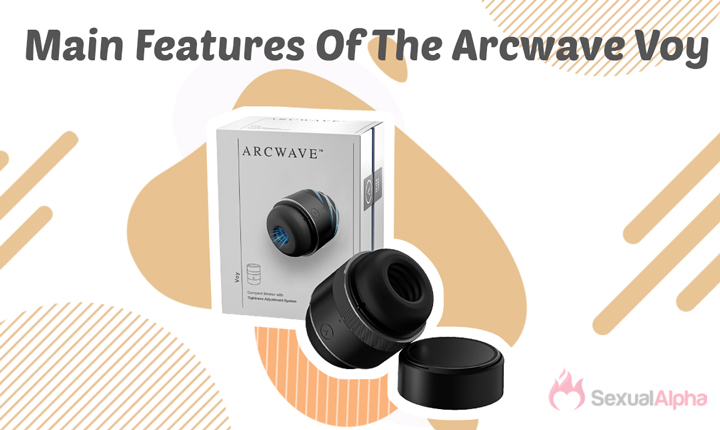 Tightness Adjustment System
The tightness is easily adjusted by turning the dial on the outer casing.
It's refreshing to use a toy like this which isn't suction but feels more life-like since you can customise your experience.
Voy allows for the perfect masturbation experience since these walled edges stimulate the Merkel-Ranvier pleasure receptors for the best sensations.
---
Clean Tech Silicone
A must for me when choosing a sex toy like the Voy is how easy the material is to clean.
This toy is easier to clean than most, and the silicone is non-porous, making it hygienic.
This material is also way more durable than other sex toys I've used; just ensure you are using the right kind of water-based lube with it.
---
Compact Size
Another stand-out feature of the Voy is its discreet, compact size; you can easily slip this toy in your pocket, have it on your desk or take it travelling without anyone knowing.
---
Protector Lids
The Arcwave Voy is fitted with two protector lids at each end to keep it clean; each end has a hole, too, so the toy can dry between each wash and use. It also keeps the design discreet.
---
Our Guide To Using The Arcwave Voy
Using the Arcwave Voy is very simple and is listed in three simple steps, as shown on the lid of the white box.
Before we list the steps, please always use your toy with water-based lube to avoid damaging the silicone.
First, remove the protective lids on each end of the toy.
Apply a generous amount of the lube to the inside of the toy and your penis.
Slide your penis inside and use the adjustable ring to get the right tightness.
How Do I Charge The Arcwave Voy?
The Arcwave Voy is a manual device that does not contain batteries, so it doesn't need to be charged!
The perfect toy to travel with and use at any time.
---
My Experience Using The Arcwave Voy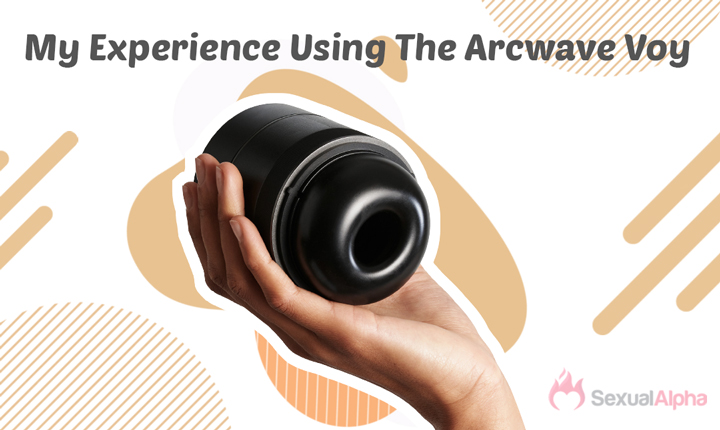 After unboxing the Arcwave Voy, I was excited to use the toy thanks to its premium look and soft silicone design.
Upon getting my penis into the device, I did find the silicone dusty and cold, so running it under warm water helps.
I slipped into the device using their provided water-based lube and found it takes some adjusting to get the right feel.
One annoyance is that you must take it off when changing the dial.
Once I got the stimulation right, this toy provided incredible life-like sensations. Still, it did get heavy in the hands after long periods. So it's perfect to use for edging or slower strokes.
Noise
I have to admit, when it comes to noise, Arcwave does make some crackling noises while wanking, but this is the case with most other sex toys I've used, and I don't think it's loud enough to be a distraction.
---
Partner Play
A great advantage to the toy is that it exposes your head; this means your partner can lick and stimulate your head while you stroke for the ultimate orgasm.
My partner and I tested this out multiple times, and I can say it works well for foreplay or edging in the bedroom to get started with.
---
Flaws
As I said earlier, the toy gets heavier after a long wank, so it's better to use it slowly. I also found that lube tends to go everywhere when using the toy, which can make the dial hard to turn.
---
How To Clean The Arcwave Voy
After testing the Arcwave out a few times, it was time to clean it, which was extremely easy as I thought it would be due to the silicone material.
I ran the toy under some warm water and used regular soap, then left it to dry with the lids off.
The vents inside ensure no moisture builds up; you can also use a hypoallergenic sex toy cleaner for the job.
---
What Are The Best Lubricants To Use With The Arcwave Voy?
For lubricants, you are best off using a water-based option so you don't damage the silicone of the Arcwave.
They include a 10ml sample, but more is needed, so we have a great list of lubricants you can check out here.
Just make sure that your choice is not perfumed or oil-based.
---
Arcwave Voy Buying Guide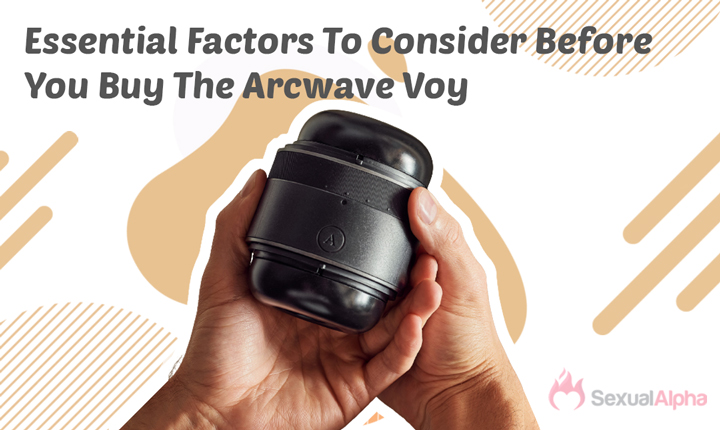 The Arcwave Voy is not a cheap toy; this manual masturbator does cost, so you want to make sure it's right for you before you go ahead and buy it.
I've listed some considerations below after using the model for a while.
Size – The Arcwave Voy is not suited to small hands, so that you might find the toy a little on the larger side; it measures 10cm long and 8.5 cm wide. I would say it is suitable for a penis thickness of about 4-5.5 inches.
Weight – This toy weighs 300g which is pretty good, but you do certainly start to feel the weight after using it one-handed for a while.
Price – At around $99, you might find this a little steep for a manual masturbator, but it's worth it when you consider it's made from high-quality material and adjustable.
Adjustability system – The adjusting ring needs moderate force to turn it and would need to be done by holding it with one hand and using the other to turn the dial.
---
Price Of The Arcwave Voy 
At $99, the Arvwave Voy is expensive but a premium product, so it makes up for it; you can buy it from Lovehoney or Shevibe, where it retails for $80.
---
What Do Other People Think About The Arcwave Voy?
I personally think the Arcwave Voy is a decent high-quality toy considering its manual design. Still, it does have its drawbacks, with it being open-ended.
Here's what other people have to say if you're stuck on your decision.
Many people praise the stroker thanks to its rigid silicone material, saying – "It makes for quite a stimulating experience – not usually my preference, but I did enjoy it by focusing on very slow, deliberate strokes rather than firmer thrusts."
The quality of the materials is excellent. It's soft enough to feel comfortable and tight enough to give you a good grip. I found the metal band around it hard on my hand but overall great stroker.
---
Arcwave Voy Alternatives
If you think something other than the Arcwave Voy is for you, there are plenty of other alternatives on the market with similar designs.
The Fleshlight quickshot male masturbator is similar in design to the Arcwave Voy and is very compact; after trying both, the Fleshlight is better for long periods of usage.
---
Arcwave Ion came out before the Arcwave Voy and is the electronic version of this stroker; this masturbator is a better choice if you're into Frenulum vibrations.
---
A perfect alternative if you're looking for something automated without you having to lift a finger. The Handy is open-ended like the Voy but offers different sleeves for maximum comfort.
If you don't think a stroker is for you, we also recommend the best fake pussies and the best onahole as alternatives to switch up your toys.
---
FAQs
What is the Arcwave Voy?
The Arcwave Voy is a compact male sex toy manual stroker with adjustable tightness. Allowing you to insert your penis inside and level up your masturbation.
---
Which company manufactures the Arcwave Voy?
The Wow Tech Group is an umbrella to the Arcwave company, which made the Arcwave Voy, this is a male-specific sex toy company, and Wow Tech focuses on female sex toys instead.
---
Is Arcwave Voy quiet?
I found the Arcwave Voy quiet when used slowly, but it does crack when you pick up the pace; it's not as loud as automated versions like the Arcwave Ion.
---
Is the Arcwave Voy waterproof?
The Arcwave Voy is entirely waterproof, which makes it easy to clean since you can just run it under the tap.
---
Last Words
To conclude our review of the Arcwave Voy, this manual compact male sex toy is perfect for guys who don't want an overly complicated toy with automated options.
It's a simple and adjustable device, making it more comfortable than the standard stroker.
Remember that this toy will be for someone else if you're packing a circumference over 5.5 inches.
If you're interested in other options, like blowjob machines, I have my top picks to add to your toy collection.