Is this minimalist personal massager worth the hype and your time? We answer all your questions in this Maude Vibe review and how the toy feels in use.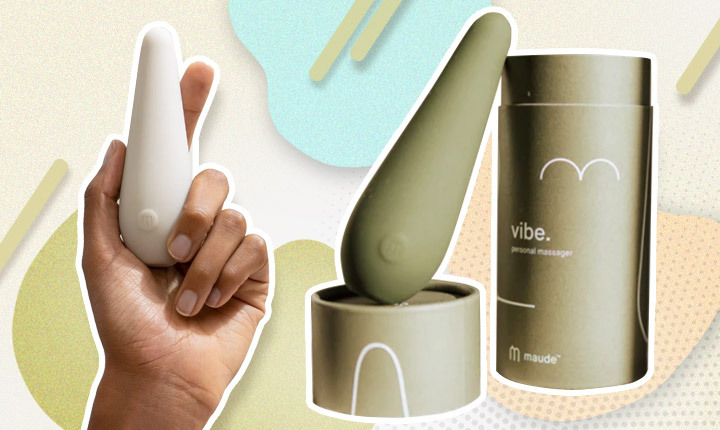 Sex toys are getting more and more advanced every day.
It's all Bluetooth-connected, app-controlled, VR compatible, AI, hyper-realistic, voice-activated, cutting-edge, state-of-the-art, bi-coastal multi-tasking, gives-you-a-gigabyte-in-a-nanosecond…
Whoops, I slipped into a George Carlin set at the end there. Anyway, you get the drift.
Sometimes you want a simple, basic, high-quality toy without all that mumbo-jumbo. Something that's VERY easy to use, so you can get straight to the good part.
Something with plausible deniability – like if your toddler or a really drunk friend (isn't that basically the same thing) gets into your stuff and starts running around with it, it won't be something dick-shaped they're holding.
Well, I think I've found the perfect simple toy. Maude Vibe is awesome, and I've been using it quite a lot for the past month or so. It's actually one of my favorites now, and I'll tell you why.
Let's start with a quick overview.
Maude Vibe has a slick abstract design for those who don't like their toys to resemble body parts. It has powerful vibrations AND a super soft tip, so it can deliver some very intense sensations but also be gentle enough if you're extra sensitive. It's easy to use, so it's a wonderful choice for a first sex toy.
It tends to get kind of loud, so it's not subtle if you have noisy roommates and thin walls. It has only 3 constant vibration speeds, so if you're a pattern lover, this might not work for you. It's designed for external use, and although some users try it as a penetrative toy, it's on the smaller side.
Maude Vibe is a high-quality toy with some pretty nice features, and it's worth spending your money on as long as it meets your needs.
Maude Vibe is for you if:
You're looking for a basic yet high-quality toy.
You prefer external stimulation over penetration.
You're a beginner.
Maude Vibe might not be for you if:
You're looking for a high-tech toy with lots of features.
You need a wide variety of vibration patterns.
---
My First Impressions of Maude Vibe
Can you picture a Scandinavian-style living room interior?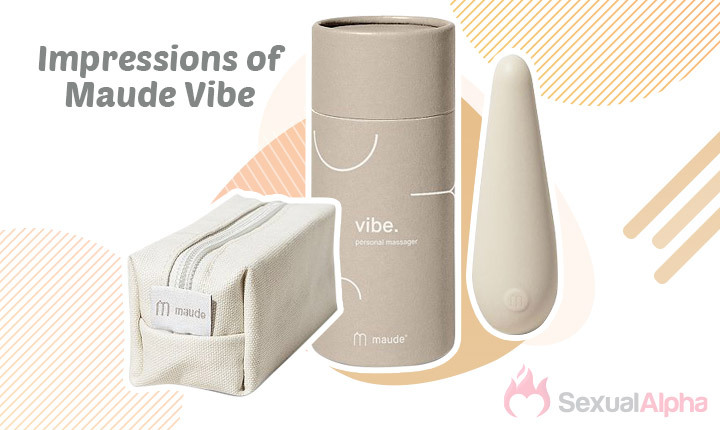 You know the one that's all the rage all over Pinterest and such. It's all about minimalist design and natural materials. You'll find a lot of white or light gray combined with earthy colors.
Well, that's pretty much the whole vibe (get it?) this product is going for. None of that candy-colored aesthetic here. It's all about a calm and natural style, and I LOVE IT.
The Maude Vibe has one gorgeous packaging I've seen on a sex toy.
You get a very minimalist gray cylinder-shaped box made from some sturdy cardboard – like the cardboard they make gift boxes out of. Some simple patterns are drawn on the box and the name of the product – Vibe.
The best part is you can also see a life-sized silhouette of the toy drawn on the box. You know how big your toy is before you even open anything.
Inside you'll find a very nice storage bag with a zipper. You can use this to keep your toy clean in your drawers, keep it safe from curious snoopers, or just use it as a convenient travel bag.
You'll also find a standard USB charging cable you can plug wherever you charge your USBs and a manual.
Most importantly, inside the storage bag, you'll find your very own slick and minimalist Maude Vibe – the star of the show! Let's take a close look at it, shall we?
---
Maude Vibe Tech Specs
Got all that? Now let's dive in deeper.
---
How Does the Maude Vibe Look & Feel?
I got my Vibe in the classic light grey, although Maude has three other colors you can get – green, clay, and charcoal. We're still on theme with the "Scandi" style.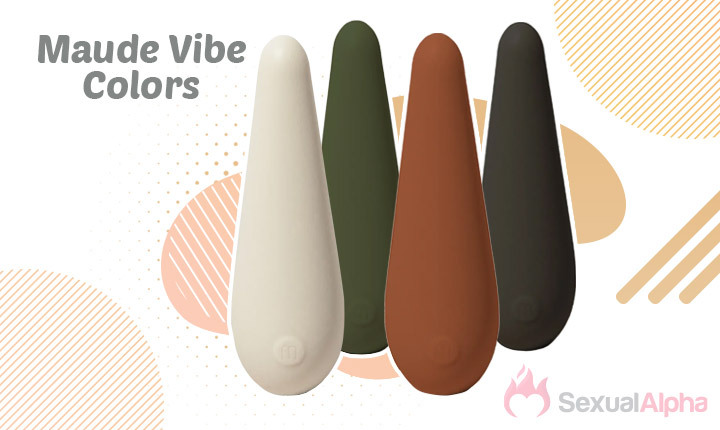 Holding the toy in your hand feels great – it's light without feeling flimsy. The body is covered in premium-grade silicone, which is soft to the touch, non-porous, and hypoallergenic.
The design resembles a drop, as the toy is tapered towards the tip.
This would make it easy for insertion, especially if you're a beginner or just extra tight. I should note that the product page says the toy is for external use only, but many users (including me) have dabbled in some penetration play with it.
The tip itself is SUPER SOFT. It is completely pliable for the last inch or so – you can squeeze it or bend it in any direction. We'll talk about the benefits of that in a bit.
There is a single button located near the base of the toy for turning it on and off and cycling through the vibration levels. It's a bit small, so it can be hard to feel under your fingers while playing.
On the side of the toy, you'll find an ever-so-small hole. This is where you plug the charger in. It's almost invisible because the silicone covers most of it (making the toy water-resistant).
Don't worry – the silicone stretches. You'll be able to plug your toy in, and after you take the cord out, the hole will still be as small as before.
---
Maude Vibe Key Functionality
The Maude Vibe is a very basic toy, which is why it's so cool. You don't have to fumble around with apps or overly complicated control panels. You go straight to the fun!
So let's see what this toy offers.
Intensity
The Vibe has only constant vibration speeds. There are no funky patterns or anything like that…
But OH BOY is the Maude Vibe STRONG!
There are 3 levels of intensity. That doesn't give you much customization, but you can always regulate your toy by adjusting the pressure or angle of the toy.
The highest intensity level is VERY powerful.
If I had to compare it to anything, the closest I can come up with would probably be the Tango by We-Vibe.
The soft tip flutters with higher intensities, which delivers even more delightfully unique sensations.
---
Noise Level
Let's be real here – this toy is not the stealthiest you can find. It can get quite loud in its highest vibration setting.
On the bright side, it's not the loudest vibrator out there. Also, considering how strong the motors are, I'm willing to forgive the loudness.
In any case, I would recommend putting on some background music to drown out the low hum and avoid being overheard.
---
Size and Handling
This vibrator is on the smaller side because it was designed for external use specifically. That makes it easy to handle and perfect for couples' play – big toys tend to get in the way, while this almost bullet-sized buddy would fit right in.
The size also makes this toy ideal for traveling. After all, you already got the storage bag. You can even keep it in your purse – it won't take up more space than your average makeup bag.
---
Charging and Battery Life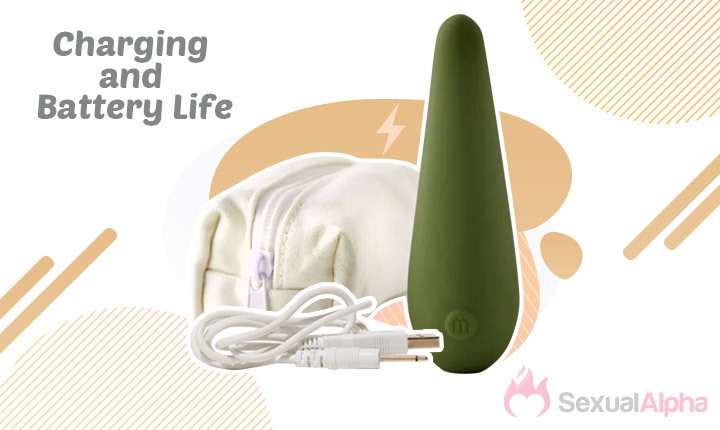 The Maude Vibe's battery run-time is also great. You charge it for about 1.5 to 2 hours and get at least 1.5 hours of fun if you use it on the highest setting. The battery can last up to 2.5 hours if you use it on the lowest setting.
When charging, make sure to insert your charger all the way.
You'll feel slight resistance when inserting it; just push down. While your vibe charges, a small light will turn on. It'll turn off once charging is complete.
Something to note
I recommend charging your toy after every use for optimal battery lifespan.
The Vibe has a travel mode, so it doesn't accidentally go off in your luggage when you're out and about. Actually, it will be in travel mode when you get it.
To exit travel mode, hold the button for 3 seconds. To go into travel mode again, hold it for another 3 seconds. Wait for two quick, high-speed vibrations and by two flashes of light.
---
How to Use Maude Vibe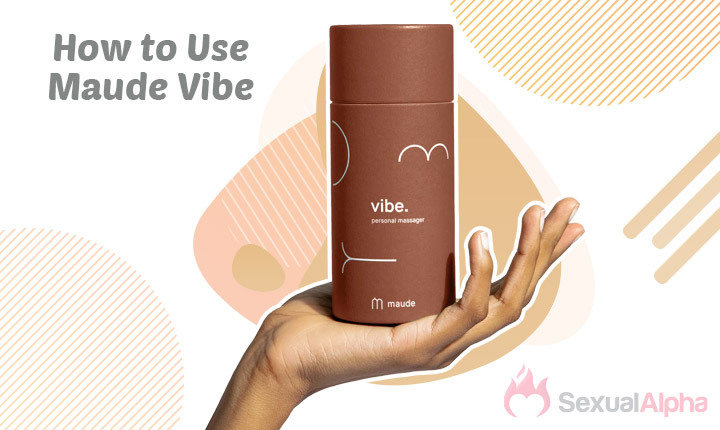 Using this toy is pretty simple – you have a one-button interface, after all.
Long press the button to turn your Vibe on. Short presses let you cycle through the 3 intensity levels.
You can use the fluttering tip all over your body, wherever vibrations feel good – it isn't just about genitals, after all. For example, you can try stimulating your nipples with the lowest setting.
This toy is made for external stimulation and feels amazing on the clit and labia.
But it would also thrill any penis owner for stimulating the balls, the taint, and the shaft. The super-soft fluttering tip ensures the sensations are intense but not painful, so it's great for you supersensitive folk (I should know, I'm one of you).
Although the site itself says the toy is for external stimulation ONLY, a lot of users have tried it as a penetrating toy, including me. The materials are safe, and the body is water-resistant, so why not?
This toy is quite small. The tapered tip will make insertion easy for beginners or just someone that's very tight. It can't replace an average dildo by any means, but if you enjoy some shallow penetration and internal vibrations, you'll have a good time.
I wouldn't recommend this toy for anal use.
Although the base is flared, there is no "neck" for your muscles to relax on (like butt plugs do) and nothing stopping the toy from going further than it needs to. If you want to get into some backdoor play, you can get Maude's butt plug called Cone.
Something to note
Don't forget to use ONLY WATER-BASED LUBE with your toy because other kinds of lube will damage the silicone.
---
My Experience With Maude Vibe
I started playing with the Maude Vibe as soon as it came. I couldn't wait to try this little buddy out. Well, I did clean it first, of course.
The premium silicone felt great in my hands and amazing on my skin. I started on the low setting and used it on erogenous zones all over my body. The vibrations were rumbly and deeply penetrating.
After that, I put some water-based lube on the toy and my privates. This vibe is so soft I didn't feel the need to reapply lube over and over while playing.
I'm on the sensitive side, so the toy was intense for me, but it didn't get painful or uncomfortable. I just regulated the intensity by changing the pressure on my clit and labia. You could also use your underwear as a cushion if what's going on is too strong for you.
Honestly, I was ready to blow after a couple of minutes but pulled the toy away so I could hold on a bit longer and try out inserting it. The insertion was very smooth and easy. It's not filling, but the internal vibrations are pleasurable in a teasing way.
After I went back to my clit I was almost immediately done. Ooh, what a ride!
---
How to Clean It
This toy is water-resistant, so you can wash it in the sink with warm water and soap.
Keep in mind
It's NOT WATERPROOF, so don't submerge it in the water!
No bathtubs or anything. Running water is fine. Try to avoid the small hole in the charging port.
You can also use a toy cleaner if you prefer.
Don't forget to wash your toy after every use. Washing it beforehand is also always a good idea.
---
Price, Where To Buy
The Maude Vibe is a special toy, so you can't get it just anywhere. Your best bet is to get it from the manufacturer's official website.
Also, this beauty is just 45$. What a steal, huh? A toy that's good for your body AND your budget.
---
What Do Other People Think About It?
Don't just take my word for this toy. Let's see what our pals at Reddit have to say about it:
I also definitely love the price point of the Maude vibe. It was only $45. I'm definitely willing to spend more on something that's worth it. Especially if it has all the features that the Maude vibe has a rechargeable, strong motor, quiet, decent battery life, ergonomic design, really soft silky smooth silicone.
Hey! I'm not sure how valuable my thoughts are since the Maude Vibe is the first and only vibrator I've ever owned. However, it definitely gets the job done for me. Prior to it, I found orgasming nearly impossible.
---
Alternatives
The Maude Vibe intrigues you, but it's not QUITE what you're looking for?
Suppose you're looking for something even smaller but just as powerful. You can try out the We-Vibe Tango X.
If you want an external vibe that's a bit more high-end and has more pattern options, go for the We-Vibe Touch X.
---
Maude Vibe vs. Maude Drop
Maude has another very similar product – the Maude Drop. How do both products compare?
The Drop also has 3 speeds and a simple one-button interface, but it's egg-shaped. That means it's not suitable for penetration at all, in contrast to the Vibe.
On the plus side, it has a broader surface area, and the vibrations travel through its whole body. That makes it better to use as a whole body massager. It's also perfect for indirect clitoral stimulation if you prefer that over the pinpoint accuracy of the Vibe.
---
FAQ
Can it be inserted?
The manufacturer lists the product for external use only, but a bunch of other people and I have used it for some shallow penetration with great success. Just don't go overboard.
---
Is it waterproof?
The toy is water-RESISTANT. That means it'll handle extra lube, squirting, or running water, but DON'T submerge it in the bathtub, sink, or pool.
---
Can it suck, vibrate, or both?
The Maude Vibe just vibrates. It has no suction function.
---
What to do if your Maude vibrator stopped working?
Your Maude comes with a 1-year warranty!
Just contact the manufacturer and tell them about your problem – they'll be happy to help. Remember to keep your purchase documents – the receipt and documents you got with your Vibe.
---
Final Thoughts
Sometimes simple pleasures are the best pleasures. The Maude Vibe is definitely one of the best. It hasn't left my nightstand for weeks now – sure, it won't be leaving yours.