In this Lovense Osci 2 review, we'll look at how the Osci 2 compares to the OG Osci and why it's the best g-spot stimulator you can buy right now. Read on: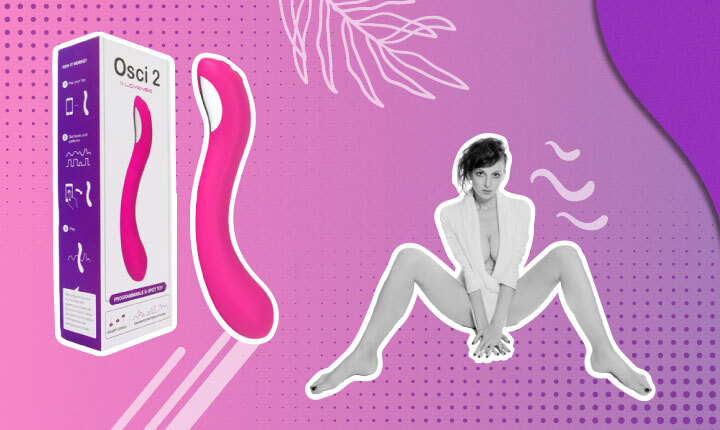 The sea of sex toys is wide and deep.
Finding something truly interesting and unique in the personal pleasure market can be just as difficult as finding a genuine review. And sometimes, something that seems different and daring is really just the same old thing recycled and repackaged.
Friends, that IS NOT the case with the Osci 2!
Unique? Check. Interesting? Check. Different from its predecessor (not to mention literally everything else on the market)? Check! Check! Check!
Let's talk about why.
The Lovense Osci 2 is a clear improvement over the original Osci in size and shape, making it more comfortable for every body shape. The unique oscillating tip is unlike any other G-spot toy on the market.
And, with the Lovense App, you can replace the pre-programmed low, medium, and high vibration patterns with your own personal pleasure preferences!
While the Osci 2 is waterproof for easy cleaning, it is not recommended to submerge the toy completely, and you know I love my bathtime play!
Also, this G-spot stimulator can be a bit loud, especially in the higher oscillation settings. So it may not be best if in-home privacy is a must.
The Osci 2 is unlike anything on the market, even other G-spot massagers, because it doesn't vibrate! Instead, it targets your G-spot with a unique oscillating motion that focuses exactly on your G-spot!
Lovense Osci 2 is for you if…
You enjoy having your G-spot massaged
You enjoy long-distance play with your partner
You have been disappointed with traditional G-spot vibrators
You enjoy having your prostate massaged AND a slightly fuller anal play experience
This is NOT for you if…
You do not enjoy penetration play
Your G-spot (or P-spot) isn't your thing
Loudness is a consideration
You are looking for clitoral stimulation
---
Lovense Osci 2 First Impressions & Packaging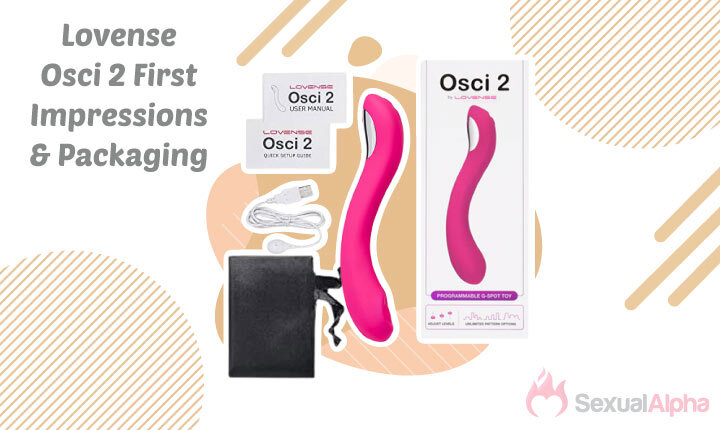 Lovense's packaging is always neat and simple, and their shipping is discreet. Your pleasure is your business, not the delivery driver's!
When you slide the cover off, you're presented with your new toy's sexy S-curve shape and a hint of shiny silver that indicates which end is the handle.
Included in the package are the Osci 2, a USB charging cable, the user's manual, and a quick setup guide. As usual with Lovense, only what's necessary and minimal trash.
---
Osci 2 Tech Specs
---
How Does the Lovense Osci 2 Look & Feel?
If it's true that we eat with our eyes first, then the luscious S-curve shape of the Osci 2 is a feast.
The bright pink color is fun and friendly and takes the edge off of a toy that is, quite frankly, a little bit weird (but in that fun and funky way, like your best friend from high school)!
The Osci 2 has a comfortable weight, and the ultra-soft silicone is wonderful to touch and warms to your body almost instantly.
So, let's get this over with right now.
Stop thinking of this as a vibrator!
This toy is completely unlike anything else on the market, and it does not vibrate. Instead, Lovense has developed an oscillating motion that is completely different from that wiggle we think of with a vibe.
Instead, the closest description I can give is it's something like a finger rubbing against your G-spot. Only without that annoying wrist-aching angle of doing it yourself or that painful knuckle digging of someone else's hand against your delicate petals.
---
Osci 2 Key Functionality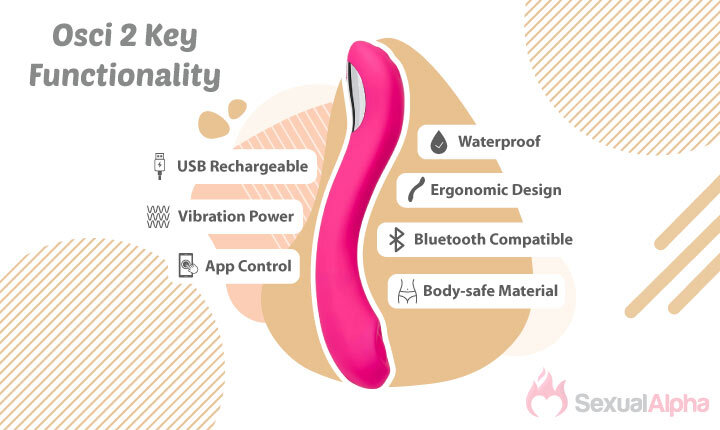 Let's look at some of the things that make the Lovense Osci 2 stand out from any other toy you have in your collection.
Ergonomic Design
The gentle S-curve of the Osci 2 makes it perfect for every body, which means it's perfect for your body! In addition, the shape helps it rest naturally in your – or your partner's – hand, and the simple up-down button control is easy to use.
You probably know by now that your vag isn't just a straight tunnel. To hit the G-spot, you have to go in and forward, almost like you're reaching to the belly button.
This is where that S-curve is so important. The Osci 2 is designed to follow that curve and put the oscillating head in that tricky position while still remaining comfortable in your hand.
No odd elbow angles, no wrist strain, no digging knuckles!
And the smooth, oval-shaped head helps it stay put, no matter how you wiggle and squirm with pleasure.
---
Vibration Power
Pre-programmed with three oscillation speeds (low, medium, and high), the Osci 2 feels rumbly. Plus, you can replace the presets with three of your favorite patterns and store up to 10 in the app!
---
App Control
Speaking of the app, the Lovense App is one of my favorite parts of any Lovense toy!
It allows your partner (or even a complete stranger) to control your toy from next to you, across the room, or anywhere in the world. (Wi-Fi or internet connection required for this.)
---
Body-safe Material
The ultra-soft silicone is body-safe. That means it's medical-quality silicone, phthalate, and latex-free.
There is a little bit of shiny silver ABS plastic at the handle end, which has no toxic materials, so it's completely skin-safe.
---
USB Rechargeable
The Osci 2 comes with a magnetic USB charging cable. This makes it convenient and reliable.
A red light comes on to indicate that it is connected and charging. When it's done, the light turns off, and you're ready to go!
---
Bluetooth Compatible
The Bluetooth compatibility is good for more than just the app control! Not only does it turn your phone, tablet, laptop, or computer into a remote, but it allows you to pre-program up to three custom rhythms into the Osci 2. (Bluetooth adapter required for Windows PC.)
This means you can instantly cycle from one to the next with an up or down click on the onboard button.
---
Waterproof
The Osci 2 has a waterproof rating of IPX7. Great! But what does that actually mean?
The Osci 2 will survive being submerged in 1 meter of water for 30 minutes.
So, if you drop it in the tub or the pool and pull it out, it'll be fine.
It will also survive normal cleaning, such as a dip-and-rinse or being washed under gently running water. But you shouldn't leave it soaking for any length of time.
---
Osci 2 vs. Osci: What's Changed?
Friends, I've told you before that Lovense REALLY LISTENS to the feedback from their users, and it shows in the Osci 2!
First and foremost, Osci 2's curve is more gentle than the first Osci, making it easier to maneuver exactly onto your G-spot. It's more comfortable to hold during play AND during insertion.
The rechargeable battery inside the Osci 2 is also longer-lasting than the original, delivering around 4.5-5 hours of G-reat G-spot G-yrations.
The old insertable plug has also been replaced with a magnetic attachment USB cable.
While the insertable area of the toy hasn't changed, the overall length is a little longer, allowing the oscillating head to reach YOUR G-spot, no matter how your body is shaped!
The width is also slightly bigger, allowing that magic head to find the right place more easily.
---
How to Use the Lovense Osci 2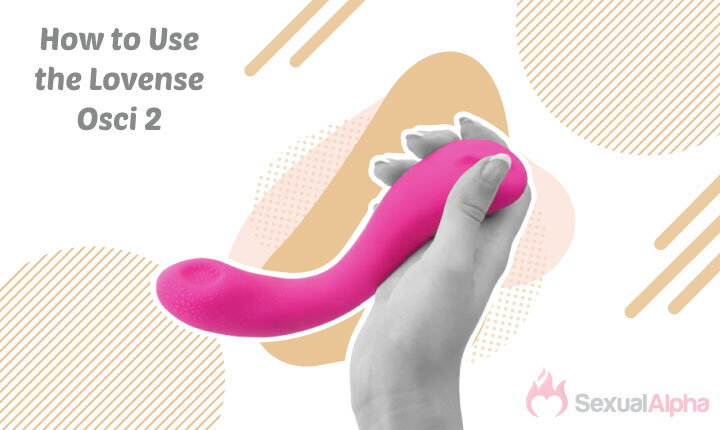 Alright, I don't normally give in-depth tutorials in my reviews, but the Osci 2 is such a different sort of toy that I feel it deserves a bit more attention and a little bit of instruction.
This is because it's not your typical vibrator! It is an oscillating G-spot stimulator. And you need to know what you're getting into before you invest in this amazing offering from Lovense.
The silver end is the handle, and the plastic surface should be toward your booty so that the functional end of the Osci 2 can glide along your vag's natural curve toward your naval.
The whole process should feel comfortable, so when in doubt, take it slow.
Make sure you give your Osci 2 a good charge before first use.
Don't be afraid of some lube! The wetter, the better. Water-based lube is best for silicone toys, as oil can break down the silicone covering.
The Osci 2 should always be OFF when you insert it. Because of its unique oscillating motion, it can be more difficult, or even painful, to insert when the toy is in operation.
Please know that the Osci 2 is NOT meant for clitoral play.
It is also not DESIGNED for anal play, so if you're using it internally for P-spot manipulation, take precautions and never insert past the maximum 2-3 inches.
When inserting it into your pleasure palace, make sure that you insert it at an angle of about 45°. You know exactly what I mean if you've ever put in a tampon.
---
Using The Osci 2 Manually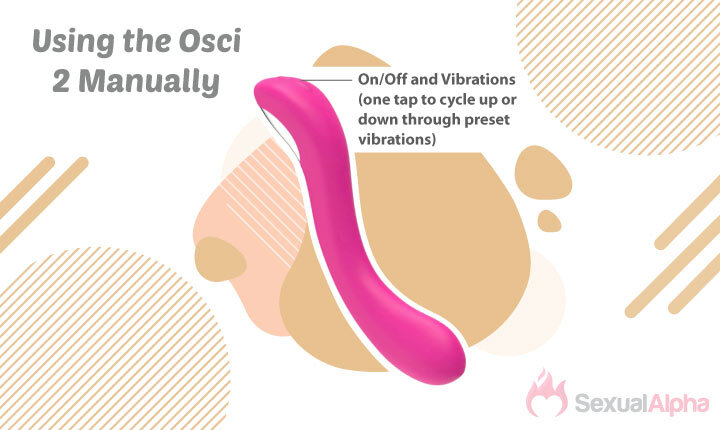 Once it's inside, you can turn it on with a long press (about 3 seconds) on the onboard button.
Then, you can use the onboard up-down button for cycling through the 3 stored patterns. These can be your own or the pre-loaded low/medium/high steady oscillation.
---
You can also use your phone, tablet, or another Bluetooth device to control the Osci 2 directly (or turn control over to a partner near or far)! This is as simple as connecting your earbuds to your phone.
You can customize the intensity, speed, and oscillation pattern of your Osci 2. The app allows you to program up to 10 pre-saved patterns to activate with a tap!
Also, rock your clock to the music that moves you with music sync. This oscillates your Osci 2 to the rhythm of whatever music your device is playing.
Likewise, you can set your Osci 2 to respond to ambient noise, such as the stereo, the passionate cries of the porn you're watching, or your partner's moans of pleasure.
---
My Experience With the Lovense Osci 2
Alright, I'll be honest. I wasn't quite sure what to expect when I first saw that Lovense was releasing an oscillating G-spot stimulator.
What does that ACTUALLY mean?
Fortunately, Lovense has a great .gif to show you exactly what's going on, but even that doesn't quite do it justice.
I keep stating that this is not a vibrator as you know it, and I will keep telling you that. Because it's not, and it took me a while to get over that notion. But having it INSIDE of me and TURNING IT ON was what really rubbed the point home with its strong, rumbly movement!
I found it easiest, the first time, to lay on my back on the bed with my knees bent and my feet flat on the mattress.
Holding the silver end in my hand, with the button side up (silver side down), I just let the gentle S-curve of the Osci 2 follow my own natural shape.
The Osci 2's handle felt natural in my hand, and I had no trouble cycling the oscillation with the simple up-down button on the handle. I found that the fastest setting wasn't for me, personally (it was a little stronger than I like), and it was really easy to replace that with a rolling pattern that I already knew I liked!
It won't shock you to know that I have quite a few Lovense toys in my collection, so it was super simple to try out some of my already saved patterns on my new Osci 2. Just a tap from my favorites, let me sample it.
---
Cleaning Your Lovense Osci 2
The Osci 2 is waterproof for cleaning. Give it a rinse with warm (not hot) water and mild detergent, or use your favorite sex toy cleaning wipes. The same as most of your other toys.
Just make sure NOT to leave your Lovense Osci 2 soaking in water, as it may leak into the toy around the silver handle area.
---
How To Get Your Own Lovense Osci 2
It's a good chance you'll be able to find the Lovense Osci 2 at your local adult boutique, or you can always buy directly from Lovense. The suggested retail price is $199US, but at the time of writing this review, it is being offered at $109US!
---
Don't Just Take My Word For It…
What are people on Reddit.com saying about the Osci 2 from Lovense?
It works incredibly well; I don't know how to explain it. It's not a boring, samey vibration sensation that gets numb after a while, like a lot of other prostate massagers. It's this distinct, fast rolling/waving sensation when the moving bit is doing its thing. Oscillating is definitely an apt word; go figure. It's like if you were using your fingertips by pressing down on the prostate and aggressively fingering yourself in a side-to-side or even circular motion.
We have an Osci 2, and it is not discrete at all. It can easily be heard anywhere in our room, even when inserted…Muffled under my calf at 1 meter (ish): Low 41db Med 44db High 48db.
---
Alternatives To the Lovense Osci 2
While the Lovense Osci 2 is our OVERALL PICK for the best G-spot stimulator on the market, there are other options if the Osci 2's unique oscillating motion doesn't seem like your thing.
Osci 2 vs. We-Vibe Rave
The We-Vibe Rave is a more traditional G-spot wand, and its normal vibration movement can't compare to the oscillations of the Osci 2. The Rave has an oval-shaped head and a very gentle C-curve (much more like a (-shape than a C) that helps it reach that tricky angle.
However, if you're turned off by the idea of something rub-rolling against your G-spot or P-spot and are looking for something comfortable, safe, and easy to maneuver, the Rave is a good option.
---
Osci 2 vs. Lelo Gigi 2
The Lelo Gigi 2 is, like everything else, just a vibrator with a G-spot-seeking shape. It has that flared spade-shaped head that you love on a real penis. And it has the curve you need to get up and forward in there, so it does land exactly where you need it to.
Plus, the Gigi 2 is completely waterproof, so playing in the tub or pool is an option! However, it only has 8 pre-programmed settings, no app connectivity, and standard vibrator movement.
You can check out our compilation of the best vibrators if you're interested in other options.
---
My Final Thoughts
Friends, it doesn't matter if you're flying solo, missing your long-distance partner, or spicing up your in-person bedroom sports activities. If you are looking for a truly unique experience for your G-spot, your P-spot, or even your perineum, then the oscillating movement of the Lovense Osci 2 is DEFINITELY one to try.