Welcome to our Lelo Gigi 2 review! We'll talk about all the ins and outs of this G spot vibrator and how it compares to the original Gigi. Read on: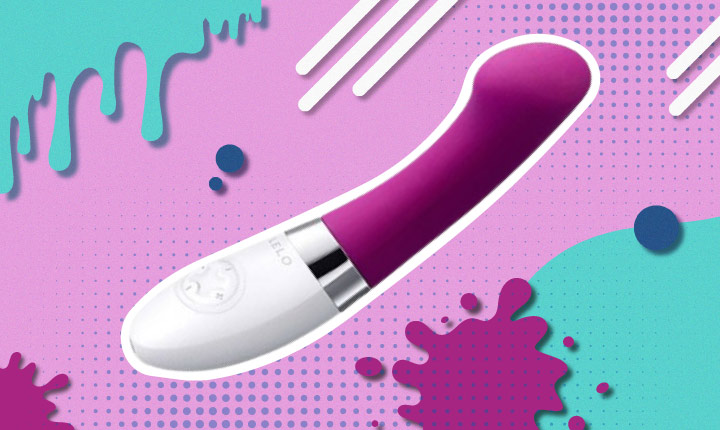 Perhaps you have heard the story of the G-spot. That magical spot in the vagina that could make you have the most awesome orgasm if only you could find it.
There has even been so much debate about whether such a wonderful thing even exists…
Well, guess what? IT'S REAL. And it's awesome!
However, if you're new to all this, you may have some trouble finding it or stimulating it correctly. Or maybe you're already quite experienced and are looking for ways to step up your game.
That's why I want to talk to you about the Lelo Gigi 2 – a G-spot vibe that's definitely worth checking out. I've already tried it and have been using it for a while now… because it's great.
The Lelo Gigi 2 is a luxury product from start to finish and is a fantastic choice for anyone looking for a premium experience. The flat head is designed to easily target the G-spot, making it great for beginners. There are 8 vibration patterns with an adjustable intensity that can feel great both inside you and on your clit, so there are many ways to play!
The Gigi 2 is not as strong as other vibrators on the market and is on the smaller side, so it's not suitable for those looking for extreme sensations. The toy is a bit hard to control if your hand gets covered in lube. The price may be a bit steep for some.
The Gigi 2 is a high-quality product and an excellent choice for anyone who wants to explore the elusive G-spot orgasm, but you'll have to splurge. It's awesome for both G-spot and clit stimulation, but it's not designed to cover ALL bases, especially if you're looking for something more extreme in terms of power or size.
Lelo Gigi 2 is for you if:
You're new to G-spot play.
You are looking for a luxury product.
You want your toys to have a wide variety of patterns and intensities.
Lelo Gigi 2 might not be for you if:
You're a size queen or a power queen.
You're looking to save money.
---
My First Impressions Of Lelo Gigi 2
First things first – the packaging.
Of course, Lelo never disappoints when it comes to presentation. They're offering luxurious products, and the packaging reflects that. Imagine opening a Dior product or an Apple product – honestly, it's kind of the same…
But you know you'll also be having an orgasm later, so in a way, it's WAY better.
The packaging is minimalistic and sleek. After you open the outer box, you'll have to open a black storage box with a window on the lid (so you can already see your Lelo!).
Inside you'll find the toy in your choice of color (I personally got the pink one). After you remove some cardboard, you'll find more stuff underneath. There is a charging cable, a satin storage pouch, a teeny-tiny packet of lube, a warranty card, and some user manuals.
All Lelo products have a 1-year warranty, so don't misplace the warranty card!
Yes, Lelo does make very high-quality toys, and it's VERY UNLIKELY yours will break in one year, but if there is a fluke, the manufacturer will take care of it.
Just don't forget to register your Gigi 2.
You get a basic charging cable with no adapter, so you'll need to buy one or use your laptop to charge it. Honestly, you probably have some USB adapter lying around anyway – just use one from an old phone.
The lube packet is cute and maybe good for a small trial, but it's better to have more on hand when using the Gigi. Remember, LUBE IS YOUR FRIEND. It'll make penetration easier and make you more sensitive to vibrations. (In the case of this toy, too much lube may also make the handle slippery, but more on that in a sec.)
Since the Gigi is a silicone toy, it's important to use water-based lube so you don't damage the material.
The simple satin pouch you get is very practical – it'll keep your toy safe from germs and debris in your drawer.
As for the toy itself…
What a treat!
The look and feel of it just SCREAM luxury. The slick design, the soft material, the sturdy feeling in your hand… It's smaller than you might expect, but it's made specifically for G-spot stimulation, and the G-spot is located about 3 inches deep in the vagina.
Let's look at the Gigi 2 and see its best features and where the manufacturer made upgrades compared to the original Gigi.
---
Gigi 2 Tech Specs
---
---
How Does the Gigi 2 Look and Feel
The Gigi 2 has a nice minimalistic design that can do the maximum for you!
The Gigi 2 is a bit smaller than a normal dildo or vibe. That's because it's made SPECIFICALLY FOR G-SPOT STIMULATION. The G-spot is normally located around 3 inches deep on the frontal vaginal wall.
That's why the Gigi 2 only has 3.7 in insertable length – it's just enough to hit the sweet spot!
The handle is also quite short – about 3 in. Keep in mind that this might make holding on to it a bit harder for you.
Of course, the most recognizable part of the design is the flat tip. The large surface area makes it easier to find the G-spot and also mimics the form of a human penis. It also works wonders as a clitoral stimulator, especially if you're sensitive like me and don't really like pinpoint stimulation but prefer to deliver vibrations to your labia as well.
The vibe has a gentle curve. It's small enough that the toy can be inserted between two partners during sex (when used as a clit stimulator) and big enough to put pressure exactly where you need it.
The silicone is super smooth and soft to the touch or pleasant play. Since the toy is rigid, the soft surface makes penetration more gentle.
The ABS plastic for the handle is also smooth AND body-safe, but that might make it slippery if you get the line all over it – let's face it, it happens pretty often.
---
Key Functionality
Vibrations
Let's talk about vibrations: after all, they're probably the most important features of any vibrator.
Power
No numbing buzzy vibes here! The Gigi 2 is RUMBLY and pretty powerful. In fact, the manufacturer's site states that it's TWICE AS POWERFUL as the original Gigi! Now that's what I call an upgrade.
The Gigi 2 was definitely powerful enough for me. However, you should know I'm pretty sensitive and tend to stick to the lower-to-mid-power levels on most toys.
I should also say that the higher settings are less powerful than some other vibes that I've tried out for these articles. Also, I know that a small percentage of users want Gigi to do even more for them.
That doesn't particularly mean that the Gigi 2 is weak – some people just need more intensity for internal stimulation.
All in all, this toy has got plenty of a kick for most of you, but true power queens may be left wanting more.
Mode & Settings
The LELO GIGI 2 has 8 different adjustable vibration modes, so you'll have plenty of variety and customization options when playing. That's 3 more than the previous version!
The functions include continuous vibrations, pulses, escalating waves, and rollercoaster patterns.
---
Noise Level
Although it's powerful, the Gigi 2 manages to also be pretty stealthy.
It's definitely less noisy than vibrators with the same intensity levels, and I would say it's quiet enough that it won't wake a sleeping partner… although I would always recommend including your partner in fun activities like this.
I should mention that all of this praise is describing the Boise level when you're using the toy EXTERNAlLY. If you intend to use it as a G-spot vibrator, your body will soften the sounds further.
All in all, if buzzing sounds ruin your mood for a sex toy session, you won't have that problem with the Gigi 2. And if you have housemates, I highly doubt they'll ever overhear you having fun (as long as you don't moan loudly, that is).
---
Battery Life
The Gigi 2 is rechargeable, as all vibes of its caliber should be. No going to the store, no rattling batteries – just convenience.
What's even better is that by charging it for just 2 hours, you get a whopping 4 hours of play, so you can take your sweet time pleasuring yourself. It can also be on standby for 90 days, so you can leave it charged and know it'll be ready when you are.
---
Travel Lock
Gigi is compact enough to take on vacation with you, but you don't want it accidentally turning on in your luggage, causing the TSA agent to pull it out in front of the whole queue for the gate, right?
That's why it has a travel lock – you can have peace of mind there won't be any surprise buzzing while traveling.
---
Waterproof
The Gigi 2 is fully waterproof, which is yet another upgrade from the original Gigi. This opens up so many possibilities for fun!
Have fun with the Gigi 2 in the shower so you can combine the pleasant vibrations with the gentle sensation of water running down your body. Or use the showerhead as a clitoral stimulator while the toy is inside you!
Or you can go take a nice bath with the Gigi 2 and relax in more ways than one. Just be sure to avoid the really hot water because the silicone coating of the toy might get looser. This won't affect the quality of the vibrations, but it might make them louder.
---
Lelo Gigi vs Lelo Gigi 2 – What Changed?
There are a few key improvements to the Gigi 2 from the original Gigi, although you might not be able to tell just by looking at them.
The Gigi 2 charger does not have an adapter like the Gigi, but you can always use any USB adapter or your computer to charge.
The Gigi 2 is more powerful than the original.
The silicone also got upgraded – it's softer than ever and feels very pleasant inside you, on your clit, and even on other erogenous zones of your body.
The vibration patterns are more in the newer version. Lelo went up from 5 to 8 to provide more variety and possibilities. This range makes the toy perfect for both newbies and G-spot experts.
Unlike the original Gigi, the Gigi 2 is FULLY WATERPROOF. Take it with you in the shower OR the bath for some aquatic fun.
---
How to Use the Gigi 2
On the handle, you'll find a simple 4 button interface for controlling the toy.
A long press of the plus button starts the toy up. Use the arrows to cycle through the different patterns. Use the plus and minus buttons to choose the intensity. Press the minus for a few seconds until the toy stops working.
Use lube for insertion and be patient – the tip isn't tapered like classical vibes, and the body is rigid, so if you're especially tight, you might find the feeling a bit odd.
Don't worry – the tip is not too wide, so it's unlikely you'll feel anything unpleasant. It just might take a bit to get used to.
Try not to get lube on the handle so your hands don't slip.
Press the toy against the wall of your vagina once it's inside.
Pro Tip
You can also use the Gigi 2 as a clit stimulator if you want to. The flat tip delivers vibrations not only to your clit but also to your labia.
If you're looking for pinpoint stimulation, use the edge of the tip.
Don't be afraid to experiment with the Gigi 2 and use it on different parts of your body. The neck, nipples, or back of the knees are all perfect for some experimentation.
DON'T use this toy anally; it is NOT designed for that. It may get stuck inside you, and that's NOT going to be fun for you. AT ALL.
The Gigi 2 is also another good toy to use on your partner during sex. Its sleek curve gives your partner plenty of room to work on your G-spot, while the toy can work on your clit, without making things too crowded.
On a personal note, the flat head is a bit of a downside during sex, as it is much harder to move around your vulva compared to other tapered G-spot vibrators. But if you like the vibes to stay mainly around the clit, the Gigi shouldn't be a problem.
---
My Experience With the Gigi 2
I was so excited to get my Gigi 2, and when it arrived…
BOY, was I ready!
I opened the pretty box and was already so happy with the premium feel of it all, it was like receiving a special gift.
I set the mood and made sure I wouldn't be disturbed by anyone – switched off my phone, etc. I also made sure I had enough lube close by. Then I got down to business.
I needed a warm-up, so I used the toy on many parts of my body before going in, like the nipples. The Gigi 2 works great as a personal massager, and I'm not talking just about genitalia.
Then I went down to my clit and used the Gigi 2 as an external stimulator. I liked the broadness of the tip cause I'm sensitive and don't really go for pinpoint stimulation. However, I experimented a bit with the edge of the tip on a low setting, and it felt amazing!
Then it was time for the main course.
I put a lot of lube on the toy, and it went in pretty smoothly, although the feeling was a bit off because of the specific tip. When I reached my G-spot, I pressed firmly on it and played around with the intensities and patterns.
Guys… I saw stars.
The vibrations were nice and rumbly but not overly powerful for my taste. I have to say I've had stronger vibes, so if you're looking for something extreme, this is not your toy of choice.
I had a nice time controlling the intensity of each pattern I cycled through. The toy was extremely quiet for its power, and the sound was even more muffled when it was inside me. Also, I didn't feel vibrations creeping up my hands, which I find annoying – they stayed concentrated where they needed to be!
I have to admit, I did use a bit too much lube, and it was all over the handle. This made handling the toy, as it became slippery. I just wiped it off quickly and continued.
The buttons require some time to get used to. When you're not experienced, you might press a bunch in the heat of the moment by accident – they are very close together. Since I've been using it for half a year now, I should say it stops being a problem after a few sessions.
Once I found my ideal vibe mode, I finished in no time. G-spot orgasms are very intense, and it was incredible!
---
How to Clean It?
This toy is very easy to clean – soap and warm water are just fine. You can also use an antibacterial toy cleaning spray. Avoid using overly hot or cold water.
Pro Tip
Pay special attention to the ridge where the silicone and plastic handle meet so you don't get any nasty build-up.
Dry with a lint-free cloth, put it in your satin storage pouch, and keep it in a dry and cool place away from sunlight – like a drawer.
Don't forget to wash it before AND after each use!
---
Price, Where To Buy
It's always good to buy straight from the source. That way, you know that you're getting an original product and can also get a pretty great deal – manufacturers do sales, bundles, and all kinds of neat stuff. That's why I recommend you visit Lelo's official site and get your Gigi 2 there.
---
What Do Other People Think About It?
Still unsure about what you would be getting if you decided to buy a Gigi 2? It's best to check out many user reviews before making a decision. Here is what our pals at Reddit have to say:
A G-Spot vibe can be used for back and forth penetration! Some would have trouble with the shape of the GiGi because it hat shape can catch on the pelvic bone for some people. For others like myself, that shape rubs and pulls on the G-spot, which is ammaaazingggg.
The vibrations on the Gigi 2 are a bit more on the mild side.
---
Alternatives
Maybe the Gigi 2 isn't exactly your cup of tea, but you're looking for something similar? Here are some alternatives:
If you want some sweet G-spot action on a budget, get Mantric Rechargeable G-Spot Vibrator. It's beginner-friendly, waterproof, and has 7 vibration modes. It's the perfect pick if you're not entirely sure what you want and want to try something fun with minimal risk.
---
Suppose you want something a bit out of the ordinary. Look no further than the Lovense Osci 2! The oscillating tip delivers strong rumbly vibrations RIGHT on your G-spot! You can also program and build your vibration modes through the Lovense app. It's intense and also endlessly customizable – ideal for the sex toy veteran.
---
The Gigi and the Mona have enough power for me, but the Mona is subjectively stronger. And now that I think about it, I'm positive to always reach for the LELO MONA as my first toy of choice. It does tend to get a bit louder than the Gigi, but it's still relatively quiet.
Internally, however, I don't use the Mona as the pointy end feels less comfortable than the broad, flat head of the Gigi. Some like it, though, as the narrow head makes it easier for them to put in. If you want more pinpoint stimulation, you might like the Mona better. But the Gigi is your answer if you prefer more of the firm, widespread pressure.
Convenience-wise, I find it easier to press the buttons on the Mona than on the Gigi. So if you like changing it up during sex, the former will guarantee not to lose momentum.
Check out this guide on the best g-spot vibrator to see more quality options.
---
FAQ
What is Lelo Gigi 2?
The Gigi 2 is a curved vibrator of ABS plastic and 100% body-safe silicone. It has a broad, flat end capable of stimulating the G-spot.
It is also 100% waterproof and has an insertable length of four inches. It has eight different settings and four control buttons that are simple and easy to use.
---
Final Thoughts
I hope I managed to answer all the questions you may have had about Lelo's Gigi 2. I certainly think it's a product worth all the hype – especially if you have the money to splurge on it.
Go and get your G-spot orgasm now!