Will this dual-end stimulator give you orgasms in seconds? We answer all your questions in this Lovense Hyphy review and how the toy feels in use. Read on: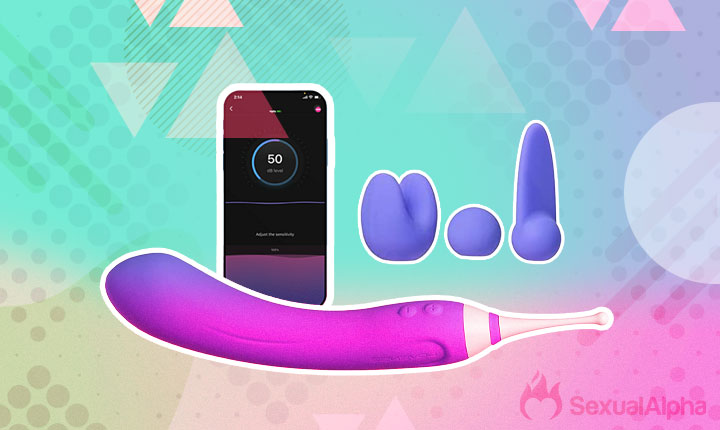 I love exploring sex toys that are doing something a little bit different, and the Lovense Hyphy is nothing if not different.
It couples pinpoint clitoral stimulation on one end with a G-spot vibe on the other.
The result? A two-in-one toy that promises orgasms within seconds.
No, seriously, that's actually part of its marketing.
Even though I like the sound of an effortless O, I was more than a little skeptical. Could this electric-toothbrush doppelganger really have what it takes?
The results were very surprising!
The Hyphy delivers high-frequency clitoral stimulation that's intense and pinpoint! It's versatile, with three interchangeable heads and a G-spot vibrator. The Lovense app is powerful and great for long-distance play.
If you're not into buzzy vibes or focused clitoral stimulation, you won't like this toy. The G-spot stimulator could be more curved, and thrusting is awkward because of the double-ended nature of the Hyphy. The buttons are also hard to press.
The Hyphy is made for a very particular subset of users – people who love high-frequency vibes and pinpoint clitoral stimulation and want powerful app controls or long-distance connectivity. The G-spot vibrator is good in theory but lackluster in practice. However, it can be used as a clit vibe for broader sensations!
The Lovense Hyphy is for you if:
You like buzzy vibrations
You want pinpoint clitoral stimulation
You want G-spot stimulation
You're looking for a versatile toy
You have a long-distance partner
You're a cam model looking for interactive toys
The Lovense Hyphy is not for you if:
You prefer rumbly vibrations
You're looking for simultaneous dual stimulation
You find focused clitoral stimulation too intense
---
Lovense Hyphy First Impressions / Packaging
The Lovense Hyphy comes in a simple white box, with a picture of the toy on the front. It's pretty no-nonsense, but inside is where it gets interesting!

The Hyphy itself comes in its own hard-cover storage case, which can also be used as a charging dock. This is a great extra that I'd love to see more sex toys include. It keeps the toy clean and safe while charging and away from any furry friends who might mistake it for a chew toy.
With the Hyphy, you get three interchangeable heads, each one with a different function.
The last items in the box are the USB charging cable, user manual, and the quick setup guide so you can start having fun as quickly as possible!
---
Let's Talk About Tech Specs
---
How Does the Lovense Hyphy Look & Feel?
I have to admit; I was a little put off the first time I saw the Lovense Hyphy. I'm not really interested in having sex with an electric toothbrush, and, at first glance, that's exactly what the Hyphy looks like.
I didn't want that to get between me and a good time, though. So, putting dental hygiene firmly out of my mind, I tried to absorb Hyphy's design on its own merit.
This double-sided dildo has two distinct ends. The clit-stimulating end looks a bit like an alien antenna (more weird imagery). It has a long, thin shaft that ends in a small round head and delivers very high frequency, buzzy vibrations.
This end comes with three soft silicone attachments that are silky smooth. The first is a simple round ball, the second has two 'rabbit ears,' and the third is a long, thin 'tongue.'
On the other end is a girthier, curved dildo (though at 1.38", it's still pretty narrow compared to other insertable toys on the market). This end is designed for internal vibrations, targeting the G-spot. It's a bit straight for a G-spot vibe, in my opinion, not really curling around quite enough, but that all depends on your personal anatomy.
The whole thing is interesting to look at and comfortable to hold. It's ergonomically designed to fit nicely in the hand, and I really liked that it was slim without feeling like I had to keep a tight hold on it.
I was excited to put this new toy into action!
---
Lovense Hyphy Key Functionality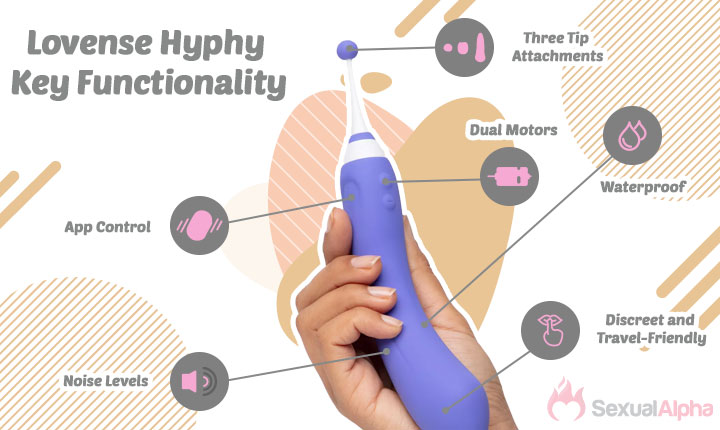 Noise Levels
Surprisingly, the Hyphy isn't too loud, despite its two powerful motors. It's about the volume of (once again) an electric toothbrush.
It's definitely not silent, so if you really want to be sure of privacy, I'd use it under the covers or with some music playing.
To be honest, I was much more concerned about the sounds I was making!
---
Dual Motors
Since each end of the Lovense Hyphy is designed to be used on its own, it only makes sense that the motors are individually controlled. Unfortunately, getting there is a bit counter-intuitive (more on that later).
Each of the motors is equally powerful. With the Lovense app controls, there's practically an endless range of vibration patterns to explore.
The vibrations in both ends are what you'd call buzzy. Very buzzy, in fact. Some critics don't like "buzzy" vibrations, which feel more surface-level. But different strokes for different folks, am I right?
The Hyphy specializes in high-frequency targeted stimulation on the clit-stimulating end. Meanwhile, the dildo end is broader but certainly not rumblier.
---
Waterproof
Rejoice! Because the Lovense Hyphy is completely waterproof (even submersible up to three feet!). This means you can take it into the shower or bath with you for extra-special me-time.
One of the promises on the Hyphy product page is that it will 'knock your socks off in seconds,' so you won't be wasting water or having suspiciously long showers, either!
---
Each of the three silicone attachments is designed to offer a different kind of clitoral stimulation.
The round head is supposed to give 'broad' stimulation, but I found it was still incredibly pinpoint, just because the Hyphy's head is so small. If you want really focused vibrations, you might like this, but I found it a bit too intense.
The rabbit ears attachment is actually much better for softer, broader stimulation. It's especially great for teasing either side of the clit. This is nice if you want the power but not so much of the focus.
Pro Tip
The rabbit ears attachment is also wonderful to use on nipples, labia, and other sensitive areas!
The tongue attachment gives a much softer, lighter, 'fluttery' kind of sensation. It's best for those who find direct clitoral stimulation overwhelming or unpleasant. It's also much easier to control the intensity of the vibes, depending on how much pressure you use. This was, by far, my favorite attachment.
---
App Control
Lovense toys are considered the best app-controlled sex toys out there, so it's not surprising that the Hyphy has great app features.
Something to note
If you have more than one Lovense product, it's easy to sync them all to the app and switch between them.
You can use the app to manually control the exact intensity of the toy's vibrations. However, this is only possible with the clit-stimulating end with the Hyphy.
One of the best things about the Lovense app is the ability to create custom vibration patterns in real-time. You can feel exactly what the toy is doing and then save that pattern to use later on. For days when you're feeling curious, you can also try out patterns created by other Lovense users.
If you're a fan of unpredictable vibrations, you can sync the Hyphy to any music in your phone's library, as well as any sounds picked up by your phone's mic.
And, of course, you can hand over controls to a partner for long-distance fun, with all the extras you'd expect from a high-end app-controlled toy.
---
Discreet and Travel-Friendly
Circling back to this comparison, Hyphy's toothbrush-like design can actually be a plus in some cases. Unless you know what you're looking at, this toy could easily be mistaken for a regular electric toothbrush, making it very discreet!
It also comes with a hard-cover storage case with individual spaces for the three head attachments. This makes traveling an absolute breeze – no need to worry about losing the attachments in the depths of your luggage!
---
How to Use Lovense Hyphy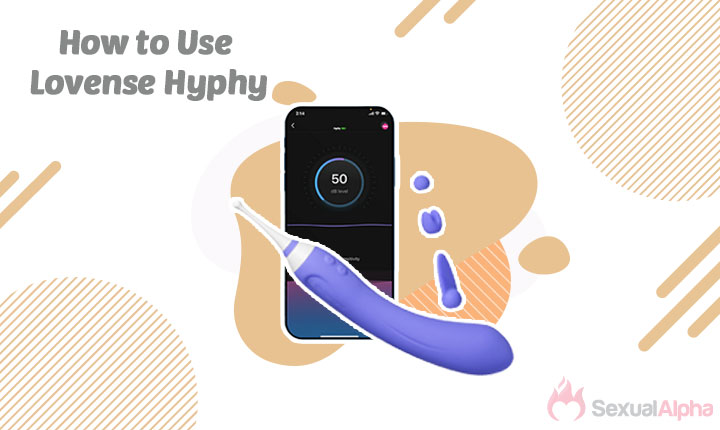 The Hyphy's unique two-sided system can take some getting used to. Unlike dual-stimulation toys, each side of the Hyphy is meant to be used independently.
Using Hyphy Manually
The manual controls to the Hyphy are admittedly a bit confusing. There are just two buttons — the '+' and '–' buttons.
To turn the toy on, hold down the '+' button for a few seconds. This will turn the toy on, but it will first be in standby mode.
You have to short-press the '+' button again to turn on the clit-stimulating end. Then you can use the two buttons as you'd expect to move up and down through the 7 vibration levels.
To switch over to the G-spot vibrator, you need to hold down the '-' button for three seconds. You can only do this after first turning on the clit-stimulating end.
When the Hyphy changes to the G-spot stimulator, it will start in the strongest setting by default. From there, just use the '+' and '-' buttons as usual to change intensity.
It takes some getting used to, especially since turning the toy around to switch between different ends means the controls will keep changing directions. It's just a matter of practice, though!
---
Using Hyphy With The Lovense App
Long Distance
If you have a long-distance partner that you wish were a little closer, you can use the long-distance feature to share playtime across continents!
The Lovense app is typically very reliable and gives your partner all the same controls you'd have on your own. To hand over controls, just invite your partner to connect and give them the reins.
You can video chat, text, voice chat, and share photos at the same time, and the experience is generally very smooth.
---
Cam Site Compatibility
One very cool feature of Lovense products is the ability to sync them to camming platforms. If you're looking for a toy that vibrates at the sound of tips, the Hyphy is a great candidate!
It can be set up with most major cam sites, and you can even hand over controls to customers if you want. The Lovense website has everything you need to set up these features.
---
Charging and Battery Life
I didn't expect much out of the battery life on the Hyphy since it has two powerful motors. But I was totally blown away to discover it delivers a whopping 4.5 hours of playtime from a single charge!
Considering it's supposed to deliver an orgasm in seconds, I can't imagine how many orgasms you could potentially achieve before having to charge it again.
Talk about bang for your buck!
To charge, you can plug the USB charger directly into the Hyphy itself, OR you can charge it through the storage case. I love this extra feature!
It'll take 75 minutes to fully charge from an empty battery.
---
My Experience With Lovense Hyphy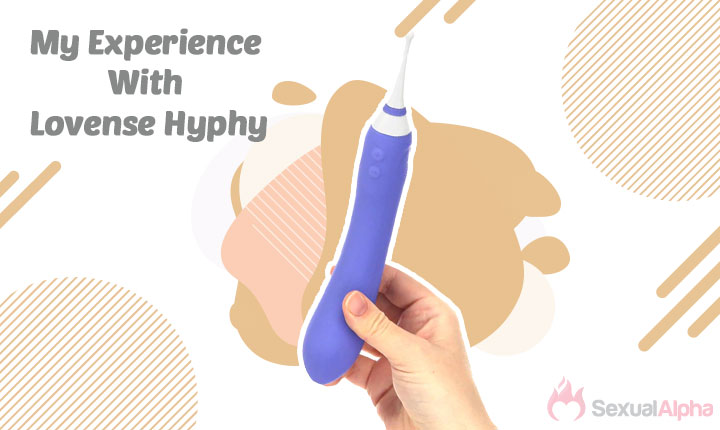 I'm generally more into rumbly vibes, so I was very curious to see if the Hyphy would have what it takes to suit my needs!
Varied stimulations
I started off with a little bit of water-based lube and began with the round ball head.
Let me tell you; this thing was wild! It's incredibly direct, to the point that I found it a bit overwhelming at first.
I decided instead to switch to the rabbit ears attachment. This one was still pleasantly powerful but spread the vibrations out a little bit more, so it wasn't quite as intense.
I really loved this attachment for my nipples and other parts of my vulva since the silicone is so soft.
Finally, I tried out the long tongue attachment and quickly found my favorite of the bunch. It really distributes the vibrations, making for a flappy, fluttery type of contact. It was much lighter than the other two, and I felt myself getting carried away very quickly!
---
G-spot stimulation
Before I went too far, I decided to try out the G-spot stimulator. The body was very rigid and straight, but I was warmed up enough that I had no problem inserting it (plus a bit of extra lube always helps!)
For my body, I found the curve to be a bit too subtle. I struggled to get good pressure on my G-spot. Because there's no 'handle' on the Hyphy (just the thin clit-stimulating end), I couldn't really get any leverage to push.
It was still nice as a vibrating dildo, but it didn't quite hit the spot for me.
---
Clitoral play
What I DID find was that it works great as a second clit-stimulating vibe. Because I sometimes find pinpoint stimulation either too direct or too shallow, I like the option of having broader vibrations that I can really push into.
The dildo end was great for that! With the three attachments, an insertable vibe, and arguably another clit-stimulating vibe on the dildo end, the Hyphy is the gift that just keeps on giving!
---
Couple play
During penetrative sex, the tongue attachment was amazing for clit stimulation. The long, thin head meant it was pretty easy to slip between my partner and me and gave really lovely, light stimulation that led to a blended orgasm.
Most of the time, I was using the manual controls – trying to fumble with my phone while holding onto the Hyphy and its super-precise head was a bit of a mood-killer.
Where the app did shine, though, was during hands-off partner play. I tried this out both with my female playmate in the same room and via the long-distance feature of the app.
Having my partner control the Hyphy in the same room was a massive tease! Because the stimulation is so precise, any change is highly noticeable.
We messed around with the sound-sensitive feature, taking turns moaning softly, then louder until we were practically yelling! It sounded unbelievably hot and felt even hotter.
Jot that down for your next date-night activity!
---
Long-distance sex
Over long-distance, the Lovense app does not disappoint. The connection stayed stable pretty much the whole time, and the video chat feature was great. I loved giving up control, and my partner loved watching me throw a fit when she suddenly shut off the vibes on the Hyphy!
So, did it deliver on fast, effortless orgasms within seconds? Honestly, yes.
When I warmed up with the tongue attachment and then used the G-spot vibe on my clit, I managed to come in pretty much no time!
It usually doesn't take me too long with a vibrator, and the buzzy vibes meant that the orgasm was fairly shallow. Not the greatest orgasm I've ever had, but the Hyphy makes good on its promise in terms of efficency!
---
How to Clean It
Cleaning this toy is easy because it's fully waterproof. You can use a mild soap, some dedicated sex toy cleaner, and warm water to lather the whole thing up.
The clit-head attachments are a bit annoying to clean, but luckily, they're very flexible so just give them a good rub underwater to get into all the nooks and crannies!
---
Lovense HyphyPrice, Where To Buy
You can buy the Lovense Hyphy directly from the Lovense website. It originally sold for $199 but has been brought down to $99.
---
What Do Other People Think About It?
The orgasms were intense, incredible, hot, and messy…Forever I've tried to find that special toy that creates the 'mmmm I need that tonight' kind of feel, and based on the last few days; I'm pretty sure we finally did.
I can have multiple orgasms from my Hyphy more easily than my other toys. Part of this is that the focused tip is easy to keep away from areas that are feeling overstimulated after my first orgasm.
---
Lovense Hyphy Alternatives
Lovense Hyphy vs. Zumio
The Zumio is the original high-frequency clit-stimulator. It comes in four different versions that offer different types of stimulation – concentrated, soft, precise, or diffuse.
Unlike the Hyphy, it doesn't include the G-spot stimulating end. And at a slightly higher price point, it stacks up as a more expensive toy with half the functionality.
---
Lovense Hyphy vs. We-Vibe Tango X
For focused clitoral stimulation, the We-Vibe Tango X is a classic bullet vibrator. It's small but powerful and offers very rumbly vibrations, despite its tiny size. There's a reason it's a favorite of many!
If the Hyphy seems a little too complex and you're most interested in the pinpoint clit stimulation, the Tango is a great alternative at a lower price.
---
Lovense Hyphy vs. Pillow Talk Sassy
If you're just looking for targeted G-spot stimulation without any fancy extras, the Pillow Talk Sassy is an easy choice. It's got a powerful motor and gorgeous design, with just the right curve to hit the right spot. The neck on the Sassy is thicker than a lot of other G-spot stimulators, so if you want more girth, this is it!
You can check out our compilation of the best vibrators if you're interested in other options.
---
Final Thoughts
For pinpoint clitoral stimulation and powerful buzzy vibes, the Hyphy is up there with the best of them. It excels as an external vibe but is versatile enough to be used internally too. It's two toys in one, and the hype of delivering orgasms within seconds isn't too far off (at least for me!)
There could be some improvements in usability, but all in all, the Lovense Hyphy does exactly what it sets out to do!