In this article, we delve into the world of pleasure-enhancing sex saddles to help you discover the best options available. From innovative designs to customizable features, we explore the top choices that can elevate your intimate experiences to all-new heights.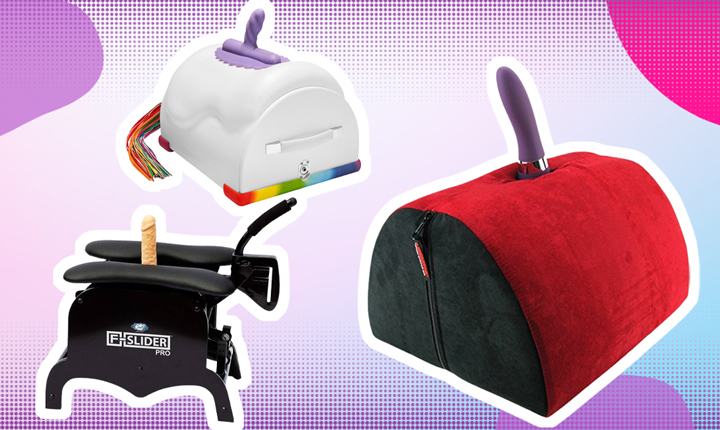 Are you looking for an exhilarating and unforgettable experience in the realm of pleasure? Look no further!
This article will explore the world of the best sex saddles and their incredible features. From Sybian alternatives to monkey rockers to the very best fucking machines, we have got you covered.
Get ready to discover a new level of pleasure and satisfaction as we delve further into the abyss of these versatile, innovative devices.
The Cowgirl Premium is a powerful, versatile sex machine that delivers intense pleasure and satisfaction. With its adjustable speed and interchangeable attachments, it offers a customizable experience for every user. The sleek design and high-quality construction make it a durable and long-lasting investment for anyone seeking mind-blowing orgasms. It is considered one of the best sex machines.
The Liberator Bonbon Dildo Saddle is a game-changer for couples on a budget but still looking to add some excitement to their bedroom. Its ergonomic design and high-quality materials provide both comfort and stability during use. And the adjustable straps and versatile shape make it compatible with a wide range of dildos, ensuring a customized experience for every enthusiast ready to mix and match.
The Cloud 9 F-Slider Pro is one of the more powerful sex toys that deliver intense pleasure to its users. Its luxurious design and smooth silicone material make it easy to use and clean. And with multiple vibration patterns and adjustable speeds, it offers a customizable experience for riders of all preferences.
---
The 7 Best Sex Saddles To Rock N' Roll On
---
The Cowgirl Premium is a high-quality, luxury sex toy that delivers intense pleasure and satisfaction. This powerful machine is designed to provide mind-blowing orgasms and is perfect for solo play or couples looking to spice up their bedroom activities.
One of the standout features of the Cowgirl Premium is its versatility. It has various attachments, allowing you to customize your experience and explore different sensations. Whether you prefer G-spot stimulation or clitoral pleasure, this toy has your back.
The build quality of the Cowgirl Premium is exceptional. The components originate from premium materials that feel luxurious to the touch and are easy to clean. The ergonomic design ensures comfort, and the controls are intuitive and user-friendly.
What sets the Cowgirl Premium apart from other sex toys is its powerful motor. With multiple intensity levels and pulsation patterns, this toy can deliver intense vibrations that will leave you breathless. It also features a remote control, making it easy to adjust the settings without interrupting your pleasure.
Another significant aspect of the Cowgirl Premium is its discreetness. Despite its power, it operates quietly, allowing you to enjoy intimate moments without worrying about noise. It also comes with a discreet storage bag, making it easy to store and travel around with.
Overall, the Cowgirl Premium is a top-of-the-line sex toy with incredible pleasure and versatility. While it may come with a higher price tag, its quality, power, and customization options make it worth the investment for those seeking the ultimate sexual experience.
---
The Liberator Bonbon Dildo Saddle is a unique and innovative sex toy that offers a new level of pleasure and versatility. This saddle-shaped toy can securely hold a dildo in place, allowing for hands-free stimulation and a more realistic experience.
One of the standout features of the Bonbon Dildo Saddle is its high-quality construction. This toy is made from a durable and supportive foam core and provides a comfortable and stable platform for pleasure. The soft and luxurious Microvelvet cover adds a touch of elegance and is easy to clean, making maintenance a breeze.
This device is compatible with a wide range of dildos, allowing you to choose the size and shape that suits your preferences. The adjustable straps ensure a secure fit, so you can focus on your pleasure without worrying about the toy slipping or moving around.
Using the saddle is incredibly easy. Simply attach your dildo, adjust the straps to your desired tightness, and position yourself comfortably on the saddle. The ergonomic design allows for effortless rocking and grinding motions, enhancing the sensations and providing a more realistic experience.
Whether using the Bonbon Dildo Saddle for solo play or with a partner, it adds a new dimension to your sexual experience. The hands-free design allows you to explore other erogenous zones or engage in other activities while enjoying intense pleasure.
The Liberator Bonbon Dildo Saddle is a fantastic addition to any pleasure collection. Its high-quality construction, versatility, and affordable price tag make it a must-have for those seeking a more realistic and enjoyable sexual experience.
---
The Cloud 9 F-Slider Pro is a revolutionary sex toy that offers an incredible experience for both men and women. Its sleek and ergonomic design makes this toy easy to use and provides intense pleasure. The F-Slider Pro features a variety of vibration modes and adjustable speeds, allowing users to customize their experience to their liking.
Like the Fetish Fantasy Inflatable Sex Chair, it has a realistic 7-inch dildo more enormous than Fetish Fantasy's. But this time, you can change the dildo to your favorite one, as it has a Vac-U-Lock and a universal adaptor.
The device is also incredibly quiet, perfect for those living in shared spaces or wanting to maintain privacy. The toy is rechargeable, eliminating the need for batteries and saving users money in the long run. The battery life is impressive, lasting for hours on a single charge.
Overall, the Cloud 9 F-Slider Pro is a top-notch sex toy that delivers on its promises. Its sleek design, versatility, and powerful vibrations make it a must-have for anyone looking to enhance their sexual experiences. Whether used alone or with a partner, this toy will give you hours of pleasure and satisfaction.
---
The Motorbunny is a game-changer in the world of adult toys. This innovative and powerful device takes pleasure to a whole new level. Its sleek design and customizable settings offer a unique and intense experience that will satisfy even the most discerning users.
The starter kit comes with a standard control pad, but for more freedom and fun, give it an extra $100, and you can control the machine via a wireless app.
The Motorbunny Starter Kit is very similar in style and power to the Sybian but with a few extras that make it stand out for its merits. It is cheaper than the Sybian, but $900 is still a lot to hand out in one go, which is why Motorbunny payment plans are such a sweet deal!
One major downside for me is that the kit comes with TPE inserts. But they also have a premium range of silicone attachments you can purchase separately.
All-in-all, the Motorbunny is a top-notch product that delivers on its promises and is worth every penny for those seeking a thrilling and unforgettable night.
---
The Liberator Wing Sex Toy Mount is a popular accessory that enhances a person's sex life by providing support and stability during intimate activities. This sex toy mount is compatible with various sex toys, including dildos, vibrators, and strap-ons. Its design allows easy insertion and maneuverability, making it suitable for individuals of different shapes, sizes, and preferences.
By providing a stable base, the Wing allows users to focus on the pleasurable aspects of their sexual activities. It helps maintain consistent angles and depths, enhancing sensations that result in more intense orgasms.
The Liberator Wing is a premium product, which means it has a higher price tag than other sex toy accessories. It may deter individuals on a tight budget or those still determining if they will fully utilize its features.
Due to its size and shape, the Wing may not be the most discreet item to store. Its bulkiness might require dedicated storage space, which could challenge those with limited privacy or shared living arrangements. While the Wing provides stability, it also restricts mobility to some extent. Users may find it less suitable for more dynamic or adventurous positions that require greater freedom of movement.
---
The Unicorn is an excellent device in every way. To say the least, it appears high-quality, well-made, and captivating at first glance.
You must use your entire body to position yourself, making it a reasonably thrilling, full-body experience. It's possible to experiment with various poses, but it's intended to remain stationary, so mounting it has limitations.
It's enjoyable, heavy, and sturdy enough to make you feel good just by resting on it. There are numerous vibration and rotation settings, but even the lowest levels are intense.
It requires some storage space and is a LARGE investment. However, its use is worth the cost overall.
---
The Tremor Sex Machine is a good find at $849. They have modified the design of the saddle to make it narrower than the Sybian and simpler to mount.
However, I find the red and white plastic frame somewhat inexpensive. The sex saddle fashion may have originated in the 1980s, but Tremor appears to have resonated with those times a little too much.
Aesthetics aside, this potent engine produces a louder buzz and greater rotational force than the original Sybian. In addition, it includes a silicone pad cover for simple cleanup and two silicone attachments.
The control panel is slim and easy to hold with one hand. Excellent for one person to control it. However, the short power cord makes transferring control to a companion difficult, especially if they wish to observe you entertaining yourself from a distance.
---
What Is A Sex Saddle?
The sex saddle is a type of sex equipment explicitly created for a woman's pleasure. It usually comes from durable materials, and its large size makes it capable of supporting the combined weight of two people during vigorous riding sessions.
Most sex saddles are expensive luxury items that provide strong vibrations for intense orgasmic experiences; some models also allow for thrusting or rotation. Typically, sex saddles come with various silicone attachments that you can switch out for different sensations and intensities.
Manual saddles that react to every motion are another option; meanwhile, you can have equipment designed solely as sex toy mounts made available as well.
---
Different Types Of Sex Saddles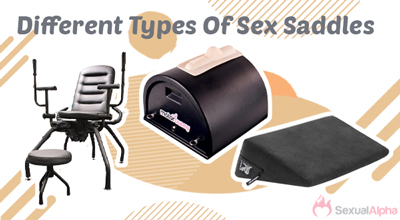 There are several different types of sex saddles available on the market, each designed to enhance sexual pleasure and provide support during intimate activities. Here are some of the most common types:
Wedge-shaped sex saddle: This type of saddle is usually made of foam or inflatable material and has a wedge shape. It helps elevate the hips and pelvis, providing better access and deeper penetration during intercourse.
Vibrating sex saddle: These saddles have built-in vibrators or motors stimulating both partners. You can control them remotely or have different vibration settings to suit individual preferences.
Bondage sex saddle: These saddles are designed with added restraints or bondage elements, such as cuffs or straps, to incorporate BDSM or bondage play into sexual activities. They allow for more adventurous and kinky experiences.
Inflatable sex saddle: These saddles can inflate or deflate to adjust height and firmness according to personal comfort and preferences. They provide customizable support and can be easily stored or transported.
Rocking sex saddle: With this type of saddle, you can swing it back and forth, mimicking the motion of sexual intercourse. You can use it for solo play or with a partner to help enhance stimulation and pleasure.
Saddle-style sex furniture: Some sex saddles are part of larger sex furniture pieces, such as sex chairs or sex swings. These provide a more comprehensive and versatile sexual experience, allowing various positions and angles.
When choosing a sex saddle, it's essential to consider factors like material, size, comfort, and ease of use. It's also necessary to follow the manufacturer's instructions for cleaning and maintenance to ensure hygiene and longevity.
---
DIY Sex Saddles
Creating a DIY sex saddle can be a fun and creative project for those interested in exploring new sexual experiences. However, it is equally as complex and dangerous as well.
If you like to create your own Sybian, for example, then know it won't ever compare to the original product. The Sybian is a trademarked creation designed and manufactured with specific safety features and engineering considerations. Attempting to build your version without the necessary expertise and knowledge can lead to severe injury or damage.
If you want to explore similar experiences, purchase a commercially available product designed for this purpose. These products have undergone extensive testing and, for the most part, have user safety in mind.
Prioritizing your safety and well-being is crucial when engaging in sexual activities. Always follow manufacturer instructions and guidelines, and if you have any concerns or questions, consult a professional or seek advice from reputable sources.
In any case, if you know what you're getting into, we have a step-by-step guide to creating your very own DIY Sybian at home.
---
The History Of The Sex Saddle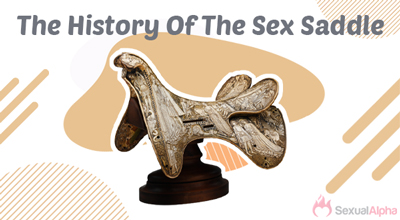 The history of the sex saddle is not well-documented, as it is considered a relatively modern invention. However, you can trace the concept of using a saddle-like device for sexual purposes back to ancient times.
In ancient Greece, for example, there were depictions of women using a saddle-shaped object called a "phallus saddle" for sexual pleasure. These saddles were often made of leather or wood and had a phallic-shaped protrusion on top. Women would straddle the saddle and use the phallic part for stimulation.
In more recent history, the development of the sex saddle, as we know it today, can be attributed to the rise of the sex toy industry in the 20th century. With advancements in materials and manufacturing techniques, companies began producing various sex saddles designed for men and women.
Sex saddles typically feature a padded seat or platform with strategically placed openings or attachments for sexual stimulation. Some models may include vibrating elements, adjustable angles, or remote-controlled functions for added pleasure.
People often use these devices for solo sexual activities or to enhance intimate partner experiences. They can provide a hands-free and ergonomic way to explore different positions and sensations.
It is important to note that there's no extensive documentation on the history of the sex saddle, and its origins may vary depending on cultural and historical contexts. Additionally, using sex saddles is a personal choice and may not be suitable or appealing to everyone.
---
How To Use A Sex Saddle
Using a sex saddle can enhance sexual pleasure and provide a unique experience. Here are some general guidelines on how to use a sex saddle:
1. Choose the right saddle: There are various types of sex saddles available in the market. Select one that suits your preferences and comfort level. Look for a saddle with adjustable straps and a sturdy base for stability.
2. Set up the saddle: Find a suitable location to attach the device securely. It could be a bed, chair, or any other stable surface. Ensure that you securely fasten it to avoid any accidents during use.
3. Adjust the height and angle: Depending on your comfort and desired position, adjust the height and angle of the saddle. Experiment with different settings to find what works best for you and your partner.
4. Use lubrication: Apply a water-based lubricant to yourself and the saddle to reduce friction and enhance comfort. This process is fundamental if you use the harness for extended periods.
5. Experiment: The sex saddle allows you to go crazy with various positions and angles. Experiment to find what feels pleasurable for you and your partner. You can try sitting, kneeling, or even standing up.
6. Communicate with your partner: Communication is critical during sexual activity. Discuss your desires, comfort levels, and any adjustments needed while using the saddle. Doing so will help ensure a pleasurable experience for both partners.
7. Practice safety: Always prioritize safety during sexual activities. Ensure the saddle is securely attached and stable to avoid accidents or injuries. Take breaks if needed and listen to your body's signals.
Everyone's preferences and comfort levels are different, so exploring and finding what works best for you and your partner is essential.
---
How To Clean Sex Saddles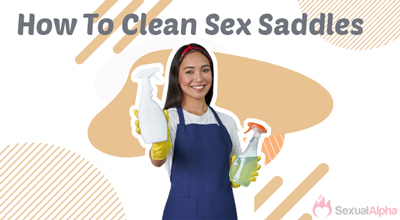 Cleaning a sex saddle is similar to cleaning other sex toys. Here are some general steps to follow:
1. Check the manufacturer's instructions: Before cleaning your sex saddle, read the instructions or any specific cleaning recommendations provided by the manufacturer. Doing so will help ensure you don't damage the material or any electronic components.
2. Disassemble if possible: If your sex saddle has removable parts, such as attachments or covers, disassemble them before cleaning. It will make it easier to clean all the nooks and crannies.
3. Wipe down the surface: Use a damp cloth or wipe to clean the surface of the sex saddle gently. You can use mild soap or a sex toy cleaner specifically designed for the material of your harness. Avoid using harsh chemicals or abrasive cleaners that could damage the surface.
4. Clean attachments separately: If your sex saddle comes with extra accessories, clean them according to their instructions. Some may be waterproof and submerged in warm soapy water, while others may need you to wipe them down with a cloth.
5. Dry thoroughly: After cleaning, make sure to dry all parts of the sex saddle thoroughly. You can use a clean towel or let it air dry. Ensure that no moisture remains before reassembling or storing the contraption.
6. Store properly: Once dry, store your sex saddle in a clean and dry place. Avoid storing it in direct sunlight or extreme temperatures, as this can damage the material.
Reminder: Always follow the manufacturer's instructions and recommendations for cleaning your specific sex saddle.
---
FAQ
Are There Waterproof Sex Saddles?
Yes, there are waterproof sex saddles available in the market. These saddles are designed to be used in water, such as in a bathtub or a pool, and are typically from components that can withstand water exposure. They often come with suction cups or other attachments to secure them in place during use.
It's essential to check the product specifications and reviews to ensure the saddle is waterproof and suitable for your needs. And most importantly, ensure to always check for electrical components as exposing them to moisture can damage the equipment overall.
---
Are Sex Saddles Loud?
Sex saddles can vary in noise level depending on the specific model and how you use them. Some sex saddles may produce noise due to the motor or mechanism used for vibration or movement. However, quieter models are also available specialized for minimizing the reverberations.
It is always a good idea to read product reviews or specifications to gauge the user's experiences before purchasing a sex saddle.
---
Are Sex Saddles For Floor-Use Only?
You can use sex saddles on the floor; however, they're also suitable on other surfaces, such as beds or chairs. It ultimately depends on the design and intended use of the specific model purchased.
---
Final Thoughts
The best sex saddles offer a unique and enjoyable experience for couples looking to enhance their intimate moments.
With their ergonomic design and customizable features, these saddles provide comfort, support, and a range of stimulating positions, making them a worthwhile investment for those seeking to elevate their sexual encounters.