It's easy to feel overwhelmed while shopping for what's the best anal pumps, whether it's your first or tenth time. In 2023, you may have an onslaught of choices; but how do you narrow it down to the best of the best?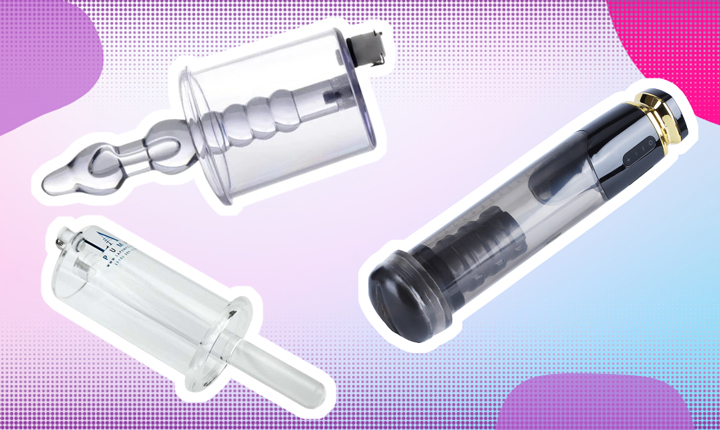 It's realistic to assume that not everyone who purchases an anal pump does so for the same reason, given the variety of ways people can experiment with it with some of the best anal sex toys you see around.
The topic of doing anal may be taboo to some, but it's getting more and more accepted by the masses.
Still, no one must go to extreme lengths to experience pleasure. And sometimes, it's just not for you. And that's fine.
You always have close alternatives, such as anal beads and pegging strap-ons, to tease you. But I digress.
In any case, before purchasing a pump, it's essential to consider your options first before going all-in. Thankfully, if you decide to go through with it, we have the answers you're looking for, starting with…
The Rosebud Anal Suction Cylinder is our top pick for the best high-quality anal pump in 2023. Its smooth rod makes it easy to insert, which is ideal for newcomers and seasoned pros. And you can expect to experience out-of-this-world sensations, giving your anus that "rosebud" makeover, living up to its name.
The Rosebud Cylinder with Beaded Insert is the best silicone anal pump on this list. If you want more texture in that pressure, this one's got your back. It's complete with four bulbs to increase pleasure; pairing that with a vacuum pump, you will have one hell of a good time.
I recommend going for the Dr Joel Pump Kit for something more budget-friendly. It's complete with everything you need to start your anal adventures. And it doesn't disappoint in elevating your sensitivity levels to a whole new extreme!
The Best Anal Pumps For Every Skill Level
---
This anal pump cylinder is of the same high quality as previous rosebud pumps; it will not break, deform, or fail to work, even under intense pressure.
The rod has a simple design, making it easy to insert into the anus. And while this makes it an excellent option for newcomers, those looking for a more stimulating experience may find the plain surface unappealing.
That said, some customers may be wary of the hefty cost of this cylinder. The pricing is fair for the quality, but only if you don't already possess a pump.
Otherwise, one of the other anal pump cylinders here would be a better buy.
---
This anal pump cylinder is fantastic if you're familiar with other anal toys but have never tried asshole pumping. It's not only well-made; the beads are narrow, too, so it looks elegant. Compared to other choices, this one is slightly more lenient.
However, for more experienced users, the smaller diameter of the beads may provide too little stimulation.
This anal pump cylinder is not for you if you require a rod thicker than an inch. If you're okay with a diameter of 0.97 inches and prefer a silicone insert, this rosebud anal pump cylinder is perfect!
---
Dr. Joel Kaplan's Essential Pump Kit will enhance your experience and help you out in the process. A bendable prostate probe and three elastic cock rings round out this whole kit.
This sensual enhancement package contains everything you need for first-time pumpers or seasoned enhancers.
The cylindrical pump fits snugly and provides optimal suction with every bulb squeeze. So when you achieve maximum suction, you can break the seal by releasing a pressure burst.
This pump can boost your size, strength, and overall satisfaction when utilized frequently. Soft, body-safe rings increase endurance and circumference, so your partner can't get enough.
Men, specifically, can experience longer, more intense enjoyment thanks to the tight rings' ability to increase sensitivity and heighten sensations.
---
The Anal Pump Cylinder is just as pricey as our top pick. However, its value to users is just as worth it.
Instead of just a smooth rod, this cylinder has bulbs and embedded ribs to make the pumping experience more sensational.
An anal pump is not included and must be purchased separately, though, just like any other cylinder. Even though the listing doesn't specify what sort of cylinder it fits, you should be able to determine by the provided reference photos.
While we don't suggest this cylinder to total beginners, it provides the best value for money for intermediate and advanced users.
---
The Max Cup Suction Pump comes with two separate silicone sleeves. One is ideal for physical activity, while the other opens the door to a world of pleasures.
To use the trainer, simply insert your penis/anus through the hole and press the power button for 2 seconds. This pump has a rather powerful suction. Those just getting started should shift into first gear.
You can increase your training intensity after noticing a change in your body. You may more easily observe any alterations thanks to the transparent design.
And, of course, as an extra perk, you can always use the sleeve for masturbation purposes.
---
How We Reviewed And Chose These Anal Pumps
You should always be careful only to choose high-quality anal pumps in the market. It's crucial to ensure the product you buy is the most optimal option, even though it may look as simple as it seems.
Because variety is the spice of life, the five we've chosen are what we assessed as those worth your time and money. Various criteria, such as quality, usability, and overall impact, have been used as rating factors for each product.
And we've also considered both user reviews and more in-depth evaluations when making our recommendations.
---
What is An Anal Pump?
An anal pump is a type of sex tool that is inserted into the anus and used to pump the surrounding area. For better and pain-free penetration, it is common knowledge that relaxing the anal muscles is necessary.
You can safely loosen the sphincter and prepare it for action with the help of this aid. And all you have to do is slide the rod into your orifice and have it relax and enlarge the region, making it ideal for more extreme anal activities.
---
Pros And Cons Of Using An Anal Pump
Even though many people use anal pumps, that doesn't make them any less risky. So for an overview, let's quickly run down the benefits and drawbacks of using one.
Pros
Ideal for anal practice
It helps stimulate prostate activity
Anyone can use it
Effective for users with different expertise
Cons
Pumps are much more ideal when you use them with a partner
It can be quite costly
Newcomers to the process may find it puzzling
Possible risk of injury
---
Anal Pump Buying Guide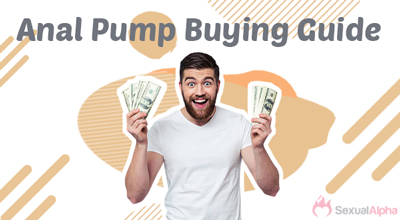 The challenge of finding the best anal pump for you, among the many choices available at any given sex shop, is real. Here are several crucial considerations to help you reduce your options:
Material
Pick an anal pump made of an allergen-free, body-safe material. There shouldn't be any phthalates or latex in a high-quality anal product.
Silicone, Superskin, steel, and acrylic are good options if you're looking for something more specific with your pool of choices.
---
Design
The anal pump itself has to be round or oval, and for most, it is connected to the inflatable buttplug by a single cord. The pump's compressed air travels through this pipe. And from then, it goes to your orifice area.
---
Size
When it comes to anal training, size does matter. The actual anal pump, where the pumping occurs, is slightly larger than your palm.
The typical dimensions of an inflated butt plug are 4.2 inches in length and 1.5 inches in width.
As per recommendation, we advise starting with the smallest butt pump and gradually increasing in size as you progress.
---
Alternatives to Anal Pump Toy
In general, pumps are a fun and easy way to explore the world of anal play and try new types of stimulation. However, many other choices exist if you want to shake things up a bit.
A few options we recommend include the following:
Anal Beads
Anal beads are sex toys you could use solo or with a partner. You can recognize these by their similarity to a string of light bulbs with a clasp at one end. They have a grip at the end to facilitate removal after insertion into the anus.
You can enhance sexual pleasure by using these toys, which, when inserted and removed, stimulate the nerves near the anal orifice.
The B-Vibe Triplet Vibrating Anal Beads are among the best quality anal toys we recommend. The product has three tapered beads of varying flexibility, a comfortable gripping handle, and two strong motors.
This alternative toy is excellent for seasoned veterans and newcomers to the anal play scene because of its intense vibrations.
And not only that, you can take your anal orgasms to the next level by exploring the thrill of testing out 6 in-built vibration settings and 15 vibration patterns. Might I say more?
---
Pegging Strap Ons
Dildos that attach to a harness are called strap-on toys.
You can acquire both parts in a set, but you can also order them individually. You can use many dildos with a wide range of harnesses that attach with straps.
Pegging is a term used to describe anal penetration involving a strap-on by one person with another. Pegging strap-ons are usually suitable for penetrative intercourse between two women. However, double penetration is possible for straight couples as well.
SpareParts' original Jockey-style harness, the Joque, is the most cutting-edge option in combo with the Fuze Tango.
The Joque is built from multi-layered Nylon or Poly-Spandex and lined with silky, sensual mesh to give ventilation for pleasant all-day wear. It is the ultimate pegging strap-on if you want to maximize versatility and comfort in your sex life.
The harness design is flexible so that it may mold to the wearer's and receiver's bodies, maximizing the experience for both parties.
The innovative, flexible elastic O-ring accommodates a wide selection of dildos and accessories, including doubles, giving you and your lover a wide array of sexual possibilities. You can also insert waterproof bullets into new pouches above and below the O-rings.
---
How To Safely Use An Anal Pump
Using an anal pump safely is of the utmost importance. To prevent harming your body, use a pump that is the right size, fits well, and is as comfortable as possible.
Never pump to the point of pain or harm, or create too much suction. If you're experiencing pain or discomfort, stop using the pump immediately. And try again once things settle down.
Also, don't forget: USE LOTS OF SEX LUBES!
---
How To Clean An Anal Pump
You can easily clean an anal pump. If your pump has a removable silicone rod, you can sterilize it by submerging it in a pot of boiling water for at least five minutes.
Use warm water and antibacterial soap to clean the pump regularly. Once you've used soap to clean it, rinse it off with warm water and give it another quick rinse.
After that, pat it dry as much as possible and let it air dry.
Only put your toy away after it has had a chance to finish drying, as doing so will encourage the spread of bacteria.
---
FAQs
Difference Between An Anal Pump And An Inflatable Butt Plug?
You can prepare your anus for more big sex toys or anal intercourse with the help of an anal pump, which also gives pleasurable sensations.
On the other hand, one of the more giant anal toys that a pump prepares the asshole for is an inflatable butt plug.
---
Who Can Use An Anal Pump?
Anyone who has a butthole can use an anal pump. So practically everybody is qualified regardless of identification.
---
How Long Should I Use An Anal Pump For?
Individual preference dictates how long you can use an anal pump to apply suction. Begin pumping briefly, perhaps for a few minutes, and lengthen your sessions as you get used to the sensation.
Prioritize your comfort and safety above all else, and if using the pump causes you any pain, stop immediately.
You can use anal pumps for extended periods without risk when used correctly and responsibly. Never over-pump or create excessive suction beyond what the manufacturer recommends to avoid discomfort or damage.
When utilizing an anal pump, it is crucial always to check it for signs of damage or wear and to promote open communication, informed consent, and patient safety.
For other long-term use concerns, talk to your doctor or an accredited sex professional.
---
What Type Of Lubricant Should I Use?
The best we could recommend is a water-based lubricant, as they are the safest option to use with any anal toy you have in store.
---
Final Thoughts
The perfect anal pump can increase your sexual excitement and pleasure you to a brighter, albeit sexier, tomorrow. We've highlighted the best of the best so you can select your ideal product with ease.
Don't think twice about splurging on these choices, as they'll likely take your sex life to a new height of ecstasy.