Don't know where to get your Lush 3? Find out which store is best for you and will help you save more in this Lovense lush stores review.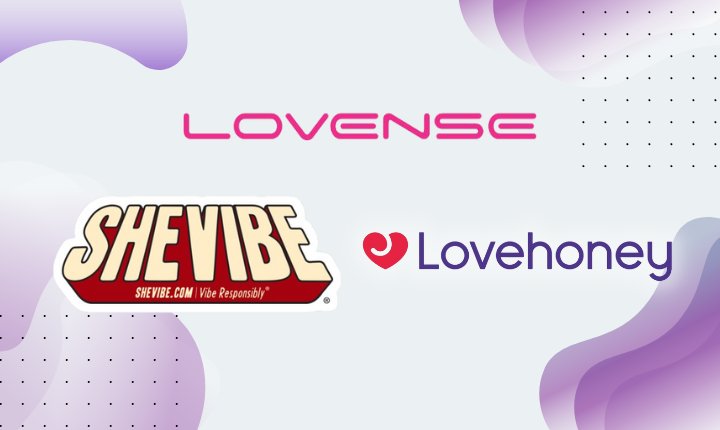 POV: You've saved up enough, decided it's FINALLY time to treat yourself with a sex toy to enhance your sexual pleasure, and chosen Lush 3 as the holy grail to your next Big O.
But where should you get one online?
Maybe you don't know where or maybe you know a lot of options, but you're unsure which one is best.
In this article, we've rounded up:
The best stores to get your Lovense Lush
GREAT Lovense sex toys that go with your Lush
Tips on how to take care of your Lovense investments
Let's start with…
The best place to get your Lush 3 is directly from its home: Lovense! The site has international shipping, often hosts sales and discounts, and has exclusive deals for Lovense product combos. You can rest assured your Lush 3 is authentic and get it at the best value price.
Best Alternative Lovense Lush Store
SheVibe is a go-to place for getting Lovense sex toys like Lush 3. You can buy your toy with free shipping and peace of mind that it's authentic. The creative comic visuals and educational content make browsing their online store fun, especially with their easy-to-use interface.
Best Lovense Lush Store With Dedicated International Sub-Sites
Popular sex toy store Lovehoney has international sub-sites for the USA, Canada, UK, EU, Germany, Spain, and France—you can shop with your own currency and shipping info. Each region has its own storage warehouse, so you don't have to wait for long shipping times when you order your Lush 3.
---
Best Lovense Lush Stores in 2023
The best place to get your Lush 3 is… directly from Lovense itself!
Here, you can assure the product you get is 100% authentic. Plus, they often offer deals and discounts for you to get the product at the most valuable prices.
ALWAYS DISCREET PACKAGING
With Lovense, you don't have to worry about your mailman reading your package or your roommate receiving your order for you.
Your order will always come in discreet packaging: a plain brown box.
No labels or logos or descriptions that you just bought a sex toy or anything from Lovense.
Inside that box is ANOTHER discreet box for dual protection. Then, finally, the box for the product.
Lovense takes packaging SERIOUSLY.
---
SALES
You want to make the most of your money as a savvy shopper. That includes window shopping to find the best deals for the product you're eyeing.
Well, you don't have to look further. Lovense ALWAYS hosts sales and discounts.
You're most likely to snag a great value price anytime you decide to add your Lovense product to your cart.
---
SHIPPING & HANDLING
Shipping is fast and affordable.
You only need to pay $5 for each order.
Something to note
PER ORDER, not per item. You can buy unlimited products and not worry about paying more for shipping fees.
Once you place your order, Lovense will ship it out within 24 hours. Then, it'll be delivered after 2-3 working days. (It's usually 2 days for me.)
Of course, there are instances where there might be delays. Plus, it also depends on where you're from.
You'll know the shipping time and available shipping methods during checkout.
---
EXCLUSIVE BUNDLES
Lovense creates sex toys for couples, especially with their Bluetooth and app connectivity that lets you sync toys with each other.
That's why exclusive bundles are available on the site! They offer big value on getting two (or more) sex toys for a lower price.
You can get one for yourself and one for your boo! It's the perfect gift for any occasion, really. Birthdays, anniversaries, Valentines…
Or… get MORE for yourself.
(Because, self-love.)
---
The next best go-to? SheVibe.
I always enjoy browsing and shopping on SheVibe—from the fun comic geek illustrations on the website to the creative and educational content.
Plus, you can get toys (or lubes) from other brands to go with your Lush 3 in one checkout.
PACKAGING
Like Lovense, SheVibe respects your privacy.
Your order will be shipped in a plain box—no references to its contents.
---
SHIPPING & HANDLING
Shipping is free if your order is over $68 (which Lush 3 is, so you can save on shipping). As long as you're from the US.
Meanwhile, the shipping fee for all US ground orders (under $68) is a flat rate of only $7.50. Really good deal.
Order turnaround is quick as well. They process orders within 48 hours if you place them from Monday through Friday. If you place it on a weekend or holiday, they'll pack it immediately the following business day.
Rest assured, you'll get your hands on your Lush 3 before you know it.
---
PRICES
SheVibe offers the best possible price for their sex toys.
Another great thing exclusive to SheVibe is their rewards program, where you earn 10 Power Up Points for every $1 you spend. You can later redeem your points for exclusive perks or discounts, which is a good type of "cashback."
They also often host clearance sales and promos. Great to keep an eye out for.
---
PLATFORM
SheVibe is one of my favorite places to shop. The user interface is so easy to use.
You can also quickly find what you're looking for by simply using their search bar or browsing through their well-organized categories.
Navigating around the site isn't stressful at all. The pages load fast, and you don't have to worry about any downtime.
---
I know you've heard about Lovehoney.
(Don't get confused with LOVEhoney and LOVEnse, though.)
YES, you can also get your Lovense Lush 3 from this sex toy retailer.
I recommend Lovehoney, especially if you live outside the US. They have dedicated international sub-sites for the USA, Canada, UK, EU, Germany, Spain, and France.
The good thing is that they have storage in these regions, too, so you don't have to wait too long for your order.
PACKAGING
As a sex toy shop, Lovehoney is a pro at ensuring your orders are packaged in incognito mode.
Your Lush 3 will be packed in a plain and, as they call it, "boring" brown box.
Lovehoney is a popular sex toy shop worldwide, so there's a high chance anyone who sees your package would be able to put two and two together: Lovehoney = sex toys.
But, you don't have to worry as "Lovehoney" isn't written in the return address or anywhere on the shipping label's markings.
---
SHIPPING & HANDLING
Lovehoney ships orders directly from their regional warehouses. They also offer free shipping if you spend over $49 in the US, so you can use the free shipping when you order Lush 3.
They ship orders after 6 working days at a regular rate of $9.99. (The most expensive shipping fee on this list so far.)
You may also expedite your order at a higher cost of $19.99 (if after 4 working days) or $29.99 (if after 1 working day).
---
PRICES
From the listings of Lush on this list, Lovehoney has the highest price so far. That said, they host sales every now and then.
You can get Lush 3 at a lower price if you chance upon their discounts.
---
PLATFORM
Lovehoney's platform is clean, simple, and easy to navigate.
It's not as fun as SheVibe's comical visuals, but it's modern and intuitive.
Since it's a popular site, you can also check lots of product reviews from their customers.
---
From the UK?
The best online shop to purchase your Lush 3 is on UberKinky, mate. (Okay, sorry.)
It's the faster way to receive your order, and you can stay within your currency.
PACKAGING
UberKinky also ships their orders in—you know what it is by now, so say it with me—a plain brown box.
It's discreet, so your roommates won't be gobsmacked if they find your package.
Your credit or debit card statement will even show "NE Services Limited" instead of "vibrator" or "Lovense Lush 3." No need to worry if you're sharing your card with anyone, as you can keep your purchases incognito.
---
SHIPPING & HANDLING
You won't have to pay a shipping fee as UberKinky offers free shipping for orders over £55. And Lovense Lush 3 is over that amount.
This is valid for standard delivery in the UK and USA orders.
---
PRICES
While Lush 3's price is higher on UberKinky considering the conversion, UberKinky offers a really good deal for stores in the UK. Plus, you can benefit from the free local shipping.
And if you're a loyal UberKinky shopper, you can earn or redeem rewards to save more.
Basically, you earn points when you sign up, leave reviews, and on your birthday. Plus, you get 5% of the amount you spent as loyalty points.
---
PLATFORM
UberKinky's site has loud graphics, but it's easy to navigate and loads fast.
It's secure as well, so you don't have to worry about keying in your financial deets.
---
Other Website Options
How about your trusty Amazon or eBay accounts? I know you want to make use of your money-back guarantees, but these marketplaces aren't the safest places for you to buy your sex toys.
Why?
Short answer: counterfeit products.
The super low prices are tempting. But when something is too good to be true, then it probably is.
Not all products from Amazon and eBay are counterfeit, but you'd have to be more careful when choosing which buyer to order from.
There's A LOT. That's why regulating it is quite a challenge.
Amazon has almost anything under the sun—including Lush 3.
Finding the right adult toys could be a hurdle, as Amazon made it that way (to avoid children accidentally stumbling on LELO and Stitch instead of Lilo and Stitch). But they're there.
Just keep looking.
PACKAGING
Amazon's discreet packaging could be a hit-and-miss. Some sellers promise and actually deliver packages in plain brown boxes, but there were some who got their packages in all their glory—with labels and everything.
That said, there is a Discreet Box service option available you can choose.
---
SHIPPING & HANDLING
Order times vary depending on your area.
Amazon Prime members may avail of same-day deliveries, if available.
Free shipping is available for orders over $25 but only for those with "Ship from Amazon" labels.
---
PRICES
The price of the listed Lush 3 products could vary. But be cautious of those super low as it's most likely not the original Lovense pink vibe.
---
PLATFORM
Shopping on Amazon is straightforward—lots of product listings from varied sellers. It could be hard to distinguish authentic ones from those that are not, though.
---
It's easier for sellers to sell on eBay. But that's also why it's more unregulated (despite their vague adult item ban).
There are legit sellers, though, as long as you carefully comb through reviews and product listings.
PACKAGING
Like Amazon, some sellers offer discreet packaging. However, these promises may not be 100% reliable.
Again, check other reviews on the experience of other buyers.
---
SHIPPING & HANDLING
Shipping and handling time will depend on the seller's settings. You can find this info on the product listing's description.
---
PRICES
The prices of Lush 3 from eBay's site are very varied. There's a lot to choose from.
Also, because of that, some sellers lower their prices even more to entice some buyers.
However, be careful when it's priced too low as it might be counterfeit. Only buy from sellers with lots of positive reviews and good ratings.
---
PLATFORM
eBay has a List View of different product listings from different sellers. Easy to scroll through, but it could be challenging to find and determine the reliable sellers.
---
Lush 3 and Other Lovense Products You Can Buy
Since you're in the market for Lovense products, I highly recommend you to check out the rest of their really good sex toys.
The popular, the powerful, and the premium: Lush 3.
This "pink vibrator with a tail" has a cult following among cam girls and basically anyone with a vulva. It has super strong rumbly vibrations, wearable in public, and is a gem for G-spot stimulation.
Read our Lovense Lush 3 review to learn more.
---
If hands-free on-the-go orgasm is on your checklist, you should check out Ferri.
This magnetic vibrator attaches to any underwear, transforming your regular panty into a dazzling vibrating panty. It's the most powerful vibrator of its kind that will give you toe-curling clitoral stimulation.
Here's our Ferri review.
---
Domi 2 is Lovense's snack-sized wand massager that delivers strong rumbly vibrations despite its compact size.
It's easy to use (perfect for beginners), cordless (won't get in the way), and app-controlled (have fun with remote control). Plus, its reinforced neck lets you exert pressure as light or as hard as you want.
You can check out our Domi 2 review here.
---
Ambi is unlike your good old bullet vibrators. It's shaped like a hammer—you can play around with pinpoint or broad stimulation.
Another great thing? It's easy to wear during sex so that you can share the rumbly vibes with your lover.
Our Ambi review will give you a more in-depth look at this toy.
---
Dolce, previously called Quake, gives you the best of both worlds: clitoral and G-spot stimulation at the same time.
It's wearable for public play and thicker than Lush 3, so it will give you more vaginal pressure if that's what you're looking for.
Take a look at our Quake Dolce review.
---
Don't leave your backdoor ignored.
Hush 2 is a vibrating butt plug that will stimulate your anal hotspots in ways you've never experienced before. Swear.
Wear it all day for training or to tease for foreplay. It will deliver an A-mazing performance either way.
Continue reading our Hush 2 review.
---
Two is better than one, so I suggest getting your partner to join in the fun with a male masturbator: Max 2.
It syncs with other Lovense toys like Nora by responding to each other's vibrations and movements. Virtual sex has never been this interactive, I tell you.
Our Max 2 review will let you know more.
---
And while we're on the page for male pleasure, why not add spice to your playtime with your prostate-having partner by adding a prostate massager?
Edge 2 massages and stimulates his prostate AND perineum, giving him internal and external vibrations that would drive him straight to orgasms.
It's all the good Ps.
Here's our Edge 2 review for your viewing.
---
F.A.Q.s
How do you clean your Lovense sex toys?
Most Lovense sex toys are waterproof. At the very least, they're splashproof or water-resistant. That makes cleaning them a breeze.
Simply wash the toy in running water, use a gentle soap, and then rinse. You may also use a sex toy cleaner as long as it's safe for silicone sex toys.
Check out our guide on how to properly clean your sex toys to learn more.
---
Is there a proper way to store your sex toy?
Yes, definitely!
First, you need to make sure your sex toy is completely dry before storing it.
I also highly recommend you keep it in its storage pouch if it has one.
Then, keep it somewhere dark and safe, like cabinets, so it doesn't get exposed to direct sunlight and no extreme temperatures.
Read our guide on how to store your sex toys to learn more.
---
How do you safely use your Lovense toys?
Knowledge is key. Read your Lovense toys' manuals first.
Learn how to operate it and get to know what you should and should not do.
For example, no silicone lubes, please.
Lovense sex toys are made of body-safe, nonporous silicone. Silicone lubes degrade silicone sex toys, so you must only use water-based lubes.
---
Final Thoughts
Thankfully, Lovense Lush 3 isn't hard to come (ahem) by.
You can get your hands into these powerful egg vibrators from Lovense and various trustworthy sex stores.
So check out your cart. You deserve it.