In this Lovense Ambi review, we dive deep into the features of this unique shaped bullet vibrator, how it delivers vibes to the clit, and my experience with it. Read on:
Small yet powerful vibrations—if that's what you're looking for in a vibrator, Lovense Ambi is one of the best yet.
Its unique shape, contours, and hammer-shaped head offer pinpoint clit stimulation that you can't find from other "bullet" vibrators—especially at its affordable price tag.
When I first got Ambi, I didn't know much about what to expect. If you're thinking of getting one for yourself, here's a review after using it during my orgasmic sessions.
Lovense Ambi is a unique "bullet" vibrator that is hammer-shaped instead of a bullet. Purpose? Great contours to complement your body and two ends for pinpoint stimulation options.
Lovense Ambi has some charging issues that you can fix by finding the right angle.
Lovense Ambi is a reliable small vibrator that is very powerful for its size. It has minor flaws (like some charging issues), but it works and performs really well to give you a good orgasm.
Lovense Ambi is for you if:
You want a vibrator with pinpoint stimulation.
You want a vibrator you can wear during sex.
You want a small, pretty quiet vibrating toy for clit stim.
Lovense Ambi is not for you if:
You want a reliable charging experience.
---
Lovense Ambi Packaging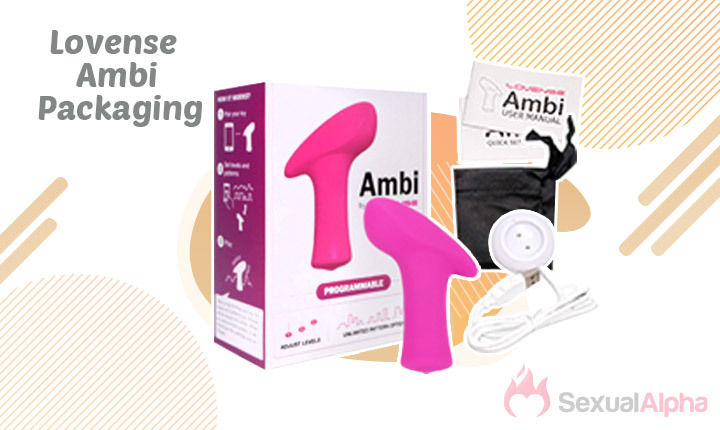 Lovense Ambi isn't my first Lovense toy, so I already know what to expect: a white box with a photo of the pink toy.
Yep, it does have a photo on the package (not on the outer plain brown box, don't worry). Better to unbox your treat somewhere private.
The packaging is small, simple, and not wasteful. You just get what you need.
Here's what's inside:
The Ambi vibrator (of course)
USB charging dock
User manual and quick setup guide.
I wish it came with a storage pouch so I could quickly stash it away in my drawer. But I can live with it.
---
Tech Specs of Lovense Ambi
---
How Lovense Ambi Looks and Feels
Like any Lovense toy, Ambi has a hot pink color.
It's a small app-controlled vibrator that looks quite unique compared to other vibrators.
Why? Well, it has a hammer-shaped head. (Usually, small vibrators have a bullet shape.)
The head has two sides that you can use. One end is broader for pinpoint stimulation, while the other end is thinner for SUPER pinpoint stimulation.
Ambi has contours designed to complement your body, making it very easy to maneuver + very comfortable.
You can even wear it during sex!
It's made of body-safe silicone, which feels very pleasant to touch.
---
Key Functionalities of Lovense Ambi
Vibration Power
Lovense Ambi has strong and rumbly vibrations. The vibes travel through the surface and reach deep inside the clit.
This also makes it have a pretty low noise level—great if you want to use it for public play.
It has 4 built-in vibration modes:
Low
Medium
High
Pulse
It also has 3 pre-set vibration levels and 10 vibration patterns that you can control using the Lovense Remote App.
---
App Control
Speaking of the app, Lovense offers the best connectivity and app experience among similar toys in the market.
You can cycle through its different vibration patterns and levels that best fit your preference.
Using it alone is fun, but the Bluetooth connectivity also lets you give the device's control to your partner. He may even use it even from a long distance.
---
Magnetic Charging and Battery Life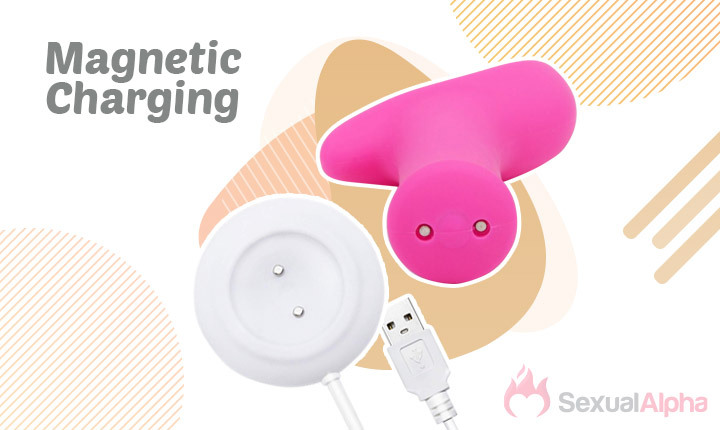 Charging Ambi is like charging a smartwatch: it uses a magnetic charger.
You don't have to worry about running out of batteries as you can just recharge it on any USB port or USB/AC power adapter.
The light should turn a solid red to indicate if it's charging correctly. If it doesn't, try rotating the toy or cable 180 degrees.
Charging takes around 80 minutes, while you can use the toy nonstop for up to 2 hours.
If you decide to keep storing it for a while, just make sure you recharge it at least once every 6 months!
---
IPX7 Waterproof
These days, a waterproof capability is essential for vibrators. And I'm glad Lovense Ambi is also one.
It has an IPX7 rating, which means you can submerge it up to 1 meter in water for up to 30 minutes.
This makes it easy to clean. Plus, you can wear it while showering, chilling in the bathtub, or maybe even in some naughty swimming pool play.
---
How to Use Lovense Ambi
The toy itself doesn't have many buttons. It only has the charging port, indicator light, and one button.
Hold this button for 3 seconds to turn it on or off.
Tap it once to cycle through its preset vibrations.
It makes sense to use the Lovense Remote app to access more features. It's really simple:
Download the Lovense Remote app.
Enable your Bluetooth.
Press and hold Ambi's ON/OFF button. It's ready for pairing once it's on.
From the app, press the "+" button to begin searching. It searches for the toy and pairs it.
Click "Done," and you're good to go.
---
Using Ambi With the Lovense App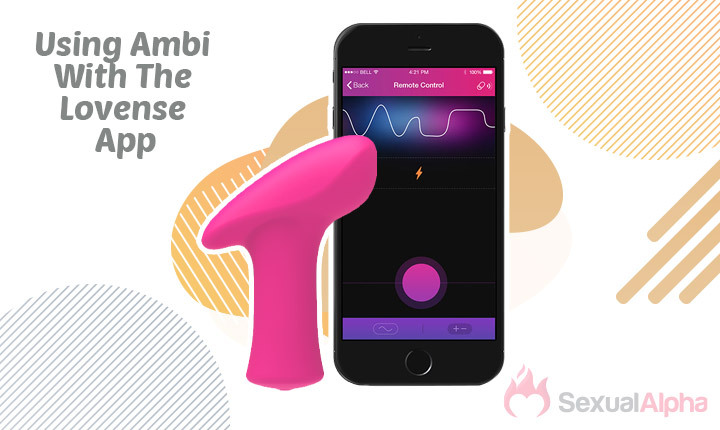 These are the features you'll unlock when you control Ambi from the Lovense app:
Bluetooth connectivity: Gives control to the toy via the app to change its settings. You or your partner can then control the toy.
Long-distance control: If your partner is far (like across-the-world far), you can have an interactive virtual play session using the app as long as there's an Internet connection.
3 preset vibration levels and 10 patterns: Or personalize your own vibration patterns.
Music sync: Sync the vibrations to your music—whether it's from your playlist or your Spotify account.
Sound-activated vibrations: Vibes respond to sounds like you or your partner's moans.
---
Using Lovense Ambi with Lubricants
Thinking of using lubricants with your Lovense Ambi toy? (I agree, TBH, as it just makes the sensation more pleasurable.)
However, it's important to use the RIGHT lube.
In this case, I recommend water-based lube. It works great—gives you a good glide but is not too slippery, especially as you'll most likely be wet from your natural juices as well.
Ambi is made of silicone, so avoid using silicone-based or oil-based lubricants not to damage the toy.
---
My Experience with Lovense Ambi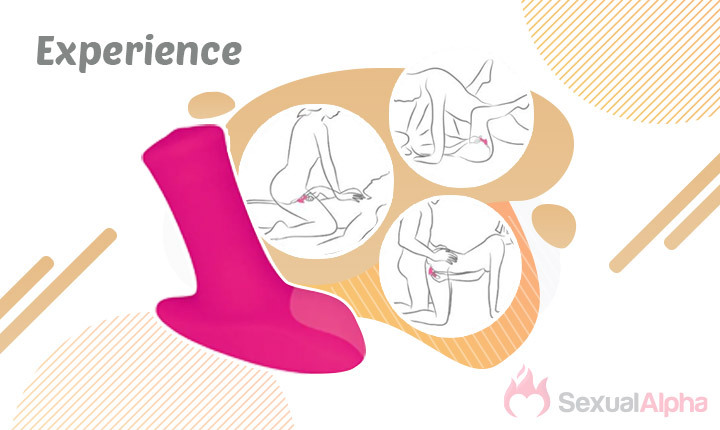 I love using Ambi whenever I'm alone. And if my boo is away, he can easily join in the fun by just controlling the toy via the app for me.
The best position to use Ambi is while lying down. This way, I can hold the toy with my hands and position it at an angle that feels good to me.
And boy do I get my shaking orgasms, wave after wave.
If my partner is with me, I can still use Ambi as it's wearable during sex! The best positions are cowgirl, missionary, and doggy style.
From my experience, the only finicky aspect of Ambi is charging.
But I own numerous Lovense toys at this point now to know the trick: move your cable to a 180-degree angle until you get it right.
It would be great if charging is more fuss-free, though.
---
Cleaning & Care Tips
Ambi is fully waterproof = very easy to clean.
Here's how:
Simply wash it in water and gentle soap.
It's also safe to wash it using your preferred sex toy cleaner.
Dry it well before storing it away for safekeeping.
The toy doesn't come with its own storage pouch, by the way. Try to get one, so it's more hygienic when you keep it away.
---
Price & Where To Buy
Lovense Ambi is priced at $69 as of this writing.
I recommend getting this toy directly on the Lovense website to ensure it's original, delivered in discreet packaging, and purchased via secure payment options.
---
What Other People Think About Ambi
Ambi is more of a do-it-yourself type of toy where you can position it to your liking, connect the app so you can set it and forget it. But you can't forget it because it's crazy good.
She (LDR GF) prefers clitoral stimulation and her G-spot isn't that sensitive, so I figured the Ambi might be better over the Lush.
---
Alternatives
Lovense Ambi vs. We-Vibe Tango
We-Vibe Tango might be one of the closest alternatives for Lovense Ambi. It's a small yet powerful bullet vibrator with a lipstick-shaped design. I find it a tad stronger than Lovense Ambi, while Ambi's two usable ends add more options for pinpoint stimulation. Tango is also a more expensive choice, so that's something to consider.
---
Lovense Ambi vs. LELO The Lyla 2
LELO The Lyla 2 is also a great option. Like Ambi, it's a wearable vibrator you can use during your lovemaking sesh. What's nice about it is it has its own remote control, making controlling its settings easy peasy. The Lyla 2 lacks more pinpoint stimulation than Ambi because it doesn't have tapered points. But it's really powerful for the right user—especially if you don't mind its premium price tag.
---
Final Thoughts
Lovense Ambi is an excellent vibrating toy that can offer you a good me-time. While small, it packs a punch with its strong vibrations and pinpoint stimulation.
It's not perfect (its charger is quite sensitive), but it delivers where it matters: in the PLEASURE department!