Is virtual reality sex the future of porn? You've probably heard of it, and it's only getting more popular. But is VR porn worth it?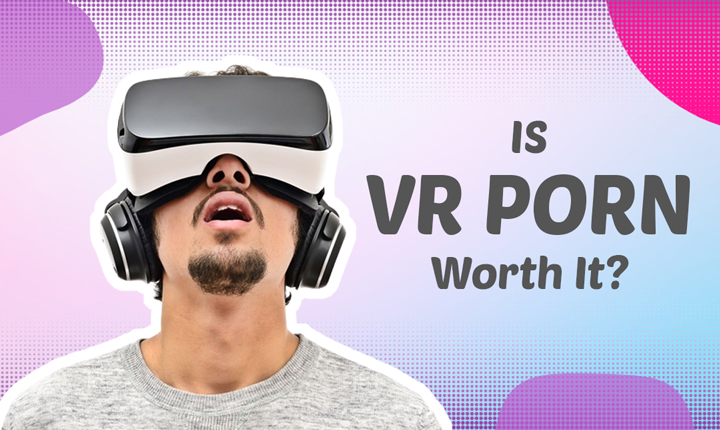 2014 was a big year for VR. Facebook bought Oculus Rift for $2 billion, Sony announced they were working on a VR headset for the PlayStation 4, and Google introduced the Cardboard—which to this day is the most affordable VR "device" (if you can call something made of cardboard a device).
The same year, adult entertainment actress Ela Darling recorded her first VR performance, thus giving birth to virtual reality porn.
In fact, the porn industry has likely done more to popularize VR technology than any of the other big companies I just mentioned.
Almost a decade on, VR porn has evolved. But how good is the experience, and can it replace regular porn, which has kept us happy and satisfied for so long?
---
Virtual Reality Porn: What Makes It Different From Conventional Porn?
In the most basic sense, virtual reality removes the borders of your screen. While conventional displays limit the image within a rectangular screen, with a VR headset, you can move your head around and feel like the video you're watching is all around you.
Simple VR content has 180-degree viewing angles. So this means that when you wear it, your viewing area is everything you see in front of you. Fully immersive VR has a 360-degree viewing angle, so the video plays all around, including behind you.
In terms of porn, these wide viewing angles make it seem more realistic. You can move your head, which will change your view of the video accordingly. Therefore, the best kind of VR porn is usually point-of-view (POV) porn which is shot from a first-person perspective. 
So this makes it seem like you're participating in the scene instead of just watching it from the sidelines. There's nothing quite like watching your favorite pornstar bending over or kneeling down in front of you with a wicked smile on her face…
According to a study by VRPorn, a popular adult website specializing in virtual reality content, this form of porn makes up a significant portion of total online VR activity. And 60% of the top VR websites are porn!
So, it is quite clear that VR and porn go well together, and many people enjoy it. But what effect does VR porn have on viewers?
---
VR Porn Advantages: The Good Side of VR Porn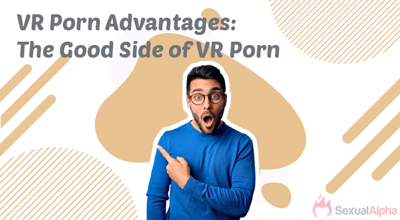 VR porn has revolutionized how many people consume adult content. Apart from its obvious effects (making porn more realistic), there are some surprising outcomes that it has had.
Realistic Experiences and Greater Arousal
VR porn, first and foremost, has helped make porn more realistic. And isn't that the point of most porn anyway? To make the viewer feel like they are part of the scene?
When you watch VR porn, you feel INSIDE the video instead of watching it through a window. When you turn your head left or right or look up or down, you will see what you'd expect to see if you were in the room where the action is happening.
In fact, some studies show that VR porn gives more sexual arousal than conventional porn because it makes viewers feel present in the scene.
---
Allows People to Explore Their Sexuality
Apart from giving instant pleasure (without needing a partner), porn also helps viewers explore fantasies they would otherwise not be able to.
Shame or taboo might be associated with specific sexual acts in parts of the world. Porn gives people the chance to explore sexual aspects that they are curious about in a safe space.
Exploring new sexual experiences is also a healthy process that porn facilitates. VR porn helps to elevate these experiences for individuals and couples by making them more realistic. And this can ultimately help in opening up new avenues of sexual activities for people, and that's always a great thing.
---
New Opportunities For the Porn Industry
Virtual Reality technology also opens up many new avenues for porn. It's quite obvious even in the early days of VR porn, and the way things are going now, things will only get kinkier in the virtual smut world.
For one, there has been a sharp rise in VR sex simulators that attempt to take realism a notch higher. Not only can you watch the action in immersive VR, but you can also control what happens and what the erotic performers look like.
Fans of hentai and animated porn can also expect to immerse themselves in sexual VR fantasy worlds that would be impossible to recreate in real life.
As VR technology improves, even the most outlandish sexual fantasies will be available to explore with decent realism. Ultimately, living out such sexual fantasies in a controlled environment is something many people would be interested in, and VR porn is the perfect way to do it
---
Broad Accessibility
Virtual reality porn can also help some people experience arousal and erotic situations who might otherwise be unable to. Think of someone who may be paralyzed or suffer from a condition that doesn't allow them to have sex. It can feel awful, and if there is a way to let such people experience sex and sensuality in one form or another, it's worth supporting it!
Once again, VR technology can help in such situations. Though it may not be real sex, the realism that it provides is useful as a substitute to offer people sexual experiences.
---
VR Porn Disadvantages: The Dangers of VR Porn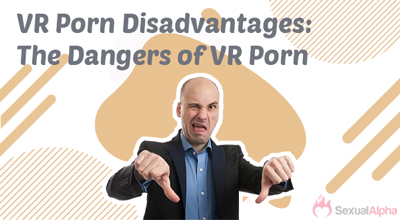 It's not all flowers and rainbows, however. The dangers of porn are often a subject of ongoing discussion at different levels, and VR porn can actually exacerbate some of these concerns.
Propagates Unrealistic Expectations and Stereotypes
One of the foremost negative aspects of porn is that much of it does not accurately portray what sex in the real world is like. From the physical aspects of performers, the positions they use, and the situations they get into (banging your stepdad because he grounded you, seriously?), a lot of porn is just wild fantasy.
And there is nothing wrong with fantasy—unless people expect the same thing to happen in reality.
Specifically, one of the most dangerous aspects of porn is treating someone (usually the woman) with utter disregard, generally like a sexual object. All of these aspects of porn get embedded in a viewer's mind and, if they're not careful, can affect how they behave in real life.
With the additional realism that VR porn brings to the game, it becomes all the more difficult to distinguish it from reality. And it makes the dangers of unrealistic expectations all the more likely.
---
Increases Risk of Porn Addiction
Though it doesn't happen often, porn addiction is a real danger for some, especially those with an addictive personality. It can become a form of escapism and fantasy that the person can start to prefer from their reality.
Because of the realism of VR porn, it is easier for people trying to escape reality to become addicted to it. And this can seriously affect their personal lives, relationships, finances, and general well-being.
Watching large amounts of porn can also make it difficult for people sometimes to become aroused in real-life sexual situations.
---
Equipment needed to Watch VR Porn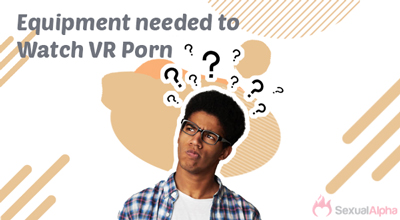 VR porn, first and foremost, requires you to have a VR headset. These can start from relatively low prices of about $200 to thousands of dollars. Generally, the more you pay, the better the resolution and processing power of the headset. However, you don't need absolute high-end models to enjoy VR porn.
Buying one of the popular headsets is best because they are usually compatible with most websites. If you're in the market for a VR headset, consider the following models:
HTC Vive
Oculus Rift/ Oculus Go
PlayStation VR
Google DayDream
Steam VR's Valve Index
Of course, there are many other VR headsets on the market. You can get the Google Cardboard for about $50 and use it as a rig for your smartphone to get a basic VR experience. However, get a real headset if you plan on using VR regularly.
Most headsets will require a computer to connect to. You can play saved adult content or access one of the many fantastic VR porn websites out there (more on this in a bit).
Some VR headsets, like the Oculus Go, do not require a separate computer, and you can browse the internet through the headset itself or play stored files.
Additionally, your headset will come with handheld controllers that you can use to navigate through your content. Most headsets have inbuilt speakers. In case yours doesn't, you can use earphones or speakers (make you're alone at home).
For a complete step-by-step guide on watching virtual porn, check out: How to Watch VR Porn.
---
And now we come to the fun part. If you're ready with your headset and itching to try virtual reality sex, here's a quick lowdown of the best websites to get high-quality adult VR content. 
Even if you don't have a headset, you can check out these websites to get an idea of the available content. But you do need a headset to get the full effect.
VR Bangers might not be the cheapest VR porn website out there, but it definitely gives you the best bang for your buck. If you really want to experience the joy of virtual reality porn, this is a great place to start. Its 8K UHD video quality, tons of famous pornstars, and many categories are all offered here.
Read our VRBangers in-depth review to learn more.
---
VRPorn.com is one of the original hubs that still holds up as one of the best VR porn websites. With one of the largest VR porn libraries on the internet, this website has something to satisfy anyone. VR porn sources content from over 200 adult studios, so you can also search for content from your favorite adult filmmakers.
Interested in learning more? Head over to our VRPorn.com comprehensive review.
---
SexLikeReal is for those that enjoy the tech side of virtual porn, and their high-quality, full-length movies aren't half bad, either. From a dedicated app that lets you browse and download videos to interactive sex toy-compatible videos, there's a lot of great stuff to explore here.
---
Naughty America is a popular porn studio that makes some of the best MILF porn I've seen (as well as other kinds of porn). Their high production quality is also present in their VR content, which is great. This website is for those that enjoy a bit of a storyline and buildup before the action starts. It also helps make the whole VR experience more "realistic."
Read our Naughty America review to learn more.
---
VirtualRealPorn is a nice budget website that gives you a taste of high-quality VR porn without having to shell out a high monthly fee. It also has associated Trans and Gay websites, so you can buy a subscription according to your preference. You can also find here a few interactive sex videos that are compatible with teledildonic devices.
---
The Future of VR Porn
I wasn't joking when I said at the beginning of this post that porn had done more to popularize VR technology than most big tech companies. Many users have discovered VR experiences after hearing about VR porn and wanting to try it out.
In fact, porn has been at the center of technology trends in the past and helped popularize VHS technology and internet use! Now, it is having a similar effect on VR.
Therefore, the near future will see more and more people trying out VR porn as devices get cheaper and more adult production houses start to make VR content. Hentai and animated porn fans also have a lot to look forward to.
With teledildonics allowing people to FEEL porn videos, the movement to make porn feel even more realistic is well on the way; I, for one, am very excited about it.
---
Is VR Porn Worth A Try?
So, let's get to the heart of it—is VR porn actually worth trying? In a word—Yes!
VR technology is something that everyone should experience at least once. Some people prefer traditional 2D screens, but how will you know what you like unless you try all the options out there?
More specifically, if you're a fan of porn, you should definitely try VR porn because it makes the experience so much more realistic.
Is it worth buying a VR headset to watch porn? If you're a regular porn user, it is worth it. With decent VR headsets and VR porn websites available at relatively low costs, this experience is worth the money.
With all the new VR content regularly coming out, you will find more and more things to watch with your VR headset for the next many years.
---
Ready For The VR Porn Experience?
Well, the future of porn is here. While VR porn cannot beat the convenience of watching porn on your phone or laptop, it definitely takes the porn experience to new levels. Remember those days when you have your room or flat or house to yourself and feel like having a GREAT porn session? That's where VR porn can come in and change your life!
You've now got all the information you need. Check out the websites I've mentioned, find yourself a VR headset that fits your budget, and make sure you lock your door!