I've been testing Naughty America VR with my Quest 2 headset, so I'm giving the full Naughty America VR review. What are the pros and cons of this site, and is it worth it for first-timers?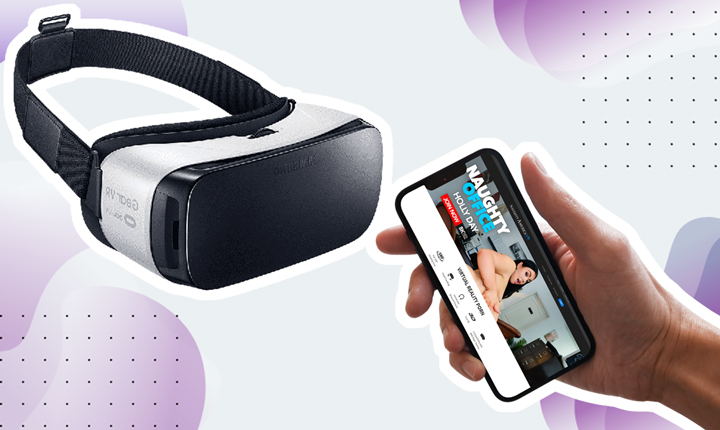 If you're getting into VR porn, there is no doubt you've seen Naughty America pop up on your search results a few times.
Naughty America was one of the first VR porn sites in 2016 to start releasing high-quality VR in 4K. They now boast 6K videos with some of the biggest names in the porn industry.
So if you're a virgin in the porn VR world, Naughty America could be a great place to begin, but the choice is up to you.
Naughty America regularly updates its VR porn collection two times a week to stop content from getting boring.
The site is user-friendly and easy to stream videos with, uses high-end porn stars, and includes access to a tremendous 2D porn collection, making it a suitable site if you want a bit of everything, not just VR
Naughty America is perfect if you're into group scenes.
Naughty America has fewer scenes than other top competitors in the VR industry, like VR Bangers.
We also found that 6K quality, although good, doesn't live up to videos in 8K or 7K. They have only recently started adding 8K videos, putting them behind competitors.
They have recently stopped offering AR (augmented reality porn) and have no VR games at this point.
Naughty America is improving yearly, and it is not a wrong choice if you're trying out VR porn for the first time. It's a good all-rounder site, with access to many high-quality porn stars and 2D porn.
The new in-streaming also makes viewing VR simpler than going through the side-loading process on your VR apps.
---
Who Is It For?
If you are after an all-in-one site with 2D and VR porn.
You're new to VR porn.
You want to see famous American porn stars.
Who Is It Not For?
Those looking for more niche porn.
You want to use interactive sex toys.
Users who wish for the highest quality 8K porn.
---
Naughty America VR Review: First Impressions
Naughty America is easy to use and to the point. The VR site is simple to connect with all popular headsets, and the 6K quality looks excellent.
The site has been around since 2001 under a different brand name and came to VR porn in 2016, and since then, have proved to be popular in the VR porn industry.
After looking through the site and trying out some of the VR scenes, Naughty America seems like a great beginner choice if you're just getting into this type of porn.
Especially if you're only just starting to try out general VR porn and aren't bothered about niche videos.
With a massive selection of high-quality VR porn, you can appreciate that it's all made in-house with binaural sound and hot porn stars for a top-notch experience.
---
Design
Upon entering Naughty America VR, you can instantly see that this site includes various porn with their subscription, not just VR.
This was a good but also a bad thing at the same time.
Filtering through the content to find specific VR porn, in particular, took a long time since they didn't have an advanced search option, only categories.
Pro Tip
What I found helpful is that you can add specific famous porn stars to your favorites list to see their videos quickly.
You can also search with their name tag to find other VR videos they are in.
On the pornstar tab, you will find names like Emma Starr, Nicole Aniston, and Lexi Belle. They split categories into narratives like 'college girl' or 'naughty country girls' – essentially, American girl fantasy porn.
I tried the site on mobile and desktop, and the browser runs smoothly. You shouldn't have any trouble viewing across all devices, like tablets.
---
Content
Most of the scenes average around 40-75 minutes long.
Although most porn was in 6K and not 8K, I don't think this is a disadvantage in this Naughty America review.
You can't tell when wearing the headset. Plus, Naughty America VR is now slowly starting to release videos in 8K.
It was disappointing that there was no 360-degree field of view, only 180 degrees.
The 4K 2D videos were awe-inspiring, and the actors were high quality.
One of the most significant advantages of Naughty America VR is that it gets updated weekly around two-three times a week. This update is vital for a decent VR site since it filters out older, lower-quality videos.
As I said earlier, you're in the right place if you're into group scenes with young hot American girls. Especially on Fridays, they release a 'banger'; this is a group scene of one guy and three girls.
With over 895 scenes, more than 500 performers, and 10,000+ non-VR scenes, you will enjoy this.
You also get a pack of high-resolution photos with each porn movie you click on to use for later.
But sadly, there is a pretty significant drawback to Naughty America: it doesn't support interactive sex toys yet.
And this does put them behind competitors such as VR Bangers and other VR sites if you're looking for a more interactive experience.
There is also no niche content for gays/lesbians. You will not find any female POV videos on the site if you're a female.
---
VR Headset Support
They now have easy VR streaming integrated into the site, which could have been better a few years back. Although, you will not find an app like VR Bangers or virtual theater in BaDoinkVR.
I appreciated that they had a whole section dedicated to VR headset support and excellent customer service when I had any issues connecting to the site.
Direct video streaming or downloading will be straightforward if you use a mobile headset like the Cardboard or Daydream.
When using a headset like the Oculus Quest, you might have to side-load your content which can be more complicated.
Downloading the NA videos took a fair amount of time since they are around 3GB-10GB. So they still need to improve it compared to other VR porn sites like VRporn.com, which are much quicker.
Naughty America is compatible with all major headsets, such as the Samsung Gear, Daydream, Oculus Rift, and PlayStation VR.
---
After getting a feel for how the site works, I strapped on my Quest 2 headset and sat down to try out their VR porn for the first time.
I picked the VR scene called Thundercock as my first try, and I was surprised. You felt like you were in a porn movie; even glancing back, I could see the room's set-up.
In this case, 180 degrees was enough, but you can restrict it in group scenarios.
After trying a few of the VR videos, I did feel that some of the storylines were entirely predictable, showing 'my hot wife' or 'dirty MILF'.
And this is okay for most VR beginners, but it would be better if there were more story variations over time; otherwise, it gets boring.
Overall, the navigation, quality of content, and streaming on Naughty America were smooth, without any tech hiccups.
So perfect for a first-timer who is new to VR.
---
Naughty America VR Pricing: Is It Worth The Money or Not?
If you are considering signing up for Naughty America VR, it will cost around $2 for the trial, $30 for a monthly subscription, or $95 for the year.
You can also purchase the $240 package for the year, which gives you access to five other sites, such as Real Teens VR and Tonight's Girlfriend.
However, this might be slightly overkill for most VR viewers.
From looking at the free trial, it's not worth it if you're looking at the VR on Naughty America since it only gives you access to about five scenes.
Pro Tip
If you are looking for the cheapest option, the yearly package is the best by far and worth the money when you consider you are getting access to all the 2D content and high-quality pictures.
They used to include AR, too but have discontinued this.
---
Alternatives To Naughty America VR
We've listed our favorite alternatives below if you're looking for other VR porn sites besides Naughty America VR.
VR Bangers is one of the most popular VR sites on the web.
Producing 8K quality videos and using famous porn stars, VR bangers already beat Naughty America regarding quality.
And also, unlike Naughty America, it has porn games and a great streaming app.
The content is regularly updated three times a week. Although, it does have fewer scenes than Naughty America, which has over 876 scenes.
Like Naughty America, it also doesn't offer interactive sex toys, which is a shame.
We will choose VR bangers over Naughty America if you want higher-quality videos and an easy streaming app. But the narratives are similar, and they show the same types of porn.
Find out more about this interactive porn site when you read our VRBangers review.
---
VRFuckDolls is the place to be if you are looking for interactivity. You can design your porn star with this site giving you control over the whole video.
It's also very cheap, costing just $15 to sign up.
We suggest checking out VRFuckDolls instead of Naughty America if you want a more interactive experience and games, not VR porn scenes.
Be warned, there are only male leads in this game, no females, so if you're a woman, it's better to skip it.
VRFuckDolls is a great place to play porn games, though. Many users are signing up for the experience due to the low price point, allowing you to have sex with other avatars.
Interested? Check out our VR Fuck Dolls review to learn more about this most realistic sex sim.
---
VRporn.com beats Naughty America VR by far regarding the volume of porn they have.
This site only charges around $25 a month and gives you lots of access to different niches of porn.
You can find MILF, Asian, fantasy, and threesome porn on this site. Unlike standard American girl's porn, which is what most of Naughty America's content is based on.
You can also try out VR porn games on this site.
VRporn.com is the better choice over Naughty America if you want more access to niche porn categories; both are similar in quality and price.
It all comes down to the type of content you like.
Read our in-depth VRPorn.com review to learn more.
---
Last Thoughts
For first-timers, Naughty America VR porn is a great choice. It has a high-quality resolution, great porn stars, and excellent storylines if you're into that girl-next-door type of porn.
The catalog and viewing experience aren't overwhelming, with no technical issues or downloads needed, and they are adding 8K videos and more niche types of porn to their library.
Still, there are few gay/lesbian options and no female POV videos or porn games here.
If you're looking for advanced niche porn now, we suggest heading to VRporn.com or VR Bangers for a more extensive selection.