I've been using WankzVR for the last couple of weeks to see just how good their VR porn is and if it stands against other popular sites. So here's our WankzVR Review in 2023.
Wankz VR is one of the most popular VR porn sites on the web, with interactive sex toy options, 2D porn, and 7K resolution; I can see why.
But does WankzVR live up to the hype? Is its subscription worth the price against other performers like SexLikeReal and VR Bangers?
Check out this full Wankz VR review below to see if it fits your needs.
This all-rounder VR porn site is consistently updated at least ten times a month and has unlimited streaming to avoid heavy downloads with that 7K resolution.
It's one of the few interactive porn sites which lets you use sex toys and offers lots of access to 2D porn and six other VR sites in its subscription, making it worth the money.
The significant cons we found with WankzVR was that there wasn't an extensive search option, just the basics like categories and the pornstar's names.
We also found that compared to other sites, they have fewer scenes and no app VR player, which was a shame.
WankzVR is a no-brainer choice if you want to use teledildonics with your VR porn.
They have the best interactive high-quality videos that not many other sites can compete with, categories that let you explore niches (or other kinks you might have), and a great lifetime package choice if you want to try a bit of everything in porn.
Who Is It For?
You want a bit of everything in one subscription.
People who are looking for high-quality 7K VR porn.
You want to try interactive sex toys.
Who Is It Not For?
If you want only VR porn.
You want to stream this VR porn with a PlayStation.
---
My First Impressions of Wankz VR
When you enter Wankz VR, you can instantly see how high quality this site is and the different categories. It's easy to navigate through, with the usual categories like Blonde and MILF, and it's appreciated that you could choose 4K, 60FPS, and 7K.
At the top search bar, you can also pick pornstars and interactive videos to look through, which is better if you are after something specific.
Streaming the videos is simple. They are high quality and easy to connect with VR, and most max out at 30 minutes.
The photos included were a great touch, and you get a preview of each video before streaming/downloading.
It's an addictive site, and it made me feel like the money paid was worth it with the other VR sites included, like MILF VR and POVR.
---
Based on our WankzVR Review, here are the Top Features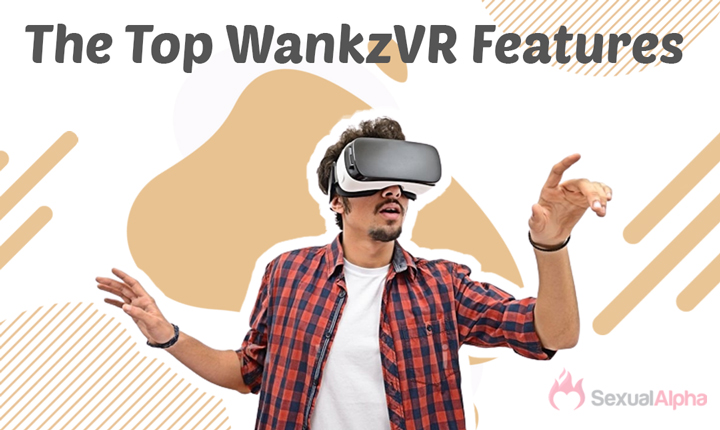 When we looked through WankVR, some particular features make WankzVR stand out from the rest of the other VR porn we've reviewed.
We've listed them below.
The Streaming Capabilities For Previews
The previews of WankzVR porn are great. They show the actual quality of the VR movie you will be downloading and some positions happening during the video, not just a 2D version.
So this stops you from wasting your GB when downloading or streaming VR porn you might not want.
---
Standard Update Frequency
WankzVR does not update as much as other VR porn sites because they make great high-quality movies.
Some of their videos, like Zombie Slayers, even run up to two hours, which is an entire movie.
Still, they stick to an updated schedule of around twice a week. This site is all about quality, not quantity.
---
Pretty Good Pricing Scheme
You can pay in multiple ways, like using Paypal, Bitcoin, Visa, or Mastercard. All have discreet billing.
They offer an annual subscription of $120, but this changes according to the discounts at the time, and they also offer a lifetime option of $360.
Monthly subscriptions cost $25 a month, but once again, you can get money off since they usually run discounts.
Remember
You get access to 31 other VR sites in the subscription bundles, and all have weekly updates, so it's a pretty good deal.
---
Models: Selection Of Hotties
WankzVR has some of the best and hottest porn stars out there. Names to mention are Lacy Lennon, Anna Claire Clouds, and Blake Blossom.
They split the pornstars into AllStars, which have over five videos a week, VR debut, and top rated so that you can find your favorites at any point with 516 different pornstars.
They are adding more to the collection as time goes on since more popular pornstars are moving to the VR porn side.
---
Compatible With Teledildonic Devices
The interactive synced videos to use with teledildonic devices are great.
And this does give WankzVR the upper hand over other porn sites like Naughty America, which don't have these interactive videos yet.
Pro Tip
If you have the Fleshlight Launch or the Kiiroo TITAN, these toys work great with the site allowing you to feel those blowjob strokes in real time.
The Kiiroo Onyx 2 is also a great choice if you travel a lot and watch your VR porn on the move!
What's great about these interactive videos is that they are all at 180 degrees. Some prefer 220 degrees, but 180 degrees is more than enough for two-person style videos.
---
My Experience with WankzVR
After using WankzVR for a few weeks, it's up there with some of my favorite porn sites, and the interactive videos are excellent for people with VR sex toys.
The selection of videos is excellent, although not as many as VR Bangers or VRporn.com; their categories and choice were still enough to satisfy me with all the major options like anal, creampie, MILF, and more.
I especially liked that they had themed videos in their weekly updates.
All videos worked well with different VR players, and I appreciated that I could stream directly rather than downloading every video.
When I downloaded videos, there was no lag, and the speeds were surprisingly fast considering the size and quality; I could download two at a time easily and without latency.
The 7K quality was very realistic with the 180-degree point of view and 3D binaural sound.
Something to note:
The only setback with this WankzVR is that you cannot download videos using PlayStation VR.
If you're new to using VR porn with a headset, they have a great page explaining how to view VR porn with either your smartphone/desktop, Google Cardboard, or VR headset.
I viewed VR porn with my Oculus Quest 2, but you can also use Valve, Vive, PSVR, and Mixed Window Reality. The site worked very well when I accessed it via mobile.
Some of the earlier VR videos they released also have quality questions; the later releases are much better.
The 2-day trial is a great way to see if this site is for you since you can access everything before paying for the entire subscription.
---
WankzVR Pricing: Is It Worth The Money or Not?
WankzVR has a few different pricing options depending on the commitment you want to make when signing up.
As we mentioned, yearly will cost you about $120 or more depending on discounts, or monthly around $25. It also includes access to 31 other porn VR sites like MILFVR.
You can get a two-day free site trial, which costs around $2.
For the 7K resolution, tech support, variety of videos, and interactive options, WankzVR is worth the price.
They also have discounts to get a better price on your bundles.
If interactive videos with teledildonics aren't a big deal for you and you're looking to access a more extensive library of porn. We recommend a site like SexLikeReal or VRFuckDolls if you want porn games.
WankzVR doesn't have the most extensive collection of porn, having just over 800 scenes and around 200 interactive videos. Still, they are super high quality, so it's worth the money, especially if you want interactive videos.
---
Alternatives To WankzVR
If you like WankzVR but are looking for other similar alternatives on the web, we have our favorite picks below.
VR bangers offer 8K quality VR porn. They have their in-house Playa app for streaming VR porn easily and regular updates of around three times a week.
We will be honest here, VR Bangers does top the VR porn industry when it comes to their performers and porn collection, but they don't have many more scenes than WankzVR.
Plus, 8K and 7K quality are similar when your headset is on.
Therefore, VR Bangers is the choice if you're not fussed about using teledildonics with VR videos, but WankzVR is the better option since you get more videos.
---
Compared to WankzVR, VR Fuck Dolls is more centered around VR porn games. You can customize your VR porn characters, their look, and what they do.
You can then interact with other avatars from players in the game and have sex.
WankzVR is the better choice for VR porn and 2D porn, but VRFuckDolls is perfect if you prefer VR porn games.
Check out our recommended best sex simulator games to know more about 3d virtual sex sim.
---
VRPorn.com is sheer content heaven.
You will never get bored with this site's videos; they have niche videos like Cosplay or facesitting and porn games, making it an all-rounder site.
They do this by rounding up porn from other VR porn sites; you can filter through pornstars and studios.
They need to improve regarding female POV content, which is also one of the cons of WankzVR.
WankVR is still the winner here if you're after interactive sex toy content, while VRporn.com is excellent due to the amount of content.
---
Last Thoughts
Overall, Wankz VR is up in the best VR porn sites sitting nicely with VR Bangers and VR porn.com.
These guys excel in interactive sex toy videos and use top-notch porn stars with excellent production quality.
As a premium subscriber, the support you get is excellent, and access to all the other VR sites is appreciated.
We can confidently say you wouldn't regret signing up for this VR porn site if you're after hot girls and great storylines, but they don't have a lot of diversity in their videos and lack VR porn games.