In this FeelXVideos review, I'll find out whether or not this is the best interactive porn site to get the most out of your teledildonic sex toy.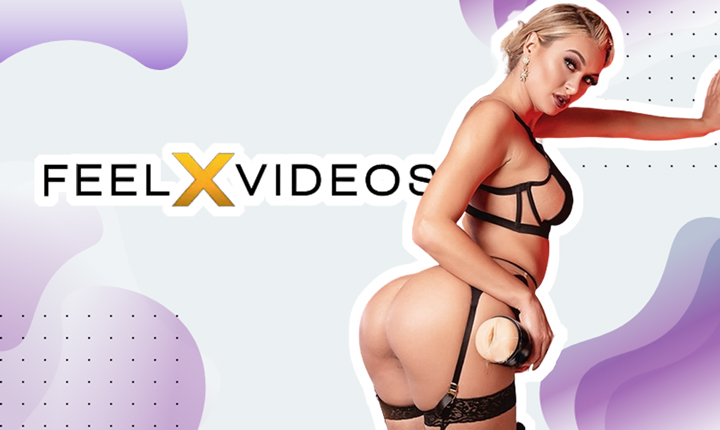 Well, gentlemen, we finally live in a time where we can FEEL our porn. From grainy videos and annoying buffer times, we've survived it all and are now rewarded for our patience.
The first time I used an interactive sex toy, I knew that watching porn would never be the same again. Everyone gets tired of their own hand at some point, and the apparent solution is getting a great stroker. However, you still control the movement, so that feeling of "playing with yourself" remains.
Interactive sex toys change all that because now, you can control your sex toy externally!
FeelXVideos is a website that claims to let you "see, hear, and FEEL your favorite pornstars." So just how good is it? Will it let you get the most out of your interactive sex toy? And is a subscription to FeelXVideos worth the money?
I will answer all these questions and more for you, so let's get to it
The massive library of over 3000 interactive porn videos, plus weekly updates, means you will never run out of videos to use with your smart sex toy.
Most popular interactive toys are supported, and non-VR videos are also an excellent benefit for those who don't want to use a headset to watch porn.
One drawback is that this website caters exclusively to those that have an interactive sex toy. If you just want regular porn, there are cheaper ways to get it.
There is also no 8K porn here, and you cannot download the videos.
If you have a compatible interactive sex toy and want to use it regularly, FeelXVideos is your best option.
The subscription price is worth it, considering you can access the most extensive collection of full-length interactive porn videos online!
Who Is It For?
If you have a compatible interactive sex toy or teledildonic device
You are looking for full-length porn videos to use with your interactive sex toy
You don't mind spending about $30 a month on porn
Who Is It Not For?
You are looking only for videos that are compatible with VR
You want 8K resolution porn
---
FeelXVideos Review: First Impression and User Experience
FeelXVideos has a clear agenda – lots of high-quality interactive porn videos. While most porn websites try to have many options to please everyone, this website focuses only on content compatible with smart sex toys.
The homepage is simple and tells you everything you need to know. One thing I personally needed to know was how many videos they had. Just as I saw they had over 3000 full-length videos, I was good to go. Plus, they are adding new videos weekly, so there's lots of content.
The videos are easy to browse according to categories, genres, orientation (straight, gay, or trans), and newly released content. Unfortunately for headset users, very little VR porn appears in most categories.
The good news is even if you don't have a VR headset or a fancy sex toy, you can still use this website to watch porn on your computer, tablet, or smartphone.
But let's get to the most crucial bit—
Setting up your toy and syncing it to videos is easy. You can use the FeelConnect app or connect directly through the FeelXVideo website. And to watch interactive videos, you need to connect to the internet – no downloadable videos here.
And that's it. You're all set!
---
FeelXVideos in Points
Here's a quick rundown of what you can expect with a FeelXVideos subscription.
Over 3,000 Interactive Videos
FeelXVideos currently has over 3000 full-length interactive porn videos and over 1000 VR videos. Since the website adds new content every week, this number will only keep growing. Currently, FeelXVideos has the biggest collection of online interactive porn videos.
---
100+ New Videos Every Week
The vast content library of videos is expanding quite fast, and LiveXVideos claims to add 100 new videos every week! So it is unlikely that you will ever run out of interactive porn videos to watch.
Another detail that caught my attention is that the website adds new content based on what its users are searching for and what preferences its members have. And this is quite a nice touch that shows the website genuinely listens to its customers.
---
High-Quality Full-Length Videos
The videos on FeelXVideos might not be in 8K, and you will not find too many VR videos, but that's not what this website is about.
None of those things mattered once I synced my toy to the videos. Being able to feel the video quickly makes up for any points lost in the video resolution department.
And that really is the beauty of a website that focuses on doing just one thing right. As long as it is doing that well, you will not notice its other shortcomings.
Video quality is OK, as FeelXVideos still has 1080p content, which is quite good!
And best of all, a majority of the videos are in first person POV for maximum realism. It makes you feel like you are always in the middle of the action.
---
Support for Kiiroo and Other Interactive Sex Toys
FeelXVideos supports several popular interactive sex toys from famous manufacturers. If you've got a new smart sex toy from Kiiroo, it will most likely work with the website's videos.
The Kiiroo Keon is one of the most popular interactive sex toys on the market and for good reason. This automatic male masturbator can reach speeds of up to 230 strokes per minute, which is enough to "blow" anyone's mind. With lots of options to adjust stroke length, patterns, and speed, the Keon is a very versatile sex toy. It is also large enough to accommodate most penises.
Because of the many different settings available, the Kiiroo Keon is one of the best interactive sex toys to use with content on FeelXVideos.
---
The Kiiroo Onyx+ offers much pleasure in a smaller and cheaper format than the Keon. It uses a realistic sleeve that feels much like skin, and the new rotating mechanism is much quieter than older Onyx versions. It only goes up to about 140 strokes a minute (which is still quite a lot). It is the perfect automatic stroker for someone looking for a portable and discreet interactive sex toy.
---
The Kiiroo Titan is one of the company's newest male masturbators and combines stroking and vibrating sensations to heighten pleasure. It is also one of their cheapest ones, so it's an excellent place to start if you're looking for your first teledildonic device. The best part? It works great with FeelXVideos content, so you can start having fun with interactive porn without breaking the bank.
In addition to the sex toys mentioned above, FeelXVideos also works with Kiiroo Fleshlight Launch, Alex Neo, Alex Neo 2, Sam Neo, Hannes Neo, and the Handy.
---
Your Favorite Porn Stars
One of the best things about interactive first-person POV porn is that you can finally feel like you're having sex with your favorite pornstars. FeelXVideos, therefore, has lots of content from your favorite porn stars so that you can live out your fantasies.
If you want to go one step further, you can also look into the custom porn star-specific sleeves. The Kiiroo Onyx+ FeelPornStar bundle lets you get strokers designed to feel like porn goddesses Asa Akira and Lisa Ann, so you can REALLY get an immersive experience.
---
Interactive Videos (And Some VR)
FeelXVideos is mostly about interactive porn, so don't expect all their videos to be compatible with VR headsets. However, the website does have over 1000 VR videos. Therefore, if you have a VR headset and a teledildonic sex toy, you can have a completely immersive porn experience. This is really the closest that you can get to having sex WITHOUT actually having sex.
---
How Does FeelXVideos Work?
FeelXVideos is slightly different from most sites offering interactive porn content as it uses teledildonic scenes exclusively – particularly, none in VR. And it's a downside to some people. But generally, it offers excellent service that sits neatly between rival brands.
How to Connect Your Teledildonic Device to FeelXVideos
So, now that you have your device ready and your FeelXVideos account set up, how do you connect them and jump into the action? The process is quite simple!
Start by turning on the Bluetooth on your smartphone or tablet and powering on your interactive sex toy.
Once your sex toy shows up on your list of devices, go ahead and connect it.
Then, a QR code will pop up, and you must scan through the FeelConnect app, which you should already have downloaded on your phone.
Next, access FeelXVideos on your computer, and you will see a QR code.
Scan this with the QR code scanner on your smartphone or tablet, and your interactive sex toy will automatically connect to the website.
And that's it; you're ready to go!
---
How To Watch Interactive Videos on FeelXVideos?
Once you have a FeelXVideos subscription and your interactive sex toy is connected, all that's left is to play the video, position your toy, and enjoy yourself! Remember to use lots of lube.
You also need a fast and stable internet connection to enjoy interactive porn content, as you can't download these videos or play offline.
---
My Experience With FeelXVideos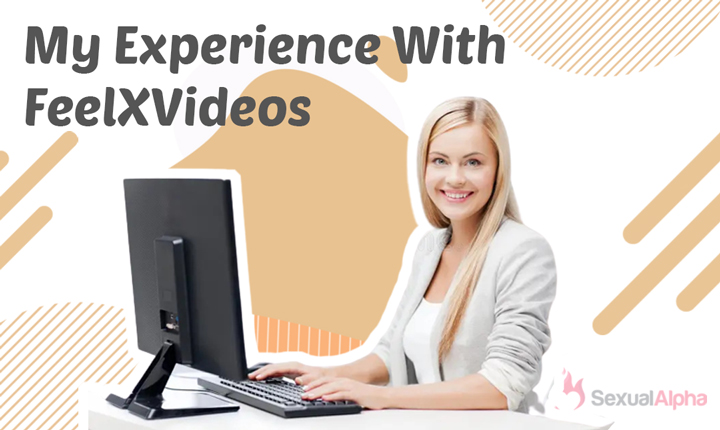 When I first arrived at FeelXVideos, my expectations were high. I've been a fan of interactive sex toys for a few years and have built up quite a collection. Since all of my toys were compatible with the website, I tried each.
Signing up was easy, and the website has a clean interface that doesn't waste time; the aim is to get you into a video and have fun instantly.
Except for one thing…
The size of the content library had me browsing for a good 10 minutes before I could decide on a video. There are just so many categories available, and if you select the option for "all," there are just too many videos to choose from. And since each video is a full-length movie, I like to select where I invest my time carefully.
Once I found the right video, things were fantastic! The interactive toy worked well and copied the movements on the screen quite well.
If there's one improvement I'd suggest to the site, it would be to highlight some of the best videos on top of the page so users can jump into the action even faster.
---
Pricing
FeelXVideos has one simple subscription plan that costs $29.99 per month. No available lifetime membership and things don't get cheaper if you subscribe longer. You are charged the same monthly amount and can discontinue your subscription whenever you want.
Something to note:
The good news is that the website offers a 50% discount on the first month of membership, so keep an eye out for that!
---
Alternatives to FeelXVideos
While FeelXVideos specializes in interactive recorded videos, VRFuckDolls is all about animation. However, this is not just any animation. VRFuckDolls lets you design your dream porn star and have crazy sexual adventures with her. You get to control how she looks and where the action takes place.
Unfortunately, VRFuckdolls is not compatible with interactive sex toys. Most of your interaction with your animated sex partner is through the computer or game controllers.
If you just want some animated porn, FeelXVideos also has a hentai section, however, if you want the most realistic animation, head to VRFuckDolls.
---
SexLikeReal is one of the best virtual reality porn websites out there. It offers incredible 8K porn and lots of exclusive content. It also happens to have a section for videos that are compatible with interactive sex toys.
However, since it is more focused on VR, SexLikeReal only has about 500 interactive videos. It is also not very easy to browse through them.
If you've got money to spare, as well as a VR headset and an interactive sex toy, then check out SexLikeReal. If you just want to have a good time with your smart sex toy and not worry about the other stuff, head to FeelXVideos.
Both these websites have similar subscription fees, though SexLikeReal gets cheaper if you get an annual subscription.
---
VRBangers has some of the highest-quality porn on the internet, and I'm not exaggerating. From 8K resolution to 180-degree and 360-degree virtual reality and even binaural sound, the videos on this website have it all.
However, there is one downside. It doesn't have any teledildonic-compatible content!
Sad… I know.
The choice here is relatively easy. If you've got a VR headset, VRBangers is for you. If you've got an interactive sex toy, FeelXVideos should be your choice. 
And if you've got a VR headset and an interactive sex toy? Then I suggest you try out one of VRBangers' "try-before-you-buy" videos to see if it's the right choice for you.
---
Final Thoughts
Interactive sex toys have really taken porn to the next level. From watching it, we can now FEEL it, and things will only get better as more people try it out.
If you're a true fan of porn, I suggest you experience it as soon as possible, and there's no better place to do that than FeelXVideos.