If you're looking for a break from classic porn and want to create porn narratives with complete control over what happens, check out this Adult World 3D review.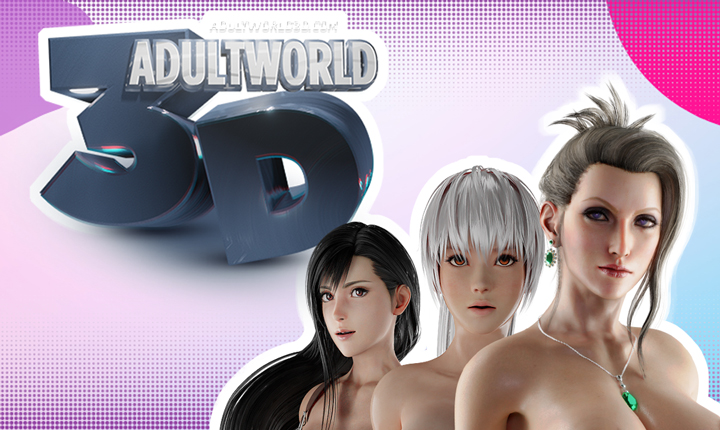 This premium hardcore sex game platform gives you a choice over everything, from the sizes of your 3D girl's breasts to the scene's location. But is it one of the best sex simulators out there? 
Well, with realistic 3D competitors in the game, like Sex Simulator and VR Fuck Dolls, we were also wondering just how good this porn game was. 
So I tested it and tried it out with their monthly subscription.
Now I can confidently say it is one of the top sex games I've tried, and I've reviewed my whole experience and thoughts of the game below.
Adult World 3D has stunning graphics compared to other sex games online.
You get loads of customization options for the 3D girl's location, sex positions, and the type of sex you want, whether it be a threesome or lesbian sex.
The five different camera angles in the game allow you to see these graphics up close, and surprisingly, the sound quality is outstanding; you can hear every detail, which is a major turn-on.
The gameplay in Adult World 3D is good, but once you've played it, the game is repetitive and slightly boring, even with the new scenarios each week.
There is also no free gameplay or trial. So, if you want to give this 3D sex game a try, you will have to pay $20 for a single month, which is disappointing when you consider other top games that have free options like Sex Simulator.
If you're getting into 3D sex games, Adult World 3D will not disappoint with the high-quality animations and loads of customization to make any fantasy you want to come true (even spaceship sex).
But, once you've played the game a few times, it gets old, so we would only recommend this game if you're really into its 3D animation girls and wouldn't want to look elsewhere.
Who Is It For?
Someone is looking to try 3D game porn for the first time.
You want high-quality graphics and realistic sounds.
Those who want full customization from location to hair color.
Who Is Not For?
Someone is looking for a free sex game.
You want exciting variations in your sex games.
People who want access to 2D porn are included.
---
First Impressions Of Adult World 3D
When entering Adult World 3D, I was greeted by three animated naked women. The graphics already looked great but were still 'animated' as with most sex games.
You can then check out the game's trailer; this tempted me most to try out the subscription, showing all the different locations, customization, and techniques you could try. It was hot, and you could tell the game would be fun.
The site had no glitches, although loading up took a little while. Before signing up, I checked out the gallery, which showed a few scenarios you could create with your dream girl, like office sex or girl-on-girl action.
There were a few more descriptions about the camera angles and customization to see what you're signing up for.
And what stands out from Adult World 3D are the 3D graphics. They are life-like, from the expressions in the girl's eyes to the details of her body.
---
The Key Features Of Adult World 3D
The Game Play
Now, let's talk about the most essential part, the gameplay.
First of all, you get complete control over the customization of your girl, which we will talk about later.
Then it is down to picking the naughty location; you have choices from a spaceship to your standard work office. You can make any fantasy come true; the backgrounds are super well-made.
Before starting the gameplay, you get to pick an action or storyline; this might be anal or a lesbian threesome. There is no best range of fetish actions, but most mainstream options exist.
When playing the game, you can control how each scene will end. You can change the intensity of action, like when you ejaculate, the sex positions, and camera angles to create what turns you on.
There is also an option to take screenshots during the gameplay if you want memories for later.
---
Character Design & Customization
What makes the gameplay great on Adult World 3D is the control and customization they give you over the characters. 
When designing your character, you can choose from preselected options and customize the hair color, breast size, and accessories like watches or glasses. Whether you like a goth chick or sexy office girl look, you can create what you desire.
They don't include larger girls since the design is to be what the average mainstream media considers 'hot,' which is slightly restricting.
---
My Experience With Adult 3D World
After watching the preview video and seeing how high-quality these animated girls were, I was excited; I won't lie. 
Designing the characters was fun; compared to other adult games, they had much more customization options, and even the accessories made a difference. I was actually creating my characters rather than playing them, if that makes sense.
During gameplay, I designed a sexy co-worker and clicked the office location with an anal storyline option.
The graphics were impressive. I could excite my girl and turn up her sound with the excitement meter. Thanks to the 3D animation, I could see every thrust and movement in her body; it's very realistic. All the actions were smooth, without a glitch.
Pro Tip
I also recommend wearing headphones; the sound design of this game is very detailed; I heard every moan and slide, which made it even more intense.
There were also BDSM options, like pulling hair or choking, in some narratives, so it could be a good choice if you're into these fetish gameplays.
After trying a few locations and different types of sex actions like threesomes, the game becomes a little repetitive, and the scenarios can get dull.
You have to have a particular imagination or dream which would turn you on to get the most out of this game, but after a while, I could feel myself getting bored.
---
Where Can I Download Adult World 3D? How Much Does It Cost?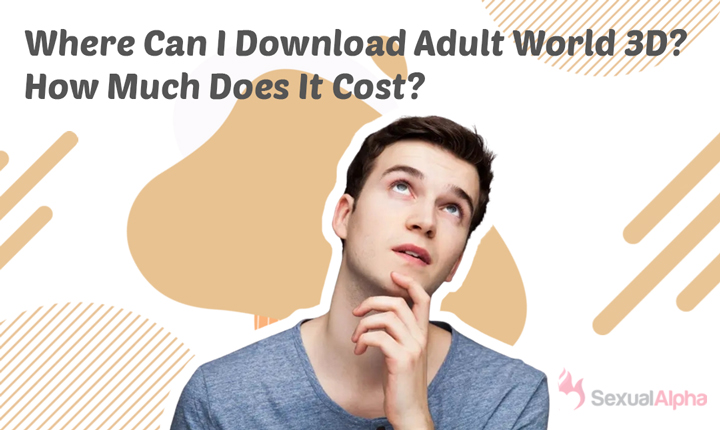 After you sign up for the game on Adult World 3D, you can then choose your membership option. 
Currently, they have an option for:
A monthly subscription at $19.95
A 6-month subscription at $59.96
A yearly subscription at $91.97
For a $20 price, Adult World 3D would be worth checking out for a month if you want to engineer some of those wet dreams to life. But we could see it getting repetitive after a few months.
So a monthly subscription is better than committing long-term to this game
You will get a download link after signing up and paying for the game; then, they update the game weekly with new scenarios so you can keep trying out new content. I would expect them to add more kinky options in the future.
---
What Are The Alternatives To Adult World 3D?
If you're unsure whether Adult 3D World is for you, some realistic alternative games might be better.
VR Fuck Dolls is known as one of the best VR porn games on the web.
This adult game has many advantages over Adult World 3D. You can play the game as it is online without any pesky downloads, and it is free to play!
The graphics aren't too shabby either, and there are excellent customization options over the scenes and characters. Both single-player and multiplayer options are available.
VR Fuck Dolls is an excellent alternative to Adult 3D World if you want to play for free and try out VR too. There are paid options for better scenarios, and they are very engaging. There are more curvy models to check out here too.
---
Sex Emulator is not shy when it comes to graphics in this game. The animations are very realistic and, once again, have full customization. 
Sex Emulator is great for fetish choices with footjobs and anal actions. This game doesn't get boring either, with 400+ games to play and loads of 2D porn in your subscription.
Sex Emulator is a good all-rounder porn game. You get your money's worth in the subscription for a similar price to Adult World 3D. It's a good option if you quickly get bored of Adult 3D World.
---
Have you ever wished that 3D or VR porn games would look less animated and more real? Well, Dezyred solves this because they use real people in their games, in up to 8K resolution. 
To play the game, you have to download the Playa app, and they pair with most VR headsets.
You can pick real-life girls and different storylines, then decide what happens next, whether it's a blowjob as a reward for a new car or anal BDSM. The quality is wild.
Dezyred is the best choice over Adult 3D if you want higher-quality gameplay and no cartoonish animation. Sure, you lose the customization option over the models, but there is still loads of interactivity during the games.
This real VR porn game is still starting and, due to the production quality, doesn't have many scenes yet, so you would need to stick with it until they add more.
---
Final Thoughts
If you want to try 3D game porn for the first time, Adult World 3D will not disappoint you.
The graphics are great, and the customization options give you complete control over storylines and how the girls look.
But the game has some disadvantages, like no free options or trials, and it becomes repetitive; after you create your dream scenarios, there isn't much else to the game.
If you're looking for more stimulating porn games, we have reviews of the best VR porn games here.