The Lovense Lush 2 vibrator is a fantastic toy offering the best stimulation from its powerful motor. The improved Bluetooth remote control again makes its accessibility-cum-usability better. Add its quality silicone and the long-distance interaction, and you'll get why it's causing quite a stir!
The Lovense Lush 2 has stronger improved Bluetooth and internet connectivity. Apart from its easy insertion, it's made from super-soft silicone that makes the sensations very pleasant. Also, it has stronger and more discreet vibrations that can be controlled by music, sound, or a partner.
It is not as exciting in manual mode since most features are accessible only when you're using the app. It lacks a clitoral stimulator and limits the experience to your G-Spot only. It's also expensive.
The Lush 2 is an awesome vibrator with better connectivity features that offer a wide range of user-experience. Its stronger motor delivers powerful sensations through its silicone body and is very discreet in the process. It's a perfect fit for long-distance and close relationships and the price is more than decent if you value quality.
---
Lovense has maintained a good record of sex toy releases ever since they made the first internet-enabled female vibrator back in 2010.
Top of the line was the Lovense Lush (2016) and was successful upon its launch though later some problem with its connectivity was reported.
Well, they heard our cries and came back with a new improved upgrade called the Lush 2 (currently in my possession).
So, in this Lovense Lush 2 review today, we're going to look at its connection features, body material, design, and functionality with both close and long-distance usage.
While you're at it, check out our guide on the best long distance sex toys.
Also, we'll have a brief Lush vs Lush 2 comparison that I have prepared on a small table, which I hope will help you with your buying decisions 🙂
Let's dive in…
---
Lovense Lush 2 Packaging
The Lovense Lush 2 packaging is simple and no-nonsense, letting you focus all your attention on the toy itself. Inside the box, you'll find the USB charging cable, user guide and manual, and the Lush 2.
Unfortunately, it doesn't include any extras, like lube or a storage pouch, which would have pushed this packaging and presentation from mediocre to great.
Still, one thing that Lovense does well is discretion. If you order from their store, you'll receive a plain cardboard box with another box inside before you actually get to the product box.
---
Lovense Lush 2 Tech and Specs Overview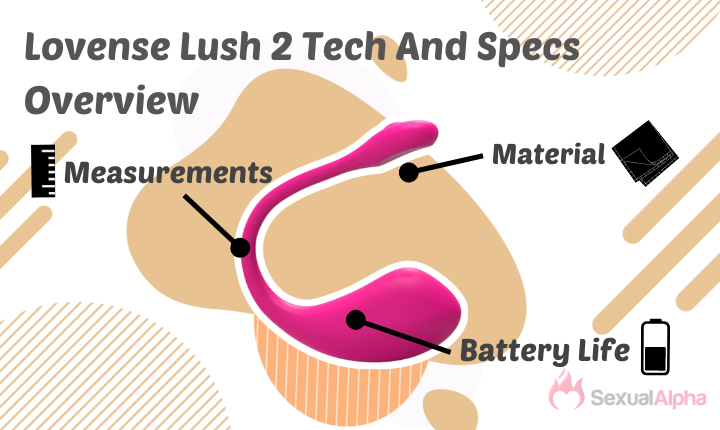 Measurements
The Lush 2 is very compact and only weighs 0.16 lbs. This is good if you'd want to use it while wearing your knickers.
As for the dimensions, they come in at 7.2" (H) x 3.2" (L) x 1.37" (W) and are pretty easy to insert in your vag.
---
Material
This new model is also made from high-quality silicone just like the Lovense Lush. It is super-soft to the touch and delivers very smooth and sensual vibrations from the motor action beneath its cover.
What's more, the supporting inner frame allows you to bend the arm in several different shapes.
With that knowledge in mind, you can bundle it up and shove it inside your panties without feeling something poking against you/your knickers.
Adding to all that… The materials used are body-safe and non-toxic!
---
Battery Life
This toy comes packed with an in-built Lithium-ion battery that is rechargeable.
Worth noting also…
It comes with a USB cable for charging. You may plug it in your PC, laptop, power adapter, or any other device that is USB compatible to charge.
You will have to charge it for around 90 minutes for it to get to full charge. Once there, you can get up to 190 minutes of usage time when you're using it on Level 1 (lowest) settings.
On Level 2 (medium), a full charge could allow you around 120 minutes and about 100 minutes when you're on Level 3 (high) settings.
---
Price, Where To Buy
I'd say that the Lovense Lush 2 has a fairly decent price tag considering the commendable quality it comes in. Currently, the toy retails at a range of $100 – 120, depending on where you are going to shop.
All in all… If you want to get your hands on this lovely orgasm reaper, then I'd recommend you visit the Lovense official store. It is currently retailing at $119 but had a special discount offer of $99 at the time I was writing this review.
All orders purchased there are shipped discreetly in a plain package that won't reveal the nature of the product carried in it.
The same discreetness is too observed in the billing information as no part of it will explicitly state the type/nature of the product bought. And to top this all up, for every order you buy at Lovense, you will get a 1-year warranty in the case of a breakdown.
DO NOT buy such items from Amazon or eBay! You might be sent fake products that are made from underhand materials. The danger of this is that they can potentially cause you bodily harm and they don't offer valid warranties. Be advised!
Lovense Lush vs Lush 2
As promised here's a table showing you how these two models compare:
---
Design & Features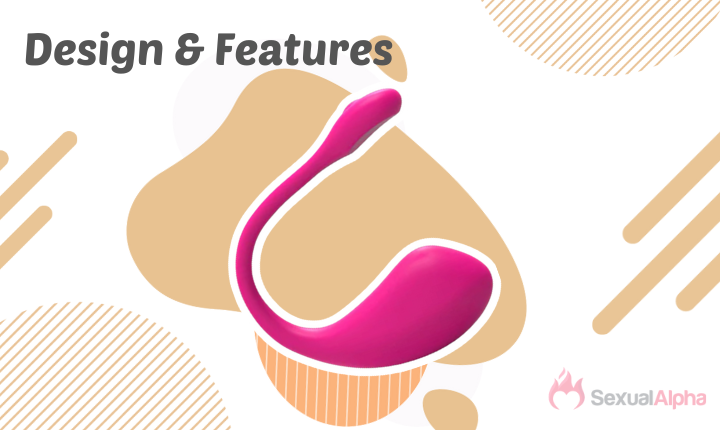 Vibrations and Power
If you remember the Lovense Lush, it was built with very stable vibrations that were effective in delivering pleasure sensations.
This Lush 2 upgrade has not disappointed with these too… It has a bigger motor than the Lush and provides more powerful vibration strengths
Well, this model has some of the most dynamic intensity levels included in the App. And since it's customizable, it also has unlimited patterns that you could create and use for your stimulation!
What's more… You can as well sync the vibrations, through the app, to music.
This sets off the vibrations with both a specific and preferred rhythm all derived from your favorite song's playback.
This also brings us to the Lovense Lush 2's Sound-Activated Vibrations feature. This app function allows you to create vibrating stimulations that are modified by the sound of your voice.
To think of it… It'll be like you're literary dictating pleasure into your clit and vaginal glands.
---
Looks
This hot pink egg toy really screams, "I'm here!"
It's definitely not shy about delivering pleasure, and it's great for loud, proud toy lovers or even those who like to hide a bold secret.
Apart from the fun color, the Lush 2's shape is sleek and elegant – just looking at it, you can tell it will fit snugly inside you.
The bulbous insertable end features a slightly pointed ridge to stimulate the G-spot. The whole thing tapers to the external antenna in one seamless piece of premium silicone.
---
Usability
The Lovense Lush 2 vibrator is one toy that you can use solo and with a partner if you have one.
It also comes in handy if you and your partner want to have some great foreplay before you get to the actual game.
This is again made better by the strong connection features that allow you to interact from any part of the world.
And in use, the Lovense Lush 2's motor has been tweaked and improved making it steadier than the Lush. And in case you are wondering… Yes! – It's also quieter than the Lush.
---
Noise
If you're a shy girl or the kinda who's always conscious of private usage, then the Lush 2 is going to be a darling to you.
I recorded a noise range of about 45 – 49.5 dB when I had it on through various speeds and vibration intensities.
And what makes it all better is that it gets way quieter when you have it inserted up your vagina. So, if you're a dare-devil, then you may try out its public-play recommendation 🙂
---
Connection Quality
The Lush 2's connectivity is probably one of the strongest and most reliable you'll come across currently.
It has an upgraded Bluetooth Remote Control feature with a wider range and a more stable internet pairing option.
What's best is that long-distance usage is more responsive and offers dynamic controls… All of which you can readily access through the smartphone app.
---
Using Lush 2 with the Lovense Remote App
First, you'll need to download the Lovense Remote app from the App Store or Google Play. It's compatible with Android and Apple phones, as well as PC, Mac, and iPads.
How To Pair Lush 2 with the Lovense App
Turn your Lush 2 on by pressing the button on the antenna for a few seconds. Next, sign up or log in to the Lovense app, then tap the 'link' or 'connect' icon in the top right.
It should automatically find your toy. Once it's connected, simply tap 'Done,' and you're ready to play!
---
How To Remove Your Partner(s) from the Lovense App
If you want to take control back from a partner, you can easily remove them from the app through the contacts section.
If you're using Android, press and hold on the contact name. This will bring up a menu with the option to 'Remove person from friend list.'
For iOS, just swipe left on the contact name and select 'Delete.'
If you have multiple partners, you'll have to do this every time you want to switch control between partners, since only one person can control the toy at a time.
---
How To Use Lovense Lush 2 In Long-Distance Mode
To enjoy long-distance play with the Lush 2, both you and your partner will need the Lovense Remote app.
In the 'Long Distance' tab, you'll need to add each other as friends. Once you're connected, the person with the toy will need to connect the toy to the app. Then, the long-distance partner will need to tap the '+' button in your chat through the app. This will give them the option to request control over the toy via 'Live Control.'
The partner with the toy will have to approve the request, then you can get down to enjoying yourselves!
Pro Tip
A good connection will reduce the risk of drop-outs in the app controls.
---
In Use: How Does It Feel Like?
It was time to start the show. Starring my girl and I. And our props were a water-based lube in one hand and my phone in the other…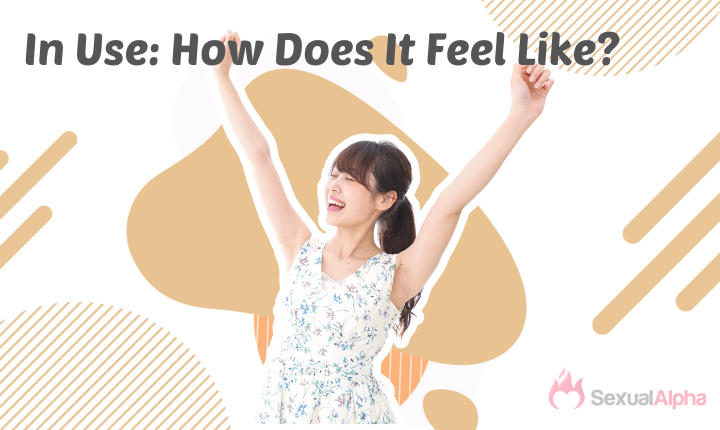 We set things off by applying a good amount of lube and initiating foreplay to relax her vaginal walls.
First, I let her enjoy the solo experience in the manual mode as I observed how she reacted to each interaction of the features.
The single-button control placed on the antenna's head was very handy and easy to press, unlike most toys.
She then inserted the bulbous end inside her vulva. Next, she positioned the now protruding antenna on her clit and did a few kegel motions to make sure she was all comfortable.
So, to turn it on, she pressed the single button at the top of the antennae for a few seconds until a slight vibrating action came on followed by an indicator light.
After that, she cycled through the 3-speed settings by repeatedly pressing the button again.
To change the patterns, she pressed the button in the same way and tested all the 4 patterns preset.
And the icing on the cake is that she was adding a little pressure on her clit as she was doing that. So, win-win for her 🙂
We were super-impressed by how quiet the vibrations were! And when we pulled it out, the sound was just beneath a quiet mumble even in the highest settings…
Crazy, right!?
Moving on… We also loved this toy because it allowed her to enjoy the whole experience hands-free! This is because of the Bluetooth Remote feature.
To use this feature, download the app and create an account on your phone/laptop.
After that, press the "add device" or "long-distance" icon at the top and select your toy/partner when the red light comes on.
What's good is that you can save up to 10 customized patterns at a time but create an unlimited number of patterns.
Anyway, with my genius ideas 😉 I created a few combinations that I knew would excite her.
This is where the whole fun is! – From the Music Sync, the sound-activated vibrations, to the unlimited patterns, my girl was having the best time of her day.
And to test the long-distance feature, I went away from our room. Out of range from the Bluetooth connection and paired with the Lush 2 using a code the app generates.
Well, am happy to confirm that it's indeed faster and accurate in both response and accuracy!
How did I know? I tinkered with the controls a bit and heard her curse my name when I revved up the vibrations past her preference, hahaha! – Shouldn't be laughing though…
For those who might experience connection problems, try updating your system software (whether Android or iOS) to the latest version.
Pro Tip
You can carry your pleasure into the bathtub and enjoy a session as effectively as the Lovense Lush 2 is also made waterproof (IPX7 certified).
In a nutshell… I am happy to write that this hot pinkie gave my girl several super hot orgasms, especially when I rubbed her clit on top of everything!
This toy has definitely earned its place in our top bedside drawer!
---
How Easy To Clean & Durability
Cleaning the Lovense Lush 2 is a breeze. Again, it's waterproof… So you can submerge it underwater during this process.
To go about it, use a mild soap of your choice and warm water to scrub it carefully until it's sparkling clean. After rinsing, you should air-dry it to shed off any excess water on the surface.
You can also use a lint-free towel to dry it off faster.
The sad bit is that the Lush 2 doesn't come with a storage pouch to keep the toy in after cleaning. But still, any place away from dirt and moisture exposure will serve well.
Without forgetting, remember to charge your toy and maintain it well if you want a long-term relationship with her 🙂
---
Would I Recommend It? If so, to whom?
Yes! Yes! Yes!… I recommend it, 10/10!
It has a great design, strong connection features, a powerful motor, and best of all, is very silent in use!
I would even recommend it to a newbie as I know the experience would be worthwhile and worth every buck.
In a flash:
Who Is It For?
Girls who love vibrators with connection features.
Girls who love the touch of super-quality silicone.
Girls who love handling their business discreetly.
Girls who prefer quality no matter the cost.
If you are in a long-distance relationship.
Who Is It Not For?
If you don't like vibrating stimulators.
Girls working with a low budget.
---
What Do Other People Think About It?
Look at what other people have to say/review about Lush 2 on Reddit.
"You can hardly feel it on the clit unless you hold it just right, the product gives wonderful internal stimulation and touches right on the G-Spot when used… Make sure you use lots of lube to get it in. Once it is in, you don't even notice it is there until it is turned on. 

Overall, after a solid week of use, we have decided that we REALLY like this product. The product has delivered on functionality exactly as it said it would. We have truly enjoyed being able to have intimacy during the days we are unable to be physically together."
---
"The vibrations are different… in that, they're stronger and a bit more 'thorough'. My wife uses it at the office, in the car, at home and she loves it.
It can be used as a G-Spot vibe or if she's wearing loose clothing she can put it in her panties against her clit and it works that way too. It's ridiculously silent once it's inside her and even maintains its silence when it's just in her panties against her clit."
---
"The fact the second version can be used: up close, via Bluetooth, and internet long distance was really the selling point.
There are four ways to set vibrations, so it hasn't got boring yet. The only issue I have is laying on the receiver blocks the signal; avoid that and it's the perfect toy."
---
Alternatives
I couldn't frankly think of another toy offering this kind of quality!
Really! The Lovense Lush 2 is currently the best there is in this category of vibrators! From its connection features to its motor power and functioning, it's simply the best there is!
I mean, if you consider the value for the price, getting a clean package as the Lovense Lush 2 in the current market is almost next to impossible! Honestly…
The only other alternative I'd suggest in this case is maybe the Lovense Lush, its older version.
It has the original features upgraded for the Lush 2 and retails at a cheaper price (in case you are pressed on the budget).
Also you can read our Lovense vs Ohmibod comparison to have another option.
---
Frequently Asked Questions:
How To Use Lush 2 without the Lovense App?
If you prefer to use the Lush 2 manually, you can use the single button on the toy's antenna to turn it on and off and cycle through settings. To turn it on and off, just hold the button down for a few seconds.
Quick-pressing the same button will take you through each of the Lush 2's seven settings, starting with the vibration intensities and then moving through the vibration patterns.
---
How To Turn Off The LED on the Lush 2?
You can do this through the app by tapping the name of the toy and then using the toggle switch under Enable/Disable LED.
---
Conclusion: Final Thoughts
To throw a fleece on this…
The Lovense Lush 2 is probably going to save a lot of long-distance relationships.
They've improved the app interaction between partners and now allows you to enjoy intimacy regardless of your geographical position.
What's more… This Lush 2 vibrator, like a few other brands, has a convenient Bluetooth Remote Control function. It offers you creativity to experience a vast variety of vibration patterns and intensities.
The silicone body does a great job of delivering the most pleasant of pleasures from the motor. If you couple this with the stronger vibrations and its discreteness, then you'd agree that its price is not a big deal.
Far from that… If still, Lush 2's price is expensive for you, then I know the older Lush would be a worthy lover. Though older, it still offers the key perks of the Lush 2 and sells cheaper.
I hope this helps you in your quest for a suitable toy 🙂
Have you enjoyed reading this review? Feel free to share and leave any questions in the comments section below!