Here's our BadoinkVR review; the site will give you a taste of what scoring the pornstar of your dreams is like.
In addition to a slew of A-listers, you'll find high-quality virtual reality (VR) movies, many content options, first-person (POV) HD footage, and a user-friendly interface.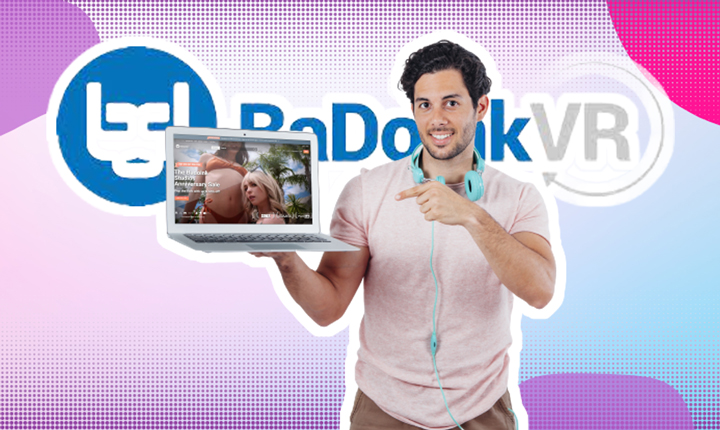 BadoinkVR has offered some of the best virtual reality content for early users for quite a while now. And since it was one of the first companies to offer VR porn, it has had more time than most to improve its services.
That said, does it have enough to beat competitors in the VR market and the many others that have come out since its inception? Well, that's for you to find out and for me, to give a bit of insight.
But first, a TLDR for quick readers!
You can wank off to over 400 movies on BadoinkVR, which is a lot. Compared to other VR porn sites, they have an extensive collection of virtual reality porn. And the best part: they synchronize well with your go-to teledildonic toys and gadgets.
The duration of their trial period might be shorter than you'd expect it to be. Also, the search function is less extensive than other premium VR sites. And overall, the price could be more budget-friendly, but it's reasonable, considering the high-quality content you're getting.
BadoinkVR is, without a doubt, one of our favorite virtual reality porn sites. It's one of those no-brainers if you want a regular go-to porn subscription, complete with a diverse range of videos, support for various devices, and frequent updates.
---
You'll enjoy BadoinkVR if:
You like using teledildonic devices.
You prefer having unlimited downloads and streaming options.
You like experimenting with different POVs.
You might not enjoy BadoinkVR if:
You're looking for a more budget-friendly plan.
You prefer getting extra perks for other VR content.
---
BadoinkVR: My First Impressions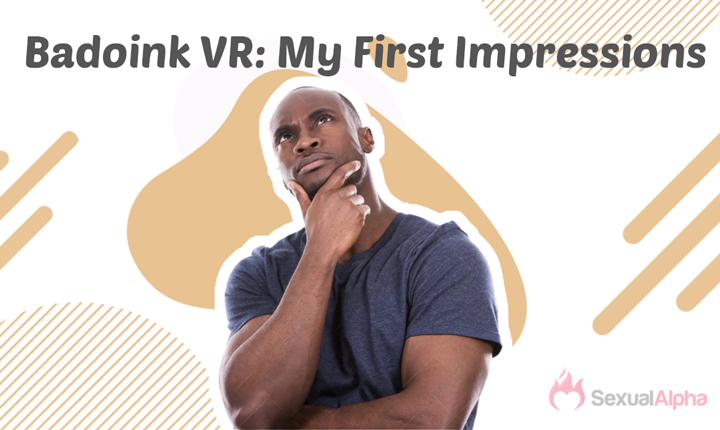 People widely know BadoinkVR for its virtual reality content. And as far as first impression goes, it doesn't disappoint.
The site is relatively straightforward. You can find everything you need at first glance, complete with the platform's latest uploads to a quick feature of their finest VR talents.
The site provides a free pair of Google Cardboard goggles with your membership, so you only need the right tools below the belt.
Hot porn chicks, famous faces, top-notch production values, six different VR file formats, regular updates, and a membership section are all provided in their content.
The signup process is quick and painless, and the site has been updated and made more user-friendly since its launch.
---
BadoinkVR Features
Quality
People focus almost exclusively on quality, making it a crucial factor for BadoinkVR. Full HD can make it work, but the quality needs to be significantly higher for virtual reality.
That thought of someone going down on you in a stunningly detailed sequence can make you question reality. And with BadoinkVR, you'll get that experience and more. 
Badoink's maximum supported video resolution is 7K. That's more than plenty, albeit the best you can get, as some virtual reality sex sites can't get farther than 5K.
All-in-all, the site is compatible with several headset units. So whatever quality you're getting, you're sure to have a memorable experience ahead of you.
---
100% Headset Compatibility
Speaking of this topic, all major VR headsets, including the free variants, are supported by BadoinkVR. Interestingly, most people who enjoy virtual reality porn have had trouble with compatibility.
Before signing up for a VR membership, check if your headset is compatible with the site's video specifications.
---
Theatre Mode
The "theatre mode" is a unique function only available on BadoinkVR. In a nutshell, this setting maximizes immersion.
At first, VR porn sites haven't considered the importance of enhancing users' experience outside of visuals. But after VR enthusiasts and fans learned of its significance, it quickly became a mandatory objective.
If you want to watch your go-to "step-bro, I'm stuck" video without being interrupted by annoying notifications, this is the perfect option for you.
---
User-Friendly Interface
The platform's user interface is simple and easy to navigate. Compared to other VR porn sites, it's much more clean and organized. And if you're into VR porn as much as I am, you know that having a busy page does tend to overwhelm you with not knowing where to look.
A VR website can only deliver impressive results if its interface (the way a subscriber uses it) is well-designed.
---
Stream and Download Options
BadoinkVR supports streaming and downloading options for their content. These features aren't entirely new, as they have been a staple for most similar platforms for quite some time now. 
---
Extensive Content Library
BadoinkVR's content is one sure way to rile you up in all the right directions.
Badoink features content from various genres, all of which are of high quality. No matter your preference, there's always something for you to give in to within the platform.
It's no secret that much pornographic media, including real-life amateur content, has lost its shine. However, BadoinkVR doesn't disappoint with its intense first-hand experience. 
---
Dual POV
VR goggles are a must for virtual reality, but sometimes you only get a single perspective from the experience. Having dual POVs with your visuals is best if you want to be experimental. And with BadoinkVR, you are precisely given that option.
---
Binaural Audio
BadoinkVR offers stunning binaural audio to make you pump around from ear to ear. In other words, you can rest assured that every orgasm will be audible as clearly as day.
Look, they're giving you the whole experience. And what better way to do this than to provide you with full-on immersion with your senses stimulated all at once?
---
Teledildonic Compatibility
For those wondering about their teledildonic devices, the answer is yes! You can use them in tandem with the videos on BadoinkVR.
These toys tend to be expensive. So don't buy them all willy-nilly.
If you have the budget, go for it! It's worth experiencing if you want to have more of a physical reaction to what you see in front of you.
---
360 Degree Visual
Virtual reality porn in Badoink is almost too realistic, thanks to their 180-degree videos. Not only that, but they also started exploring 360-degree visuals as well.
There are a handful of videos for the latter, but eventually, they'll be more additions. Just be patient!
---
My Experience with BadoinkVR
First, I only had a few expectations going in as, at the time, I wasn't an active VR user for my solo adventures. But I've tried it here and there.
And for the most part, I never took it seriously. I've always considered it a one-time experience that only happens sometimes for my entertainment. It might come as a shocker, but BadoinkVR is one of those sites that had me invest in this whole new world of virtual reality. 
Badoink is straightforward due to its simple interface. However, I wish it had more options for filtering specific categories and genres to cater to the user's preference.
You'll see the newest VR porn stream by opening up the site on your phone or computer. It makes it easy to get started but hard to find if you're looking for something particular. Again, this is only for convenience, so it's not much of a critique but a recommendation.
Still, the service looks good and is easy to use because of its simple design and the way all the essential information is there at first glance.
Like other sites, I downloaded Badoink's 'Free VR Player' program on my devices after being prompted. If you own a Samsung Gear VR and use MilkVR, you can simply transfer the downloaded files to your MilkVR folder.
The software will stream the videos so you don't have to download them, and it's a no-frills way to have VR porn on your phone without having to go through the trouble of going to several outlets.
Copy the video's URL by tapping the 'link' icon, then paste it into the resulting box after tapping 'Stream' in the Free VR Player app. The process is easy, but the output won't be as high-quality as a download.
The library has no significant flaws from what I saw, but a few more categories or recommendations could make it easier to navigate through older content.
At least two videos and one from a network partner site are added to BadoinkVR weekly. And this has resulted in the expansion of the catalog over the years, which is excellent news for anyone considering signing up.
Another significant aspect of Badoink is its ease of use in maintaining focus on the currently playing video. In essence, you can enter the 'Virtual Theater' mode to watch clips without removing your headset through gaze detection. This feature is one of the better ways to get the best visual quality.
I got this adjusted through my browser, so I didn't download or install anything to get started with viewing or playing. Although it is currently in beta, this unique perk makes it simple to browse the whole library while keeping your headset on.
---
Pricing
BadoinkVR, like many of its competitors, offers discounted rates for new customers, the length of which varies.
The options include complimentary Cardboard VR goggles, with a monthly subscription costing slightly less than $25 and a yearly subscription costing just under $95.
If you're considering a monthly subscription, this plan is slightly more pricey than other sites. However, the pricing is more reasonable for lengthier commitments.
---
Alternatives
BadoinkVR vs. VRBangers
Both BadoinkVR and VRBangers offer high-quality videos with several known pornstars in the industry. However, the latter provides a max resolution of 8K, while Badoink has a maximum of 7K videos on their site.
The filtering options for VRBangers are also much more detailed, so if you want to look for something quick and specific, this one has a better interface than Badoink.
As for the price, Badoink is a much cheaper investment with the same quality you'd get from the videos you see in VRBangers. So if you're on a budget, I'd go for Badoink.
Luckily, both provide interactive content. So if you want to take out those sex toys from your arsenal, you won't be disappointed with what the two have to offer.
---
BadoinkVR vs. SexLikeReal
SexLikeReal offers many VR content, including more than 500 interactive scenes. It boasts high realism thanks to its excellent quality and compatibility with the best interactive toys at resolutions up to 6K.
Yes, this might be lower in quality than what you get in Badoink, but it's not as bad as you think.
Though, you'll have to dig around for its interactive scripts for customizable options if you want something particular.
While the library is more limited than Badoink, SexLikeReal has an additional feature that can have you purchase videos rather than subscribe to a plan for content availability. Some users prefer it this way as they may not be as active in using the site.
Ultimately, it boils down to personal taste.
---
BadoinkVR vs. VRPorn.com
For something more budget-friendly than Badoink, VRPorn.com is your best bet.
Yes, they still have paid subscriptions, but you get access to a ton of free content compared to what you get with BadoinkVR.
The best part: you can access various VR sex games with VRPorn.com. So if you're feeling a little bored and want something different, you bet you can sign yourself up for some cum-inducing games.
Like any porn website, VRPorn.com is for you if you're just starting and want to test the waters. And I'd say BadoinkVR is your upgrade once you wish to explore the world of virtual reality more. 
And, of course, if you want to spend a little more to get the whole 7K experience.
---
Final Thoughts
My fellow VR enthusiasts, this review has concluded, and it's time for us to end on a high note.
Overall, I appreciate BadoinkVR's efforts and am satisfied with the results. They have a relatively reasonable membership price and a great lineup of videos with high production values. They have all the right, convenient features, though I wish they cater to users looking for something more niche in their porn preferences.