In this We-Vibe Match review, I'll share all my experiences with this wearable couples vibrator after using it solo, long-distance, and with a partner. Let's go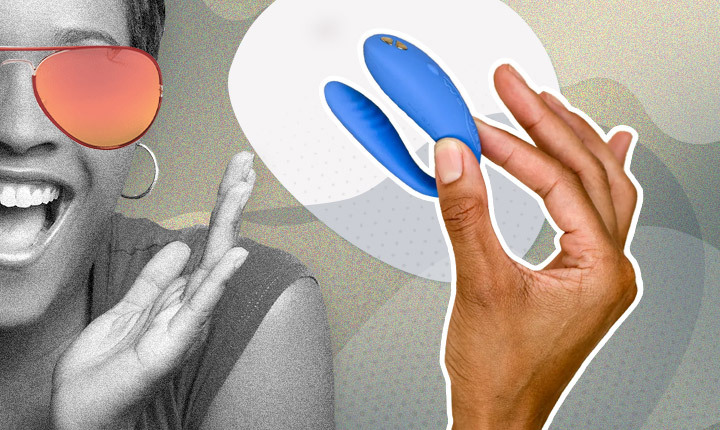 Some people want vibrators for solo play, while others like to use them while having sex. Then there are those you can use for BOTH, like the We-Vibe Match.
I've tested a lot of wearable couples vibrators over the years, but we still go back to the Match.
"Why do I like it?" Well, it's affordable, easy to use, and has many extra features.
In this article, I'll be going over all the essential bits and pieces about the We-Vibe Match. So, if you're still on the fence about getting one, this review might help you decide.
The We-Vibe Match is a remote-controlled couple's vibrator worn by women during sex or solo play. It emits powerful rumbly vibrations simultaneously stimulating the wearer's G-spot and clitoris. It's rechargeable and has a battery life that can last up to 2 hours which is more than enough for most people for multiple sessions.
Unlike most We-Vibe products, the Match is incompatible with the We-Connect app. Its remote control isn't rechargeable and waterproof, unlike the toy itself. Moreover, its body can't be overextended or twisted as it might break.
If you're looking for a high-quality and discreet yet affordable couples vibrator, you should get the We-Vibe Match. But if you want to customize or create your own vibe, you should go for other app-enabled We-Vibe products.
We-Vibe Match is for you if:
You're looking for a powerful yet discreet couples vibrator.
You want a rechargeable and remote-controlled toy.
You love stimulating your G-spot and clit simultaneously.
You enjoy exploring different speeds and patterns.
We-Vibe Match is not for you if:
You want a Bluetooth-compatible couples vibrator.
You prefer creating and using your own vibration settings.
You want a flexible toy that you can twist and bend.
---
Unboxing We-Vibe Match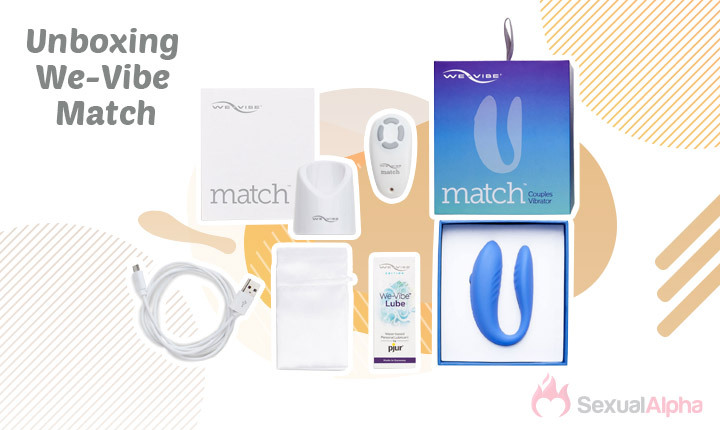 When I opened the box containing my new toy, I immediately noticed the nice, discreet packaging. The color gradient of the box matches the toy's exterior.
Once I removed the lid, I saw the toy itself.
There it was… the We-Vibe Match, protected by a transparent plastic film.
You'll find the following items below the cardboard tray where the toy is placed:
1 wireless remote control
1 charging base
1 white silky storage baggie
1 USB charging cable
1 user manual
1 sachet of personal moisturizer (2 mL)
---
We-Vibe Match's Tech Specs
---
We-Vibe Match: How It Looks and Feels
The first thing that caught my attention when I first saw the We-Vibe Match was its sleek and compact design.
It's lightweight and small enough to fit into any purse or backpack, so you can bring it wherever you go.
Match is shaped like a cute little horseshoe with rounded tips and uneven sides.
The toy's periwinkle pastel exterior is a perfect match for its design. It gives the toy an elegant vibe.
Its silicone body feels smooth and soft without being too slippery.
The insertable bulb is elongated and quite thin, making insertion EASY and not too intimidating, even for beginners. It measures 3 inches long and 1.2 inches wide, just enough to reach and stimulate your G-spot.
As for the external stimulator, it's slightly THICKER—measuring around 1.8″ wide. It's designed to provide BROAD external stimulation not only to your clit, but also to the upper portion of your vulva.
Match also comes with a controller that has 4 different buttons that you can use to control the vibrations remotely. This is very helpful, especially if you're playing with a partner.
---
Key Functionalities of We-Vibe Match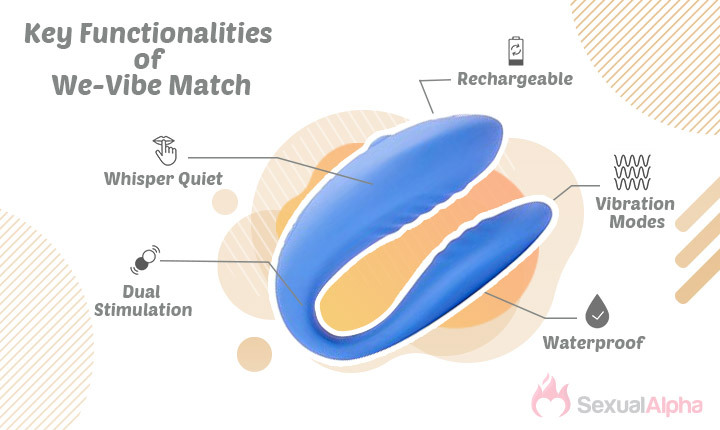 Dual Stimulation
The We-Vibe Match combines internal and external stimulation to enhance your orgasm.
As mentioned above, the insertable bulb stimulates your G-spot, while the external bulb focuses on your clit.
Both vibrating bulbs sport little ridges to deliver extra pleasurable sensations.
THE BEST PART? It's compact enough for you to wear during penetration.
That means your partner can also feel the vibrations while he's thrusting in you.
Shared pleasure = shared orgasm.
---
Whisper Quiet
Unlike other couples' toys, the We-Vibe Match is whisper quiet. It only produces a low humming sound that you can barely hear.
You can even wear it under your bed sheets without your roommate knowing.
Even though it has an almost silent motor inside, the device is quite powerful. Its vibrations are strong and rumbly, hitting the wearer's erogenous zones.
---
Rechargeable
We-Vibe Match is equipped with a rechargeable battery that can last up to 2 hours when fully charged. This is a huge advantage for couples who want to have sex longer.
Being rechargeable also translates to being cordless. This means you won't have to worry about wires getting in the way while having sex.
In the same way, you won't need to keep buying batteries every now and then.
---
Vibration Modes
We-Vibe Match has 3 speed levels and 8 patterns you can experiment with.
These speeds and patterns create different types of vibration intensities. You just need to choose which type of stimulation suits your needs best.
For example, the Pulse Pattern is good for those who like gentle and slow vibration patterns. On the other hand, the Ultra Pattern is ideal for people who want something stronger.
You can use the toy's control button or the remote control's right and left buttons to cycle through the vibration patterns. However, you can ONLY adjust the intensity of each vibration by pressing the remote control's up and down buttons.
---
Waterproof
The We-Vibe Match is 100% waterproof, so you can take it into the bath or shower. This feature is great because it makes the toy easier to clean.
Something to note
However, its remote control isn't waterproof.
So, if you plan on using the toy near water, I highly recommend sealing the remote controller in a Ziploc bag to avoid accidental splashes.
---
How to Use We-Vibe Match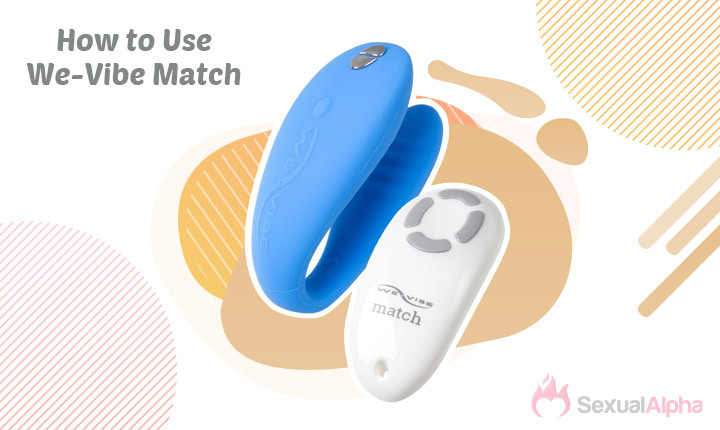 Using the We-Vibe Match is very easy.
First off, you need to charge it first for 90 minutes. The device will emit a fast blinking LED light once it's charging. When the light stops blinking, it's ready to use.
You'll have to follow these simple steps to set the device up manually:
Apply water-based lube to the toy's surface and on your vagina.
Turn on the toy by pressing and holding the button on the clitoral stimulator for 2 seconds.
Choose your favorite mode by pressing the same button.
Gently insert the G-spot stimulator into the vagina, resting the external stimulator on the clitoris.
Invite your partner to have sex and share the vibe.
Enjoy!
---
You can also follow these steps if you want to use the toy using its remote controller:
Press and hold the control button on the device for 5 seconds. Wait for it to pulse twice.
Press the left button on the remote to pair it. Hold it until the orange light on the button fades away.
Press the right and left buttons to cycle through its vibration patterns.
Press the up and down buttons to increase and decrease the vibration intensity.
---
My Experience with We-Vibe Match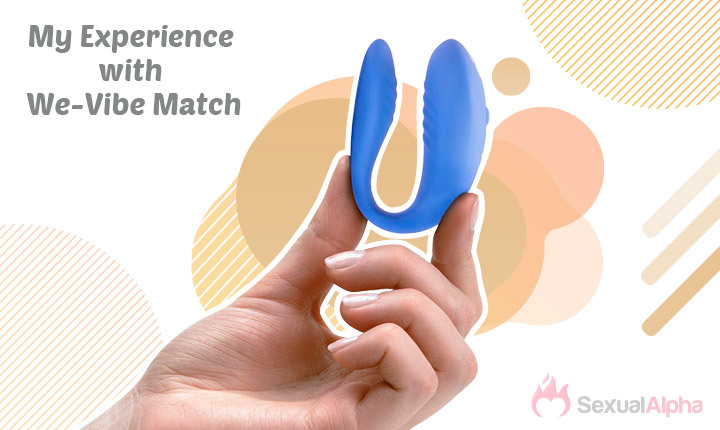 As mentioned above, I've had the chance to try out different couples vibrators, and the We-Vibe Match is still one of my favorites. It's not only easy to use but also very effective for solo play and partnered sex.
I love how it can stimulate BOTH my clit and G-spot at the same time with powerful and rumbly vibrations.
The toy's dual stimulation feature makes it ideal for beginners since it doesn't require much effort to stimulate your pleasure spots.
Unlike other vibrators with smooth surfaces, the Match's ridges on both vibrating bulbs are more stimulating. THAT MEANS I can reach orgasms faster.
The We-Vibe Match is also waterproof, making it safe to bring into the bath or shower. My partner and I love taking baths together, so this toy is perfect for us.
In terms of its design, the We-Vibe Match is simple yet elegant. It's also very discreet. I have no problem bringing it anywhere since it's so tiny!
There was even one time I wore the toy underneath my clothes. Nobody noticed since the toy didn't give off any unwanted noises.
However, I realized I couldn't wear it all day because it tends to fall out of me.
It's also NOT as FLEXIBLE as my other toys. It's quite rigid and doesn't easily bend to conform to my anatomy. That said, this isn't much of an issue when I'm using the toy with my partner because it stays in place when we're having sex.
Another thing that I love about this toy is that it's rechargeable and cordless. Charging takes less than two hours, making it convenient for me to use whenever possible.
Compared to other We-Vibe couples vibrators, its battery life of 2 hours is longer lasting.
This is why I prefer it over the other models if I'm in the mood to have fun for a longer period of time WITHOUT using any fancy app on my phone.
I love the fact that I can operate it using a remote control. This means we don't need to stop having sex and worry about having to press the button on the toy directly to get the right vibrations.
It's also nice that I can change the speed and intensity of the vibrations. This way, I can adjust them to fit my comfort level and preferences.
When I'm feeling extra naughty, I increase the vibrations to the highest setting, making it much harder for my partner to hold back his orgasm.
---
How to Clean We-Vibe Match
Cleaning the We-Vibe Match is pretty straightforward.
Simply wash the toy with warm water and soap, then air dry it. You can also wash it with We-Vibe Clean to remove body fluids left behind during play.
---
Price, Where To Buy the We-Vibe Match
The We-Vibe Match costs $132.05 online and can be purchased from the SheVibe website. If you want to get a 10% discount, you can subscribe to their website.
It comes with a 2-year warranty, which is great since We-Vibe provides excellent customer service.
---
What Do Other People Think About the We-Vibe Match?
The match is a very good alternative to the We-Vibe Sync as it has pretty much all the same functions but is way less expensive because it does not connect with the app. You can still use it with the remote control if you would like some outside play.
Intermediate model. Not adjustable, waterproof, not as strong as the Chorus, no app control. Comes with a 4-button remote, 10 vibration modes. Charging base provided, magnetic charging, 2 hours of play per charge.
---
We-Vibe Match Alternatives
We-Vibe Match vs. We-Vibe Unite
The We-Vibe Unite is the cheapest toy in We-Vibe's couples vibrators lineup. It only costs $89, which is way cheaper than the We-vibe Match. And both are pretty similar in functionality.
However, the Match has a longer battery life of 2 hours per charge, while the Unite only lasts an hour. Match also has stronger motors, with 11 vibration speeds and patterns. On the other hand, Unite only has 7 vibration speeds and patterns.
Unite also isn't waterproof like the We-Vibe Match, which makes it more difficult to maintain.
If you're looking for a more affordable vibrator with less power and features, then the We-Vibe Unite is worth checking.
---
We-Vibe Match vs. We-Vibe Sync
If you're looking for more powerful and customizable vibrations, then the We-Vibe Sync is the way to go. It has 12 built-in vibration speeds and patterns that you can choose from.
Sync is also compatible with the We-Connect app that lets you control the toy remotely using your smartphone or tablet. Using the app, you have unlimited customization options.
For instance, you can set it to vibrate in sync with your music or even at random intervals. You can also customize the vibration settings of each vibrating motor independently.
Like the We-Vibe Unite, its battery life is inferior to that of the We-Vibe Match. Its use time is limited to just 1 and a half hours of use per charge.
---
We-Vibe Match vs. We-Vibe Chorus
If comfort is what you're after, you might want to consider buying the We-Vibe Chorus instead.
Unlike the Match and Sync, which tend to fall out of the wearer's vaginal canal, the Chorus stays put. Its body is more flexible and can easily adjust to the contours of your body. Match and Sync, on the other hand, are quite rigid.
Moreover, Chorus has a unique Touch Sense Technology that allows the wearer to adjust the vibrations through the wearer's movements. The vibrations can also be adjusted by squeezing its remote control.
That said, Chorus comes with a higher price tag.
If you're looking for something more affordable without sacrificing quality, I must say that the We-Vibe Match is a decent choice.
For more vibrating content, check out other great toys here.
---
Final Thoughts
The We-Vibe Match is an excellent choice for couples who don't want to spend too much money on their vibrating sex toys. It offers the basic functionality of other We-Vibe toys like Sync and Chorus, but it's much cheaper.