In this Womanizer Liberty Review, find out if this travel-sized and discreet clitoral stimulator fits your needs the most. Will this be your next pleasure companion?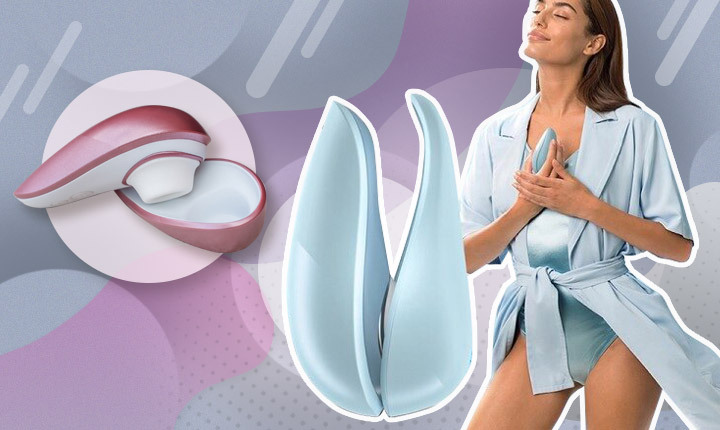 Pleasure should always be a priority, even when you're traveling. For most of us, though, taking a suitcase full of sex toys on holiday just isn't practical (plus, where would you fit your clothes?)
That's where travel-sized toys come in. Travel vibrators have been around for eons, but what if you want something a little more specific?
If you're partial to air-suction stimulation and want that clit sucking action on the go, the Womanizer Liberty was made for you.
Does it fit the bill, though? I tested out this little pleasure companion, and the results were surprising.
The Liberty is great for travel and doesn't skimp on power, with 6 levels comparable in intensity to full-sized clit-suckers. The interchangeable heads allow for different clit sizes. For solo play, it absolutely does the job.
It's not designed for couple play and is awkward to use during PiV sex. The button placement is annoying and makes it hard to control when you're using it.
As a powerful but compact travel toy, the Liberty is everything you need on the go. It's affordable, so, understandably, it doesn't come with all the bells and whistles. It's perfect for solo play while traveling or if you just want a simple clit sucker.
The Womanizer Liberty is for you if:
You want a travel toy
You like focused clitoral stimulation
You want to try a clit sucker or already love them
You want a premium toy that's still affordable
You want to spice up solo play
The Womanizer Liberty is for you if:
You want a toy for PiV sex
You don't like focused clitoral stimulation
You like lots of options and intensity levels
---
My First Impressions of the Womanizer Liberty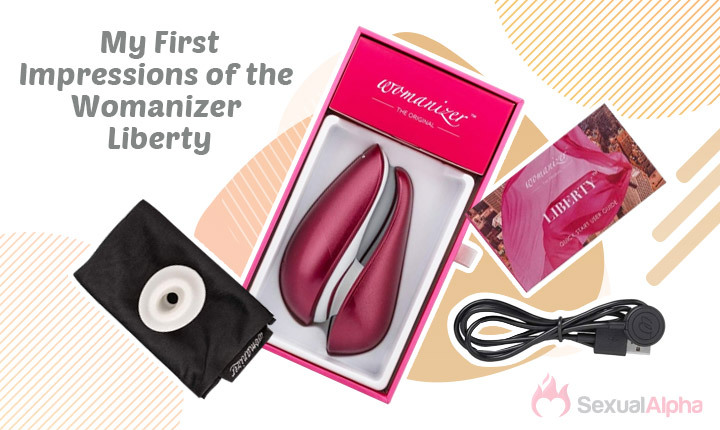 I know you shouldn't judge a book by its cover, but the moment I set eyes on the Womanizer Liberty's packaging, I was all in. This is a toy designed for the freedom of travel, and the box captured that exact vibe.
I don't think a sex toy's packaging has ever made me feel so inspired.
The packaging for the Powder Blue Liberty featured a gorgeous aerial photo of forested cliffs, a stunning beach, and the deep blue ocean – exactly what you might see as your plane swoops down on some tropical island.
It was enough to make me want to pack my bags right there and then, with the Liberty along for the ride!
The other color options feature gorgeous aerial scenes, from towering skyscrapers to deserted coastlines. Not only can you choose your favorite color, but your favorite escape destination too!
In the center of the box, through a peek-a-boo cut-out, was the Liberty itself. When I opened it, I found the toy and its travel cover nestled in a plastic pillow.
Along with the toy itself, the box included the magnetic USB power cable, a user guide, and a black satin storage pouch. It would have been easy for Womanizer to leave out the pouch in favor of the travel cover, so I'm glad they included both!
The best thing, though, was the extra interchangeable head in a different size.
One of the hardest things with air suction toys is the sizing. Not every toy will suit every body, so having smaller and larger suction heads means the Liberty is much more likely to fit most users!
---
Womanizer Liberty Tech Specs
---
How Does the Womanizer Liberty Look & Feel?
Let me tell you; this thing is elegant.
I was so excited to find a clit sucker that doesn't look like a weird medical instrument. Instead, the Liberty is rounded and pretty and comes in four delicate colors. With the travel cover in place, the whole thing is reminiscent of a candy egg. YUM!
Alongside the elegant design, one of the first things I noticed was how compact the Liberty was. It's by far the SMALLEST air suction toy I own, making it perfect for travel.
The ABS body is nice and solid, while the suction head is made from soft, luxurious silicone that feels good on the skin and is easy to clean.
The lid is magnetized, and even though it doesn't have a travel lock, it still feels sturdy.
It was secure enough to carry around in my handbag without any issues. If you wanted to be extra sure, you've always got the satin travel bag!
One of the things I love about this toy is that it's incredibly discreet. I take my hat off to Womanizer for making a travel sex toy that doesn't look like a travel sex toy. You could carry it anywhere, and no one would be the wiser.
---
Battery Life & Charging
The Liberty, like most We-Vibe toys, is magnetically rechargeable. The toys don't come with a wall plug, but the USB charging cable can be plugged into any computer or USB wall adapter.

The Liberty has a charging light in the nozzle, which will flash when it's connected and glow steadily once it's fully charged.
Charging takes about an hour and, depending on the strength you're using it at, will last between 60 and 90 minutes.
---
Womanizer Liberty Key Functionality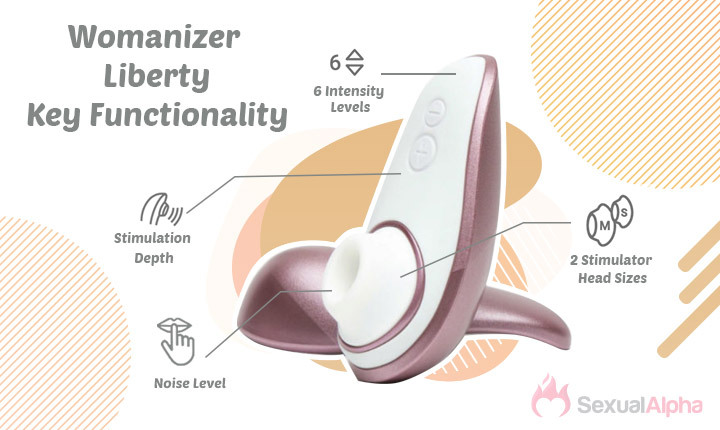 6 Intensity Levels
As a compact travel toy with a reasonable price tag, you can expect that the Liberty will be missing a few features. The most notable is the limited intensity levels. With six levels, this little travel companion has about half the options of most clit suckers on the market.
What it lacks in choices, it makes up for in power.
I was pleasantly surprised to find the lowest and highest levels were comparable to the same levels of a full-sized clit sucker.
Any loss in options takes place in between, meaning you still get the same amount of pleasure, just in half the increments. I found this was especially true in the higher levels, where intensity seems to jump quite a lot.
This is great if you don't mind ramping up quite quickly. If you prefer subtler changes, however, you might find these sudden jumps in power a bit jarring.
---
Stimulation Depth
There are typically two types of sensations when it comes to clit suckers – either light and shallow OR deep and thuddy. The Liberty falls squarely into the second category.
Personally, I much prefer the deeper sensations – they feel more intense and spread further into the rest of my body, rather than being focused only on the clit.
Different strokes for different folks, though.
If you know you prefer lighter stimulation, you might find the Liberty is too much. However, if you're in the same camp as me, you'll be very happy with the powerful punch that this little package delivers.
---
Noise Level
If you're taking the Liberty along on a holiday, you can be sure your neighboring travelers will have no clue what you're up to. I was happy to find this pocket-sized companion was incredibly quiet when it was touching me.
However, it did get a bit noticeable if I turned it on before it was attached to my skin. If you need to be very discreet, just make sure you've already got it in place.
---
2 Stimulator Head Sizes
I love that despite being a pared-down version of a full-sized clit sucker, the Womanizer Liberty still comes with two interchangeable head sizes – medium and small. This is so important in making pleasure more accessible. Everyone deserves to feel good!
Pro Tip
You can also buy extra heads in small, medium, and large if you find you need more.
This is great if you want to test which size feels best or to switch it up if you want a bit of variety. The heads are easy to change out, and it also makes them easier to clean.
---
How to Use Womanizer Liberty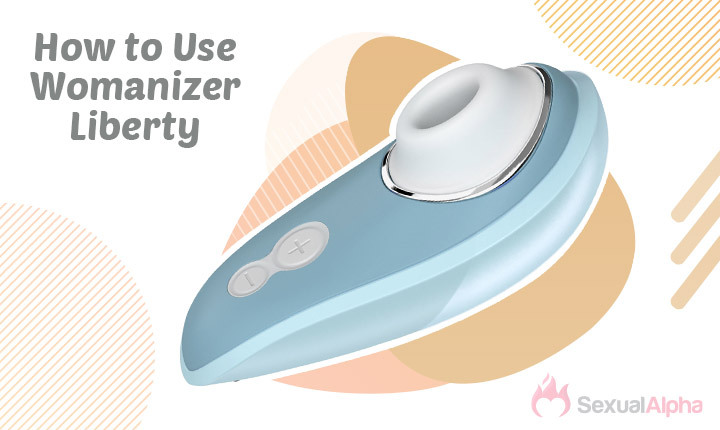 Like with any clit sucker, start by rubbing a little water-based lube on the mouth of the toy and yourself. You can position the mouth over your clit by parting the labia, ensuring you get a nice seal to allow the suction to work its magic.
I found the silicone head to be nicely pliable compared to other clit suckers, so it's easier to move around and find the right position.
You can even use the Womanizer on your nipples or other parts of your vulva. Test it out and see what feels good!
Once you've got a good seal, you can turn on the Liberty by holding the '+' button for a few seconds. This will start you off on the lowest setting. From there, you can play around with different intensities to see what you like!
---
My Experience With Womanizer Liberty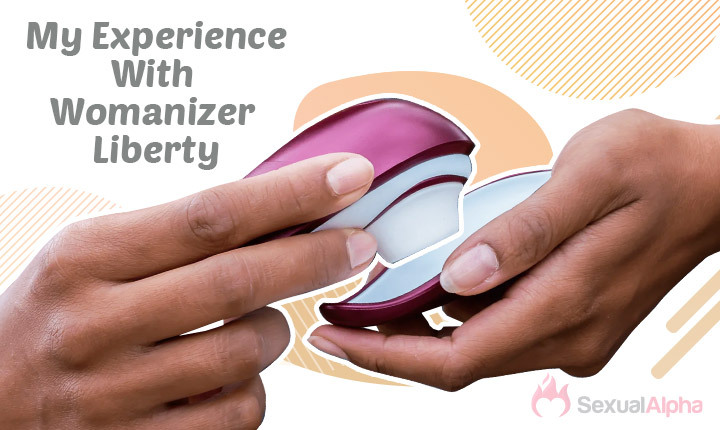 I happened to go on a weekend away just after buying the Liberty, so it was the perfect time to take it for a test ride.
In my cozy hotel room, I threw myself a little pleasure party. I was very happy to find the Liberty's motor was more than enough to compete with other clit suckers – in fact, it was MORE POWERFUL than some of the others I own!
It didn't take long at all to get me where I wanted to be, and the thuddy, holistic sensation was just the thing to end a long day of sightseeing.
The Liberty could be the perfect pared-down toy, except for one thing…
Instead of having the buttons on the outside of the toy, the Liberty's buttons are on its underside. This made it awkward to change settings when I was using it since the buttons were pushed up against my belly.
I assume this is in keeping with its travel use, to avoid accidentally turning it on in your handbag, but it made for a somewhat distracting experience in the midst of my pleasure session.
I also found that its compact size meant there wasn't a lot to hold onto.
This wasn't too much of a problem, but I do prefer a longer handle for a better grip. Still, the compact size makes sense for a travel toy, and I was more than happy to give up the handle for the pocket-size benefits.
Later, I decided to test it out with my partner. Once again, the sensations were deep and intense, and with penetration at the same time, it felt amazing. That said, it's not a toy designed for partner play.
It was okay to use when I was on top, and I had enough room to grip the Liberty, but in most positions, it was too small and bulky to keep in place. Couple that with lubed-up fingers, and maintaining a grip was tricky.
It will do in a pinch, or if you don't mind stopping to find the clit sucker amongst the bedsheets mid-thrust. For the most part, though, the Liberty excels as a solo pleasure toy.
If you're looking for a clit sucker to use during PIV sex, others, like the We-Vibe Melt, are designed for that.
---
How To Clean Your Liberty
The whole of the Womanizer Liberty is waterproof, which means cleaning it is a breeze. (It also means you can enjoy it in the shower or bath!)
The best way to clean the toy is to remove the silicone head and wash it separately. Then use mild soap or toy cleaner and warm water on both pieces.
You can then turn on the toy and let it run underwater for a minute. Keep the toy running after you take it out, and give it a shake to make sure you get as much water out as possible. Then dry everything thoroughly and replace the head for next time!
---
Womanizer Liberty Price, Where To Buy
The Womanizer Liberty is a premium sex toy packed into a smaller, more affordable package. You can find the best price at SheVibe – at $94. You'll get all the pleasure of this little toy without breaking the bank.
That just means you'll have more to spend on your next exciting holiday!
---
What Do Other People Think About It?
I love my liberty! It's the perfect size for travel or hiding. I saw literal stars with the first orgasm I had with it.
I just got a Liberty, and she's now my go-to toy for masturbation.
My wife didn't care for it the first few times. Now it is her favorite toy. I found it best to start low and build speed. Also, lube helps to create a seal. Making a seal with the circular head around the clit is the key.
---
Womanizer Liberty Alternatives
For an at-home clit stimulator with more options than the Liberty, the Womanizer Classic 2 is a great choice. It has 10 intensity levels, and, as a full-sized toy, it's much easier to handle. If you don't need it for travel, this is a powerful and versatile toy to have in your collection. At $123, it's not much more expensive than the Liberty but has plenty more options.
---
If the Liberty comes with none of the bells and whistles, the Premium 2 is dressed to the nines. It has an incredible 14 intensity levels, Smart Silence technology which means it only turns on when in contact with skin, and an Autopilot feature which switches through intensity settings at random.
It also comes with a hefty price tag, so this is really a sex toy for those who want to splash out, so to speak.
If you want to know more about the Premium 2, check out our Womanizer Premium 2 review!
---
If budget is a consideration for you, the Starlet comes in at about $20 cheaper than the Liberty, making it Womanizer's most affordable toy. It's not as powerful as the Liberty, so if you prefer gentler stimulation, it's a great choice. The Starlet is slightly bigger but still small enough that it could be used as a travel toy in a satin bag.
For more options, check out our roundup of the best clit suckers.
---
Final Thoughts
For beginners who want a powerful clit sucker at a reasonable price, the Liberty is perfect. Its compact size makes it great for travel and more than makes up for the awkward button placement.
If you're looking for an air suction toy to use during penetrative sex, though, look elsewhere. The Liberty is made with solo play in mind, and at that, it excels!