Can you use this wearable vibrator everywhere, even in public? We answer all your questions in this We-Vibe Moxie review and how the toy feels in use. Read on: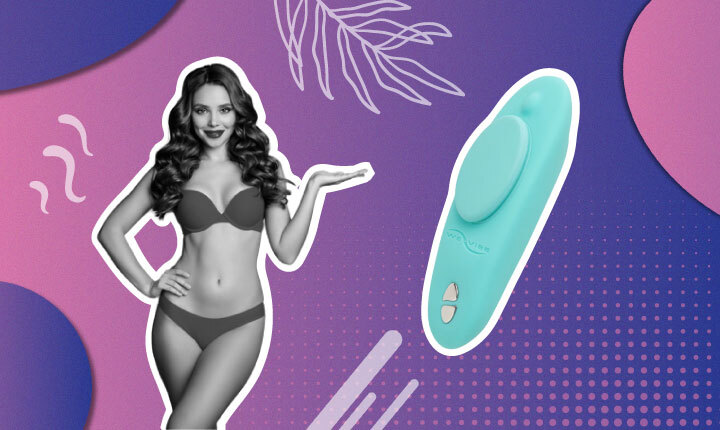 Wearable vibrators, particularly vibrating panties, are kinky AF.
My favorite part? You can turn on that vibe anywhere, anytime. Even in public.
They're discreet, pleasurable, and oh-so-exciting!
It's like ordering a quick on-the-go orgasm during your lunch break!
I couldn't pass that opportunity up, so I got We-Vibe Moxie, a wearable vibrator you can attach to ANY underwear.
The Moxie is a good choice for adventurous women who want to have orgasms in public without anyone knowing.
In this review, I will try to give you all the information you need to know about this toy and some alternatives you might want to consider.
We-Vibe Moxie is a discreet external clitoral vibrator you can wear on your panties. This toy is perfect if you want to experience powerful rumbly vibrations you can adjust using an intuitive remote control. The Moxie features a slim profile and is lightweight and waterproof, which makes it perfect for outdoor and waterplay adventures.
The We-Vibe Moxie doesn't have the most stable app connectivity, which can be a bummer if LDR play is your main purpose for getting this sex toy. Its premium price tag compared to other panty vibrators might also make you sit and consider longer on your shopping cart before checking it out.
We-Vibe Moxie is a good choice of external vibrator for women who want a discreet way to pleasure themselves while out on a date. Its app connectivity is not as good as others, but it comes with a user-friendly remote control that you can use to adjust its vibrations.
We-Vibe Moxie is for you if:
You're looking for a discreet wearable vibrator
You enjoy external (clit, labia, vulva) stimulation
You prefer powerful rumbly vibrations
You want something that fits snugly on your panty
You need a vibrator that you can wear while swimming
We-Vibe Moxie is not for you if:
You're looking for a toy with reliable app connectivity
You prefer very intense vibrations
You're looking for a toy for dual stimulation (internal and external)
---
What Is We-Vibe Moxie?
The We-Vibe Moxie is an underwear-attachable vibrator that comes with a Bluetooth feature. You can use it with a remote that comes with the package. Or go for the associated app that lets you or your partner control the vibe from anywhere.
---
Unboxing We-Vibe Moxie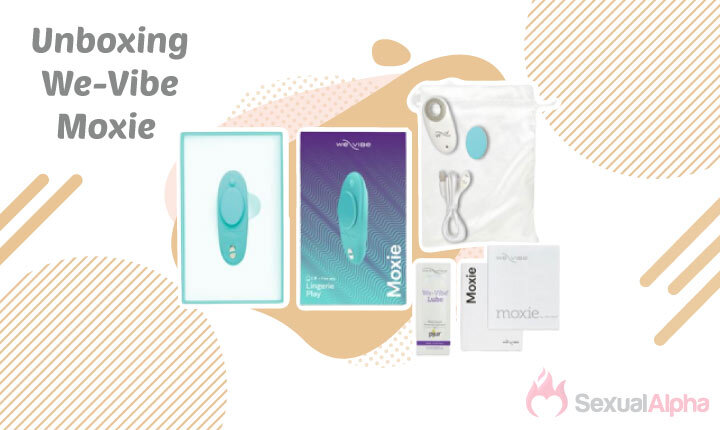 The We-Vibe Moxie comes in an aqua and purple box that looks sleek and stylish. Once you open the box, you'll find the Moxie and its remote controller nestled in a white cardboard tray. Below this, you'll unveil the following items:
Magnetic clip replacement
Magnetic USB cable
Illustrated Quick-start User Guide
We-Vibe Lube—made by pjur® (2ml)
Silky-storage pouch for storage
---
We-Vibe Moxie's Tech Specs
---
We-Vibe Moxie: How It Looks and Feels
The We-Vibe Moxie looks like a compact beluga whale that fits nicely in the palm of your hand.
Now, let's talk about the anatomy of this whale (I mean, clitoral vibe).
The entire body of Moxie is made of a medical-grade silicone material. It feels smooth and velvety to touch.
Its body is quite rigid and has a small hump on top. This hump is where the vibrating motor is located and functions as the toy's main clitoral stimulator, delivering pleasurable sensations to the labia and vulva at the same time.
On the opposite side, you will find the control button that resembles the whale's mouth. You can use this to power the toy on and off and switch between vibration patterns.
Moving further, you will find the detachable magnetic clip, which looks like the whale's tummy. This allows you to attach the device to your underwear without worrying about it falling off.
Lastly, you will find charging contacts near the tail. This is the attachment point for the magnetic USB cable for charging.
---
Key Functionalities of We-Vibe Moxie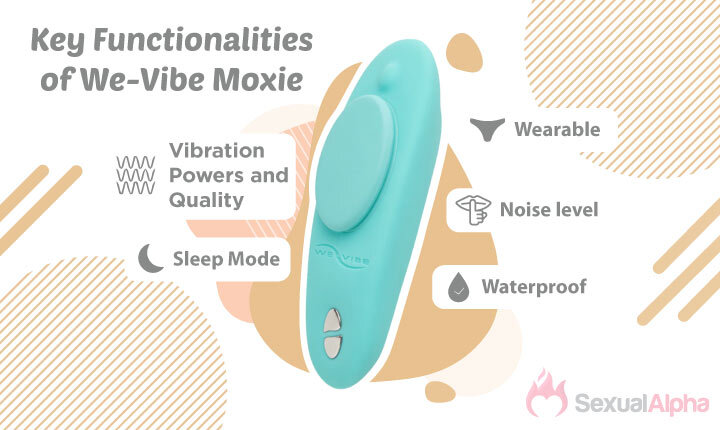 Wearable
The We-Vibe Moxie is an external wearable vibrator specially designed to stimulate your clitoris and labia to bring orgasmic pleasure. Wearing it feels like having a secret little friend you can take with you… EVERYWHERE!
It has a snug fit on your panties and between your vaginal walls without being noticeable.
This little vibrator comes with a strong magnetic clip that helps secure it to your underwear so that you can enjoy its sensations wherever you go.
The great thing about this feature is that it gives you the freedom to walk around freely while enjoying the vibrations the toy emits. You don't need to worry about the device falling off because the clip holds the vibrator in place quite well.
Its silicone exterior is soft and smooth against the skin and will stay comfortable no matter how long you want to wear it.
---
Hands-free
The Moxie vibrator is designed to be used completely hands-free. It comes with a wireless remote control that allows you to control the toy's settings without touching it directly. This is very handy, especially if you enjoy public play.
You don't have to stop whatever you're doing and find a nearby restroom just to pull the toy out of your panty and adjust its settings.
It also means you can adjust the toy's vibration intensity and patterns remotely.
---
Noise level
The Moxie vibrator emits a low-pitched buzzing noise that is only audible if you're in a quiet environment. It can produce up to 40 decibels at the highest settings. This is loud enough to be heard in a library, but definitely not while you're at a party or even in a busy office.
If you intend to use it in a quiet place, I highly recommend setting the device lower. You can also place an extra layer of fabric between the vibrator and your skin to muffle and reduce the sounds emitted by the toy.
---
Vibration Powers and Quality
The We-Vibe Moxie is a good choice for women looking for a wearable vibrator that delivers powerful rumbly vibrations.
It has a broad clitoral stimulator that emits diffused vibrations throughout the entire side where it is located. Although this toy is designed to focus on the clitoris, its vibrations are transmitted across its body to stimulate even the labia and vulva.
It features 10 vibrations speeds and patterns that create different sensations in your erogenous zones. You can also customize your own vibration pattern by using the We-Connect app.
Moxie's vibrations may not be as strong as those produced by a massager, but it's definitely one of the rumbliest compared to most wearable vibes.
---
Sleep Mode
The Moxie vibrator has a Sleep Mode function that automatically switches the toy off after 30 minutes of inactivity (no changes in vibration patterns or intensity). This feature ensures that the battery doesn't drain when the toy is left unused.
The only downside to this feature is that the toy might switch off when you're reaching climax—even when you don't intend it to. This is pretty annoying, but I think it's a small price to pay for not having to turn off the vibrator manually.
If you want to avoid this, you may adjust and extend the sleep timer up to 4 hours through the We-Connect app. You just need to pair your vibrator to your smartphone and go to Settings > Device Settings > We-Vibe Sleep Timeout.
When you're ready to play again, just re-pair the device to your smartphone, and the toy will restart immediately.
---
Advanced Security
The We-Vibe Moxie is equipped with an advanced Bluetooth bonding protocol that protects it from external signals. This means that your vibrator will only recognize and trust two devices for pairing: your controller and your smartphone.
It will only pair with one controller at a time. The toy also won't connect to other users unless you allow it.
If you want to change controllers, you can press the control button on the toy for 10 seconds. This will allow you to remove the device/s currently recognized by your toy through the We-Connect app and switch.
On top of that, We-Vibe ensures that all data sent between the app and the vibrator are encrypted.
With this feature, your activities and personal information are safe and protected from hackers. You don't have to worry about someone else accessing your personal information or the data generated by the toy.
---
Waterproof
If you are looking for a vibrator to take to the beach or the pool, Moxie is a good pick.
Moxie has an IPX7 waterproof rating.
Translation: It can withstand the pressure of being submerged in water for up to 30 minutes.
In addition, this feature makes the toy very easy to clean and maintain.
---
How to Use We-Vibe Moxie
Manual Control
Charge your We-Vibe Moxie for 90 minutes
Press the control button on the toy to turn on
Press the same button to adjust the vibration mode
To turn it off, press the same button for 2 seconds
---
Remote Control
Press the control button for 5 seconds until the toy pulses twice
Hold the left or right button for 5 seconds to pair it to the remote control
Press the left and right buttons on the remote to adjust the vibration patterns
Press the up and down buttons to adjust the vibration intensity
To unpair, press the left and right buttons for 5 seconds
---
We-Connect App
Download the We-Connect app on your smartphone and follow the on-screen instructions
Press the control button on the toy for 5 seconds to pair it to your smartphone
For short-range play, you can operate the device within three meters
For long-distance play, tap the "Connect Your Partner" option in your We-Connect app
You can use the app for cycling through its 10 built-in vibration patterns or customizing your own based on your preference
---
My Experience with We-Vibe Moxie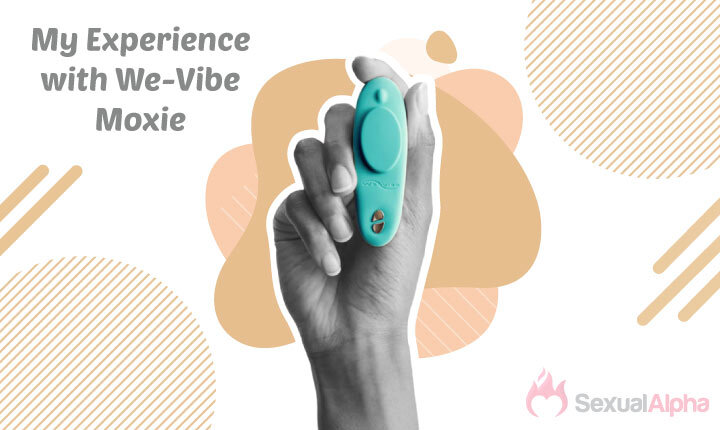 The first time I used Moxie was in my bedroom to figure out how to use it and discover what this little thing could do. I attached it to my lingerie, turned it on, and connected it to the remote control.
I turned the speed up, adjusted the vibration pattern to something I thought felt right, and then wore it. Upon wearing it, I was surprised by how much it stimulated me.
The vibrations were not too strong but pleasurable enough not only to my clit, but also to my vulva and labia. Its rumbliness helps me reach climax faster than usual.
It also fit snugly under my lingerie and was kept in place by the magnetic clip.
I really liked the sound of the toy. It was a kind of low-pitched buzzing noise that was barely noticeable.
I also tried using my Moxie with the We-Connect app. At first, I found the toy very easy to pair with my smartphone. Everything worked fine. But as I tried to customize my own vibration pattern, the toy suddenly lost its connection and stopped vibrating.
I tried restarting it, and I could pair it again after a couple of minutes.
I realized this feature could be problematic if I ever decided to take the toy out for public play, so I never used it outside with the app. I don't like the hassle of having to find a nearby restroom just to pull the toy out from my underwear and change the pattern.
That said, the toy works flawlessly when paired with the remote control.
Other than the bugginess of the We-Connect app, I have not encountered any serious problems with the We-Vibe Moxie yet.
Overall, I would say that the We-Vibe Moxie is a great toy for people looking for a comfortable vibe and who don't mind using a remote control in public.
---
How to Clean We-Vibe Moxie
If you want to clean your toy, you can simply wash it with warm water and mild soap. You can also use a dry cloth to wipe the toy before storing it.
---
Price, Where To Buy the We-Vibe Moxie
The We-Vibe Moxie is available online at SheVibe for only $122.55. This is $6.45 cheaper than its price on We-Vibe's official website.
This vibrator has a 2-year warranty upon purchase.
---
What Do Other People Think About the We-Vibe Moxie?
I would recommend the We-Vibe Moxie over the Lovense Ferri for you. The Moxie has rumblier vibrations and, overall, is superior in terms of quality. For local control, you get the choice of using a small remote control or connecting via the app. It's quiet, and I feel it has a good range of intensities.
The Moxie is more rumbly and has lower levels than the Ferri (which is a bit buzzier and starts out stronger than the Moxie). From your stimulation preferences, I think you'd enjoy the Moxie's stimulation more.
---
We-Vibe Moxie Alternatives
We-Vibe Moxie vs. Lovense Ferri
When it comes to app connectivity, the Lovense Ferri is way more reliable than the We-Vibe Moxie.
The Lovense app is more intuitive and has better connectivity. It's a better choice if long-distance play is a priority.
Meanwhile, Moxie has a physical remote control (Lovense doesn't)—convenient and reliable for cycling through Moxie's vibration settings without having to use your smartphone.
Ferri has a longer battery life that can last up to 3.5 hours and only takes 60 minutes to charge. Moxie's battery only lasts up to 2 hours and requires a 90-minute charging time.
In terms of vibration power, Moxie has more built-in rumbly vibration levels that are more comfortable than Ferri's stronger, buzzier vibrations, even on lower settings.
Moxie is probably a better choice if you're new to public play. But if you're looking for something more powerful with a longer use time, go for the Ferri.
---
We-Vibe Moxie vs. Satisfyer Sexy Secret
Satisfyer Sexy Secret is a more budget-friendly option than the Moxie (about a third of its price). But—as you may expect—there are some tradeoffs for its price tag.
First, the Sexy Secret has buzzier vibrations that tickle instead of massaging your clitoris. It won't get you off like Moxie's rumbly vibes, but it does a great job of "teasing" you for the main event.
Its battery life only lasts about an hour, which isn't ideal if you're looking for something to use outdoors for long periods. However, if you're just using it for a short period of time, it might be a viable option.
Like the We-Connect App, the Satisfyer Connect app tends to randomly stop working sometimes. On the positive side, the Sexy Secret's Bluetooth connection has a better range (10 meters) than the Moxie (3 meters).
Satisfyer Sexy Secret is a good bang for the buck if you're on a budget. But you might consider saving up for We-Vibe Moxie if deep, rumbly vibrations are your thing.
Check out other great options in our best sex toys for women guide.
---
Frequently Asked Questions
How Long Does the We-Vibe Moxie Last?
The Moxie has a shorter battery life compared to other wearable vibrators. So if you intend to use it every time, ensure you fully charge it first.
Though keep in mind after fully charging, it can die down after 45 minutes if you consistently use more powerful vibration settings.
If you set it to lower modes, the toy can last up to around two hours.
---
How Far Does We-Vibe Moxie Work?
The We-Vibe Moxie can work in distances of around 20 feet or so using the remote. And as for the app, it can even go further than that, depending on the environment.
---
How To Turn Off We-Vibe Moxie?
Hold the power button for a few seconds, and it'll turn off the toy.
What Kind Of Lube Can I Use With We-Vibe Moxie?
Due to the Moxie's silicone material, you should only use water-based lubricants. Avoid going for other varieties (such as oil-based or silicone-based lube) as it can cause the toy's composition to degrade long-term.
---
Final Thoughts
I would give We-Vibe Moxie a rating of 8.5 out of 10 because it has everything you'd want in a good vibe: great performance, comfort, and versatility. Its app, however, could be improved.