In this We-Vibe Jive review, you'll learn how good this wearable remote-controlled vibrator is, who it is right for & how it fares against its top alternatives.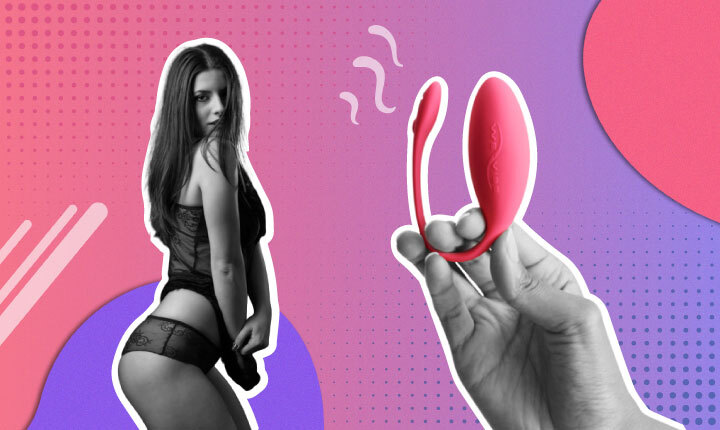 The thing I love most about sex toys is that there really is something for everyone.
Want to penetrate your partner but don't own a penis? Strap-ons are here for you. Want to simulate the feeling of someone sucking on your clit? The aptly-named clit suckers can get pretty damn close.
And for those who love the thought of getting a little bit naughty in public, there's a whole range of toys designed just for you.
The We-Vibe is one of them – a wearable, app-controllable vibrator made for discreet public play.
I tried it to see if I could get away with using it in public or if I'd be outed by my sex toy!
The Jive is comfortable, quiet, and gives amazing rumbly vibrations. It's very discreet and is undetectable through clothing.
The app connectivity is a bit hit-and-miss, which can be frustrating if you're relying on it as a long-distance toy.
This is a solid addition to the family of wearable egg vibrators. The rumbly vibrations are penetrating and noticeable while still being quiet and comfortable. The only letdown is the app connectivity; unfortunately, a mainstay for We-Vibe.
The We-Vibe Jive is for you if:
You want a wearable vibe you can use in public
You love rumbly vibrations
You want an app-controlled toy
You have a long-distance partner
You don't want direct G-spot stimulation
The We-Vibe Jive is not for you if:
You want powerful vibrations
You want pressure against your G-spot
You're looking for clitoral stimulation
You're looking for a toy to use during PiV sex
---
We-Vibe Jive First Impressions / Packaging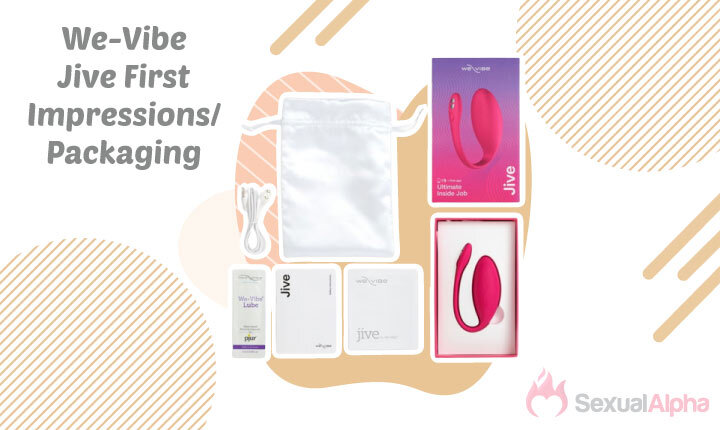 If you've ever bought a We-Vibe product, you'll know they are masters of packaging.
Every toy I've ever bought from them has felt like opening a birthday present I've been eagerly awaiting, and the Jive was no different.
The bright fuchsia and baby blue box featured a picture of the Jive, and when I opened it, the first thing I saw was the toy itself, nestled in its floating mount.
Behind the Jive, I also found the user manual and quick-start guide in several languages, the magnetic USB charging cable, a luxurious white satin storage pouch, and We-Vibe's signature final touch – a sachet of lube by pjur.
---
Let's Talk About Tech Specs
---
How Does the We-Vibe Jive Look & Feel?
At first glance, the We-Vibe Jibe is slightly reminiscent of a little alien egg, but – and I can't stress this enough – in a really cute way. Its elongated egg-shaped body ends in a long, thin 'tail' that doubles back on the main body of the Jive.
I also love the color.
Usually, I get a bit annoyed when sex toys only offer one or two color choices, but they absolutely nailed it for the Jive. I went for Periwinkle Blue, which definitely added to the cuteness factor.
Pro Tip
If you're into something racier, the Jive also comes in Electric Pink.
When I picked it up, I was very pleased to find how silky smooth the body-safe silicone felt and couldn't wait to try it out in other places!
---
We-Vibe Jive Key Functionality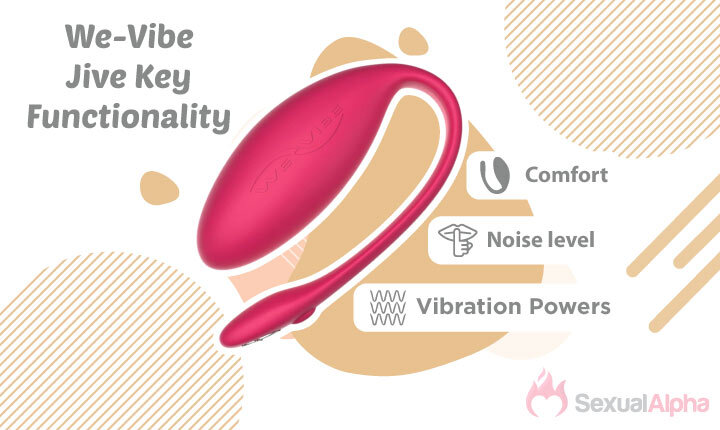 Vibration Power
The Jive comes with 10 preset vibration levels — 4 steady options and 6 changing patterns.
The motor isn't as powerful as some other wearable vibrators on the market, though. If you're really into power, this might not give you the kick you want.
Where it really shines, however, is in the quality of the vibrations.
The Jive is incredibly rumbly, and for me, that's actually more important than motor power. Especially for an internal vibe, I find buzzy sensations really get lost, whereas rumbly ones feel deeper and more noticeable.
NOTE: Rumbly vibrations are lower-frequency and tend to give deeper, broader, more penetrating sensations.
In contrast, buzzy sensations are higher-frequency and give more pinpoint, surface-level sensations, which can be numbing for some people.
---
Noise Level
Because it's an internal vibe, most of the vibration sound is muffled by your body. It's designed with public play in mind, so it's quiet enough to be worn in an environment with some background noise.
Even in a quiet environment and on its highest settings, it was hardly noticeable at a low 35 dB.
It sounds like a quietly buzzing phone, but you have to really pay attention to hear. On the lower settings, it's undetectable.
---
Comfort
The slim, egg-shaped body of the Jive means it's incredibly comfortable to wear, especially for long periods of time (which is what it's intended for). If it's not actively vibrating, it's almost possible to forget it's there, which can be a good thing or a bad thing, depending on what you're looking for.
In terms of wearability, the flexible but snug outer tail is a huge plus for this toy. It sits comfortably against the pubic bone without jutting out or digging in.
---
How to Use We-Vibe Jive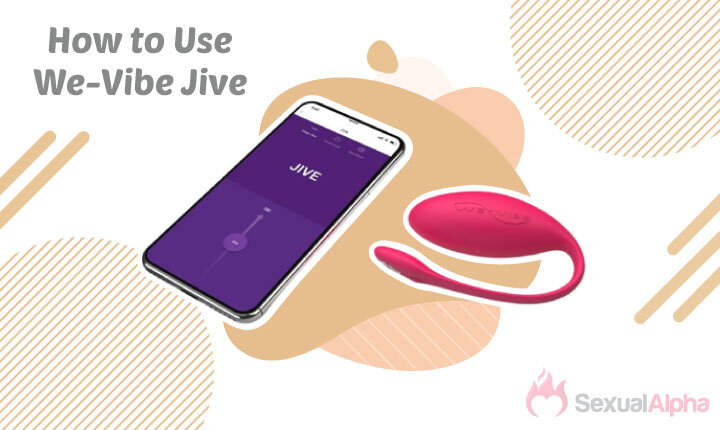 Manual Control
If you want the simplicity of manual buttons, the We-Vibe Jive still has that option, despite being primarily app-controlled. The single button on the end of the Jive's tail can be used to cycle through each of its 10 vibration settings.
---
We-Connect App
The app is the best way of controlling the Jive – it gives you much more control and offers a few extra features that aren't available manually.
Just download the We-Connect app – it's available for iPhone and Android – and then pair your phone to the toy.
Connection issues sometimes occur when pairing, so you may need to try a few times before it connects. If this happens, I found the best fix was to close the app and try again.
Close Range
If you want to have some fun alone or with a partner, close-range play via Bluetooth is a lot of fun. Just make sure to keep your phone close – it tends to disconnect if you're more than 40 feet away.

In the app, you can choose different presets or manually control vibrations by dragging your finger up and down on the screen.
My favorite feature, though, is the 'Beats' function. You can sync the Jive's vibrations to any music in your phone's library or even to ambient sound. Concerts just got a lot more interesting!
---
Long Distance Range
If you have a long-distance partner (or partners) or just want some play time while one of you is running errands and the other is at work, the We-Connect app gives you that option.

You can hand over the controls to your partner, who will then have access to all the same functions. You can also include text chat, video chat, voice calls, and picture sharing if you want!
By and large, this is a great feature, but again, what lets it down is connectivity. Connectivity can be hit or miss if you don't have a new phone and a strong Wi-Fi connection.
---
Charging and Battery Life
The Jive is about average for a wearable toy in the battery department. You'll get about two hours of playtime from a full charge if you're using higher settings.
The Jive has a cool battery-saving feature that will turn the Jive off if it hasn't vibrated in the last 30 minutes. Just press the button on the toy's tail to turn it back on.
To charge, you can use the magnetic charging cable plugged into either your computer or a wall adapter. The charging pins are on the end of the tail. It'll take about 90 minutes to charge fully.
---
My Experience With We-Vibe Jive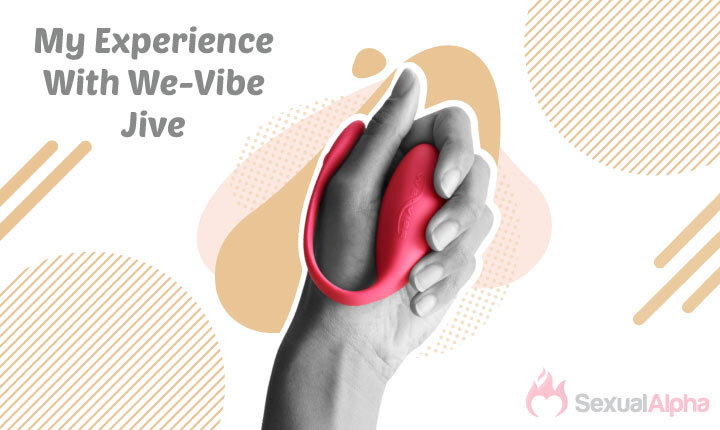 I've used a couple of other wearable vibes, and until now, my favorite was the Lovense Lush 3. After trying the Jive, though, I think there could be a new contender for the title.
I started with a nice amount of water-based lube and first played around with the vibe on my clit to get me warmed up enough. For this, I found the manual buttons a godsend – I didn't feel light fumbling around with my phone and the toy (plus a bunch of lube).
When I slipped the Jive inside, I was pleased with how smooth and comfortable it was.
In comparison, the Lush 3 is significantly bigger, and its bulbed G-spot-stimulating head takes some positioning. The Jive just slipped right in and sat comfortably from the get-go.
Wearing it outside, I was thrilled with the fit, and I loved having a naughty little secret that was all mine! It was impossible to tell I was wearing it through my clothes – it really is a discreet toy.
I played around with the app for a while, and the Bluetooth connectivity worked well for the most part. When it came time to try it out with a partner, I handed him control through the app and let him work his magic!
This worked best when I was at home and he was at work – the WiFi connection seemed to make a big difference. We did have some success later, though, when I was out again, so it's a bit of a gamble.
The rumbly vibes weren't enough to make me come on their own (I need clitoral or dual stimulation to get me there), but it did keep me on edge all day, which is even better sometimes!
---
How to Clean It
Because it's waterproof rated, cleanup is a dream. I always wash mine before and after use with some warm soapy water.
Something to note
Using a mild soap or a dedicated sex toy cleaner is best and will help your sex toys live long and happy lives!
---
We-Vibe Jive Price, Where To Buy
The best price I've found anywhere is from SheVibe. You can pick up the We-Vibe Jive there for $113.
---
What Do Other People Think About It?
For a vibrating panty, it's good! It's a pretty sizable internal piece, so you're definitely aware of it. The vibrations are pretty powerful, but for me, not much transfers to the external piece, so it's mostly internal. The app is simple to use and discreet, but all of the app-connected toys I'm aware of have some slight connectivity issues, so you do need to keep your phone pretty close.
I did enjoy the vibrations and everything but the connectivity while walking around was not amazing. And the app leaves some things to be desired.
---
We-Vibe Jive Alternatives
If you're looking for a more powerful motor over rumbly vibes, the Lovense Lush 3 will absolutely deliver. It also has a much better app and more reliable connectivity, so if long-distance play is essential to you, that would be the better choice.
---
The Esca is another wearable egg vibrator, similar in shape to the We-Vibe Jive and the Lovense Lush 3. Where it differs is in the vibration quality. The Esca 2 is much buzzier, so if you prefer those vibes, it's a great choice. It's also app-controllable and has many similar features to the Jive.
---
For a cheaper alternative, the Lovense Lush 2 is the Lush 3's predecessor. It has a slightly buzzier motor, but it's still powerful and gives plenty of bang for your buck.
However, it has a more rigid antenna arm which can be uncomfortable. Still, this is a great choice if you don't want to spend so much money but still want a well-made, powerful, wearable vibe.
Plus, it uses the same app as the Lush 3, which is the best on the market for teledildonics.
---
Rather than just a wearable internal vibe, the Chorus also has a clitoral stimulator which can be controlled separately. The main use of the Chorus, though, is for hands-free stimulation during PiV sex. Because of that, the internal shaft is much slimmer and flatter, so it won't give you a full feeling. It is, however, a very versatile toy and can also be fully app controlled with a bunch of cool bells and whistles.
For more vibrating content, check out our best vibrators guide.
---
Final Thoughts
Despite the issues with long-distance app connectivity, this has still earned a spot as one of my favorite toys and the quality of its vibes.
It's clear the We-Vibe Jive was designed with comfort in mind, and that, coupled with the rumbly vibrations, makes this toy a must-have if you're into discreet public play.
I do hope We-Vibe manages to fix their app issues soon, though – when they do, their toys will have earned their place at the top of my toy draw!