Lora Dicarlo Ose 2 vibrator is a revolutionary, groundbreaking dual stimulator sex toy. It's truly unique, but is it good? Let's find out in this Ose 2 review!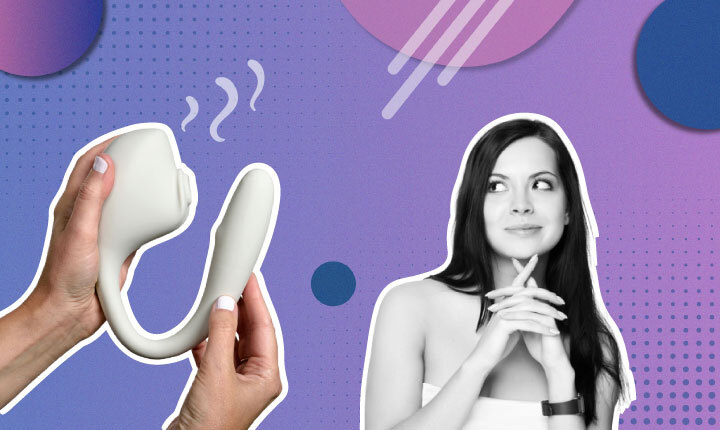 Welcome to our in-depth review of the OSE 2, a groundbreaking vibrator from Lora DiCarlo. Unfortunately, we must start with some disheartening news for pleasure-seekers and loyal fans of Lora DiCarlo's products. The Lora DiCarlo company has reportedly shut down, leading to the discontinuation of the OSE 2 vibrator.
But that's not all—we understand that the world of adult toys extends beyond a single device. In our quest to enhance your pleasure journey, we've also curated articles featuring the best clit suckers, g-spot vibrators, and vibrators for women. Our goal is to provide you with a comprehensive guide to the most exceptional products available, ensuring you find the perfect match for your desires and preferences.
Whether you're a seasoned pleasure enthusiast or a curious newcomer, join us as we navigate the realm of sensational adult toys, uncovering hidden delights and pushing the boundaries of pleasure. Let's dive into the captivating world of OSE 2 and discover what possibilities could've been that await you.
---
But First! Check Out These Awesome Ose 2 Alternatives!
---
Osé 2 vs. Lovehoney Indulge
The Lovehoney Indulge G-Spot and Clitoral Suction Stimulator is a versatile and innovative sex toy designed for maximum pleasure.
This powerful vibrator combines clitoral suction and G-spot stimulation to deliver intense sensations. It features a curved shaft for targeted G-spot massage and a suction nozzle that gently engulfs the clitoris for mind-blowing suction pleasure.
With 12 vibration modes and 12 suction patterns, this toy offers a customizable experience, and its waterproof design allows for exciting exploration in the bath or shower.
---
Osé 2 vs. Womanizer Duo 2
While these toys are both dual stimulators featuring clit suckers, the type of internal touch is very different. Instead of the robotic massager, the Duo's shaft features an individually-controllable vibrator. It also has quite a bit of flexibility, making it likely to fit different bodies, though it doesn't target the G-spot specifically.
Many people who have had trouble with the Osé 2 rave about the Womanizer Duo as a flexible-enough alternative.
---
Osé 2 vs. LELO Enigma
With a curved, vibrating shaft, the Lelo Enigma is another dual stimulator that focuses its attention on the G-spot and the clitoris at the same time. It also has a large 'handle' that I really love for more control over the toy's positioning. At almost half the price of the Osé 2, it's an excellent alternative if you still want focused G-spot and clitoral stimulation without the price tag.
For more vibrating content, check out our best vibrators guide.
---
Our Official Ose 2 Review
The flexible neck is super bendable, making it likely to fit more bodies than most dual-stimulation toys. Because of this, it's also possible to use each stimulator separately! The motors are powerful, so it's great if you love intense stimulation.
It's bulky, heavy, and expensive. It requires a lot of setup before you can get to the fun part. The Osé 2 still won't fit everyone, and it's a huge investment for a toy that's not guaranteed to work for you. The loud, robotic sounds can be really distracting and, frankly, offputting.
If you have the cash to splash and want to try something truly innovative with the potential for intense blended orgasms, this is a great investment. It's a high-risk, high-reward type of scenario, though, and some people will really struggle with placement, despite the attempts to make this an individually moldable dual-stimulator.
The Lora DiCarlo Osé 2 is for you if:
You want to try something new and innovative
You want a toy with a powerful motor for intense stimulation
You love focused G-spot and/or clitoral stimulation
You want two toys in one!
You want a truly versatile sex toy
You've tried other dual stimulators and want more flexibility to fit your body
The Lora DiCarlo Osé 2 is not for you if:
You're on a budget
You don't want to risk buying a toy that might not work for you
You find focused G-spot or clitoral stimulation too intense
You're looking for a sex toy that truly mimics human touch (I have bad news for you, that doesn't really exist)
---
My First Impressions of the Osé 2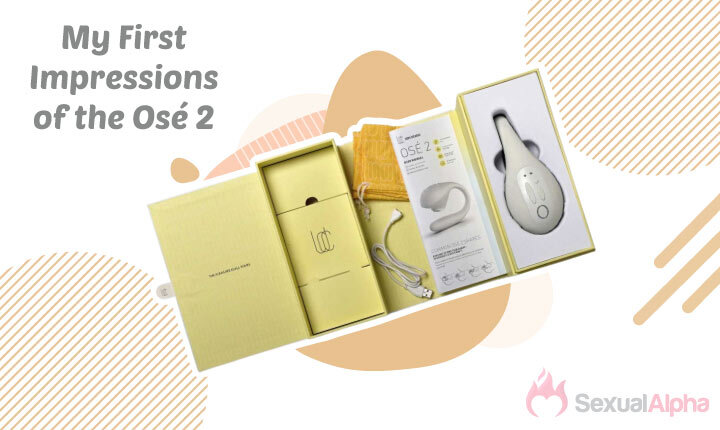 The Osé 2 is a sex toy with a story, so it only makes sense that the packaging is basically a 3D book.
I was so excited to receive this innovative dual-stimulator, and I have to say, Lora DiCarlo's packaging is masterful. The large, heavy box was a sunny yellow, immediately grabbing my attention and making me eagerly smile.
Opening the magnetic lid, I eagerly unfolded the entire thing and was eventually presented with the whole contents of the box in one long, perfectly organized display.
Honestly, 10 points for presentation!
Inside the first compartment, I found the 1-year warranty card, user manual, quick start guide, magnetic USB charging cable, and a lovely yellow travel bag that proudly stated it was made from 100% recycled plastic fished out of the ocean. Extra points for sustainability!
The second compartment was reserved for the Osé 2 itself. Even curled up in its floating display, I could see this thing was MASSIVE. But, always up for a challenge, I couldn't wait to take it for a spin!
---
Osé 2 Tech Specs (What's Changed?)
---
How Does the Osé 2 Look & Feel?
This toy is NOT for the faint of heart, and it has the looks to back it up.
Dual stimulators, by virtue of packing two toys into one, tend to be a little bulky, and the Osé 2 follows the trend.
The first thing I noticed when I picked it up was the weight. It's pretty hefty, at 12.1 oz, which is noticeably heavier than the original version.
It's also significantly longer. To make the insertable shaft more adjustable, Lora DiCarlo has added an extra few inches to the flexible 'neck' of the toy. This makes it a bit intimidating, but what it lacks in looks, it makes up for in versatility.
I did a quick test of how flexible the neck was before really getting down to business, and I was seriously impressed.
It took a lot more elbow grease than I expected, but once I got over my fear of breaking the thing, I realized it really is designed to fit as many bodies as possible. That part came later, though.
As I was playing around with it, I really got the feeling that this was a high-end toy. The high-quality silicone was incredibly luxurious and felt so good against my skin, even in the midst of wrestling with the bendable arm.
At least on the surface, the Osé 2 was a soft touch.
Lastly, the color. I'm all for muted, serious-looking sex toys, but the Osé 2, with its grey-white hue, is just a little bland – sterile even. As an up-market sex toy company, Lora DiCarlo tends to play it pretty safe with their color choices, but the Osé 2 is boring even for them.
That said, I had a feeling that the last thing on my mind while getting down and dirty with this pleasure machine would be its color scheme.
---
Osé 2 Key Functionality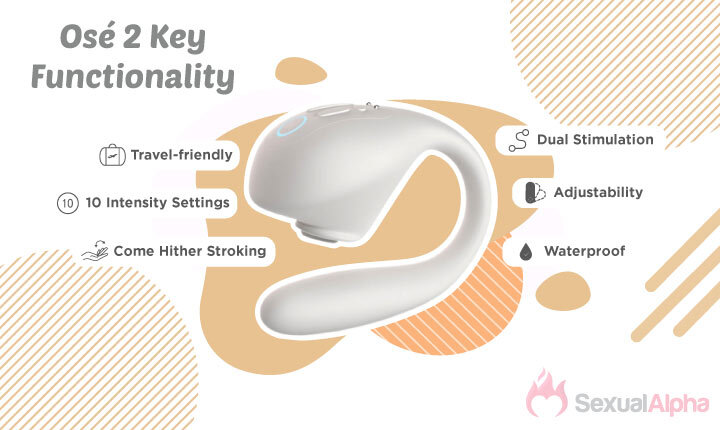 Dual Stimulation
The Osé 2 is marketed as a dual-stimulation sex toy – and it is – but there's more to it than that.
The toy is made up of two distinct but connected parts – the clit sucking head and the insertable shaft. The Osé 2 is different from many other toys in this category, though.
Instead of vibrations, the shaft actually features a robotic G-spot massager with a powerful rolling ball designed to mimic the come-hither motion of a partner's fingers.
I told you, the future is now!
This is where things get really interesting, though. Again, the Osé 2 sets itself apart from so many other dual-stimulation toys by making the 'dual' part optional. Yep, you read that right.
Because of its incredibly flexible design, you can actually use the clit sucker and the G-spot massager EITHER separately or together.
---
Adjustability
This is one of the biggest drawcards for the Osé 2.
With any sex toy, but especially with dual-stimulators like this, one size never fits all. However, Lora DiCarlo has gone above and beyond in designing a toy that can be molded to fit individual anatomy.
The neck of the Osé 2 can be bent and twisted into a seemingly endless amount of configurations – the only thing it requires is patience (and I mean A LOT of patience) to find the right shape.
It still won't fit everyone, but it's a huge step towards making pleasure more accessible.
---
Travel-friendly
The Osé 2 comes with a travel lock, which means taking this baby on a trip is as easy as throwing it in your suitcase and forgetting about it until you arrive at your destination.
You can rest easy knowing you won't be reenacting that awkward scene from Fight Club at baggage claim.

To turn on the travel lock, just press and hold the power button and the G-spot stroke length button simultaneously. The battery light will flicker to tell you it's locked.
The toy's controls will be unresponsive until you unlock it again. To do that, use the same buttons.
---
Waterproof
Like all Lora DiCarlo toys, the Osé 2 is waterproof.
With an IPX7 rating, this toy is not just splashproof but submersible up to 3 feet, so if you're really adventurous, you can bring the Osé 2 into the bath with you for some extra-special me-time.
Just be ready to clean up spilled bath water after!
---
Osé vs. Osé 2: What Changed?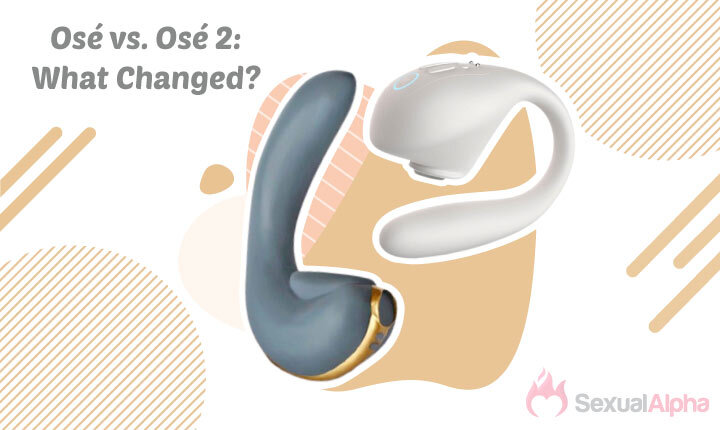 The original Osé put Lora DiCarlo on the sex toy map (does anyone have such a map? Please get in touch) when it won the Robotics Innovation Award at the 2019 Consumer Electronics Show.
Without getting into all the controversial details, the award was rescinded, Lora DiCarlo was banned from showing at the CES, outrage was sparked, and eventually, the award was sheepishly reinstated.
This whole fiasco gave the Osé a lot of free air time and made it a hot commodity. Everyone wanted a piece of the banned/award-winning sex toy.
Despite the reinstated award, the future-tech sex toy received a lot of feedback from users who just couldn't get with the design. So Lora DiCarlo did what any good sex toy manufacturer should do: THEY LISTENED.
Enter the Osé 2.
This version has a much longer arm than the original, making it significantly more flexible and versatile. The original Osé suffered from many users struggling to get the right fit, and some feedback even described the experience as painful.
The longer arm (once you break it in a bit) goes a very long way in making the Osé 2 more adjustable and, therefore, more likely to fit a wide variety of different bodies.
Another change was the width of the insertable shaft. Again, Lora DiCarlo took user feedback and made the G-spot massager slimmer and more comfortable than the previous model.
They also changed the texture of the G-spot massager in favor of a smoother surface. This also made the massager softer, with more of a buffer over the rolling ball, and that's definitely a good thing.
---
How to Use Osé 2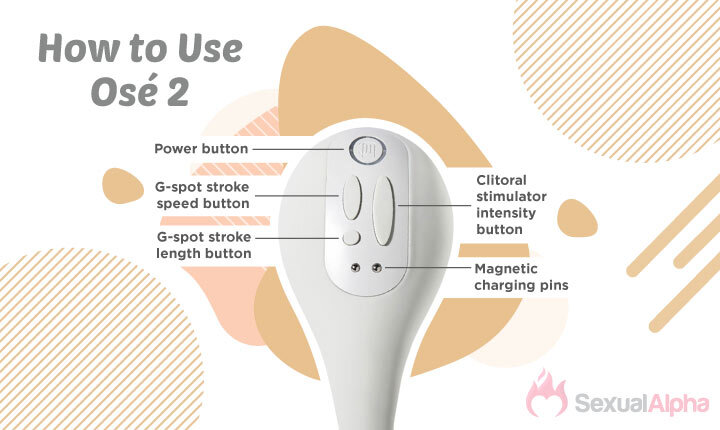 I recommend taking your time to first explore the separate parts of the Osé 2 before diving into dual-stimulation. Playing with the toys separately first will help a lot in knowing exactly the positioning you need when using them together.
To use the clit sucker on its own, bend the insertable arm way back, away from the suction head.
I found that bending it back around on itself (so the end of the shaft is close to the back of the clit sucker) was the best configuration to keep the shaft out of the way.
Use some water-based lube and place the suction head over your clitoris. Use the large button with the Lora DiCarlo logo to turn on the toy. You can then move through different intensity settings with the larger of the two sets of '+' and '-' buttons.
To try out the G-spot massager on its own, get the insertable arm nice and lubed up, and then very slowly try to place the head on your G-spot. Finding your G-spot with your fingers first can help a lot with getting the positioning right.
The second set of '+' and '-' buttons (the small ones) on the clit sucker head will control the rolling ball speed. Another small button just above the speed settings can be used to control the stroke length. You can cycle through four different settings – full length, first third, middle third, and end third.
To use both toys at once, really take your time finding the right fit.
This will take A LOT of fine-tuning to line up the two ends of the toy to where you want them. Straight out of the box, the arm is incredibly rigid, so I found it was easier to 'break it in' by bending the arm back and forth repeatedly until it had more give in it.
The process of finding the right setup can be long and not very sexy. For this reason, I recommend having plenty of lube on hand to help make the process smoother.
Once you've found the right fit, you can enjoy yourself exploring a huge array of different combinations. Have fun!
---
Charging and Battery Life
Because of its powerful dual motors, the Osé 2 sucks up energy like nobody's business. For a two-hour charge, you'll get one hour of playtime. Luckily, though, it also has a battery level warning, so you won't be caught off guard.
The power button is surrounded by a circle of light, broken up into four quarters. When all four are lit up, the toy is fully charged. One quarter will turn off every time you lose 25% of the battery power. At 5% power, the light circle will begin to flicker, telling you to recharge.
Like any good sex toy these days, the Lora DiCarlo Osé 2 has a magnetic charger, and the USB cable will fit any USB wall adapter or computer.
---
My Experience With Osé 2
One thing I realized early on with this toy was that expectation management was going to be key. I've reviewed enough sex toys to know that the marketing almost never equals the end experience, and this seemed especially true with the Osé 2.
The landing page made bold promises, including that the toy is 'guaranteed to deliver blended orgasms,' 'mimics the feel of a human mouth and tongue,' and touts 'realistic, human touches.'
I'm here to proclaim that NO sex toy will mimic real human touch, and if it does, we've ventured into a weird dystopian future that I don't want to think too much about. I'm also immediately wary of anything that 'guarantees' an orgasm. Bodies are just too diverse for that.
I found it was best to leave any expectations at the (bedroom) door and simply focus on my lived experience.
So with that in mind, I got to work. And I do mean work. It took a good long time (literally hours) to find the right fit for the Osé 2, and I have to admit, I almost gave up a couple of times out of frustration.
Thankfully, Lora DiCarlo has accounted for that, and they have a lot of information and support available. That includes a one-on-one video coaching session with one of their experts, which truly is above and beyond (though for a sex toy this expensive, you'd better hope their customer service is good).
In the end, I managed on my own. I broke up the grunting and shouting of trying to bend the arm into place with a different kind of grunting and shouting as I tried out each of the separate ends of this dual sex toy.
The clit sucker was a little bulkier and flatter than other similar toys I've tried, so it took a bit of getting used to. After a while, though, I really liked that the flat face of the toy offered wider-spread sensations and the air pressure somehow felt like it penetrated deeper because of that.
You know how I said before the Osé 2 is a soft touch? Well, that really only goes skin deep. The motors on this thing are powerful. Possibly too powerful for some.
It also means it's loud, especially the G-spot massager. The Osé 2 is supposed to be quieter than the Osé, but it's still irritatingly noisy, with a mechanical tone that's hard to ignore.
Beyond the noise complaint, the rolling G-spot stimulator was a bit tricky to get in place, even on its own. I had to go very slowly and use plenty of water-based lube to find the right spot. It ended up being shallower than I first thought, so make sure you experiment.
Once I found my place, it was intense. The rigidity of the shaft and rolling balls packed a punch. It certainly didn't mimic the feeling of fingers, but it was, nevertheless, wonderful.
Pro Tip
Never, and I mean never, remove the toy without first turning it off. Not only will your clitoris get the surprise of its life, but the rolling ball will likely catch on your pubic bone very painfully, and that is not something you ever want to experience. I promise.
When it came time to try them together, I took my time lining everything up carefully. This is really not the kind of toy you can just thoughtlessly fool around with. It requires presence and care, but the pay-off was well worth it.
To be honest, I didn't really start to enjoy myself until the fourth or fifth session with the Osé 2, so it's an investment in more ways than one. There was a very significant setup, more than any other sex toy I've used, and there's still no guarantee it will work for you.
I got lucky, though. All that squeezing and bending paid off, and I was elated when I got my perfect fit. The dual stimulation was spectacular – deep, all-encompassing waves of almost unbearably intense pleasure.
It made the frustration of my previous failed attempts melt away.
---
How to Clean It
Because it's waterproof and submersible, the Osé 2 is incredibly easy to clean. Just get the whole thing lathered up with warm, soapy water (make sure you use a mild soap to care for your sex toys).
Then you can submerse the Osé and let the clit sucker run for a minute or two.
That will help clean all the hard-to-reach areas inside the toy's mouth. Afterwards, give it a good rinse and let it dry fully before packing it away again.
---
Osé 2 Price, Where To Buy
The Osé 2 is a top-of-the-line luxury self-pleasure toy with built-in cutting-edge robotics technology. So as you can guess, it doesn't come cheap.
The best price I've found anywhere is at PeepShowToys – for $290.00, you're effectively getting three toys in one – the clit sucker, the G-spot massager, and the possibility of using both for dual-stimulation.
---
What Do Other People Think About It?
Honestly, it was amazing. I was climaxing and had to turn it off because I felt like it was getting too strong to handle.
The two stimulators are bulky and rigid, respectively; and overall awkward to position to the point of feeling slightly painful for me.
Each section of this toy is impressive in its own right and, once I found my perfect fit, it was an exceptional and incredibly powerful experience. The first time I nailed the position, the toy had me in rolling multiple orgasms, sweat dripping, waterproof blanket soaked… I was truly a mess.
---
Final Thoughts
The mad geniuses at Lora DiCarlo have certainly upped the game with the Osé 2 – an incredibly versatile and powerful toy. It really can offer intense blended orgasms to those who love G-spot and clitoral stimulation at the same time.
The Osé 2 has made huge strides in making dual stimulators moldable to individual bodies. However, despite the marketing hype, a sex toy like this can never be guaranteed to fit everyone.
It's also a huge time and money investment, but if it works for you, it really works.