In this Magic wand plus review, I'll talk about its key features, how it compares to its predecessors, and overall performance to help you decide if it's worth the upgrade or not. Read on!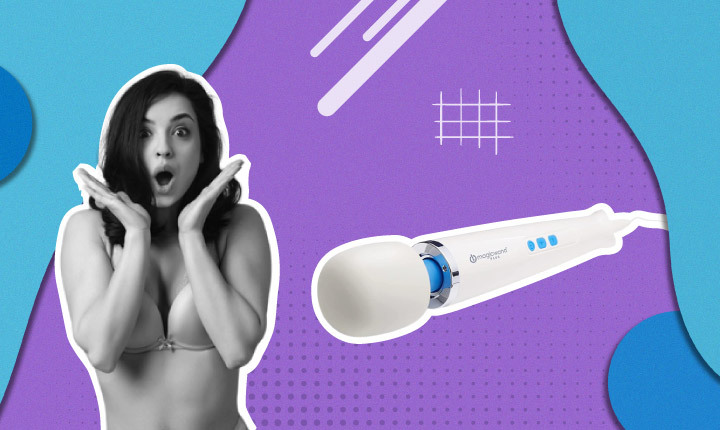 I have always been a fan of the good old Magic Wand Original (formerly Hitachi Magic Wand). Well, who wouldn't like it? It is an affordable, simple, and easy-to-use external massager that delivers power sensations right where I want them to.
That's why when I heard of its newer version, the Magic Wand Plus, I was excited to see what new improvements were added to it. And as it turned out, some new features are indeed added to the Plus.
In this review, we'll talk about this wand's design, features, how it compares to its predecessors, and overall performance to help you determine if it's the right fit for you or not.
The Magic Wand Plus is among the most affordable massagers that you can get your hands on. Its vibrating motor delivers intense vibrations, while its silicone head provides broad stimulation. Last but not least, it's compatible with attachments if you want to turn it into a penetrable toy.
Like its OG predecessor, the Magic Wand Plus is not rechargeable, and you'll have to plug it in to use it. It has four built-in vibration speeds with no built-in patterns. Moreover, this massager isn't waterproof, and its vibration motor produces a loud buzzing sound that can be distracting.
I highly recommend it to anyone looking for an affordable massager that emits deep rumbly vibrations. However, you'll have to look elsewhere if you want a waterproof, portable, cordless massager.
Magic Wand Plus is for you if:
You enjoy strong vibrations.
You're looking for an affordable massager.
You prefer broad external stimulation.
You like to try different attachments with your massager.
Magic Wand Plus is not for you if:
You prefer a cordless, compact toy.
You want to experiment with different vibration patterns.
You want a waterproof massager.
---
Unboxing the Vibratex Magic Wand Plus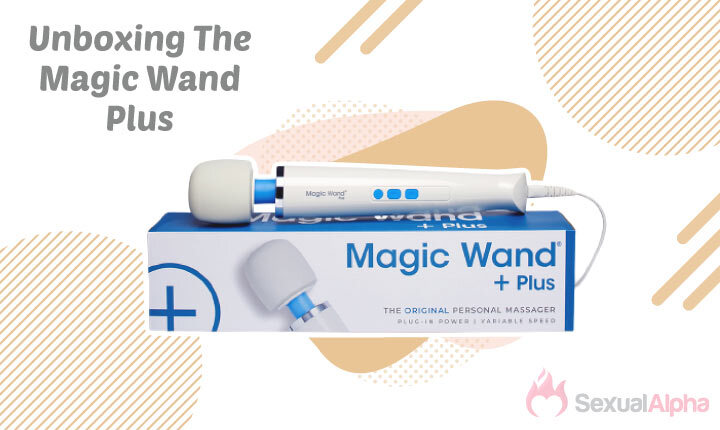 The packaging of the Vibratex Magic Wand Plus is very simple with a glossy texture and a white and blue color pattern background featuring a picture of the wand massager in front. All the essential information about the toy's features and parts is on the back of the box.
Opening the box, you will first find an instruction manual with step-by-step instructions and illustrations on how to use the wand massager. The next thing you'll find is a small white box containing the toy's detachable power cable. The last thing you'll unveil is the Magic Wand Plus itself. It's covered with a transparent plastic bag to keep it clean and protected.
Something to note
The wand doesn't come with any attachments, but you can purchase them separately if you want to enhance your experience.
---
Magic Wand Plus' Tech Specs
---
Magic Wand Plus Design: How It Looks and Feels
The Magic Wand Plus has a thick cylindrical plastic body that gets slimmer toward the base, making it easy to grasp at the end. The surface has a white glossy finish with the toy's name printed on the upper portion of the handle.
You'll find three buttons on the handle that you can use to power the wand massager on and off and switch through the four speed settings. Below these, you'll see four small blue LED lights that indicate the current speed of its vibrating motor.
Pro Tip
Avoid gripping the middle portion of the toy because you may accidentally adjust the vibration speed.
The toy's head is made from body-safe soft silicone, which feels smooth and soft to the touch. It has a diameter of 2.4 inches and is wide enough to stimulate most parts of the vulva.
The toy is not designed for penetration, but it's still possible to use it vaginally with the proper attachment (much more on that later).
Its neck is quite flexible, allowing it to bend in a way that lets the user easily aim the massager. It's safer than the Magic Wand Original's rubber head and feels smoother and more comfortable to use.
The tip of the head is rounded and wide, allowing it to deliver broad and intense vibrations to your clit and vulva. Its head is a little firm and is not as squishy as that of other wand massagers like the We-Vibe Wand.
The toy is also heavier (590 grams) than the original (544 grams), but not much. The Magic Wand Plus comes with a 6 feet-long detachable power cable that plugs into the bottom of the massager. After use, you can detach it from the toy and store it for safekeeping.
---
Key Functionalities of Magic Wand Plus
Vibration Power
Magic Wand Plus is equipped with a strong and durable brushless motor with a vibration frequency of 2,700 RPM at the lowest setting and 6,300 RPM at the highest. This means that the vibrations are not only incredibly intense and deep but adjustable as well.
Even at the lowest setting, its vibrations are powerful enough to cause a noticeable tingle throughout the entire area of your vulva. At the highest levels, this can be numbing, especially if you're not used to it.
Pro Tip
You can place a cloth over your vulva or around the head to decrease the intensity of the vibrations.
---
Intensity Levels
The Magic Wand Plus comes with four built-in vibration speed levels to experiment with:
Level 1 = 2,700 RPM (gives you just the right amount of pleasurable sensation)
Level 2 = 3,800 RPM (stimulates you to orgasm without being too intense)
Level 3 = 5,400 RPM (makes you feel tingles in a matter of minutes)
Level 4 = 6,300 RPM (provides extreme stimulation that can make you feel ecstatic)
Like its predecessors, it does NOT have any built-in patterns and programs that you can use to customize vibration intensities. This makes it less versatile than app-compatible massagers produced by other manufacturers like Lovense, LELO, and We-Vibe.
But if you're not after all those fancy bells and whistles, then these intensity levels are more than enough.
---
Third-Party Accessories Compatibility
Magic Wand Plus is compatible with ALL the third-party accessories available for the OG Magic Wand. I currently own eight of them, which I've tested out and have found to be very useful in the bedroom.
My personal favorites are Vixen silicone attachments that can be used to transform the massager into an internal vibrator. These include the Gee Whiz Marble Attachment and Gee Whizzard Attachment which are designed to target not only my clitoris and G-spot but also my partner's anal cavity and prostate gland.
---
Noise Level
The powerful vibrations emitted by Magic Wand Plus also translate to increased noise levels. Like its predecessor, the Magic Wand emits high-pitched, buzzing sounds you can hear at a short distance.
When switched on, it produces moderate buzzing sounds (the noise level differs based on the speed level) and even louder sounds when the wand is rotating at higher speeds. I measured the noise levels of the massager at the lowest speed setting at 43 decibels and the highest at 63 decibels.
If you're sensitive to noise, use it on the lowest speed setting until you get used to the noise. After that, you can gradually increase the speed levels and work your way up to the highest speed.
---
Plug and Play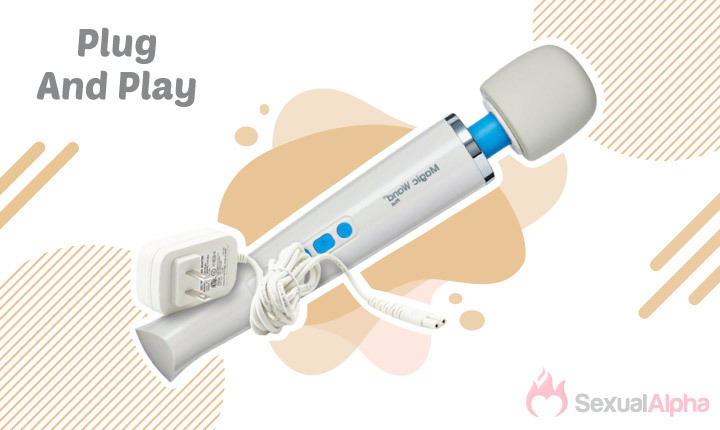 The Magic Wand Plus has a 6-foot detachable power cord that you can plug into a wall outlet. This feature lets you play and enjoy the wand massager's vibrations NO MATTER HOW LONG YOU WANT, without worrying about running out of battery life.
The length of the cord isn't that long but is just enough to reach your pleasure spots easily.
Something to note
Keep in mind that its vibration motor shuts off automatically after 20 minutes of continuous use.
This is to prevent the device from overheating, which can damage your device. However, I find this feature a tad bit annoying, especially if I want to take my time and my magic wand shuts off when I'm about to climax.
---
Magic Wand Original vs. Magic Wand Plus: What Changed?
The Magic Wand Plus is a superior version of the original in many aspects, from its head to its power cable.
Magic Wand Plus has a more powerful motor that can produce a vibration frequency of up to 6,300 RPM, while the original can only produce up to 6,000 RPM. Its vibrations are MORE INTENSE than those of the Magic Wand Original because it has two extra vibration speeds, giving you four levels to experiment with.
The most noticeable change between the two is in the head.
The Magic Wand Plus comes with a new design that looks similar to the OG Magic Wand, but the head of the massager is now made from body-safe silicone instead of PVC. Unlike the original, the Magic Wand Plus' head has no other details. Just a smooth surface lets the user concentrate on the sensations created by the massager.
The power cord of the Magic Wand Plus is detachable. That means you can easily detach and store it separately.
---
How to Use Magic Wand Plus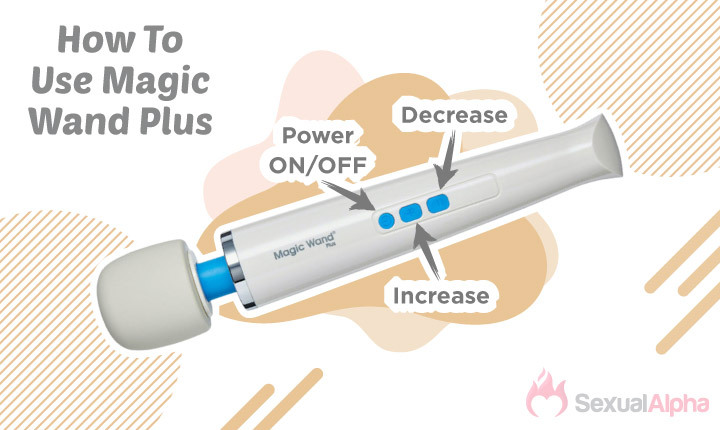 To use the Magic Wand Plus, first plug it into a wall outlet and press the power button on the handle. The massager will turn on, and a blue LED light will appear to indicate that the current vibration speed is low.
Once the vibration speed is set, the massager will stay at the same setting unless you change it manually. If you want to change the vibration speed, press the ▲▼ buttons on the handle, and it will be adjusted accordingly.
Pro Tip
Alternate between areas and DO NOT massage one area for more than 3 minutes as the powerful vibrations might cause numbness due to overstimulation.
---
My Experience with the Magic Wand Plus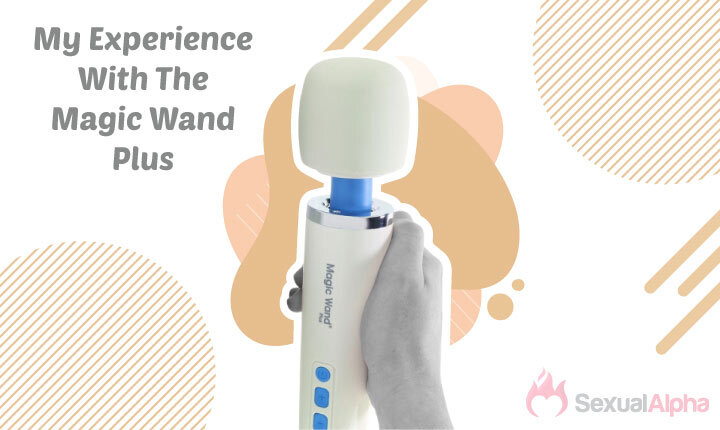 I bought my Magic Wand Plus almost three years ago, and I have been using it regularly ever since. During that time, I've tried every possible position and angle with it to see how the vibrations affect me.
Like most people who love the Magic Wand Original, I was initially skeptical about the Magic Wand Plus because it didn't come with any special visible features. But after trying it, I realized that what it lacked in versatility and design, it made up for in power.
When you turn it on, the vibrations are strong enough to startle you if you're new to powerful wands. They can stimulate your most sensitive parts and reach deep inside you.
Although its vibrations are strong, there is no room for customization. This is because the Magic Wand Plus is not programmable, unlike my other toys. BUT unlike the Original Magic Wand, adding 2 intensity levels means you can work your way to the top.
Overall, I have had a great experience with the Magic Wand Plus. It has never broken down on me, and the vibrations last long enough to satisfy.
However, the Magic Wand Plus is not for everyone. It does take a bit of getting used to, and some people may find it too powerful for their taste. If you're uncomfortable with intense vibrations, this might not be the best product for you.
---
How to Clean Magic Wand Plus
First of all, you must ensure that your Magic Wand Plus isn't plugged in when you're cleaning it. This is important as you don't want to electrocute yourself accidentally.
The Magic Wand Plus IS NOT WATERPROOF, so never submerge it in water.
To keep it clean and dust free, you'll need to wipe it down with a damp cloth after each use, except for the charging plug, which you need to clean with a dry cloth.
---
Magic Wand Plus Price, Where To Buy
If you want to get your hands on the Magic Wand Plus, I recommend buying it from SheVibe for only $79.95. This online retailer offers free shipping for customers in the US with orders above $68. The massager comes with a one-year warranty.
WARNING: Beware of knockoff products often sold online for much less. Be sure to read reviews before buying from any seller.
---
What Do Other People Think About Magic Wand Plus?
The Plus is, in my opinion, the best value in vibrators. If you can deal with the cord, it's very strong, rumbly, easy to clean, easy to use, and very durable.
If you do want a Magic Wand in particular, I'd recommend paying $80 for the Plus over $60 for the Original because the Plus' silicone head is non-porous, so it's more hygienic with long-term use, and you won't stain it (like with period blood).
---
Magic Wand Plus Alternatives
Magic Wand Plus vs. Magic Wand Rechargeable
The Magic Wand Plus looks exactly like the Magic Wand Rechargeable. But if you want a Magic Wand that doesn't require a cord and outlet, then the Magic Wand Rechargeable is the way to go.
It has a built-in rechargeable battery that can run for up to 180 minutes, which is quite fascinating given its powerful vibrations. On top of this, this massager has built-in vibration patterns, unlike the Magic Wand Plus, which only has adjustable vibration speed levels.
However, the Magic Wand Rechargeable does come at a higher price tag, approximately $50 more expensive than the Magic Wand Plus. So that's something to keep in mind.
---
Magic Wand Plus vs. LELO Smart Wand 2
Another alternative to the Magic Wand Plus would be the Lelo Smart Wand 2, which is also a powerful massager. This toy is waterproof, so you can enjoy it in the bath or shower. This feature also makes the toy easier to maintain and clean.
It is lighter and shorter, weighing only 383 grams and measuring 11 inches, making it easier to carry around than the Magic Wand Plus.
Personally, I think that it looks more attractive because it has a sleek and modern design, while the Magic Wand Plus is more like the good old Magic Wand Original, albeit with an improved head. In addition, it has ten different vibration patterns, while the Magic Wand Plus doesn't have any.
If you enjoy experimenting with varying vibration patterns, then the LELO Smart Wand 2 is a great option.
---
Magic Wand Plus vs. Doxy Die Cast
Lastly, I want to talk about the Doxy Die Cast. Like the Magic Wand Plus, it's another heavyweight in terms of vibrations. It is a massager with a big, round head and a powerful motor, but with way stronger vibrations (up to 9,000 RPM) than the Magic Wand Plus.
I found its vibrations more refined and penetrate deeper through the skin. It also has six built-in steady vibration speed levels and a bonus vibration pattern, while Magic Wand Plus only has four speed settings.
However, it's less portable than the Magic Wand Plus because its cord is very long (20 feet) and isn't detachable.
You can check out our compilation of the best vibrators if you're interested in other options.
---
Final Thoughts
The Magic Wand Plus is a good option if you want a wand massager that gets the job done without having to spend a lot of money. Overall, I think that this version has better features, such as more vibration speeds and a smoother and softer silicone head.