In this Lovense Nora review, I'll share all of my experiences with this rabbit vibrator after over a year of using it solo, long-distance, and with a partner.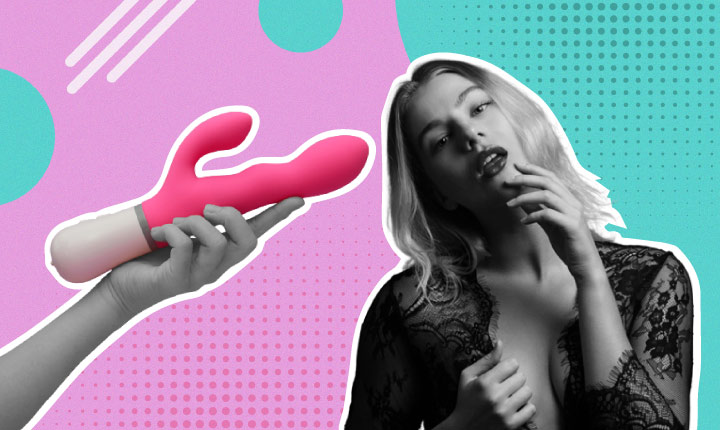 Are you looking for your next buzzy BFF?
Let me introduce: Lovense Nora.
She LIGHTS up any room she enters. She can bring a smile to your face. She performs really well in many aspects and multitasks in stimulating two things (err, body parts) at once. And she can make you orgasm in waves and waves of pleasure.
Nora is the perfect partner-in-crime when you're riding solo AND when you're having some long-distance kinky fun with your boo.
There's so much she can do, to be honest. So let's break down her features and functions in this review to determine if she aces the test to be your next vibrating ride-or-die.
Lovense Nora is a rabbit vibrator = dual stimulation. It's a great toy for women who have a hard time having an orgasm from only the G-spot or clitoris—it stimulates both simultaneously.
Best part? You can use it solo AND with your partner—wherever they are in the world, whether that's right across from you or on the other side of the world.
Lovense Nora could be a little noisy, especially on its higher settings. Some might also find its shaft's head quite girthy to insert. Plus, its internal shaft is quite straight compared to others, so it might be more difficult to align to the G-spot.
Nora by Lovense is a premium vibrating toy that comes with a bit of a premium price tag. But its features offset its price as it's brimming with functionalities, making it SUPER worth it for the right user.
Lovense Nora is for you if:
You want dual stimulation with your vibrator—G-spot and clitoris.
You are looking for a toy for long-distance virtual sex.
You want a toy you can pair with a male sex toy.
You're looking for a toy with great app connectivity.
Lovense Nora is not for you if:
You don't want a toy that gets a bit noisy.
You want a more curved internal shaft to hit the G-spot.
You don't want a vibrator with a girthy head.
---
Unpacking Lovense Nora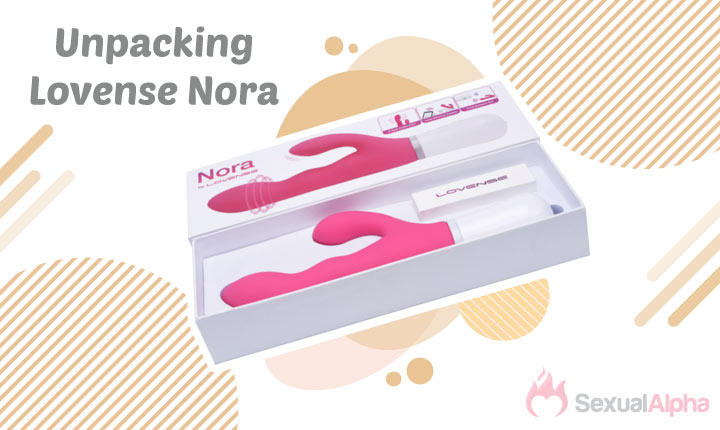 Let's start with first impressions—the packaging.
The box of the package was discreet. But the product's OWN box, not so much.
Well, it doesn't scream VIBRATOR in all caps. However, it does SHOW the entire photo of the vibe right on the box.
Better unwrap that package while you're alone and in the comforts of your home.
The packaging is simple and straightforward. You'll see the signature branding colors of Lovense: white and pink.
These are the contents you'll get (ta-da!):
Nora vibrator
USB charging cable
User manual (also available on the Lovense website, if you ever lose it)
It's quite a bummer that it doesn't come with a storage pouch. A hot pink vibrator isn't the most conspicuous.
But I'm a Girl Scout, and I'm always ready to store my sex toys purchases, so no biggie.
---
Lovense Nora's Tech Specs
---
Lovense Nora Design: How It Looks and Feels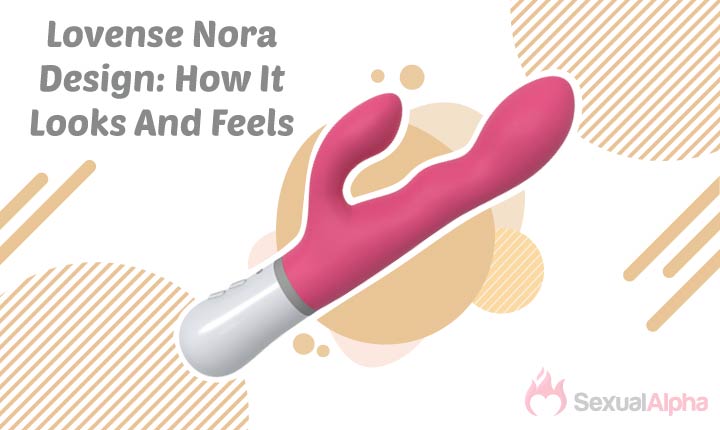 Nora is a rabbit-style vibrator.
It has two "arms" for dual stimulation. The longer shaft is for the G-spot, while the shorter arm (usually shaped like rabbit ears, hence the name) is for the clitoris.
Nora is pretty petite (it's no longer than 8 inches), so I can recommend it to beginners. You won't be intimidated by its size and design.
The pink shaft is quite eye-catching, cute, and girly.
The part of the toy that gets in contact with your lady bits is made of silicone. And you'd want that because it's the safest sex toy material.
Silicone is nonporous (doesn't grow bacteria) and hypoallergenic (good for people with sensitive skin).
Meanwhile, the handle is made of ABS plastic. It's sleek, easy to grip, and doesn't collect dust and lint. Nice!
---
Key Functionality of Lovense Nora
Multiple Vibration and Rotation Options
You have so much control on being stimulated with the vibration and speed that feels good to you. In fact, you can customize 35 combinations with Nora's vibration settings and rotation speed.
7 Vibration Settings
Low
Medium
High
Pulse
Wave
Fireworks
Earthquake
3 Rotation Speeds
---
USB Rechargeable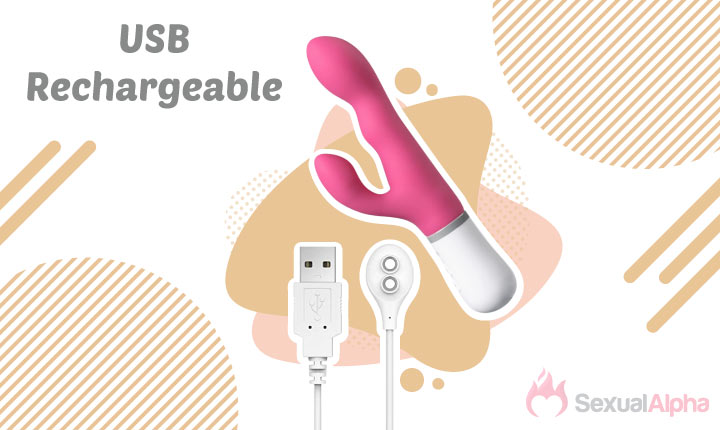 Have you ever been in a situation where you're on the brink of orgasm, then your toy dies out on you, and you don't have any spare AA batteries in hand? Well, that's not going to happen with Nora.
This vibrator features magnetic charging via USB. Just plug it in, and it'll be juiced up.
It lasts long too!
A single charge lets you use Nora for 4 to 5 hours continuously. I think your sesh won't last THAT long anyway.
On standby, it lasts up to 5 days.
---
Teledildonic Technology
Ok, what's teledildonic technology?
To keep it simple, it's the gift of long-distance sex.
Its Bluetooth and Internet connectivity allows another person to control the device from their phone. You stay CONNECTED during discreet public play or in different rooms.
And that's not just for your partner who's right across from you. He could be in Italy while you're in New York and still control your Nora device through an Internet connection.
Nora also features real-time physical responsiveness. That means one device influences the sensations in the user on the other end of the connection. It's the closest thing to virtual, interactive sex.
---
100% Waterproof
Lovense Nora is water-resistant with an IP rating of IPX6. That means it can resist high-pressure and heavy sprays of water.
You won't have to worry about using it anywhere near water. You can use it in the shower. Plus, cleaning is very easy.
Still, I wouldn't recommend it for submerging when you're in the bathtub (or pool, you kinky you) for long periods of time. For one, the Bluetooth connection could be unstable when it's underwater.
---
How to Use Lovense Nora
Using Nora with the Button Controls
Lovense Nora has two buttons situated on the handle. Let's refer to them as Button 1 (top, below the indicator light) and Button 2 (lower button).
Using Nora manually is pretty straightforward:
Press and hold Button 1 for 3 seconds to turn it on or off.
Press Button 1 to switch between vibration settings for the external clitoral arm.
Press Button 2 to control the rotating head.
Hold Button 2 to reverse the rotation of the head.
---
Using Nora With The Lovense App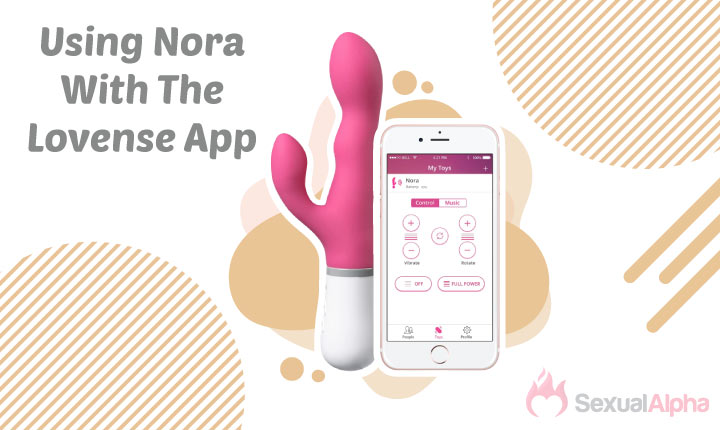 Nora's Lovense App unlocks a lot of controls!
Bluetooth Connectivity
Connecting Nora to the app is super simple. It's just like pairing your Bluetooth earphones to your phone. From here, you can opt between a slider panel or tap-and-slide control board for remote controls.
Long-Distance Control
Essentially, this is a feature you can maximize when your partner is on the other side of the world (or next door, for that matter).
Music Sync
Want to jive to your own music? You can sync Nora to the music on your phone and have it sync its movements and vibrations to the beat.
Sound-Activated Vibrations
Nora is a smart sex toy that can respond to ambient noise wherever you are.
---
Compatibility
Lovense Nora is compatible with many devices, which is a lifesaver. You wouldn't want a teledildonics device with limited compatibility… because what's the use?
You can run and connect Nora on:
Apple
Android
Mac
Windows PC
---
Lovense Nora Paired With Max 2
The GREAT thing about Lovense Nora is it's truly for long-distance.
Not only can your LDR lover join in your sexy time, but they can also PARTICIPATE in an interactive LDR sexperience!
A product by Lovense that your boyfriend can use is the Max 2.
Lovense Max 2 is a male masturbator that vibrates to stimulate his peen. Pairing the toys synchronizes and replicates the vibrations of Nora to Max 2. You and your boo essentially feel similar stimulations!
Plus, you can control HIS device, and he can control YOUR device.
---
My Experience With Lovense Nora
F-U-N.
And loads of Big Os.
Usually, rabbit-style vibrators have weak clit stimulation. But Nora's strong motors gave my clitoris all the vibrating attention it needed.
The spinning head massages my G-spot right on the spot. There is no vibration internally, though. The head just rotates in a circle, which might be underwhelming for others. The powerful clit stimulation felt really good combined with the G-spot play, though.
While its insertable length (4.72") is manageable for beginners, the girth of the head might be too bulbous for newbies. Just make sure you're ready and wet—and use your favorite water-based lubricant.
Meanwhile, I think rabbit toys like Nora depend on your personal anatomy. For me, it worked really well.
However, other women might fit well with it. For example, aligning the toy right on their G-spot might make it apply less pressure on the clit because of the fit.
Tip
Insert the toy at a 45-degree angle as its slightly curved shape.
I like the silicone material that's soft to touch. And it's pretty light, so I don't feel tired holding it in place during my plays.
I personally prefer controlling the toy from the app because of the extra customization features. Plus, it's reliable when connecting to the Bluetooth or Internet—LDR plays are no longer frustrating.
---
How To Clean It
Lovense Nora's water resistance makes it so easy to clean. You can do it in three steps:
Clean the toy with warm water and mild soap. You may also use a sex toy cleaner.
Dry thoroughly (air-drying and wiping excess wetness with a gentle cloth) before storing it.
Keep it somewhere not too hot or too cold (and probably away from prying eyes).
Reminder: Always wash your sex toy before and after every use. And on the very first time, you use it.
---
Lovense Nora Price & Where To Buy
As of writing, Lovense Nora costs $99. You can get it directly from the Lovense website, which is the best option I can recommend so you can ensure the product is authentic.
Nora also comes bundled with Max 2 for $190—a great treat for your lover!
---
What Do Other People Think About It?
I love the vibrations from the clit arm. It is really rare that vibrations can do the job on their own, but it has happened before with Nora. I also like the rotating head, though I wish it vibrated as well.
I have the Max 2, and my wife has the Nora. The sync works really well, but it seems to do a lot more for her than it does for me.
---
Alternatives
Lovense Nora vs. Vibease Esthesia
Vibease Esthesia is also a good rabbit vibrator with a curved shape and less noisy vibrations. 
But overall, I find Lovense Nora the winner with its powerful vibrations, fully functional app, and ability to pair with male sex toys.
---
Lovense Nora vs. We-Vibe Nova 2
Oof, the Nora and Nova 2 names can be quite confusing.
Nova 2 is more flexible, so it might fit you better. Go for Nova 2 if you're looking for strong and rumbly internal vibrations.
Meanwhile, Nora is the better choice if you value app connectivity more. It's more reliable than We-Vibe products for app control.
---
Final Thoughts
Throughout the review, I mentioned mostly positive reviews for Lovense Nora.
And that's not being biased. There aren't a lot of flaws to it, TBH.
If I HAVE to nitpick, I think having a storage pouch would be nice.
You might also encounter some connectivity issues here and there. But they're usually from Bluetooth or Internet issues, as far as I can tell, which I can't fault Nora for. Another thing is the finicky charging port, where you'd have to be careful and have the right angle when charging.
Again, these are small things that I could look past.
It's not the cheapest toy, but other similar toys are priced more that do less. So I couldn't really complain.
If you have the budget, are looking for a rabbit vibrator, and have a long-distance partner (or even when you're just masturbating on your own), I can highly suggest getting the Lovense Nora.