In this Lelo Ora 3 review, I'll share my honest thoughts on this oral sex stimulator. Does it work? How to get the most out of it? …And is it worth the price?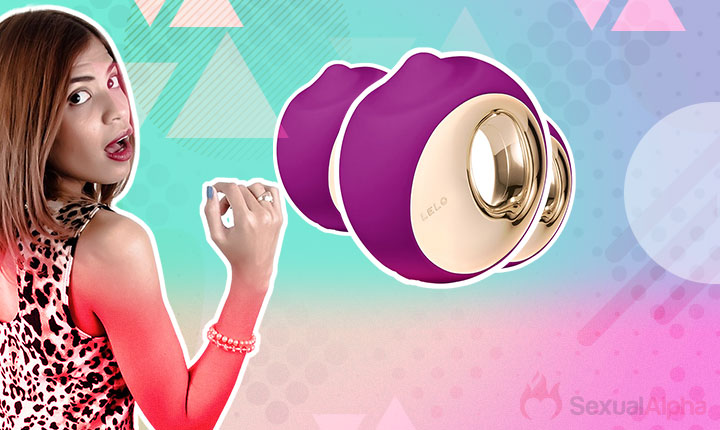 I tend to be skeptical when it comes to toys claiming that they can do better than actual stimulation from a partner.
Why? Because who doesn't like a good skin-to-skin experience?
Over the years, several brands have claimed their products are just as good or not better than oral sex. But based on my experiences, the sensations most vibrators produce on the market are far from real.
Of course, this doesn't mean that they're bad. It's just that the feeling is different.
So when I got the chance to do a review on the latest LELO Ora 3, I jumped on the opportunity to be more open-minded than I was back then. I guess I have a soft spot for unusual-looking designs. But I guess that's part of the appeal.
So is Ora 3 the new innovator for oral pleasure? Or is it all just hearsay? Find out!
The Ora 3 has a unique, waterproof, and compact design that can replicate the pleasure felt in cunnilingus with its vibrating and rotating sensations. It has 12 pre-set rotational patterns and intensities for variety. Plus, it's ergonomically designed, making it comfortable in your hand.
The Ora 3's unique sensations are not for everyone. Most likely, pleasure can only be felt by you or your partner, not both. It is also quite expensive, and charging requires two hours for about one hour of use.
I'd recommend the LELO Ora 3 for those who want a new experience in oral foreplay. Although it is not super powerful in delivering immediate orgasms, it is fantastic for long-term foreplay experiences.
LELO Ora 3 is for you if:
You want an alternative that can recreate oral sex with a partner.
You want a toy that is diverse in giving you different sensations.
You want something compact and easy to clean afterward.
LELO Ora 3 might not be for you if:
You are looking for a toy that can do clitorial stimulation and penetration simultaneously.
You are on a budget.
You want faster orgasms.
---
My First Impressions of the LELO Ora 3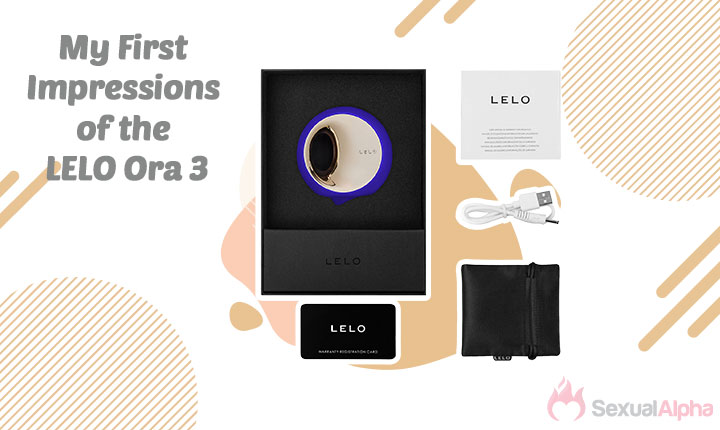 Most of LELO's products always come in some form of elegant packaging. And, of course, the ORA 3 was no exception.
Yes, the outer packaging is still discreet. So you don't have to worry about neighbors catching a glimpse at your sussy-looking deliveries.
As for the product itself, there's a black box embossed in some sort of snakeskin print with all the text written in gold. A window displays the equally luxurious-looking toy, so you know exactly what you're in for once you have it in front of you.
After opening the box, you can find the following:
the ORA 3
a USB charging cord
a satin storage pouch
a warranty registration card
a detailed instruction manual
and a small packet of lube
---
LELO Ora 3 Tech Specs (What's Changed?)
---
How Does the LELO Ora 3 Look & Feel?
As with most of my Lelo toys, the Ora 3 is made of ABS plastic for its gold-colored interior and silicone for the part that gets in contact with your skin. It stays true to Lelo's luxurious look and feels with its matte/glossy finish.
You can choose from three colors: Midnight Blue, Deep Rose, or Aqua. I chose Aqua just because I've been feeling the summer vibes lately.
It's pretty compact in size, making it perfect for sticking in your purse, tote, or wherever you want without drawing too much attention. It comes with a ring-like design so you can keep the toy steady in your hand.
Due to this unusual design as well, people would not even identify it as a sex toy at first glance.
To be honest, it looked like a fancy yo-yo from afar.
On the outer ring is the Ora 3's pleasure nub. Then behind it is the toy's three controls.
Something to note
The – button reduces the vibrations, the () button is responsible for cycling through the pre-set patterns, and the + button is for increasing the vibrations.
It's not that accurate to call the Ora 3 a vibrator since the nub that does the pleasuring doesn't merely lay there and buzz around. Just like the tongue, it can do something more.
The nub can also do circulation motions with speed and direction available for switching around through the toy's middle button.
At the front of the nub and behind the control area are two silicone-covered areas that vibrate to provide a pleasurable, licking-like sensation.
---
Key Functionality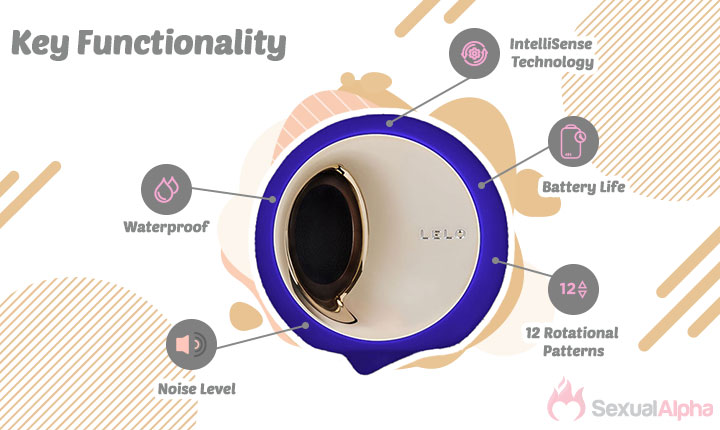 12 Rotational Patterns
You can use LELO Ora 3's three buttons to control its 12 vibration modes and speeds. This gives most users a wide variety of sensations to enjoy, from slow waves to intense pulses.
In use, I can't really tell the difference from one pattern to the next unless I pay attention to the rotation/vibration noise. That's because I often take advantage of the IntelliSense function.
Plus, the Ora also comes with a mild vibration setting if you want to start or keep stimulation slow and steady. Simply hold down the () button for three seconds, and you're set.
---
IntelliSense Technology
This is one of the more innovative features of the LELO Ora 3. If the vibrations are not up to your speed, then the IntelliSense technology is the answer to send you over the edge.
You don't have to work hard to get it. Just push the toy against your clit, and it will get more intense.
It's like a smart built-in feature. It can actually speed up when you need it the most. And it can detect when you need a firmer suction. Smart indeed!
---
Battery Life
The LELO Ora 3 has meh battery life. It uses a 420 mAh Li-ion battery, which takes about 2 hours to charge.
Depending on use, it can last up to an hour on a full charge.
THAT MEANS you cannot use this toy for longer sessions, unfortunately, so it's best to switch things around. The Ora 3 can remain charged for about 90 days if left on standby.
---
Noise Level
LELO says that Ora 3 produces around 50 dB of sound on the highest setting, which is about the same sound produced in a quiet office or light drizzle.
But when I tried it, I found it a little louder than idle office talks. And to an extent, louder than the average vibrators I tried in the past.
I tried placing it alone in a room in the highest setting, and I could hear the buzzing slightly. It's like a consistent hum. I could compare it to a noise that a fridge makes.
Luckily, my partner didn't even know that the sound came from a vibrator. So I could probably use it without him noticing. Maybe.
However, just keep that in mind when you live with roommates or in a house full of other people.
---
Waterproof
A waterproof toy already has plus points in my book. So the Ora 3 has some edge in that department.
You can use this toy in water like the bath, shower, or pool. And as a bonus, the vibrational waves are more intense in water. So, you might just get more intense orgasms out of its use.
---
LELO Ora 2 vs. LELO Ora 3: What Changed?
The Ora 3 gives 12 intensity levels – that's an extra 2 from its predecessor's 10 speeds.
The Ora 3 has massive improvements in its motor and movements, making it more ideal for oral stimulation.
It's a bit heavier than Ora 2, so it feels more luxurious in my hand. The wider and firmer stimulating area also makes the sensations feel more controlled, which I liked.
And to top it off, it offers a new kind of color in its product selection (you get Aqua instead of *yawn* Black *yawn*).
If you ask me, I'd recommend going for the LELO Ora 3 if you have the budget and looking for unique oral-like sensations. However, I'd skip this one if you already have the LELO Ora 2.
---
How to Use LELO Ora 3
Ora 3 is pretty straightforward and easy to navigate between the different speeds and settings.
As I mentioned above, there are only three buttons, making it pretty simple to go through the vibrations and pre-set patterns:
Press the + button to turn the device on and switch the intensity of vibrations.
Press the – button to lower the intensity of the vibrations.
Finally, the () button can change what vibrational modes you are using. You can also turn off the device when held down for three seconds.
---
My Experience With LELO Ora 3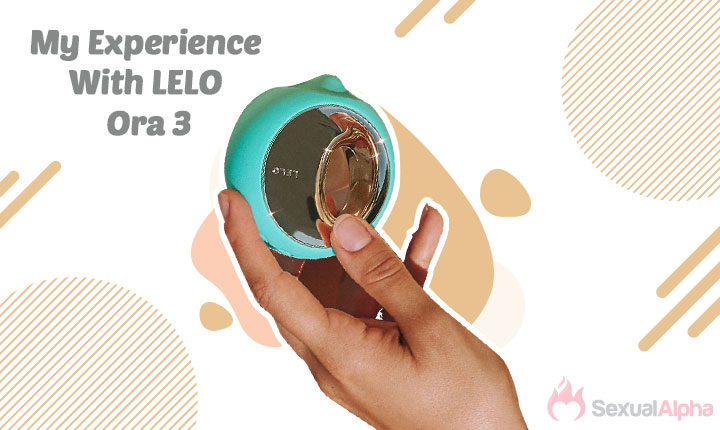 Yes, I already said that I prefer the real thing when it comes to oral sex. But once in a while, a woman can get lonely at home. So, why not go for the options in front of me?
And here we are.
First off, the Ora 3 is just convenient in terms of its size. It's easy to hold, and it fits in my hand. Two fingers are practically enough.
I held it at my bedside, and honestly, it felt more like a toy that children would play with. But IT'S NOT! So, forget I even put that thought in your head.
While in use, I can easily change the available speed and modes. The sensations are gentle but not that powerful. If you have a sensitive clit or want to take your time, this is perfect for you.
What I really like about this toy is that it intensifies if I press it firmer against my clit. So I can just toggle however I feel like it by moving around the bed.
The rotational patterns are not your usual clitoral toy feature. Most clitoral toys merely vibrate. But the Ora 3 offers a variety of unique sensations.
So, does the Ora 3 feel like oral?
While it's marketed as some sort of an oral sex simulator, it still can't beat the real thing. Yes, I can still orgasm after taking my time, but my stance remains.
Oral pleasure is best with a partner!
Of course, this doesn't mean that the Ora 3 is bad. It's just that having someone there with you provides a different kind of experience.
As for the noise, this device could be quieter. It gets pretty loud, especially on the highest setting. It's not enough to be bothersome, but it is noticeable.
---
How to Clean It
Because the Ora 3 is waterproof, cleaning is a breeze. Simply rinse with warm water and soap, and you're practically done.
Dry with a towel, paying particular attention to the charging hole, or leave it on air to dry.
---
Price, Where To Buy
You can get the LELO Ora 3 from their official website for $179.00. I know it's a tad bit pricey, but as of this writing, there's a 20% discount offer which saves you $36 for the purchase.
---
What Do Other People Think About It?
Great design, really well-made. And the video… I know what you mean. No toy will ever be like oral, so it is really a personal experience. Some toys will work better than others. I chose the Sila over the Ora 3 because I like edging. I did try the Ora, and it is good. The ball imitates the tongue rather well. I think it really takes time to find the right combination speed – mode. Oral is complex. I find edging more fun, and the Sila does it for me. Maybe the Ora would work for you. Trial and error. No error in this case, more trial 🙂
I have the Ora 3. Am not a fan myself – I just don't feel a lot from the ball. The vibrations are fine, but since that's all I'm getting from it, there are plenty of better options. Honestly, I think of it as my most expensive mistake of a sex toy. It's just not for me but I recognise that doesn't make it a bad toy. I know people who do like it, so I may just not be sensitive enough.
---
LELO Ora 3 Alternatives
There are two alternatives I could suggest for Ora 3. There's the (1) Pipedream Fantasy For Her, and (2) the CalExotics Red Hot. Here are their comparisons.
LELO Ora 3 vs. Pipedream Fantasy For Her
Both the Ora 3 and Fantasy For Her mimic oral-sex-like sensations with different vibrations speeds and patterns to suit the user's desires.
The Ora 3 offers both vibrational and rotational movements – 12 settings in total, while Fantasy For Her gives mechanical licking, sucking (with detachable suction cups), and vibration sensations in one toy.
You can also use the other side of the toy for internal G-spot vibrations.
So if you want to be more diverse in the sensations you feel, I recommend the latter option. But if you're looking for straightforward oral-like vibration+rotation movements, then the Ora 3 is good enough.
---
LELO Ora 3 vs. CalExotics Red Hot
Yes, the Ora 3 is compact and easy to bring around, but the CalExotics Red Hot is much smaller, cheaper, and much quieter than the Ora 3. So if these factors tick your boxes, then the Red Hot is worth looking into.
In terms of vibrations, the Red Hot Flickering Tongue offers rumbly vibrations similar to the Ora 3. But it gives off more pinpoint stimulation compared to Ora's broad stimulation.
So, if you're a gal who loves direct pinpoint stimulation on your clit, I recommend the Red Hot. But if you're the sensitive type, then the gentle, rumbly vibes from the Ora 3 are what you need.
Also, remember that the Red Hot is not for everyone, as the toy's design can be quite difficult to navigate depending on your anatomy. Meanwhile, the Ora 3 is much more straightforward and much more convenient to use the first time around.
You can check out our compilation of the best vibrators if you're interested in other options.
---
Final Thoughts
All-in-all, the LELO Ora 3 was a surprise to me. And it's a good one with all things considered.
It's not one of those vibrators that can make you orgasm instantly, but the anticipation is sure to deliver an intense and satisfying outcome. It's all about taking it slow with this toy.
I did technically say that nothing beats the human tongue when it comes to oral sex. But the Ora 3 can give you a close enough experience.