Does your rabbit vibe leave you wanting more? In this Lelo Ina Wave 2 review, we dive deep into the features of this G-spot vibe and my experience with it.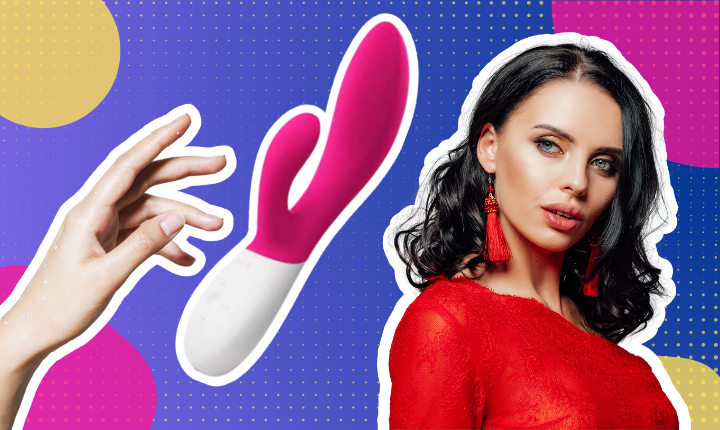 Rabbit vibrators have become quite iconic over the years. It's already at the point where if people ask for a mental image of a sex toy from you, the very first thing that comes up is a picture of a rabbit vibrator.
And you know what, I don't blame them. Pop culture plays a huge role in society's hive mind. So it's not much of a surprise that most people's first exposure to sex toys is that of a bunny-eared dual stimulator.
But, take it from me, rabbit vibrators are not ALL THAT. Yes, they had oversaturated the market at one point. But some people fail to recognize that not all products are beginner friendly.
In fact, rabbit vibrators come in a wide array of designs – some more unusual than others.
But from the pool of rabbits I got my hands on, some did stand out. And that's where we are today. LELO had an update with their Ina Wave model, appropriately named Ina Wave 2.
So I got my review hat on and jumped at the chance to see if this one is a HIT or a MISS.
The Ina Wave 2 stays true to its roots by having a soft, smooth, and waterproof design, so you know it's easy to clean and will last you a long time. It has 12 vibration settings with custom intensities paired with unique WaveMotion technology, so you feel like a finger is stimulating you. It can also do dual stimulation of the vagina and clitoris with moderate to strong vibrations.
The Ina Wave 2 can be noisy. Also, the shape and come-hither motion may not be suitable for all bodies. The clitorial arm is not as flexible, and the waving motion slows down when other toy functions are in use.
If you want something with power and gusto for your pleasuring needs, then the Ina Wave 2 can give you just that. Yes, your body may take some time to get used to it, but it'll turn out easy once you get things going.
LELO Ina Wave 2 is for you if:
You want a toy with plenty of customizable vibration settings.
You want a toy that can stimulate your vagina and clitoris with different sensations.
You want a toy with good battery life.
You are looking for something low maintenance.
LELO Ina Wave 2 might not be for you if:
The shape of the toy is not compatible with your body structure.
You prefer quiet toys.
You are tight on budget.
---
My First Impressions of LELO Ina Wave 2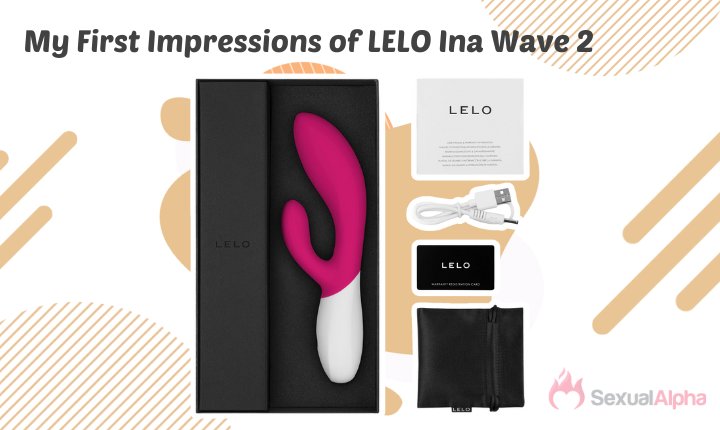 First, the toy comes in discreet packaging. So I didn't worry too much about my neighbors being all nosey about my business.
I got the classic Plum color. And you know what, I think I'm starting to like this kind of a "sexy" tone. Usually, I go for the blues or blacks. But something about this purple just speaks to me.
But enough of that tangent.
As usual, LELO's packaging is elegant. The white exterior looks luxurious and tasteful. And inside, there's a black box.
Lifting the black lid, I find the Ina Wave 2 tucked snugly in a sort of velvety black cushion.
The complete contents of the box are as follows:
the Ina Wave 2
a USB-charging cord
a satin storage pouch
a warranty registration card
a detailed instruction manual
and a 2 ml lube sample
---
LELO Ina Wave 2 Tech Specs (What's Changed?)
---
How Does the LELO Ina Wave 2 Look & Feel?
The Ina Wave 2 is a sleek and simple-looking rabbit vibrator. It practically has the same base design as its predecessor.
The design just looks clean. You can't see a tail or a third leg just dangling there. It's straight to the point. And most importantly, it still looks attractive.
The main shaft is thin near the base of the 4.3″ insertable length, enough for G-spot stimulation. The shaft then quickly flares out into a fattened, wider girth. On the top lies a rounded tip for easy insertion.
The clitoral arm is much smaller. It's around 2.5" based on my estimates. If your clit is further than 2 inches from your vaginal opening, then there's a possibility that the arm may not reach you.
Like the last model, the Ina Wave 2's body is also completely covered in body-safe silicone. It feels smooth and silky to the hands. The handle is made of body-safe ABS plastic.
And of course, I couldn't forget about the variety of colors it comes with. You have three options when purchasing: Plum, California Sky, and Cerise. Again, I chose Plum since it was the one that immediately grabbed my attention. But you can't go wrong with the other two as well.
When it comes to firmness, this rabbit vibrator has a little bit of softness to it. Just a teeny-tiny bit, though. I tried squeezing it with my hands, which gave a bit of a bounce. I didn't push it, though, since I didn't want to call the warranty before getting my chance to use it.
As for the clitoral arm, it's quite flexible. You can practically move it in whichever direction without worrying too much about breakage. I'd say you can get it to an angle of 75 degrees as its limit. But maybe you could go for 90 if you really want to push it.
---
LELO Ina Wave 2 Key Functionality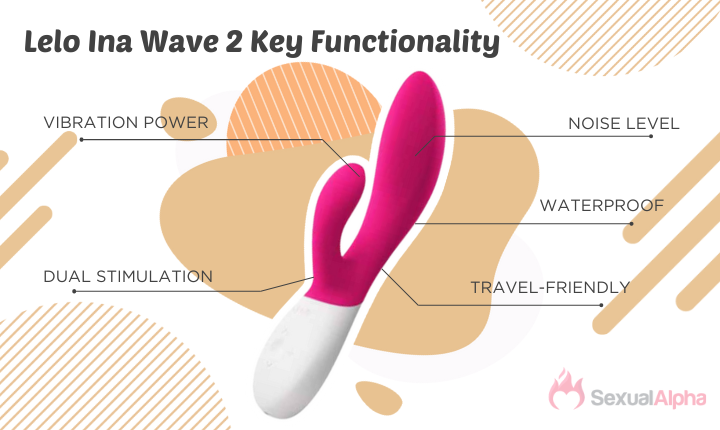 Vibration Power
The Ina Wave 2 has 12 vibration patterns. That means you get a ton of customizability, which is great if you want to keep things exciting.
As for me, I always take it slow to fast when trying out these vibrators. Luckily, the buttons and functions are easy to navigate. And the settings themselves give a wide range of choices for people to use.
---
Dual Stimulation
Not many women orgasm from vaginal sex alone. Some need a little more stimulation during their love-making sesh.
And that's what Ina Wave 2 offers!
The two arms can simultaneously stimulate both the clit and G-spot during sex or solo play.
Just go through the + and – and up and down buttons to change into your preferred intensity and pattern, respectively. And boom! You're up for a good time ahead.
On the downside, the modes don't have designated names. So you just have to go through the different settings of your own accord.
Don't worry too much about your options, as the Ina Wave 2 offers a diverse range of setups. You can go from gentle teases to intense moaning with just a few clicks.
Just keep in mind that you can't control each motor separately.
---
Noise Level
The Ina Wave 2 has a max frequency of 60 Hz. In other words, the toy is not loud but still audible to the ears.
What makes the Ina Wave 2 particularly stand out in terms of noise is its WaveMotion technology. The innovation itself is great, but it produces a mechanical sound within the toy. So using it discreetly may not sound like a good idea.
Also, if you switch it up to the more intense modes, the Ina Wave 2 does get a bit noisy. It's not extremely loud. But it can be very noticeable.
It doesn't help that the sound it makes can be undeniably perceived as a vibrator. So it's probably best to make sure you're alone when using this little rabbit.
---
Waterproof
The silicone material on both the body and handle is waterproof.
So you could practically use it in wet areas. I tried using it in the shower, and man, what an experience.
Just remember
Keep the toy's coating intact to maintain its waterproof use.
Once you're done using the Ina Wave 2, wash and rinse with antibacterial soap and warm water. Then pat it dry.
Also, avoid extreme conditions or direct exposure to the sun. It may not seem visible, but it can strip down waterproofing and the overall quality of the toy.
---
Travel-friendly
If you like to bring your sex toys on your travels, you don't have to worry about accidentally turning on your Ina Wave 2.
The toy comes with a travel lock function. So if you activate it, all additional presses on its buttons will not trigger the vibrator.
What's even greater is that the function preserves the toy's battery. So you could have it on the go the next time you decide to use it.
---
LELO Ina Wave vs. LELO Ina Wave 2: What Changed?
Both the Ina Wave and Ina Wave 2 are basically the same in terms of design, function, and aesthetics. However, there are three major overall differences between the two.
The first is that the Ina Wave 2 has 12 vibration settings. Its predecessor only had 10, which makes the Ina Wave 2 enticing for people that want more variety and customizability.
Secondly, the Ina Wave 2 is much quieter than the Ina Wave. The Ina Wave 2 has a max frequency of 60 Hz, while the Ina Wave has a max frequency of 100 Hz. Again, it's not a whisper-quiet sound, but the frequency is much more toned down despite still having audible noises.
And finally, the choices in color are slightly different between the two. I'm just saying slightly because there's actually just one color difference in the series. The Ina Wave offers Plum, Ocean Blue, and Cerise, while the Ina Wave 2 offers Plum, California Sky, and Cerise.
---
How to Use LELO Ina Wave 2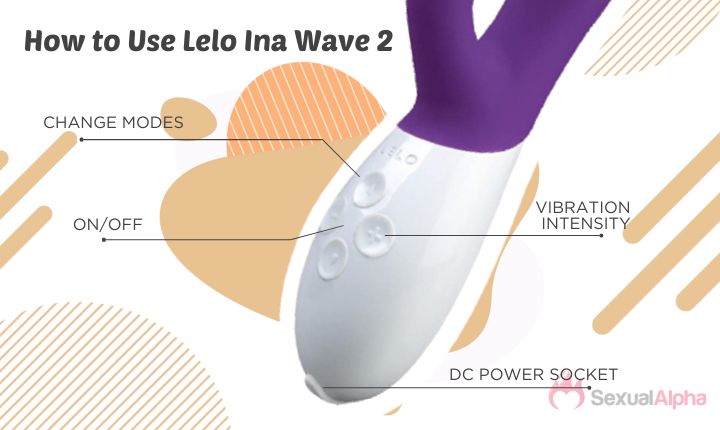 The LELO Ina Wave 2 is classified as a rabbit vibrator. So, it does what rabbit vibrators do!
There are two arms sticking out of the handle: one big shaft and one smaller one. The big one is insertable and stimulates the G-spot, while the smaller one stimulates the clit.
What makes the Ina Wave 2 great is that the big shaft can do a come hither motion. So what this practically means is that you can get the same sensation from being fingered using this toy.
Luckily for you, the Ina Wave 2 is not that hard to use. It only has a 5-button interface.
To turn it on, click the middle button.
For increasing and decreasing intensities, use the + and – buttons, respectively.
If you want to cycle through the different settings, use the up and down buttons.
To turn it back off, click the middle button again.
Keep in mind that there are 12 total settings to choose from. So get as experimental as you like. Explore.
You can trigger only one arm if you like, or you could go all out by having the two arms vibrate to stimulate you. It's all up to you, really.
And before I forget, triggering the travel lock function can also be done easily. Just press the + and – buttons for about 3 seconds, and you're set to unlocking and locking your toy on your travels.
---
Charging and Battery Life
The Ina Wave 2 has a long battery life of two hours. It uses a Li-ion 520 mAh 3.7 V battery, and it can be left on standby for about 90 days.
Before using it for the first time, it's best to charge it for about two hours. And after that, you can charge the toy whenever necessary.
---
My Experience With LELO Ina Wave 2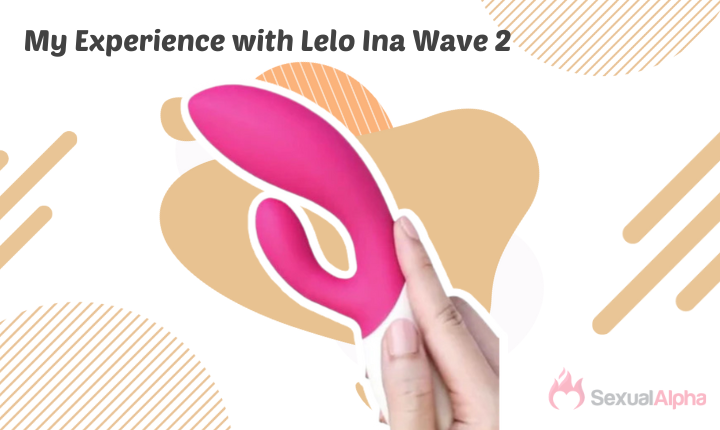 First of all, it's not my first rodeo with rabbit vibrators, so I wasn't really excited about trying out the LELO Ina Wave 2.
Yes, I was curious about it. But I've had my fair share of rabbits, and some worked better than others. So I guess that tainted part of my perception and excitement about other varieties.
I've tried other LELO products, though, and although they are quite pricey, I see some as a worthy investment. So I wasn't too much of a downer.
After getting the toy out of the box, the Ina Wave 2 seems like your typical rabbit – classic shape, classic functions, sans the "rabbit ears." And all-in-all, it seems like the 'normie' equivalent of sex toys.
I'll admit that it does look sleek and refined. But not much on the surface can make it a stand-out. So not too impressed there.
But, my first impressions of the toy can change once I get the chance to use it. So, I got myself ready that afternoon and made some quality time by myself. Mind you, my boyfriend was still at work, so I decided to go for solo play first.
I whipped up some lube and gave the Ina Wave 2 a go. I started slow, switching from different patterns, before going to the more intense settings. And oh boy, the experience was sure surprising.
The strong vibrations of the toy were just as expected, but to me, it was all about that WaveMotion technology. I had expected to have dozed off out of pleasure and fingered myself unconsciously. But it turns out it was all the toy's doing.
Both the material and sensation felt too real. And from there, it gave me a new sense of appreciation for simple-looking designs with cool and satisfying features.
I almost got lost in ecstasy for a sec. But fortunately or unfortunately, the toy's noises distracted me from entirely blacking out. So I'd call that a win.
The intense settings of the toy are indeed noisy, so that is one compromise you have to just deal with when using the Ina Wave 2.
Also, the toy itself may not be suitable for all bodies. The additional come-hither motion worked for me, but if that's not your thing, then you're better off with the good ol' vibrating rabbit toy than this one.
I also tried using the toy in the shower with my boyfriend present this time.
And while it is 100% waterproof, it can get hard to navigate using the Ina Wave 2 with a partner. We tried different positions in the bathroom, but nothing seemed comfortable enough.
So we tried in the bedroom afterward. And probably the best position we tried with the toy is the Sideways 69. So, it seems like we have to lie down to get things going.
All-in-all, the Ina Wave 2 is probably not best when used with a partner. The toy is all about pleasuring the female body with dual stimulation. So you can probably still climax without having your partner do the extra work for you.
---
How to Clean It
You can easily clean the Ina Wave 2 since it is 100% waterproof.
Ensure to wash the toy after use and dry it before storage. It is advised to use the LELO toy cleaner. But as an alternative, you can also go with antibacterial soap and warm water.
Once you're done rinsing and drying, store the vibrator in the satin storage pouch.
Something to note
Do not use cleansers such as petrol, acetone, or alcohol.
These ingredients can damage the material. Also, avoid exposing the toy to direct sunlight or extreme conditions.
When using the Ina Wave 2, only use water-based lube with it. Avoid the likes of silicone-based lubes or body creams. That can ruin the silicone material of the toy.
---
LELO Ina Wave 2 Price, Where To Buy
You can now order the LELO Ina Wave 2 from their official website for $199.00. It's on the pricey end, but there's a 20% discount offer as of the writing of this review. So, you can save around $40 for the purchase.
---
What Do Other People Think About It?
Lelo toys tend to be good, but they're overpriced. However, I generally don't recommend rabbit vibrators because they're very anatomy-dependent. If the one you get doesn't line up just right with your G-spot and clit, it won't work well. It's easier to use separate toys for your G-spot and clit, so you can adjust them independently.
I have the Ina Wave, and it works for me wonderfully, but then again, not every toy will work for every person. I also have their Soraya (which is my favourite and best in the toy world), and both are quite different, really. If you like firm pressure, go for the Wave; if you're not sure how you will react to it, play it safe and go for the Ina 2.
---
LELO Ina Wave 2 Alternatives
There are three alternatives I could suggest for the LELO Ina Wave 2: (1) the LELO Ina 3, (2) the Lovense Nora, and (3) the LELO Soraya 2. Here are their breakdowns.
LELO Ina Wave 2 vs. LELO Ina 3
The Ina Wave 2 is basically an upgraded form of the Ina 3, so you could logically see it as the better toy. But to me, the Ina 3 is much more beginner-friendly. It is also much cheaper, so you could always choose this option if you are tight on your savings.
Both toys have several vibration settings, more intensities, and long battery life.
They are both similar in design and functions, but the Ina Wave 2 has the WaveMotion technology going for it. If you're not interested in that, then the Ina 3 has more vibration settings.
The Ina 3 only has 10 patterns, but the vibrations are more intense, and the modes offer more variety than Ina Wave 2.
---
LELO Ina Wave 2 vs. Lovense Nora
The Lovense Nora is another classic-looking vibrator. However, what sets this apart from the Ina Wave 2 is that the shaft has a rotating head. The sensations may feel different from the come hither motion, but it still delivers on the performance.
The Lovense Nora also has two motors that can be controlled separately, while the Ina Wave 2 has separate motors, but both can't be controlled independently.
What sets the Lovense Nora apart is its remote app – the Lovense Remote app that can be used through Bluetooth technology. You can have your long-distance partner control your toy or sync each other's Lovense toys. You can also customize vibration patterns.
But if you don't need all those bells and whistles, then the LELO Ina Wave 2 is good enough.
---
LELO Ina Wave 2 vs. LELO Soraya 2
When it comes to girth and length, the Ina Wave 2 is not that intimidating and is much more beginner-friendly.
The Soraya 2, on the other hand, is much longer and girthier. So if you like to take on the challenge, then I say go for the latter.
Both toys don't have the same motors, but the power and intensities are practically the same.
What makes Soraya 2 more enticing is that it can last up to 4 hours of use. Compared to the Ina Wave 2, it can only last to a max of up to 2 hours.
For more vibrating content, check out our best vibrators guide.
---
Final Thoughts
Overall, the Ina Wave 2 doesn't do something new or innovative with rabbit vibrators. But nevertheless, it delivers on its promise of providing a satisfying experience for both your G-spot and clitoral areas.