In this LELO Dot review, I'll cover the features, design, and specs, as well as my personal experiences with this pinpoint clit vibrator. Find out if it's right for you!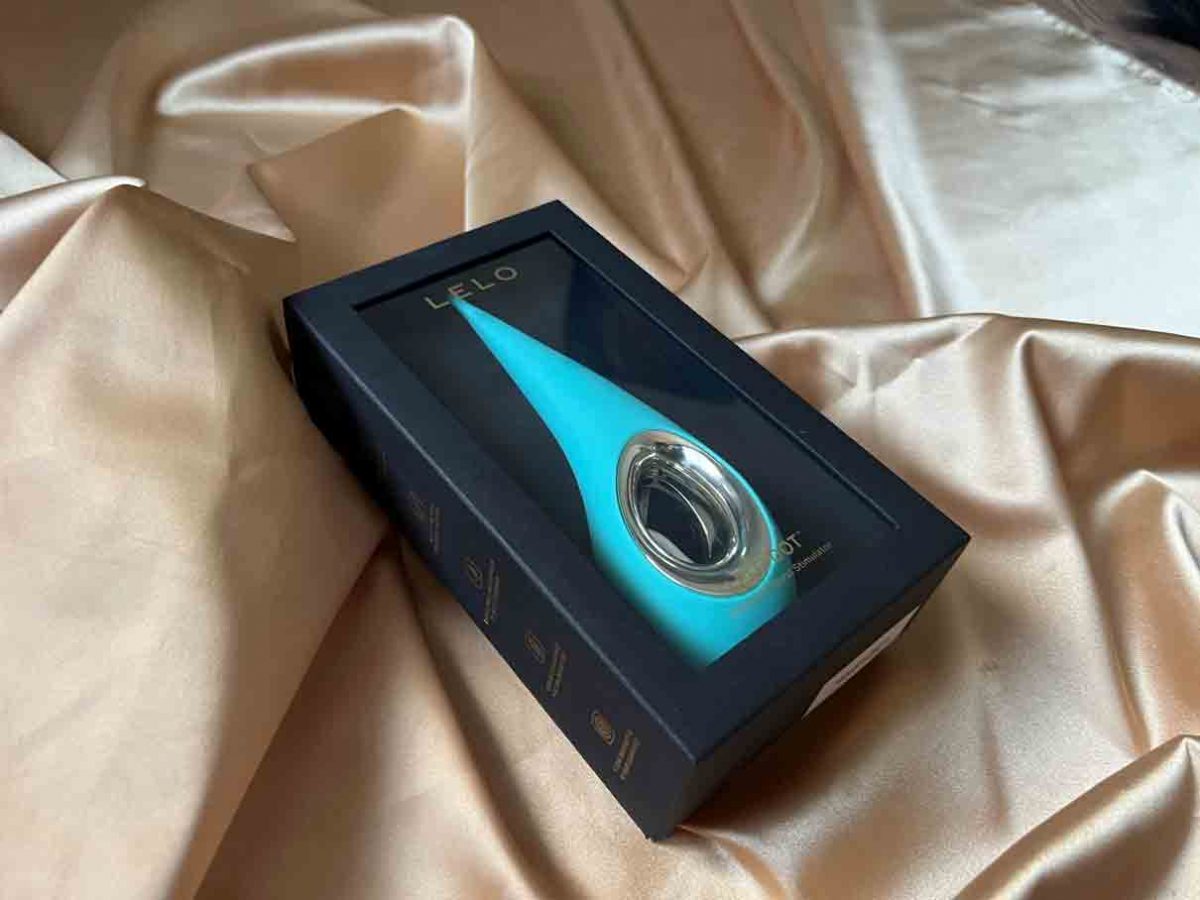 LELO Dot is the new vibrator in town that offers something unique. Yes, even to vibrator veterans.
To start, its fresh pinpoint design elicits new types of orgasms with its incredible accuracy and intensity you can control. Especially to your pleasure nub, aka clitoris!
With this review, I'll give you an in-depth look at the Dot and how this pinpoint clitoral vibrator may be worth your investment.
Can it give you the satisfaction you're looking for? Or are there better alternatives to choose from? Find out!
The Dot has a pinpointed design that enables you to target pleasure points for maximum stimulation. It's ideal for intense and fast orgasms, and you can use it for solo and coupled plays. The toy also has a comfortable grip for prolonged use, and you can have multiple orgasms without worrying too much about feeling desensitized.
The Dot's pinpoint stimulation may be too intense for some. It's also quite expensive, which can make you reconsider if you're looking for budget-friendly choices.
Like most toys from the brand, the LELO Dot may not be the cheapest out there, but the overall quality and power of the product are top-notch. So for pros, I'd say it's worth adding to your collection, and as for beginners, the Dot is a solid start to your pleasuring endeavors.
LELO Dot is for you if:
You prefer strong movements and vibrations on targeted erogenous zones around your body.
You like a versatile toy that you can use with a partner.
You like rough sex and want to experience multiple orgasms without getting numb in your sensitive areas.
You want to do some water play.
LELO Dot might not be for you if:
You prefer broader stimulations for pleasure in your body.
You prefer to satisfy yourself hands-free. 
You're overly sensitive in your erogenous spots.
You're on a tight budget.
---
The First Impressions
LELO is known for its simple and elegant packaging. And the Dot delivered just that.
The toy comes in a black box with a front window showcasing the Dot on a foamed backdrop. The overall contents include: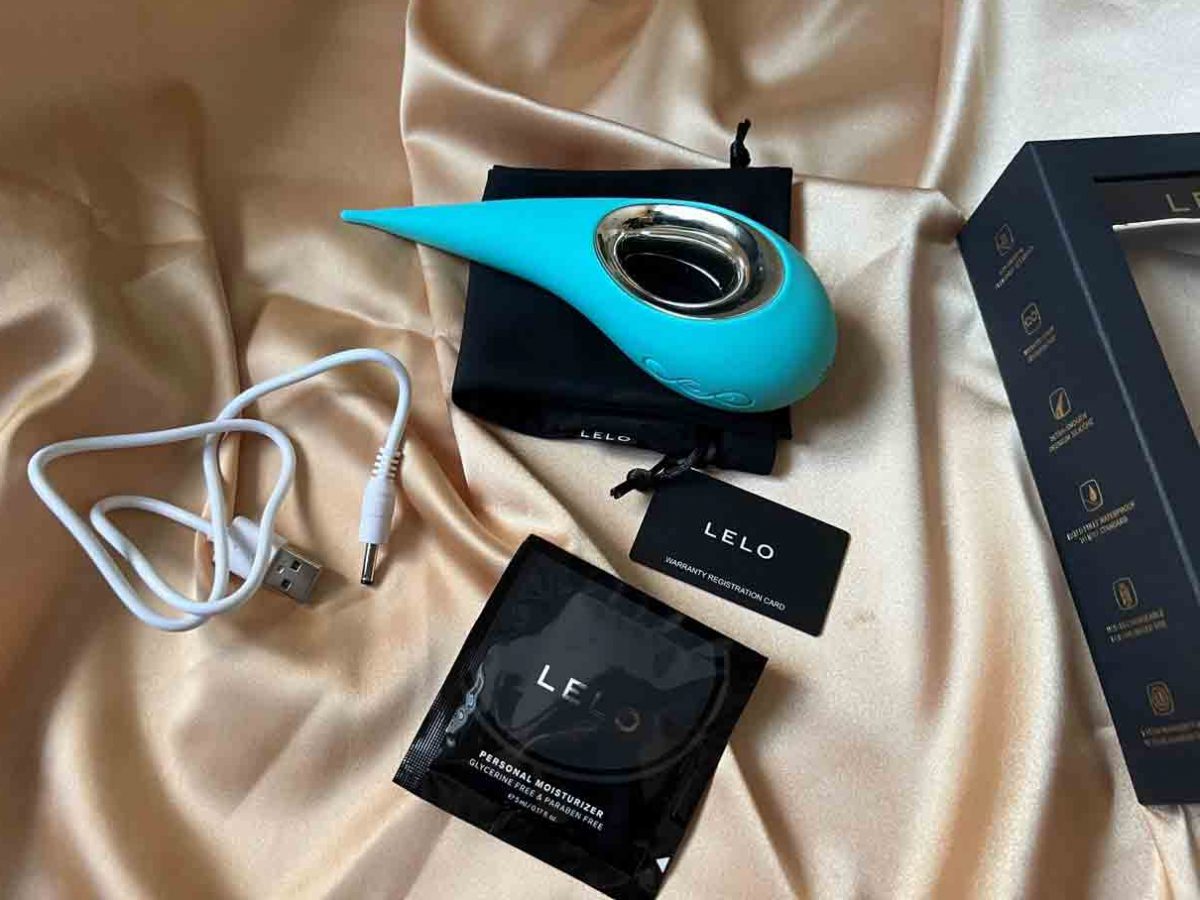 the LELO Dot Clitoral Pinpoint Vibrator
an instruction manual
a USB charging cable
a warranty registration card
and a satin storage pouch
All came in excellent condition.
And as a tangent, I'm a fan of their storage bags. And it's all because I'm a sucker for shiny and lavish displays when organizing my collection.
And no, it's not because I'm obsessed with the bag's texture. It's definitely not that.
---
Let's Talk About Tech Specs
---
How Does the Lelo Dot Look & Feel?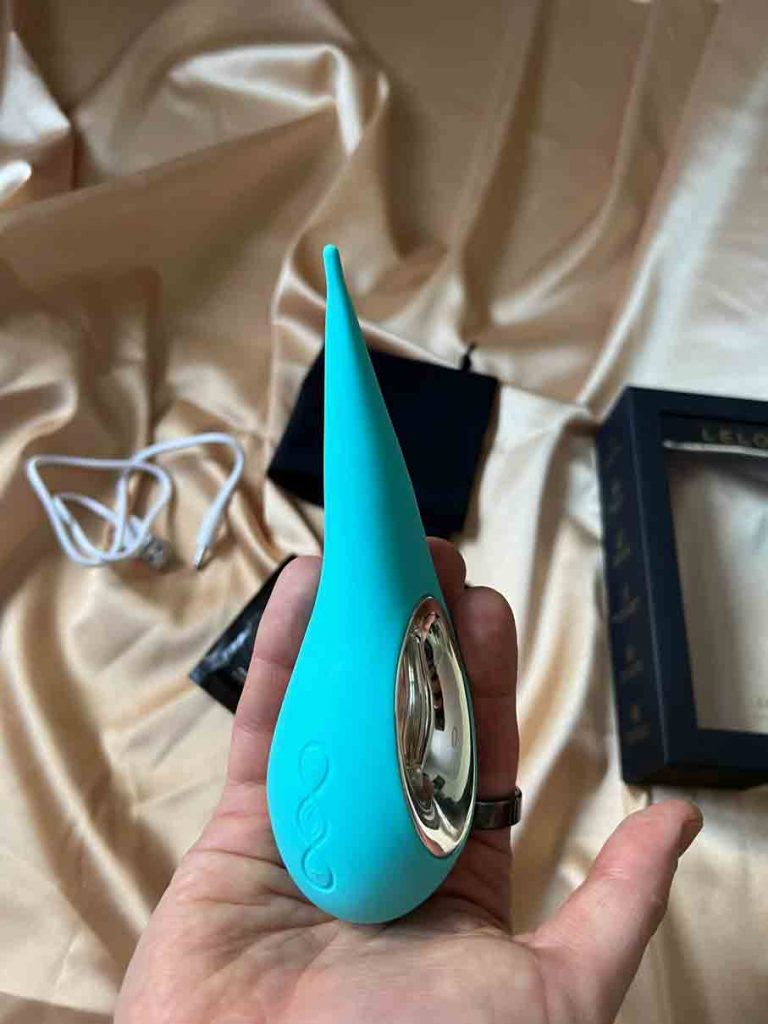 The Lelo Dot has a teardrop shape with a cutout on the center that you can use as a grip.
Its body is made from silicone, which feels soft and smooth.
The Dot has three simple buttons for turning the toy on and off and changing settings. At the bottom, there's also a plug-in port that users can utilize for charging.
The Dot's tip is flexible, allowing it to do its elliptical movements. And overall, the toy is quite sleek, making it handy for different angles.
---
Key Functionality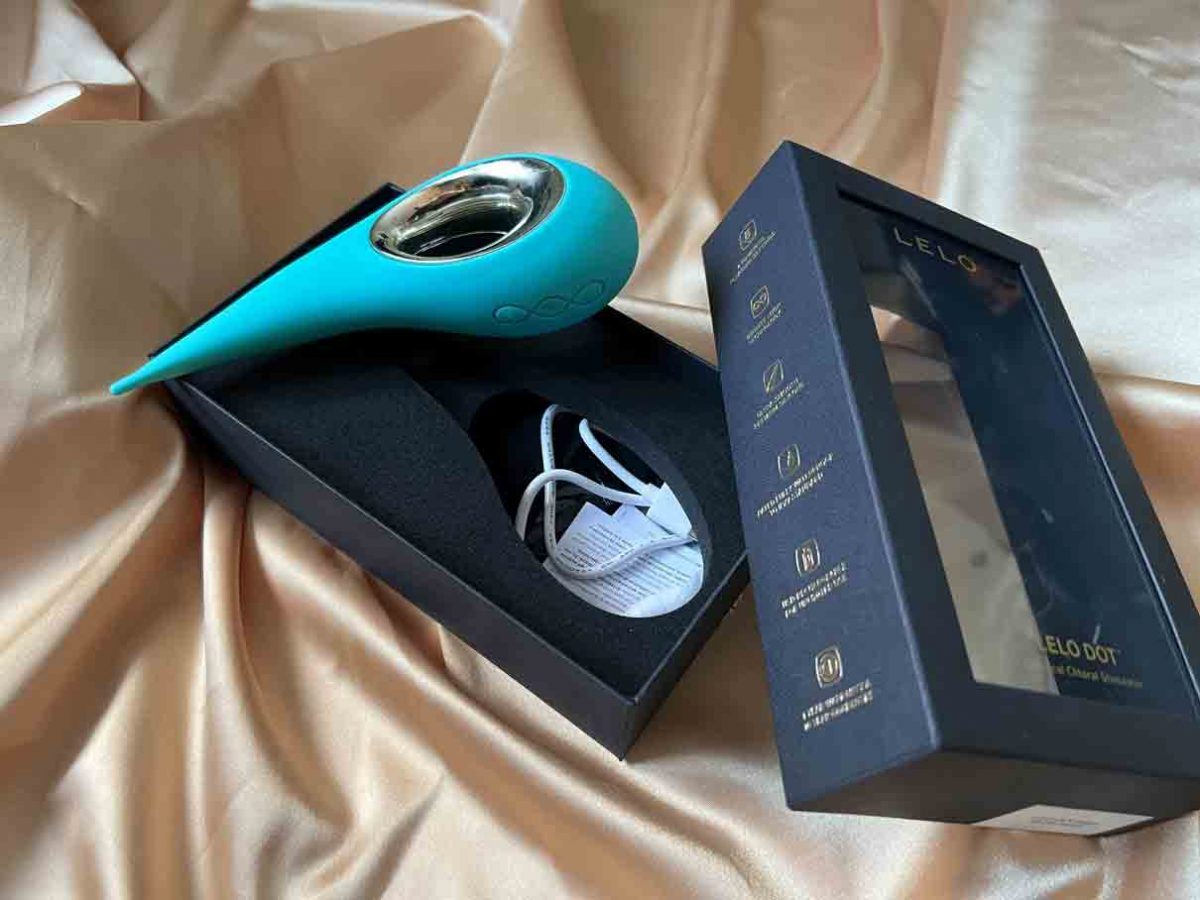 Vibration Power
With eight vibration settings, the LELO Dot is unrivaled in pinpoint clitoral stimulation. And not even the most potent bullet vibrators can go near it.
Contrary to other toys, the Dot won't desensitize your erogenous zone, making it likely for you to have a series of consecutive orgasms.
The tip's technology offers distinctive motions and a flexible neck, providing stimulation with pinpoint accuracy over the clitoris and other sensitive spots around your body.
LELO Dot's pattern is also elliptical, whereas conventional vibrators pulses in circles, preventing you from having multiple orgasms due to saturation. Thus, having the Dot be more preferred for experiencing successive releases.
---
Body-Safe Material
The Dot's tip is made of silky soft, body-friendly silicone. And since the material contains no phthalates and has a sleek texture, the entire experience of using it is easy and gentle. 
As for the handle, it's made from ABS plastic, which is also another body-safe material.
---
Charging & Battery Life
The first thing you should do when your LELO Dot arrives is to charge it. A minimum of about 2 hours sounds enough.
The Dot's LED will blink while it is in its charging state. And after that, the LED will light up steadily if it's close to finishing or has finished. If the battery dies, on the other hand, the white LED will flash to let you know.
LELO says that you can use the toy for at least two hours, which is a good amount.
And finally, if you're not using it, you can leave it on standby for 90 days before the battery dries out.
---
Noise Level
The lower vibrations were barely audible. But as I worked my way up to the higher ones, I could hear a low rumble. It's not loud enough to bother your neighbors. Still, if you don't want your roommates or family to hear you, you might use a blanket as a sound barrier or spend some time alone at home.
I measured a maximum noise level of 64 dB, and the lowest setting is around 42 dB, which is not very loud. Your body would buffer the sounds anyway.
---
Waterproof
The Dot is 100% waterproof, making it easy to clean and allowing you to use it in the shower if needed. The vibrations get weaker when submerged, but it's still enough to trigger satisfying orgasms.
---
How to Use the LELO Dot
The three buttons are the same as the ones on the LELO Soraya 2, which makes them easy to use.
To turn the massager on or off, press the center button for three seconds. Then, you can switch between the massager's eight vibration levels by pressing the button again. As for the tempo and speed, you can choose by pressing the other two buttons with the + and – symbols.
You can then select from eight different vibration modes. These are pretty different from each other and easy to tell apart, which isn't true for some cheaper alternatives.
Some of these modes are intense, especially those with distinct pulses. And at higher settings, the vibrations can be so powerful that I can't imagine standing up to that much power.
---
My Experience With the LELO Dot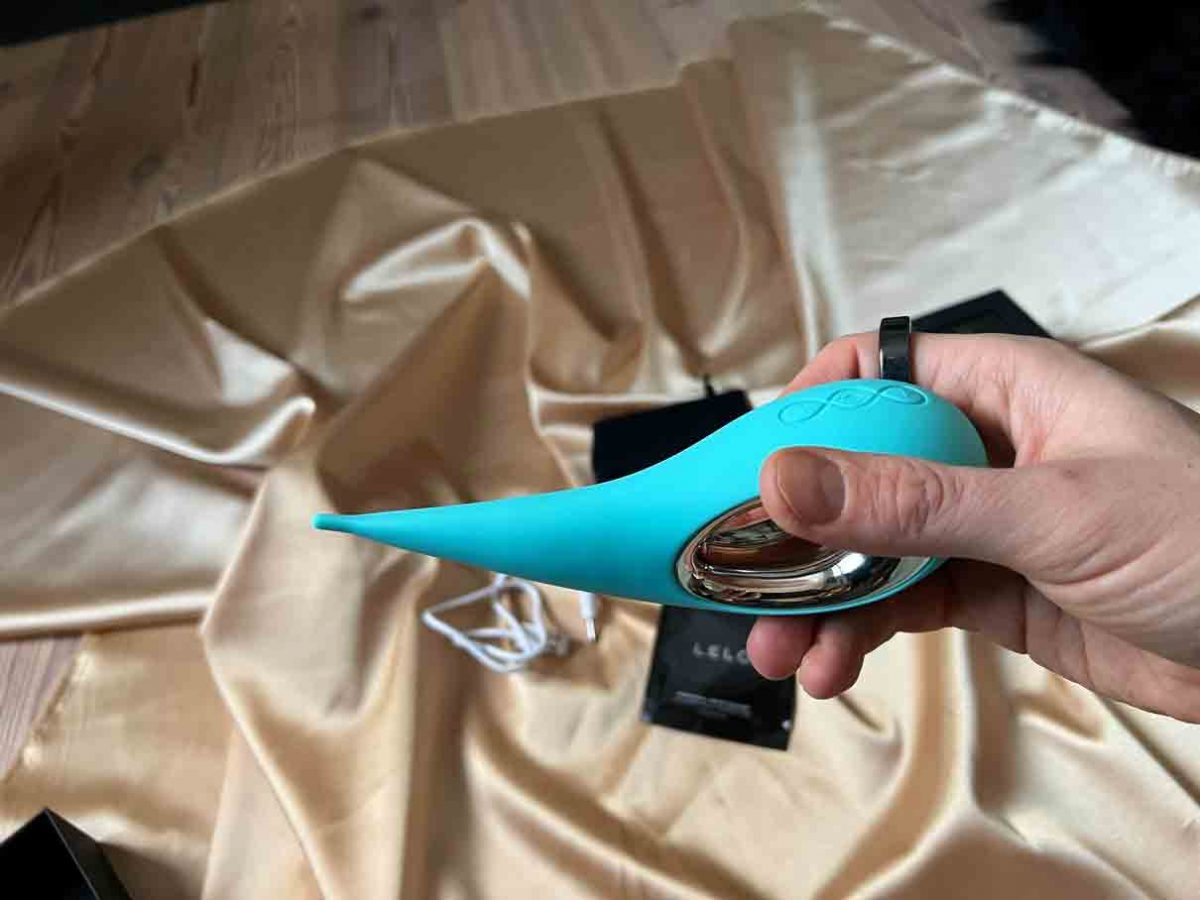 Let's get this out of the way first: I'm more of the broader stimulation type of gal. So testing out toys that claim to have pinpoint stimulation can be a hit or miss for me.
So for my initial experiences with the LELO Dot, here's what went down.
I received the package before work in the morning. So I left the toy at home, leaving my partner to charge and unplug it. And yes, my boo knows. But that's beside the point.
My SO usually works from afternoon to night, so I tried the Dot myself after my shift as a test run.
And oh boy! It was worth the alone time.
I decided to test the Dot on my thighs first. Then, once I got accustomed to the rhythm of the vibrations, I moved upward to my first sensitive region – my nipples.
And guess what? They went HARD in mere seconds. It turns out I was more sensitive than I thought.
I moved lower toward my clit, and even before the toy's tip reached its goal, I felt the sensations going wild already. They weren't kidding when they said quick orgasms could happen with the Dot.
I continued further, and then it HIT me! Even without applying too much pressure, the elliptical movements were so gooooood… and I couldn't help but moan in excitement.
Oddly enough, despite using the average settings (which, mind you, is still quite strong), I was ready to go for another round.
But eventually, after about four-ish runs, my hands were the ones that were ready to give out.
Don't get me wrong, the sensations were incredible. But I couldn't last another 20 minutes or so holding the toy in place and making sure I didn't pass out from the pleasure.
So maybe next time, I'll have my partner do it for me as my extra pair of hands.
As for first-time experiences, the Dot lives up to its expectations. It can be a tad too intense if you apply too much pressure. But once you get to the right tempo, you're in it for the long haul.
So a definite "would recommend" for both pros and beginners IF you're willing to spend on a higher budget.
---
How to Clean It
Since the Dot is entirely waterproof, you can clean it using antibacterial soap and water before and after use.
Then, after air drying the toy, store it back in the satin bag and keep it in a cool and dry place. As much as possible, avoid exposing it to extreme environments as it could potentially degrade the material.
---
Price, Where To Buy
The LELO Dot costs $179 from their official LELO store. 
It's pricey, as expected, but you get a high-quality product and experience in return. Plus, buying from their official outlets guarantees an authentic model and good customer service.
So I'd say it's a good deal.
---
Alternatives
LELO Dot vs. Lovense Hyphy
The Dot and Hyphy offer strong vibration settings for their sizes. And they're both great for clitoral stimulation.
However, the Dot offers more lower-end power options, while the Hyphy is consistent with its high-frequency vibrations. So if you're on the sensitive side, the Dot may be more commendable.
What's excellent about Hyphy is that it's app-controlled. So if you like to play over long distances with your partner, this toy will satisfy you. It also has a longer battery life than the Dot, so you are guaranteed a much lengthier duration to experience some fun. 
On the other hand, if you want to be more discreet, I'd go for the LELO Dot. The Hyphy is relatively loud, and the grip is much more uncontrollable if you use it internally. The Dot is quieter, and you can simply buffer it with the right amount of pressure. 
Read our Lovense Hyphy review to learn more.
---
LELO Dot vs. Zumio X
The Zumio X is the closest I could associate with the Dot. They're both waterproof pinpoint vibrators with circular tip movements.
However, the Zumio X is much more powerful in terms of its oscillations. It tends to lean towards a stinging sensation, but that can be all controlled through time and experience.
The Dot, though, has it easier to target sensitive regions in the body, which could come from its sleek design. When I used the Zumio X, it took a while for me to find the correct positioning. But it was more of a skill issue, now that I think about it.
The significant difference between these two is that you can charge the Zumio wirelessly, while the Dot requires a USB charging cord and an outlet. Both battery lives of the toys are average, so the Zumio is more convenient and efficient.
Looking for more top-rated sex toys? Check out our guide to the best vibrators, featuring a wide variety of options hand-picked and reviewed by us.
---
Final Thoughts
The LELO Dot is pretty expensive for some people to buy as their first toy, but it lives up to the brand's name with its excellent design and quality. So if you like to have one or buy it as a beautiful gift for a partner or a close friend, I'd say it's worth the investment.