There's a first time for everything – even orgasms! Wondering how to orgasm with a vibrator? Lucky you, here's a guide to get you started. Go ahead & get that Big O!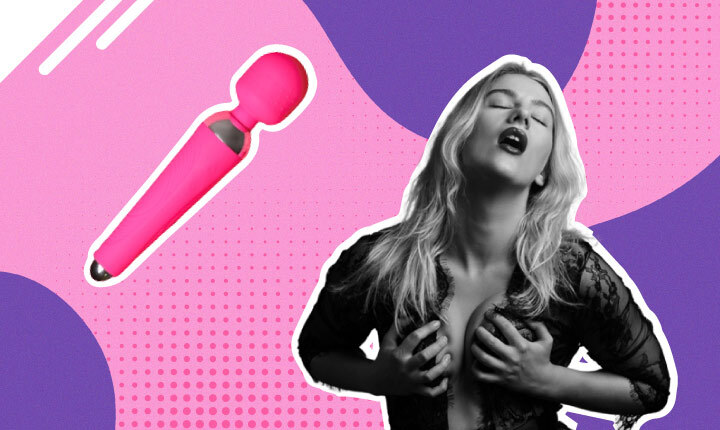 Twelve percent of women aged 17 to 28 never had an orgasm. E-V-E-R.
The good news is that many women will LATER experience or learn how to orgasm.
Reaching the climax for vulva-owners is quite complex. It could be the lack of practice, lack of knowledge, feelings of guilt or shame, not having enough or right stimulation, and so much more.
BUT (!) The good news is that there's hope.
Adding a buzzy BFF into your sesh can help.
Finding a great vibrating friend is only the start. You also need to know how to nurture (or operate) that vibey relationship to make it work.
And that's why we're here.
Of course, like any good guide, let's start with what you should prepare before exploring how to orgasm with a vibrator.
What you need:
A good mindset
Vibrator
Lube (optional, but nice to have)
That's it, really. Ha!
Now… let's finally start.
---
There are hundreds of vibrators out there in the wide, wide world of sex toys.
You can definitely choose more than one (which I highly suggest).
If budget is what's stopping you, many budget-friendly vibrators are also available for you to start with.
So.. how do you choose the best vibrator?
Find one you vibe with (something that you're drawn to), has a body-safe material, comes with the features you want (waterproof? for clit stimulation? or G-spot?), and is within your budget.
That said, there are different types of vibrators. And I know it could look like a whole maze of alien-looking blobs if you're a first-timer shopping for a vibrating sex toy.
Different types of vibrators give you different sensations and stimulation, resulting in different orgasms.
The best way to go with it is to choose which one matches the sensations you already enjoy. For example:
---
You can set orgasm as your end goal for a specific sexy session. Who doesn't want a happy ending at the end of their journey?
That said, don't pressure yourself into having an orgasm. Trust me—it's a recipe for disappointment.
Climaxing doesn't necessarily mean the sexual experience was great. And not climaxing doesn't mean it was bad.
Be honest. How many times have you had really great sex even when you didn't orgasm? (For me, I can count it with more than my two hands, TBH.)
Letting go of the pressure opens doors so you can enjoy the moment better.
Plus, it gives you an open mind to learn more about yourself—what feels good, what doesn't, and so on.
The more relaxed you are, the more pleasure you'll experience… And the higher chance for you to potentially orgasm. Win-win!
---
3. Get comfy
Set a good time and place to explore and get accustomed to your new vibrating buddy.
It doesn't mean only physically but mentally as well.
Unfolded clothes on the floor, tissues on your side table, charging cables warped on your bed… these scenes don't scream S-E-X-Y.
I don't know about you, but when I see such a mess? I'd have to fight the urge to get up and clean.
That means bye-bye arousal!
Something to note
Setting the mood of your space will do A LOT.
It doesn't even have to be drastic.
You can turn off the lights and turn on your lamp. Warm, cozy light is so much more sensual than bright white fluorescence!
Also, it's really nice to light a scented candle because it gives you that warm glow PLUS aromatherapy in one.
---
Find time
Having your kids knock on your door every five minutes or worrying when your roommate will walk in on you doesn't spell relaxation.
When your mind is preoccupied, you can't fully be IN THE MOMENT. You will barely feel the sensations or fantasize about erotic stuff when your other eye needs to stay open.
Try to find a spot in your schedule you can allot as your "Me Time."
---
Are you having a hard time relaxing or focusing at the moment?
If so, you can try meditation.
It doesn't have to be a long session—at least 60 seconds will do.
Another thing you can do (which I personally like) is stimulate and get your mind turned on. This could be by reading erotica or watching porn.
It's a simple but sure-fire way to get your hormones ready. *wink*
---
4. Prep the paraphernalia
You don't go into war unprepared. Same with an orgasmic adventure.
You won't want to be scrambling around when you're in mid-orgasm. Nothing turns the mood down as unpreparedness, TBH.
Don't worry. It's not the boring type.
Part of getting to know your toy is reading its user guides and manuals and understanding how it works.
Of course, actually using it is the best exploration.
But—you should know which buttons are what for, if it's waterproof or Nah, how to operate it, and so on.
You DON'T want to be only figuring out how to switch between the vibrator's speeds and patterns while you're already masturbating. It could hit the brakes in your pleasure-fest.
---
Wetter is better.
Whether you insert the toy in your vag or not, lube is always a good idea to avoid friction.
There are different types of lubes available.
The most friendly choice is water-based lubes. They're safe for all sex toys and easy to clean.
If you want more glide, going for silicone lubes might be your choice—as long as you're not using a silicone vibrator.
Silicone on silicone is a bad idea because like degrades like.
Oil-based lubes aren't the most friendly for most sex toys, so you'd have to carefully research compatibility.
Okay? Okay.
---
Juice up your toy
A dead battery is a mood killer. Been there, done that.
If your toy uses removable batteries, make sure they're fresh. Avoid pulling out the ones from your TV because they're usually not strong enough for the vibes.
Most toys are USB rechargeable, so just make sure to plug 'em before you use 'em.
---
Scrub a dub dub
Even if your toy is shiny and brand new, you'd have to clean it.
It came from the manufacturer where it's packed and everything plus shipped out. So you really don't know which dirt and bacteria it accumulated from its journey.
Something to note
You wouldn't want THAT in your vagina because SHE'S SUPER SENSITIVE, I tell ya.
---
5. Explore techniques
There's no one-size-fits-all approach to sexual pleasure. You can be a newbie masturbator or a vibrator connoisseur and still figure out new sensations you haven't before!
Vibe over the underwear
Starting over the underwear is really good because it serves as a barrier.
You can do this if you feel intimidated by your vibrator or if you're afraid that the vibrations will be overstimulating.
You can also use this opportunity to test out its different intensity levels.
---
Do the grind
Hands-free is sexy. And you can do so even without a partner.
Start by lying face down.
Then, position the toy underneath you—of course, it should be by your vag.
Finally, grind into the vibrator!
Stimulating yourself while moving your hips is an oh-so-sexy movement. And it gives you more spots to explore.
---
Here, there and everywhere
Who said vibrators are JUST for the vagina?
In fact, you can use it anywhere on your body as well.
It could be on your nipples, thighs, butt cheeks… really, the sky's the limit.
---
Love the labia
The clitoris that you know is just the tip of the iceberg. There's a whole larger system beyoooond that tip.
It goes a looong way—all the way down to your labia. (In case you don't know, these are the flaps of skin around your vulva.)
Something to note
Pressing your vibrator on or around this area will feel niiice. You should try it.
---
All for clitoral
The classic way to use a vibrator is by pressing it directly on your clit.
There are different techniques for you to do this—making circulation motions, going back and forth, and so on.
You can check out this clit diagram if you don't know how to find this little pleasure nub—externally and internally.
---
Go for the G-spot
You can use vibrators internally via penetration. And aside from massaging your vaginal canal, it also stimulates your G-spot.
Well, to be fair, the G-spot isn't mapped out in the female body. So it's different from woman to woman in some ways.
Finding it isn't the easiest, but this G-spot diagram can help you.
You would need to use vibrators for the G-spot—it usually has a curved shaft to help you hit the pleasure hotspot a bit more accurately.
---
Oral sex plus-one
Hit two birds with one stone by using a vibrator to enhance oral sex.
Your boo can use an internal vibrator to hit your G-spot WHILE using their mouth to stimulate your clitoris.
Something to note
One thing you'd look for is a vibrator that's curved but not too big to get in the way of your partner's face.
---
Emulate with rimming
Rimming is an act that involves kissing, licking, and sucking from mouth to anus.
With a vibrator, you can emulate this sensation by pressing the toy on your partner's anus to give them a tingly sensation.
You can also do this to introduce anal play before going IN for anal penetration.
---
Tease, tease, tease
AKA edging.
You will know if a certain sensation feels extra GOOD. And you will know if you're close to the edge.
When you feel yourself right there, pause or back off a bit.
You may try a different vibration pattern and start over again.
This process might sound counterproductive to having an orgasm, but it's not!
The buildup makes your body anticipate THE RELEASE—intensifying the sensations and making you more sensitive.
When you orgasm, it's going to be more powerful, toe-clenching and out-of-breath G-O-O-D.
---
6. Stay positive
Don't be too upset if you didn't orgasm on your first try. Or the next. And the next.
Rome wasn't built in a day.
It takes a couple of practice sessions to practice a skill.
Orgasming is different from person to person. For some women, it comes easy. For others, it takes some time to get there—especially if you're playing with a new sex toy.
But you'll get there.
And, after all, if you gained pleasure from it, then it's not a failure. There are no mistakes, just lessons learned, y'know.
---
Answers to Your Vibrator-Related Questions
Did you ever have questions about vibrators that you're too afraid (or shy) to ask? I'll try to answer as many of them here so you don't have to keep wondering.
Will vibrators desensitize my vagina?
NOPE.
It's common for many vulva-owners to think vibrators can desensitize their vaginas. And it's one of the reasons that stop them from using it.
But—there is actually research that revealed there's no desensitization from prolonged usage of vibrators.
Yes, you might experience numbness in your vag from the vibrations. However, this sensation doesn't really last more than a day.
Rest assured, cases of desensitization are short-term, and you don't have to worry about permanent side effects.
If you experience temporary numbness while using the vibrator, you can switch to manually stimulating the clit or vulva.
It's also better to use a lower vibration setting if the higher settings give you a numbing effect.
---
What are some features to look out for?
Vibration settings, intensity levels, and speeds are some of the crucial things you need to look out for.
The more options you have, the better you can find the best patterns and intensity that match what feels good to you.
But then again, there are times when you'll find your vibe even with the lesser options available. So, trial and error is key.
Another thing to consider is if it's waterproof.
Take note
Waterproof is not the same as water-resistant.
Some toys are water-resistant—and you need to know it's not the same!
You'd want a waterproof vibe if you're into using it in the shower or bath.
Also, these are good private places to use a vibrator if you don't have a ton of privacy in your home—like if you're living with parents or in college with roommates and everything.
Meanwhile, water-resistant vibrators are technically safe for water splashes in the shower and for easy cleaning. But you can't submerge it underwater in the tub or pool.
Also, you might choose between app- or remote-controlled vibrators.
These are great options if you're bigger-bodied or have mobility issues or just for convenience, really.
You won't have to fiddle with the buttons between your legs that tend to be hard to reach.
Meanwhile, app-controlled vibrators like the Lovense Lush 3 are great because you can use them with just your phone and play with a long-distance partner.
---
How do I clean my vibrator?
First, I suggest you check out the manufacturer's instructions. Vibrators aren't made the same, so cleaning them also involves different processes.
If your toy is waterproof, good for you. Cleaning it is easy peasy.
It's submergible, so you don't have to be very careful in washing it in water.
Simply use a gentle soap to scrub the toy, rinse and dry.
If it's not waterproof, the steps aren't much different, but you have to be more careful not to wet the toy. That could damage its motors and internal parts.
I suggest you wipe its body with a towel soaked with soap or a sex toy cleaner.
You may also sanitize it by boiling it in hot water. But that's only if the toy is made of silicone. Then again, check with the manufacturer.
When you're done, make sure you dry it well before storing it.
AND don't forget to clean your vibrator BEFORE and AFTER every use.
---
How should I store my vibrator?
Most vibrators come with a storage pouch. So if it does, use it.
Putting it in a bag is essential to keep it away from dust or lint.
And that's really important because not only is it very difficult to clean (prevention is better than cure in this case), but you wouldn't want any of those inside your body.
From there, hiding it in a cabinet should be enough. Just as long as you don't store it anywhere with extreme temperatures—it shouldn't be too hot, too cold, humid, or directly under the sunlight.
If you have a growing collection of sex toys, it might be time to look at storage options.
---
How to keep my vibrator charged?
Keeping your vibrator juiced up is c-r-u-c-i-a-l.
One of the things you should look at when choosing your vibrator is its battery type to determine how to juice it up.
It could be powered up by external batteries or rechargeable batteries.
External batteries are replaceable. These vibrators are usually more affordable, and the batteries are fairly affordable as well.
If you run out of battery, you can just pop in fresh batteries, and off you go to orgasm-land.
That's when you HAVE extra batteries always on hand. And if you don't, you need to be lucky to find them in stores near you.
Also, vibrators powered with these batts are typically not waterproof. That means you won't be able to use it in the bathtub or shower for waterplay.
Smaller batteries (like AAA or coin cell batteries) also tend to produce weaker vibrations. Just so you know.
Rechargeable batteries are basically vibrators that you can simply recharge. You only need to plug in its USB cable to recharge it.
You won't have to buy new batteries every time or always bring fresh ones in your bag.
With that, it's very convenient.
Their power is also mostly sufficient for the vibrations and usage time of the vibrator.
There are also vibrators that you can charge by directly plugging into the wall outlet.
As long as there's electricity, you can go as LONG as you want to.
But that also means you can't use the vibrator cordless. It's not portable, the places you can use it are more limited, and it's not safe to use anywhere near water.
Electrocution alert!
That said, wall-plugged-in vibrators have stronger vibrations. So if that's your priority, you can go for this option.
---
How to introduce vibrators for couple play?
I know it's fun to use vibrators alone. But it could be even more fun to use with your LOML.
How-e-ver, starting that conversation is quite nerve-wracking. "Like, where should I start?!"
First, open up the conversation about introducing vibrators during your sex-session while you're NOT having sex. It should be outside of the bed, fully clothed.
Next, make sure you frame it in a way that doesn't sound like a criticism, or you're ranting that sex is bad.
Talk about using a vibrator as an "addition" that could ENHANCE sex and you BOTH can enjoy.
After all, sex toys exist NOT to replace your partner but to add spice to the sex-venture.

---
Final Thoughts
You might not go from 0 to 100 in a day. And that's okay.
Whether you orgasmed or not during your sessions, what's important is that you enjoyed the journey with the help of a vibrator. Plus, you got to learn more about your body.