In this Fun Factory Volta review, we dive deep into the features of this unique tongue vibrator, how it delivers vibes to the clit, and my experience with it.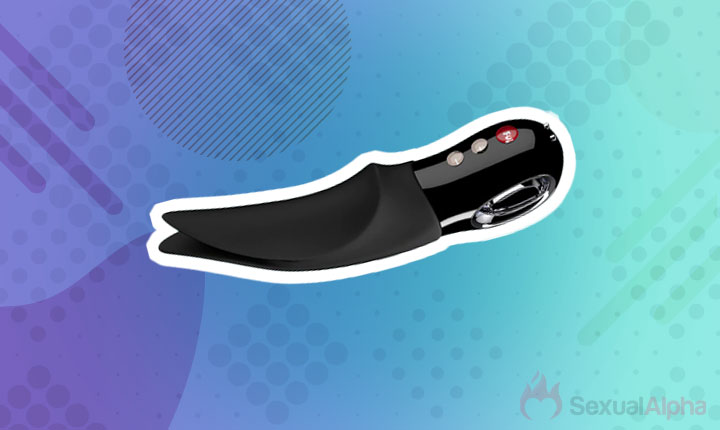 I'm very thrilled to be finally writing my review on the Fun Factory Volta because this toy really surprised the heck out of me. And I mean that in a good way.
But to be fair, I was skeptical at first. The Volta looked too goofy in the eyes, and I wasn't too sure how it could compete with the other vibrators I tried.
And that's saying a lot cause I've done my fair share of reviews by now.
Especially nowadays, I tend to get quite picky with what I try out. So I was kinda apprehensive, to say the least.
But I try to be open-minded, so I just say, "what the heck." And here we are.
Are appearances deceiving in this situation? Find out!
The Volta can be used on various body parts for external stimulation. Couples can even use it on the penis to make oral sex more exciting. The toy's motor also features six different vibration speeds and patterns.
The vibrator can be quite loud. It is challenging to clean internally. And it takes a very long time to charge.
All-in-all, the Volta is a unique and surprisingly versatile external vibrator. It tells us that unusual designs aren't always a complete trainwreck, though there's nothing wrong with being skeptical once in a while.
Fun Factory Volta is for you if:
You want a toy with strong vibrations.
You want a versatile toy that can be used in different ways.
You want a toy with a travel lock function.
Fun Factory Volta might not be for you if:
You're looking for a quiet toy to use.
You're looking for a toy that can internally stimulate you.
You're on a budget.
---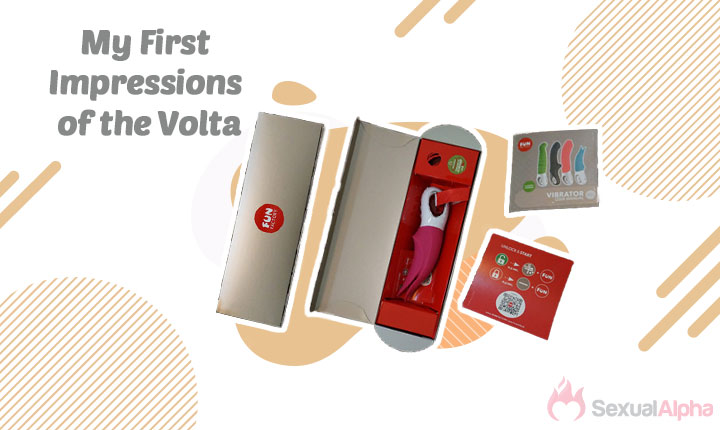 My First Impressions of the Volta
The Fun Factory Volta arrived in a nicely designed box, which excited me a little bit to my surprise.
Sliding the outer packaging off, I see a gold box with a red interior. The gold was metallic, and all the colors seemed to complement each other.
I can tell that so much effort went into the packing design. And I don't blame them. It's great for catching the consumer's attention.
As I opened the box, the contents included:
the Fun Factory Volta
a red magnetic USB charging cord
a user manual
and a booklet containing the toy's tech specs
Unfortunately, unlike most of my toy vibrators, there was no storage bag included.
---
Fun Factory Volta Tech Specs
---
How Does the Fun Factory Volta Look & Feel?
The Fun Factory Volta has a unique shape, that much I can say.
It resembles a flower with a thick, two-inch shaft that ends in two tips that look like petals.
The toy is 7.4 inches long, but TAKE NOTE! It's not meant to be used internally.
The base can be easy to hold and manageable, with a hole present to place your fingers through to grip and lock the toy in during use.
The Volta I purchased is petrol (blue), but you could also order it in blackberry (pink) and black.
I like the body-safe silicone material. The texture is great against my skin and is easy to use. However, this material can easily gather dust… like most of my Fun Factory toys.
I live at home with my partner, so I can easily tuck it into a safe place without getting too conscious about it. But if you are more discreet with your use of sex toys, then maybe hiding the Volta under the bed is not such a good idea.
You'll just spend a lot of time cleaning it afterward, and that can take the fun away if you want to have this vibrator used on the spot.
---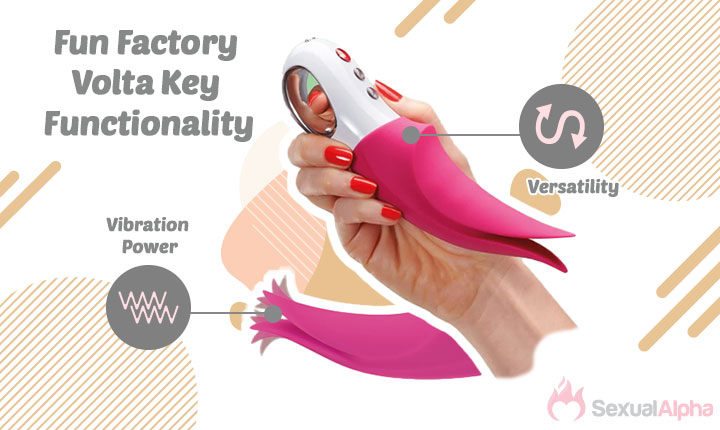 Fun Factory Volta Key Functionality
Versatility
Volta's flaps can flicker in specific locations, giving tapping and pinpoint stimulation to sensitive areas in the body. The placement of the motor also allows broad stimulation, which can be great for giving all-out experiences in the bedroom.
You can use the wider area below the toy's tips if you want more pressure on the vulva.
What's great about the Fun Factory Volta is that it is not buried in thick silicone. So vibrations are not dampened and are more renowned to the body's touch.
A good way to position the Volta is with both tips over the hood on the clit's right side. Though this depends. As some people prefer to have it on their left side.
You can also have the option to spread the toy's petal-like tongues to surround the clitoris. Or you could have it around your partner's penis, especially under their frenulum.
---
Vibration Power
The Volta offers six vibration speeds and six vibration patterns.
The tongue's back-and-forth movement shines best when there are only light vibrations. This is because the toy's range of motion decreases as more pressure is applied.
You can turn up the power or switch up the patterns whenever you want as well.
The flaps are also more flexible when in use.
Moreover, the vibrations are also consistent with its sharpness. As your near climax, you can feel more relaxed as you are more than likely ready to come.
---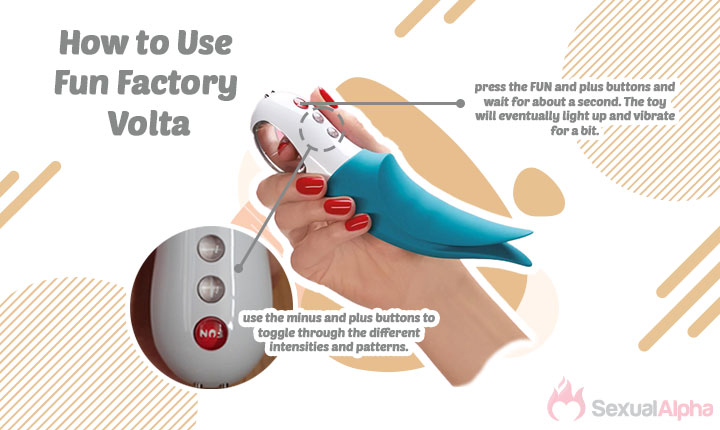 How to Use Fun Factory Volta
Using the Fun Factory Volta is quite simple.
After unpacking the toy, clean it using soap and warm water to remove any dirt or grime that may have been attached to it during storage.
Then charge it. As instructed, the Volta must be charged for at least six hours before use. Once that's done, you're ready to explore.
Button Controls
The buttons are pretty straightforward. You have the Fun Factory logo button at the bottom and plus and minus buttons.
First, UNLOCK the Volta's travel lock function.
To do this, simply press the FUN and plus buttons and wait for about a second. The toy will eventually light up and vibrate for a bit.
Then, grab your personal water-based lube. Lube up the toy and then yourself.
After, press the FUN button again to turn the toy on and go through the different vibration speeds and patterns until you find something that hits you in the right spot.
To tamper with the vibrations and patterns, click the FUN button and hold it for half a second. You can turn the toy off the same way.
Then, use the minus and plus buttons to toggle through the different intensities and patterns.
Pro Tip
The user manual provides full directions for navigating through the provided patterns and settings. It's best to read through the user manual first before exploring, as that can give you a visual overview of the different settings.
To stimulate further, you can use the lips to stroke your clitoris. Or you could position your clit between each of the Volta's tongues.
Feel free to experiment as much as you want. Just have fun doing it along the way!
---
My Experience With Fun Factory Volta
I'd be lying if I said that I had not heard of the Fun Factory Volta before. But I got to a point where curiosity struck me out of nowhere. Yes, it's 2022. But it's never too late to try out some old toys.
So here we are today. From the first time I saw it going around the net, I must admit that it looked goofy.
It looks quite different from your typical vibrator, and I guess the impression just latched unto me recently. So I ordered one because why not?
After giving it its first cleaning session and charging it for quite some time, I put the Volta to action.
When turned on, I was surprised by how strong the rumbly vibrations were on the motor. The flaps also moved intensely, catching me off guard for a bit.
And with a strong motor, you could expect the toy itself to be quite loud, too. So I was a tiny bit disappointed about that.
I tried to put the vibrating tips on my clitoris, but it was too intense initially. I worked my way through a few lower-speed settings and still found it too much for my comfort.
So instead, I repositioned myself putting my clitoris inside both tips. And you know what, the vibrations were much more to my liking this time around.
The light pressure was much more stimulating and almost made me orgasm a couple of times. So it really is all about knowing what your body wants.
Now, I know this toy is not for internal stimulation (no flared base and all). But I still gave it a try, and it got quite uncomfortable. So, NO.
Keep everything on the surface or at least externally when you want to stimulate with the Volta.
My partner and I love to use it on various erogenous zones when we're getting naughty.
Our favorite? Using the Volta on his shaft while I give him head. He describes the sensations as massage-like, but they definitely add something different to our BJ routine.
Also, as much as I appreciate the travel lock function, the three-button interface can be quite confusing sometimes. So on my first go-around, I accidentally turned the toy off a couple of times, which can be mildly annoying.
But once you get the hang of the buttons, you'll appreciate the Volta's tapping, rumbling vibes.
---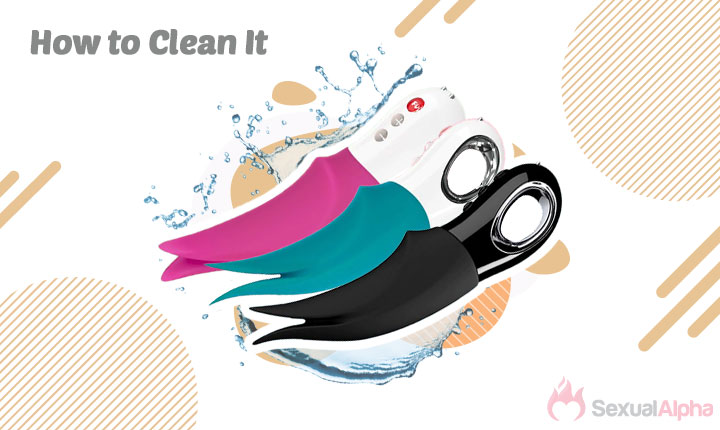 How to Clean It
To clean the Volta, use unscented soap and warm water and give it a thorough clean. Alternatively, you can use a sex toy cleaner to wipe down the vibrator.
In any case, make sure you put your focus on the space inside the flaps. You want to ensure that no fluids or grime are left in the crevice.
Then, leave it out to dry before storing it away somewhere. Make sure the place you store it is not a dust magnet. You still need to clean the toy before every use. So keep that in mind.
The Volta is a waterproof vibrator. But it does have a motor. So avoid dishwashers and don't use the stove to boil it either.
---
Fun Factory Volta Price, Where To Buy
You can now order the Fun Factory Volta from SheVibe for $139.99. They offer free shipping on U.S. orders over $68.00.
---
What Do Other People Think About It?
I thought I'd give the Fun Factory Volta a shot because its moving tips sounded intriguing. Could they be like being fingered or like oral? I wondered. The answer is: nope, not so much. The tips flip and flap around and don't really provide much consistent pressure. I struggle to get them situated right. I enjoyed the sensation for a while each testing session, but I had a helluva time figuring out how to position the tips so that I could actually orgasm. In the end, the Volta is one of only a few (non-anal) sex toys I've tested that doesn't make me come. I'm sure there are people out there who will really enjoy the Volta, but for $140 USD, I think it's a big gamble—especially if you're someone who needs either focused or slightly broad pressure on your clit.
Volta is an external vibrator, quite powerful and quiet. It has an interesting design, and I find it very fulfilling to use as somebody with bottom growth.
---
Fun Factory Volta Alternatives
Volta vs. Satisfyer Power Flower
The Satisfyer Power Flower has a similar shape to the Volta. The main difference is that it has three flaps instead of two, making it look more like a flower.
It features the same handle design and three-button interface. But it has 12 vibration patterns instead of six. The Power Flower is a more budget-friendly option as well, so if you are tight on money, then maybe go for this option instead of the Volta.
Both toys can also be used on the penis, so if you want to experiment a little with your man, then this is one good choice to recommend.
---
Volta vs. Pipedream Fantasy For Her
As for the Pipedream Fantasy For Her, this tongue vibrator can offer more stimulation due to its sucking and licking combo. However, lining it to your right spot for pinpoint stimulation can be a bit of a trial-and-error process.
So for a more convenient option, go for the Volta in terms of ease. Both toys are waterproof, so cleaning should be no problem.
It's not a quiet toy, though, so Pipedream Fantasy and Volta have that in common, which I must admit again can be disappointing. On the bright side, the former option can be used internally and has 10 vibration speeds, so it has that going for it.
---
Volta vs. CalExotics Red Hot
And finally, we have the CalExotics Red Hot. This one is also another of those weird-looking contraptions out there. Instead of a flower, though, this one looks more like a brush.
The toy's ends are flexible, just like the Volta, and it can also be held firmly. Though in my opinion, I much prefer the Volta as the gripping hole in its design makes it likely more comfortable for the user.
What the Red Hot has going for it is that it is a quiet toy. It's also smaller in size, so it is much more portable. However, regarding maintenance, the Red Hot is not waterproof. So it might be more prone to damage than the Volta.
For more vibrating content, check out our best vibrators guide.
---
Final Thoughts
I am sold! The Fun Factory Volta is just as unexpected as it looks.
It is slowly becoming one of my favorite toys for solo play. And I can definitely see myself using it with or without a partner because it is just that versatile.
Despite its unusual appearance, this toy can be worth every buck you have. It's powerful, easy to use, and just FUN all-in-all. Hence the company name. What more could you ask for?