Looking for lubes that are sperm-friendly? Check out our review of the best and safest fertility-friendly lubricants and find what's perfect for you! Read on: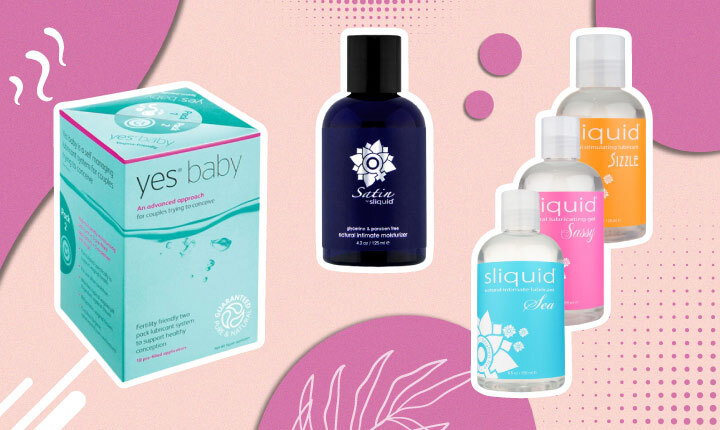 Is baby-making sex in your radar?
First of all, the… uh… "process" shouldn't feel like a chore. Might as well make it ENJOYABLE and PLEASURABLE, right?
One sure-fire way to do so is by making penetration GLIDE smoothly and easily. After all, wetter is always better.
So… use lube! And use plenty of it.
However, not all lubes are made equal. TTC (Trying To Conceive) couples should use lube that provides a safe environment for the sperm to swim around.
Introducing: fertility-friendly lubricants!
What is it? What makes it different from other lubes? And which lubes ARE fertility-friendly? Breathe in, breathe out. We've compiled the BEST fertility-friendly lubes to help you get started + gathered all the information you need to know.
YES Baby Natural Fertility Lubricant is one of the few lubes out there that is ACTUALLY formulated for baby-making. It's a pack complete with ovulation tests so you can schedule your sesh at the right time. It has separate sperm-friendly and vagina-friendly lubricants in its pack for the right formulation during your ovulation period.
Best Water-Based Lube for Conception
Sliquid Naturals H2O is a safe water-based lube formulated to match your own natural lubrication. It's a lightweight lube made with vegan-friendly ingredients and doesn't use too much unnecessary stuff. Unscented, unflavored, and undeniably safe for use when you're TTC.
Best Water-Based Gel for Fertility
Sliquid Naturals Satin is for you if you're looking for a thicker, gel-like consistency. It's smooth and lasts long—especially for a water-based lube. It absorbs into the skin without leaving clumps, and it's safe and moisturizing for daily use.
---
Best Fertility Friendly Lubricants In 2023
YES Baby Natural Fertility Lubricant is our top fertility-friendly lube because it's FORMULATED to help you get pregnant.
The lubricant pack contains 7 sperm-friendly lubes and 3 vagina-friendly lubes.
Why the difference?
Well, this lube ensures it doesn't disrupt your vagina's natural pH balance. And the conditions differ at different times of the month!
When you're ovulating, there is a higher level of acidity in your vag. Using a standard lube can slow down the sperm's motility at this time.
YES Baby Natural Fertility Lubricant's sperm-friendly lube is made to match the right pH level and sperm concentration when you're ovulating so those sperm swimmers can reach their destination (to the fallopian tubes where the magic happens).
Result: higher chances of conception!
Meanwhile, the vagina-friendly lube should be used after ovulating, so it doesn't upset your vag pH levels. That's because the semen's pH level is higher than the vagina.
Quick guide:
You use the sperm-friendly lube BEFORE and DURING ovulation. Then, you use the vagina-friendly lube AFTER ovulation period.
Now… how would you know when you're actually ovulating?
Your pack contains 5 ovulation tests, so you can skip the guesswork!
The lube comes individually packed compared to most lubes in a single container. You would have to use the entire pack each time, which might seem wasteful to some.
However, I think it's packaged to maintain its formulation's effectiveness. Especially considering it's made of organic and natural ingredients.
It's quite expensive, though. But it comes with various packets of the lube and ovulation tests.
---
Sliquid Naturals H2O is a water-based lube we love because it's safe and clean and simple!
It's not your thickest, longest-lasting lubricant. Nope, you don't pick Sliquid Naturals H2O up if those are what you're looking for.
But this is a classic go-to if you want a lightweight lube that feels natural, is made from vegan-friendly ingredients and is SAFE FOR CONCEPTION.
It's glycerin-free and paraben-free.
This lube is also unflavored and unscented, so you can ensure there are no irritating ingredients that could catapult your vaginal pH balance into World War III.
In fact, many women who are very sensitive use this lube.
Again, this isn't your best choice if you're looking for a thick lube. It has a thinner viscosity.
But that's not a bad thing because it's not too noticeable and feels pleasantly natural in use. If that's what you're looking for.
Since it's formulated to match your natural juices, you won't feel like you're using extra lube during penetration.
Plus, it's water-soluble so cleaning up is a breeze. It doesn't leave any stain whatsoever.
---
The Sliquid Naturals Satin is a great choice if you're looking for a fertility-friendly lube with a gel-like consistency.
It's pH-balanced neutral, and it's glycerin- and paraben-free as well.
In fact, it's safe enough to use on a daily basis. This lube is not just for intimate moments as it also serves as a moisturizer for women who experience regular or periodic vaginal dryness.
As you can expect from the Sliquid Naturals line, this lube is formulated with natural ingredients.
What makes it super moisturizing is that it's infused with aloe vera and Carrageenan (ICYDK it's an edible red seaweed that's usually used as a natural thickening agent).
Satin's difference with H2O is it's a tad thicker in consistency.
When you drop a dollop of lube on your hand, it stays in that form instead of dripping around until you rub it onto your skin. (Of course, some people prefer the watery, thinner viscosity to barely feel the lube.)
Probably my favorite thing about this lube is how it absorbs into the skin.
And if you want to reactivate the lube? Just use a few drops of water! It's so convenient to use, and it lasts pretty long. Especially for a water-based lube.
---
TTC doesn't only mean good ol' vanilla sex. While you're trying to make a baby, why not enjoy the process as well?
Dipping into anal play might be something you're interested in to spice things up and make your sessions more fun. In this case, lube is non-negotiable.
And to keep it safe, you should use a water-based anal lube like Sliquid Naturals Sassy.
It's VERY thick compared to other Sliquid Naturals' water-based lubes. That's to give you extra padding for anal play.
It also stays in place, so you don't have to worry about spilling the lube everywhere and having an additional laundry day.
Still, they didn't use any harmful thickening agents as they only added plant cellulose to create a thicker gel.
Sassy is the longest-lasting one we used, too, compared to its other Sliquid variants.
I should note that reapplication might still be necessary. At the end of the day, it's still a water-based lube.
But the benefits of its safe formulation are too good to pass up compared to other longer-lasting lubes.
---
Sliquid Naturals is not just your regular water-based lube. It's infused with the natural healing powers of the sea, making it a really good natural lube for TTC couples.
First off, it has Carrageenan—which is also in Sliquid Naturals Satin. It's believed to be one of nature's most effective lubricants.
Plus, some studies show it can help reduce HPV (Human Papillomavirus) transmission. This viral infection is passed down by skin-to-skin contact and is pretty common for sexually active people.
Of course, it doesn't guarantee to 100% prevent the risk of transmission, but it's a good layer of barrier to have in a lube.
This lube also has wakame, a seaweed that contains vitamin B.
And it works! I pick this lube up whenever I feel sore or chafing as it helps minimize inflammation and irritation.
Finally, it has nori. It's a type of algae that is a very effective natural moisturizer. That's why it's known to prevent skin oxidation (like when the texture of your skin changes).
---
Fancy stimulating lubes? Get the Sliquid Naturals Sizzle. It's one of the safest you can get that provides a cooling and warming sensation.
Sizzle doesn't use glycerin and paraben, making it a really safe option for you. It's also pH-balanced, so it's truly female-friendly.
And you can definitely use it when you're trying to get pregnant.
How does it provide a stimulating effect, then?
Sliquid Naturals Sizzle uses food-grade menthol.
In contact, Sizzle has a cooling sensation. Then, as your partner thrusts in and out of you, the lube feels like it's raising the temperature—giving you a warming effect due to friction.
You can feel those extra tingles. But it's quite mild and not overwhelming.
We find this lube dries quite fast, though. But you can easily reactivate the lube by adding some drops of water.
---
Fertility-Friendly Lubricant: A Buyer's Quick Guide
Ingredients
What to Look For
The stakes are so much higher when you're trying to conceive. You have to be EXTRA careful in looking at your lube's ingredients to not jeopardize the success of your pregnancy.
The ideal pH level for sperm to survive is pH 7. That means the lube you choose should have around the same pH level for the sperm to be alive and kickin' its way to your eggs.
Your lube should also be isosmotic/isotonic, which means it should match with the fertile cervical mucus and semen.
Osmolality (that's a tongue twister) is the number of particles per unit of water.
The vagina has a natural osmolality (around 270 mOsm/kg). And you should match that with your lube to avoid vaginal infections.
Why? To not damage or shock the sperm and eggs and support them in their u-n-i-o-n.
Also, your lube should not interfere with sperm motility = should be the right viscosity for the sperm to swim through.
Another thing you should look out for is paraben-free and glycerin-free lubes.
Parabens – compounds that are EDCs or endocrine-disrupting chemicals. They affect your hormones by binding to hormone receptors. Plus, exposure lowers pregnancy rates among women.
Glycerin – While it's a natural and plant-based compound, it increases osmolality in lubes. It decreases sperm motility and could result in yeast infections for some women.
---
Features
Let's clear it up first.
A lube with no FDA approval DOESN'T mean it's unsafe for the sperm.
BUT—a lube with FDA approval is your quickest way to determine if it is sperm-friendly.
Lubes that got this label underwent extensive testing. You can assure it doesn't impact the process of conception.
---
Size
The size you should go for really depends on how much you would need (and how often you'll use it).
Do you need the biggest bottle? Well, you can stock up.
You may also consider getting a smaller variant, so it's travel-friendly. Keep it safely tucked in your cosmetics purse and bring it with you anywhere you go.
You never know when or where you'll use it. *wink*
The YES Baby Natural Fertility Lubricant is a unique sizing as it's packed individually.
One packet is to be used for one sesh since it's so carefully formulated—you don't want to leave it opened and exposed to the elements for reuse.
---
Budget
Fertility-friendly lubes went through various testing and careful formulation. As expected, they're pricier than your regular lubes.
But—it's a price worth paying when you're trying to get pregnant.
Plus, it gives you peace of mind that your lube is made of good ingredients and formulation for your body.
---
FAQs
What's the difference between a personal lube and fertility-friendly lube?
Personal lubricants – Not explicitly determined by FDA to affect or not affect the sperm, eggs, and fertilization.
Fertility-friendly lubricants – FDA approved to be safe for conception.
Fertility-friendly lubes fall under the category of personal lubes, just with its FDA specification.
---
Does using lube prevent pregnancy?
Not necessarily.
Well… most lubes today NO LONGER contain spermicides (which kill the sperm). Still, it doesn't mean these lubes are sperm-friendly.
Their pH levels, viscosity, and whatnot sometimes harm or prevent the sperm from moving freely.
Meanwhile, fertility lubes don't promise a success rate for conception or that it makes conception easier. But since they are not harmful to the sperm or eggs, they also don't interfere with the conception should it happen.
So… look at it this way:
If you're trying to get pregnant, using the right lube won't boost your chances of getting preggy—but it also shouldn't interfere with it.
If you're NOT trying to get pregnant, don't rely on using lube as your "contraception" to avoid any unplanned pregnancies.
---
Is water-based lubricant safe for conception?
Yes.
Most of them, at least.
Regular lubes that contain glycerin and petroleum jelly are not on friendly terms with the sperm. So… a lube containing any of those ingredients isn't safe for conception, regardless of whether it's water-based.
So far, all FDA-approved fertility-friendly lubes are only water-based.
---
Final Thoughts
Finding fertility-friendly lubes for your intimate flora and fauna when your TTC is quite challenging.
It's still a new category, so finding these products in your local drugstore can be a little hard.
Ask around, read reviews, and understand your product's ingredients. And we're cheering on you to see those two *positive* lines soon!