If you're looking to try a new toy that gives clitoral stimulation, read my Dame Pom review and see if this flexible vibrator is the right one for you!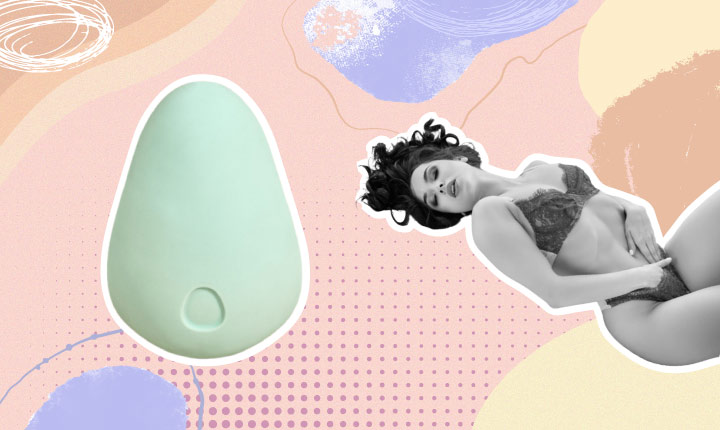 Most of the vibrators coming out of these dags are advertised as "EXTRA POWERFUL" or "SUPER INTENSE," like masturbation is some kind of high-stakes extreme sport broadcasted on ESPN, and they're trying to sell the proper gear for it.
Rough play and intense stimulation can feel amazing and satisfying, no doubt about that. But sometimes, you just want to slow down a bit and enjoy something more sensual. You might want to take your time and experience a gentler, softer touch.
If that's what you're after, you will probably want to take a look at Dame Pom – a soft and bendable external vibrator that can be a great addition to both solo and partner play. I tried it, I liked it, and now I want to tell you all about it.
Dame Pom is super soft and flexible, so you can adjust it to your body's curves. The vibrations feel pleasurable but gentle – perfect for those of you who are beginners or just extra sensitive. It's also very small, so it's easy to handle and can be used during partner play. The unique shape offers both broad and pinpoint stimulation, so it'll meet your needs no matter what you prefer.
There sure are stronger vibes out there, so if you're a power queen, the Pom might not offer what you're looking for. It's also designed for external stimulation only and won't be the best option for those who want a penetrative toy.
The Pom is a quality product and is great as a first sex toy or as a soft stimulator for when you want something sensual. It might not be the best choice if you're looking for something with extra power and intensity.
Dame Pom is FOR YOU if:
You're a beginner.
You want softer stimulation.
You want a toy to slip between you and your partner during intercourse.
Dame Pom might NOT be for you if:
You are a power queen.
Penetration options are a must for your toy.
---
Dame Pom Packaging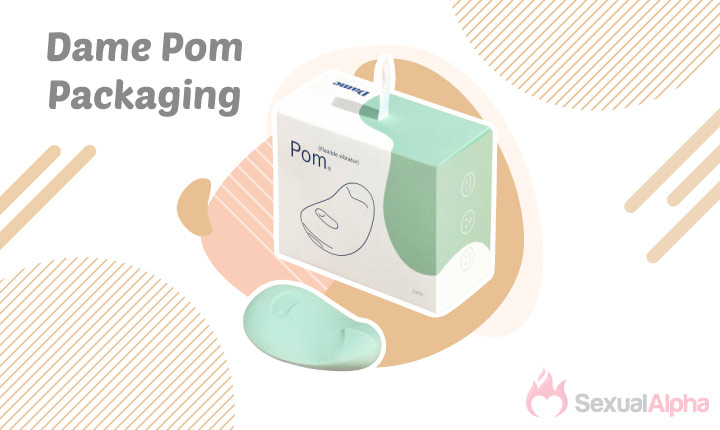 Dame Pom's packaging is quite simple – just a nice sturdy box with all the goodies you need inside!
My box was just a solid color (the color of the Pom I chose), with the name of the manufacturer and product on it in almost transparent letters. I've also seen a more colorful box in some online shops – with a picture of the product and some patterns.
Inside you'll find your Dame Pom and some other thing as well.
There is a magnetic USB charger – it just "sticks" to your toy with magnets and you can plug the USB end wherever you plug your phone charger. You can use your laptop or just a standard USB wall adapter.
You'll also get a user manual and a handy storage bag you can use to keep bacteria and debris away from your toy or just keep it safe when traveling.
---
Dame Pom Tech Specs
---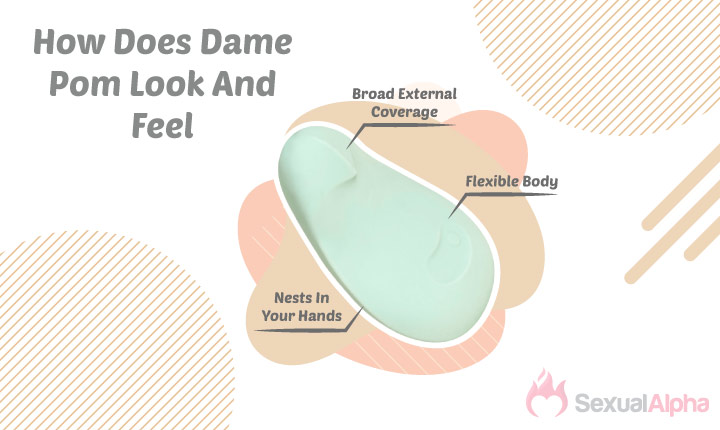 How Does Dame Pom Look & Feel?
Design
The Dame Pom is shaped in a way it can easily cover your vulva – the toy is a bit flat, one side is broad, and the other is slightly tapered. Towards the tapered end on one side, there is a small bump made for targeting the clit. The whole thing looks like the silhouette of a little bird with the bump being its beak.
---
Color Options
I got my Pom in "ice" (very light blue), but you can also get it in "plum" (resembles red wine).
---
Handling Ease
The toy is very light and small. It fits comfortably in your hand's palm, making it very easy to handle. You can even slip such a small thing between you and your partner doing intercourse for some extra stimulation.
---
Softness
The most unique thing about this toy is its extreme softness. The whole body is made out of silicone, which feels great on the skin. You can squeeze it and bend it almost however you like. That makes it very easy to adjust to your curves. You can also change the type of pressure and stimulation you need by bending the Pom the right way.
---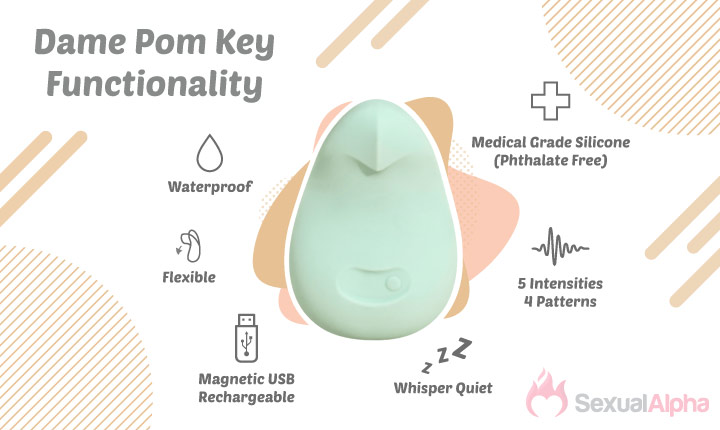 Dame Pom Key Functionality
Patterns and Intensity Levels
The Pom has some nice variety in vibrations. There are 5 different modes, and each mode has 5 levels of intensity – you're bound to find something that works for you.
---
Vibrations
That said, you should keep in mind that the vibrations aren't very intense, even on the highest setting. That's why it's more suitable for sensual play with a slow build-up rather than a quicky.
---
Unique Shape
The soft body of the toy gives you even more control during playtime. Experiment with the unique shape of the toy and change up the pressure. Different angles will provide you with different sensations. You can switch between broad and pinpoint stimulation.
---
Magnetic Charging
The Pom's charger is magnetic USB, and the toy has a special charging port so the cable won't get easily disconnected.
---
Noise Level
The soft body of the Dame Pom really dampens the sound. It's probably one of the quietest vibrators I own, especially on the lower settings.
---
Accessories
Dame makes their own lube, called Alu, based on aloe vera which is still a pretty novel concept. I really enjoyed its slickness and it lasts a bit longer than regular water-based lube. It's also safe to use with silicone toys and latex condoms (but not with polyurethane).
---
Waterproof
This isn't just a cool or modern feature just for the sake of it. It makes the whole toy completely waterproof (there is no charging hole water can get into and cause damage). That makes cleaning easier and also means you can enjoy pom in the shower or even in the bathtub. Also, you don't need to worry you'll water damage your toy if you're a squirter.
---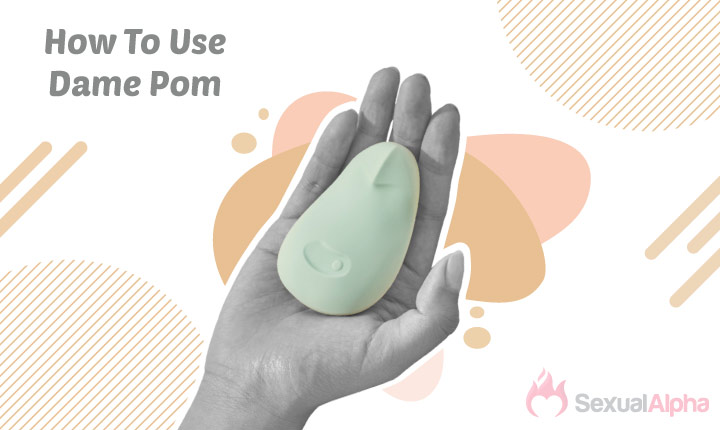 How to Use Dame Pom
Pom is made to be used as an external vibe only, and, frankly, its shape doesn't leave room for improvisations.
Before putting some lube on your private parts, always use the water-based kind because other types will damage your silicone toy.
Something to note
I wouldn't recommend lubing up the toy itself.
The body is too small, and lube will probably get all over it. It might get slippery and hard to handle.
There is one small button on the back of the toy. A long press will turn the toy on, and short presses let you cycle through the different vibration modes. On the other side, there are two buttons that control the intensity. You can use either short presses to jump between levels or a long press for gradual change.
The buttons being located on two different sides of the toy is an odd choice.
It took me a while to figure out the most comfortable way to switch between intensities and patterns without interrupting my playtime. It depends on how you decide to hold it, but in most cases, I use my thumb for the controls on one side and my index and middle fingers for the controls on the other.
Try squeezing the toy in the palm of your hand to get the perfect stimulation angle. You can hold it and stimulate yourself during solo play or intercourse. You can also put it on a pillow or something similar and grind on it.
The ergonomic shape of the Pom also makes it great for stimulating all parts of your body. It could even be used on male genitalia – my partner told me it feels great on his testicles.
---
My Experience With Dame Pom
I didn't use my Pom right away as I do with some other toys – I waited to have more time for myself, so I can enjoy a slow and sensual experience.
After I set the mood and got myself warmed up, I used just a bit of water-based lube on my clit and lips and got my Pom.
I started with soft and broad stimulation, which felt great and got me even more turned on. I think this is a great technique for when you want to build up sensations slowly. I pushed on the soft toy with my fingers to apply pressure to different pleasure spots on my vulva.
As I got more and more into it, I switched to a pinpoint-type stimulation by changing the position of the toy and using the little raised "beak" on my clitoris. The sensation got stronger but wasn't overly intense because of the extra soft toy. I worked my way up to the highest setting while trying different vibration patterns.
Good to know
This isn't a toy that'll make you cum faster than ever before – it's a toy that helps you accumulate sexual energy and pleasure for a very strong orgasm.
The build-up made my finish amazingly intense and deep.
---
How to Clean It
Sex toys like the Pom are super easy to clean. When you have a waterproof toy, you can just wash it under warm running water. Be sure to use soap to disinfect it! Always use a lint-free cloth to wipe it – lint sticks to silicone.
Dry your toy thoroughly because bacteria thrive in moisture, and I'm sure you don't want any on your Pom.
---
Price, Where To Buy
The Pom isn't really a budget toy, but it isn't a luxury purchase either. I think it's a very good quality purchase at $95. Judging by my orgasm, it's worth the money! You don't even have to go to a store – just order it online.
Warranty
Like all Dame's toys, the Pom comes with a 3-year warranty against faulty materials or workmanship.
---
How Does Dame Pom Compare to Other Dame Toys?
The Aer is an air-pressure clit stimulator. Like other clit-suckers, this toy won't desensitize you with direct clitoral contact. It's the same price as the Pom and still gives plenty of clitoral stimulation, just with a different kind of sensation.
---
Arc
For lovers of G-spot stimulation, the Dame Arc is an internal vibe with a powerful motor. It comes in at a bit more expensive than the Dame Pom, but since it can be used internally or externally, it's practically two toys in one.
---
The Dame Fin is a finger vibrator that slips over the forefinger and ring finger for easy manual pleasure. Its vibrations aren't as strong as the Pom, but it does come in a little cheaper and is versatile enough to be used alone or with a partner.
---
Dame Pom Alternatives
Maybe the Pom is on the right track, but it's not exactly what you're looking for? Well, I'm glad to share with you some alternatives that might suit you better.
Dame Pom vs. We-Vibe Touch X
The We-Vibe Touch is a very similar toy to the Dame Pom, with a similar shape and feel. It also comes at roughly the same price, so it really comes down to personal preference.
The major difference between these two toys is that the Touch has a low-battery warning light. The warranty isn't as good – two years instead of the Pom's three years. And it charges with a magnetic cable.
Still, it's a great alternative to check out.
---
Dame Pom vs. Fun Factory Laya II
Laya 2 is a great external simulator by Fun Factory. It's made of quality materials and has a great candy-colored fun design like all of their toys.
Laya's motors are stronger than Pom's, but there is slightly less customization when it comes to vibration modes. There are 4 intensity levels, and once you get to the highest setting, you cycle through 6 patterns, but you can't control the power level of each pattern like with Pom.
The device is also slightly bigger than the Pom, which could be a positive or a negative depending on what you find most comfortable handling.
Laya 2 is also way firmer than Pom, which provides stronger sensations. All in all, if you live the idea behind the Pom but think it might be too weak for you, the Laya 2 might be what you're looking for.
---
Dame Pom vs. Iroha Midori
This cute Japanese-inspired toy is another soft vibrator made for external stimulation. Again, it's roughly the same price as the Dame Pom, so it comes down to what kind of stimulation you enjoy.
The Iroha Midori is much softer than the Pom, so it's great for broad, gentle vibrations. It's not made for pinpoint stimulation, though, so keep that in mind. It's only splashproof, compared to the Pom's waterproof rating.
Check out other great sex toys on our best vibrator guide.
---
FAQs
What is Dame Pom?
This cute little toy is a handheld vibrator made for daily external use. Its soft body offers broad stimulation, but its shape is versatile enough that you can get good pinpoint stimulation out of it too.
---
Can you use a silicone-based lube with the Dame Pom?
Since the Pom is made from silicone, you should only use water-based lube with it. Silicone- and oil-based lubes will eventually degrade the toy's material.
---
How do you activate Pom's travel mode?
For discreet travel, just hold down the power button for 10 seconds. This will lock the buttons. Unfortunately, to unlock it, you have to plug it into the power cable.
---
How can you tell if the Dame Pom is charging?
When your toy is charging, you'll see the little LED on the toy's body blinking. When the light is steady, your Pom is fully charged and ready to go.
---
Final Thoughts
You know the most powerful toys don't always give you the best orgasms. Taking your time with a more sensual approach and letting the pleasure slowly build up can be way more intense and give you an O to make your toes curl.
That's exactly what Dame Pom is good for. You should get it and see for yourself. As for me – the Pom is like my secret sensual buddy and has deserved its place in my "fun" drawer, where it's always in reach.