We reviewed the safest and most reliable condom brands – Durex, Trojan, ONE, and Trustex, to help you choose the best condom to improve your sex life. Suit up!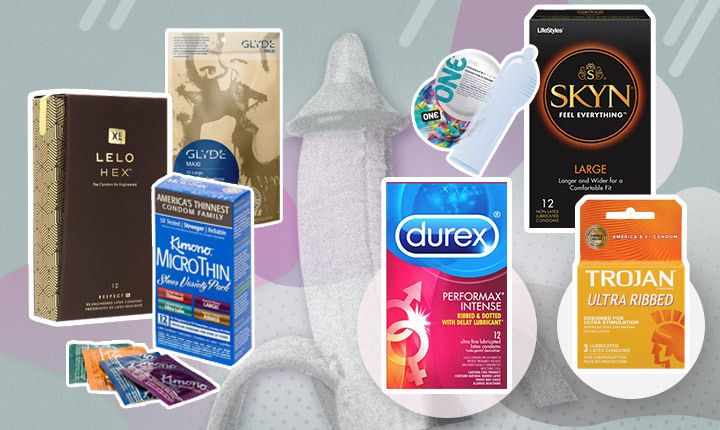 Quick, without looking it up: how many condom brands can you name off the top of your head?
2? 3? If you managed more than that, congratulations, you're well-informed.
Most guys tend to pick up the first pack of condoms they see in the store, ignoring where it came from and who made it.
That's a shame because with a little research and looking around; you can actually improve your sex life significantly.
That's why today, we're looking at the 8 Best Condom Brands in 2023. 
Here's the TOP 3.
Top Condom Brands In 2023
If you need a condom that's sturdy, reliable, and will keep you from blowing your load too fast, Durex are a good place to start.
Durex is the LARGEST producer of condoms in the world, so it makes sense that they'd have an enormous range of products to choose from.
One thing they all have in common is a commitment to safety. Durex condoms are some of the toughest and least likely to break on average, making them an ideal choice for anyone who values that above anything else.
Durex also has a whole bunch of condoms that are perfect for guys who want to slow themselves down.
From thicker condoms that still feel good to lidocaine-infused lube that reduces sensation for guys who want to go for hours, they've got you covered.
---
The other condom brand that most guys are familiar with, Trojan. They have a massive range of condoms in all shapes and sizes.
Most noteworthy is their Magnum range, which is the premier larger condoms for good reason.
But they also have a ton of products designed for HER PLEASURE. They've got ribbed, contoured, dotted, and even rubbers specifically designed to hit the G-spot.
They have some awesome non-latex options too, which is good if you have an allergy.
Trojan cover pretty much all the bases you can think of when it comes to safe sex and quite a few you wouldn't have thought of. That makes them a worthy contender for some of the best condoms you can find.
---
Latex is a good standard condom material, but it's not without its drawbacks. It has a distinctive smell and taste, which can be distracting for those with sensitive noses.
And it can wreak havoc on sensitive skin, causing anything from mild rashes and itching all the way up to anaphylactic shock that requires an EpiPen or a trip to the ER.
Fortunately, the latter is very rare, but rashes are a regular occurrence, particularly for women.
SKYN avoids that problem entirely by being the best non-latex condom brand OVERALL.
They're made of high-quality polyisoprene, which doesn't cause any of the reactions that latex does.
And they feel great – they're soft, stretchy, and comfortable to wear, usually fitting like a SECOND SKIN.
They have larger sizes too (but not smaller ones), so everyone average and above will find something that suits them well.
---
ONE Condoms are fun, funky, and unique-looking. That goes for the wrappers, which are covered in cool artwork that often puts a smile on your face.
But it also applies to the condoms themselves. From glow-in-the-dark to innovative textures, ONE has a range that rivals any other manufacturer on this list.
They come in an impressive range of sizes and shapes, so you're practically guaranteed to find one that works for you without being too tight, loose, short, or long.
---
If you like your condoms narrow, high-tech, and SO THIN they're practically invisible, Kimono is the best place to start your search.
They're always well-made and reliable despite having some of the thinnest latex condoms on the market, which is an impressive feat of engineering.
And their standard size is narrower than most American condoms, so guys with thinner shafts can still get a comfortable fit. They have bigger sizes, too, so larger guys won't feel like they're missing out on the fun!
The sensation you get from these rubber is always brilliant, whatever product you end up using. They don't have the widest range compared to their competitors, but when their standard condoms are so good, they don't really need them.
---
Trustex doesn't have the biggest range of sizes, and most of their condoms just do the job without being fancy or having special features.
For the most part, they're just decent-quality condoms that are very affordable.
So why are they on this list?
Simple. Their flavored condoms are DELICIOUS.
Like, they don't just taste good for latex condoms. They just taste good, period.
So if you want condoms for more fun and safe blowjobs, these are the best place to look.
They have a lot of different flavors, both lubricated and unlubricated, and you can buy them separately or as a variety pack.
---
LELO are relative newcomers to the condom world, but they've managed to come up with some of the best-feeling condoms I've ever seen.
They feature a unique hexagonal cell design that makes them extremely strong, which allows them to be made super-thin.
Hex condoms also feature anti-slip technology, which means once you've rolled one on, it will stay in place guaranteed. That makes them easier to forget about and just get lost in the sensations you'll be feeling.
At the moment, there are only two products in the line – Original and Respect XL, for larger guys. So there's not exactly a lot of variety.
Personally, I'd like to see what else they can come up with – maybe some ultra-thin textured condoms would be cool.
But when they offer some of the best sensation and protection money can buy, you can't blame them for sticking to the two.
Interested in learning more? Read our in-depth review here.
---
You might be surprised to know that many latex condoms aren't actually vegan. While the latex itself comes from trees, many companies use milk proteins to make it softer and mold the material.
Glyde doesn't use this, and they make sure that ALL of their ingredients are ethically sourced and natural.
They're even good for sensitive skin as they don't seem to cause the usual irritation other brands frequently do. However, their lack of latex-free options makes them no good if you're allergic.
Glyde condoms are thin, give a lot of sensation to both partners, and they even have some pretty great flavored condoms that are suitable for actual sex as well as oral.
So they've got all the bases covered, AND they're sustainable. Awesome.
---
Condom Brands Buying Guide
Size
The first thing on any list of criteria for a good condom should be the size.
Is it the right size for your equipment? The measurements should match your erect length and width. Never forget about width – it's much more important for getting a condom that suits you well.
---
Materials
Condoms come in three materials, for the most part:
Latex is the one most people know about and use. It comes from natural rubber, so it's stretchy, can be made extremely thin, and protects from both pregnancy and STIs. The major issue with latex is that it can cause itchiness and rashes if you have sensitive skin. Or even worse, if you have a latex allergy (uncommon, but they do exist), then you can actually have a full allergic reaction.
Polyisoprene is a synthetic rubber that works a lot like latex, but because it doesn't contain any of the allergens or natural irritants, it's much better for sensitive skin. It also feels very soft and pliable.
Polyurethane is a plastic that is safe to use and stretchy. This kind of condom can vary in quality and sensation – the good ones are great, but some feel like plastic bags! The best thing about these condoms is they're safe to use with oil and oil-based lubricants.
---
Features
Typical condom features include:
Thickness: Rubbers can be extra thick, extra thin, or anywhere in between. As a general rule, thinner condoms are better for sensation, while thick condoms are safer and better for rough sex.
Texture: Ribs, dots, frills, there are all kinds of ways to accessorize your sexual experience to increase your partner's pleasure and often your own in the process.
Numbing/Heating: Some condoms come with lidocaine solution in the lube, which has a slight numbing effect to reduce sensation and help you last longer. Several of these also have a heating solution on the outside to increase partner sensation at the same time.
---
Budget
You might think condoms are expensive, but they're cheaper than most other forms of birth control and a LOT cheaper than birth!
Condoms can cost as little as $0.40 apiece if you're buying in bulk, or they can go up to a couple of bucks (sometimes even more). However much you're paying, it's a bargain for safe, enjoyable sex without STIs or pregnancy scares.
Want to explore more? Check out our Best condoms review.
---
F.A.Q.
What is the best condom brand to use?
Condom brands are manifold and varied. Each one has its peculiar strengths and weaknesses. It depends on your size, desired thickness, and what kind of extra features you're interested in.
Condom brands tend to make their rubbers a similar size and fit unless otherwise specified, so it's a good idea to find dimensions that work for you and go from there.
---
What type of condoms is better at preventing pregnancy?
Generally, thicker condoms are safer as they're less likely to break even if you go at it hard. But that's no use if the condom doesn't fit and slips off in the middle of the action.
So the REAL ANSWER is any condom that fits perfectly and that you can put correctly is gonna do a fine job of preventing pregnancy, regardless of brand.
---
What are the most reliable brands of condoms?
Most condom brands are pretty reliable. Larger, better-known brands generally have better testing and quality control, but any real product made by a reputable manufacturer is going to be reliable for your purposes.
Did you know most condom failure is actually due to a bad fit or people using them wrong? That means whatever the brand, the most reliable condom is one that works for you the best. There's no outright winner.
---
Conclusion
Well, there we have it – 8 of the best condom brands you can trust with all of your safe sex needs.
Whichever one you choose, just remember that if it fits, it'll work out great.