There are tons of wonderful, exciting, beginner-friendly starter toys out there. Luckily for you, here we've gathered the best vibrators for beginners! Read on: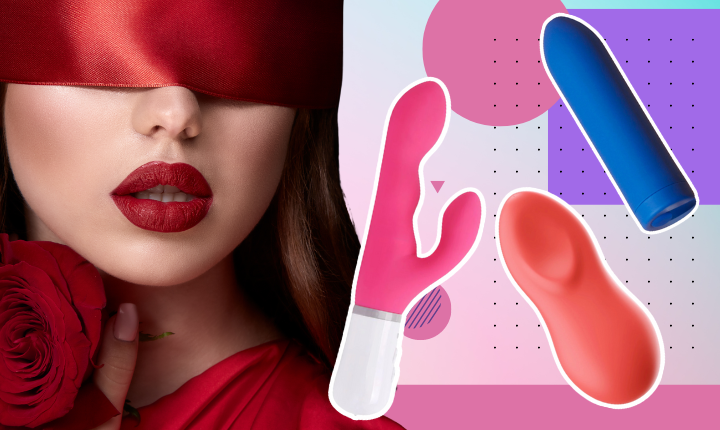 I remember buying my first sex toy from a friendly math-teacher-looking guy at a no-name shop at a train station.
Man, was that toy a piece of crap!
I've learned to do better since then, but I know how anxiety-inducing it was getting that first vibe. And now, as a sex toy veteran, I want to help all of you newbies not to make my rookie mistakes. I want your first sex toy purchase to be easy and fun!
There are tons of wonderful, exciting, exhilarating, beginner-friendly toys out there! And I've gathered my top 8 favorite ones to start your journey.
First things first, the TOP 3.
If you want it all, Lovense Nora will make your toes curl with double stimulation. You get both external and internal pleasure.
Not only does this thing vibrate, but it has a rotating head that targets the G-spot just right. You can control the two motors manually or use the app for virtually endless vibration modes, long-distance control, and a bunch more extras!
If you're not ready to splurge on a toy, consider Dame Zee. This bullet vibe is very versatile – you can use it all over, solo or with a partner, and you can take it with you on the go. It's simple to use and has 3 vibration speeds—everything you need from a first toy.
Most Versatile Vibrator For Beginners
Newbies that aren't ready to play with a penetrative toy should look at the We-Vibe Touch X. It's an external vibe that offers broad stimulation, so your whole vulva gets some love. The vibrations are pretty powerful, and you can fine-tune it to your liking by experimenting with 7 modes and 8 intensity levels.
---
The Best Vibrators For Beginners In 2023
If you're a first-timer and aren't sure if you prefer internal or external stimulation, get yourself a toy that offers both, like the Lovense Nora!
Nora has a surprise for you – the shaft has a rotating head for G-spot stimulation.
The added sensation combined with the vibration of the clitoral stimulation arm kicks things into high gear – it's much MORE intense and just feels different than your traditional toys.
Nora has a VERY flexible clitoral stimulation arm that will adjust to your body's curves.
With an ingenious design like that, it won't take long to find the perfect position to hit your sweet spot.
This toy has two motors (in the shaft and the bunny), which can be controlled separately, so every part of you gets EXACTLY what it needs.
You can control the Nora manually or with the Lovense Remote app.
The app turns your phone into a remote so you can control Nora from any distance. And I do mean ANY distance – it can work from anywhere in the world. This makes it ideal for couples' play and a top choice for long-distance couples.
The app lets you mix, match and even create your own patterns for maximum customization during play. This is a great feature for first-time sex toy users. It allows them to experiment and find out what works best for them.
You can even synchronize your toy's vibrations to your favorite music!
The only downside is that the Nora is only splashproof, so it CAN'T be submerged in water. No sexy bath time with this toy.
But hey, it's still safe to take it in the shower! You can also clean it under running water with no problem.
Read our in-depth review of the Lovense Nora to learn more.
---
When you don't have experience with sex toys, you don't always want to make a huge commitment to an expensive product.
Dame Zee is a wonderful budget-friendly option for all of you beginners!
Zee is a bullet vibrator, so it's very versatile. Because of its small size, you can use it solo or with a partner.
Don't restrict yourself to clitoral stimulation. Zee will work great on most erogenous zones on your AND your partner's body – lips, neck, vulva, testicles, shaft, perineum…
Sadly, you can't use it for penetration on its own.
However, it fits perfectly into dildos with a place for bullet vibes!
The small size also makes the Zee portable – you can easily take it on vacation with you!
The toy is very easy to use, which is great for first-timers.
You won't have to struggle with complex controls – just one button to turn it on, off, and cycle through the functions. It has 3 power levels, which is ideal for getting acquainted with vibrating toys.
---
If you prefer a broader external stimulation, consider the We-Vibe Touch X.
It's powerful, soft to the touch, and offers quite a VARIETY – 7 vibration modes and 8 intensity levels. This makes it highly customizable.
You're bound to find something that gets you off.
Most of the toy is firm, so it won't adapt to your curves as easily, which might be a problem for some users.
However, the shape is ergonomic, and the tip is very bendable so that most ladies won't have a problem targeting their go-spots.
There is a simple 2-button interface, so it's easy to cycle through all the functions.
Plus, it's completely waterproof, so you can easily play in the bath or shower and clean it under running water!
---
Wands are great for beginners because they're easy to use and also don't look like sex toys at all.
The Lovense Domi 2 is a super powerful cordless wand that is beginner-friendly but can also satisfy any power queen.
Because the toy is cordless, it doesn't restrict your play. Plus, you can change positions and angles freely, NO MATTER if you're playing by yourself or with a partner.
It has a wide range of power levels, from a tickle to an earthquake.
With the Lovense Remote app, you can fine-tune the power level, make your own vibration patterns, and sync the vibrations to music or ambient sound – great for first-timers who want to explore everything vibration stimulation can offer them.
The app also lets you control the toy from anywhere in the world, which makes it great for couples, even if they're in a long-distance relationship.
Domi is not just ultra-powerful but also super long-lasting.
You can play for up to 5 hours, which is great if you are super excited about getting your first toy and can't keep your hands off it.
Sadly, the toy can't be used for internal stimulation on its own, BUT if you spare a few bucks more, you can buy a penetration attachment.
Read our in-depth review of the Lovense Domi 2 to learn more.
---
It's not just about vibrations – new toys have utilized innovative technologies that can take your orgasm to the next level.
If you want something beginner-friendly but also more unique than your standard vibrator, why not try a clit sucker like the Womaniser Starlet 3?
This toy stimulates your clitoris indirectly by using air pulses. This mimics the feeling of oral sex, so if you're a fan of getting head, you can bring that pleasure into your solo sessions.
The Starlet has 6 intensity levels, so you can easily tune it to your preference. The body is ergonomic, so it's easy to target your sweet spot.
Not to mention this toy is 100% waterproof so that you can play in the tub or shower!
The downside?The battery life is very short – only 30 minutes. On the bright side, I doubt you will last that long before achieving climax – try it out, and you'll see exactly what I mean.
---
A good choice for a first toy would be something simple that still has a high-end feel to it. INTRODUCING Maude Vibe!
This vibrator has a slick abstract design, which is great for beginners who blush at the idea of penis-like vibrators. It has easy controls and 3 constant vibration speeds – no extra complicated features, just plain pleasure.
Some might not like that this vibe goes "back to basics" and has almost no extras thrown in, but it's great for first-timers who might get intimidated by overly complicated toys.
The Maude has VERY strong vibrations AND a super soft tip, so it can deliver some very intense sensations but also be gentle enough if you're extra sensitive. It's designed for external stimulation, but you can also use it as a penetrative toy.
As a vibrator, it's on the smaller side, which is great if you're new to penetration.
I should also mention that Maude is kind of loud, so keep that in mind if you have nosey roommates.
Read our in-depth review of the Maude Vibe to learn more.
---
Wands are great. Still, the size makes them harder to play with and sometimes intimidating for first-timers. Well, Lovehoney offers a great and affordable twist on the wand toy.
The Mini Wand is light and cordless, so it's easy to maneuver and explore when solo or with a partner. You can use it all over, like stimulating your clitoris or whatever erogenous zone you want.
This toy also offers a whopping 7 patterns, EACH with 10 intensity levels, so you can customize it to your liking.
Keep in mind this wand is not completely waterproof, so don't get in the tub with it!
For all the perks this toy offers, it's a steal at just short of 50 bucks, so you won't break the bank buying your first toy!
---
Getting a sex toy for the first time doesn't have to be a solo adventure – toys are great at enhancing couples' play and getting one with your partner can be a great adventure.
A cock ring like the Bed Ringer is a great place to start your mutual pleasure journey.
This ring has TWO bands that go around the shaft and testicles. That secures the vibrating motor in place and gives guys a slight squeeze that can be very pleasurable.
Remember that it might be too tight for some, especially if they're more well endowed.
The vibrating part has a textured patch for targeting the clitoris, so the vibrations work for you and your partner. The ring is quite powerful, so trust me when I say both of you will feel it do its magic.
This toy has a single button to power on and off and cycle through 12 vibration functions. The ease of use is great for beginners that aren't used to fidgeting with controls during play.
---
The Best Vibrators for Beginners Buying Guide
Types of Sex Toys
There are many types of sex toys, no matter how you decide to categorize them. I'm not going to overwhelm you with every type of sex toy out there, but every beginner should learn some basics before buying their first toy.
Overall, female sex toys can be internal or external or offer both external AND internal stimulation.
External sex toys are mostly designed for clitoral stimulation, although there are toys made for other erogenous zones (like vibrating nipple clamps, for example).
Something to note
Most women need some kind of clitoral stimulation to achieve orgasm, so a toy that offers that is always a good bet for beginners.
Clitoral stimulators can come in the form of vibrating toys – wands, eggs, panties, and so on. There are also "clit suckers" that mimic the sensation of oral sex by using air pulses. Unlike vibrators, they won't leave your clit numb after an extra long play session.
Internal sex toys provide vaginal or anal stimulation – dildos, vibrators, butt-plugs, etc.
If you're a beginner, I recommend getting a smaller sex toy for internal stimulation to avoid pain and discomfort. If you don't have much experience with penetration, something with a tapered tip will make insertion easier (this is true for both vaginal and anal toys).
Some toys combine internal and external stimulation, like rabbit vibrators and others. They are the best choice for anyone who wants to experience both types of pleasure simultaneously.
---
Features
Nowadays, sex toys are pretty advanced and have a lot of different features. Here are some basics you might want to think about:
Do you want to use your toy alone or with a partner? Consider getting a smaller sex toy so it easily slips between your bodies. You can also get something designed for mutual stimulation like a vibrating cock ring or a remote-controlled toy for your partner to take control of your pleasure.
More power levels and vibration functions mean you're more likely to find your perfect play mode. Strong and rumbly vibrations are for power queens, and vibrators with softer vibes are great for sensitive gals.
Sex toys could be battery-powered, rechargeable, or plugged in.
Those plugged in tend to be stronger, but the cord gets in the way when you play, especially when you're with a partner. Cordless models are more popular and also more suitable for beginners.
Rechargeable vibrators are quieter than those that run on batteries. However, they are a bit more expensive.
---
Materials
Always make sure your toys are made of body-safe materials that won't cause you irritation or infection.
For female toys, silicone is the most preferred material, especially if the toy is penetrative. Silicone is hypo-allergenic so that it won't cause any reactions. It's also non-porous, so it can be COMPLETELY disinfected after use. It's heat resistant, so you won't have trouble washing it with hot water.
---
Size
On the whole, smaller and thinner vibrators are more beginner-friendly, especially if you're not experienced with penetration. For reference, the average penis size is 5.1″ to 5.5″ in length and 1.5″ in circumference.
However, don't hesitate to go big if you have experience with a large partner.
If you're getting an external vibe, get a size that will be comfortable to hold and maneuver.
---
Budget
It takes a bit of trial and error to find the type of toy and vibrations that pleasure you the most. Some first-timers prefer budget-friendly toys until they find what they like and can make a bigger commitment. Of course, there are plenty of high-end beginner-friendly options as well.
Remember that suspiciously cheap toys are probably faulty or not body-safe, so only shop from trusted manufacturers and sellers.
---
F.A.Q.
What do you consider a good first vibrator?
Start with something basic – small to average in size and simple to use.
Bullet vibrators are versatile and effective but mostly made for clitoral stimulation. If you want a penetrative toy, get something in a simple shape with a decent range of vibration modes and easy controls.
---
Where can I buy these vibrators for beginners?
ALWAYS get your toys from trusted vendors, so you avoid knock-offs and faulty or outright dangerous products.
I personally love shopping at SheVibe, Lovehoney, and Peepshow Toys.
All of these sites are easy to navigate, have an enormous collection of sex toys to offer, and a lot of helpful reviews you can read before you buy. You never risk getting a faulty product from here!
Of course, you can always visit the official website of the toy manufacturer. Lovense, for example, often has fantastic bargains and bundles!
---
How do I pick the right vibrator?
Get to know yourself before you buy a sex toy. Manual masturbation or partner play will help you find out what kind of stimulation you prefer.
Read the reviews before you buy any toy. Other users often share their experiences and can help you decide if the product you're looking at is right for you.
---
Any tips for first-time users on how to use a vibrator?
Read the manual of your toy to make sure you're aware of any specifics like how water resistant the product is or how to charge it properly.
Wash your toy before you use it for the first time, so you avoid any nasty allergic reactions, irritations, or infections.
Have plenty of lube in hand. Moisture will make penetration easier, protect you from excessive friction, and make you more receptive to pleasure.
Take your time! Explore different angles, positions, power levels, etc., until you find what feels the best.
---
What does a vibrator feel like, and why does it feel so good?
Your genitals, especially your clitoris, respond to stimulation because they have a high density of nerve endings. Vibrations stimulate these nerves, and your brain interprets this as highly pleasurable.
The pleasure you get from vibrations is more intense than manual stimulation.
---
Conclusion
Now you know what to look for in a sex toy.
Buying your first one might seem a bit scary, but you shouldn't worry about getting the perfect one. Just experiment and find out what works best for you!