Want to try shower sex? Just make sure to use the right lube for the job. So we've rounded up 5 of the best lubes for shower sex for you to try. Let's dive in!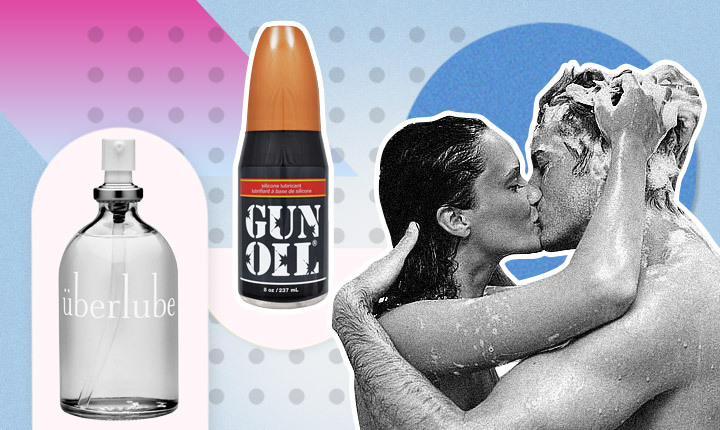 Who doesn't love shower sex?
Well… maybe YOU if you're going in without the proper lubrication.
Water-based lubes wash off too quickly and just don't stay on like they should in that environment. And don't even get me started on trying shower sex without lube.
You need the right lube for the job.
That's why today we're looking at the 5 Best Lubricants for Shower Sex.
And the TOP 3 are…
Überlube is superb in pretty much any situation. Long-lasting, luxuriously silky, waterproof… the list goes on and on. It even makes your hair shinier!
Best Water-Resistant Lube
Gun Oil is just as durable and effective as you'd expect. It also contains vitamin E and aloe vera to make your skin healthier while you get down and dirty. Feels awesome, too.
And if you need something for highly sensitive skin, try Sliquid Silver. The simple, 3-ingredient formula won't cause any irritation while still feeling fantastic during sex.
---
The Best Lubes For Shower Sex in 2023
No lubricant is perfect, as people all need different things. Different levels of friction, different purposes, and so on.
But Uberlube is perfect in almost every situation – including shower sex.
It works just as well in the shower as it does on dry land, giving incredible slipperiness that lasts for hours. Literally, HOURS.
Once it finally does dry, it doesn't leave any residue, and it even makes your skin feel softer and smoother than it was before, thanks to the infusion of vitamin E.
And here's the CRAZY part. It even works brilliantly as a massage oil, for sports to reduce chafing, and as a hair gloss! So it's useful before and after the shower sex too.
It's pricey, but as a sex lube, you hardly need any for all of your slick desires to come true. So 1.7 oz of Uberlube will last much longer than you'd think.
I'd recommend Uberlube to… pretty much everyone who needs a silicone-based lube. Or shinier hair. Or someone who runs marathons?
---
First off, despite the name, Gun Oil doesn't have any oil in it. So it's perfectly safe to use with latex condoms, NO WORRIES.
It feels great running between your fingers or on your Glock, and it even contains a whole bunch of ingredients that enhance the sexual experience and make your skin healthier and softer.
There's vitamin E to repair the skin and aloe vera to soothe and reduce irritation in those sensitive areas.
And, appropriately for the military theme, I guess, Gun Oil lasts for an incredibly long time underwater. So it will serve as well in the shower as it will in the desert.
I wouldn't use Gun Oil if you need it for oral sex since the taste is quite bitter and not exactly what you want to put in your mouth. Great for genitals, not so much for your tongue.
---
This fully waterproof silicone lube is the best if you or your partner has sensitive skin, but still needs a lube for shower shenanigans.
It's made of just 3 ingredients, which are all hypoallergenic and easy on the skin. So you can avoid irritation and worries about infection or reactions and just concentrate on the sensation.
Sliquid Silver feels VERY NATURAL, similar to natural lubrication produced by the body, making it unobtrusive and easy to just slap on and forget about.
Outside of the shower, it works well too, but you might want to put a towel down. That's because it might stain some fabrics as most silicone lubes.
Sliquid Silver has NO SMELL and practically NO TASTE, so it's about as neutral as lube gets. Perfect if you want something that does the job without drawing any attention to itself.
---
Anal sex in the shower has its advantages and disadvantages.
On the plus side, once you're done, you're already in the shower to clean yourselves up, which is great. On the other hand, there aren't as many effective lubes that work for anal play and are waterproof.
If you're feeling particularly adventurous and you want to try anal in the shower, Swiss Navy could be your go-to choice.
It's extremely slick and silky while also being highly water-resistant, so it won't give up on you while you're performing some rather delicate tasks.
What's more, the bottles are pump-action, which is also great for the shower. You can get a squirt of lube with one hand and no fuss, so that's hella convenient.
If you want frictionless, comfortable sex whatever hole you're playing with, then the Swiss Navy is as good for lubes as the Swiss Army are at making penknives.
---
ID Millennium is a great ALL-PURPOSE lube that stays slippery for an amazingly looooonnggg time.
It feels great without ever getting sticky and unpleasant, it has a perfectly neutral odor and taste, and you can get any size, from an ounce to a whole gallon.
I'm not sure why you'd need a literal gallon of lube unless you're making a slippery porno. Or a waterslide? Whatever, it's nice to know you can have that much if you need it.
The satin-smooth texture also makes it a solid massage lube choice that's long-lasting and feels great, even without any added vitamins or other ingredients.
Just make sure you store it properly and maybe put the bottle in a plastic bag as sometimes it does leak out of the pump action cap.
---
The Best Lube for Shower Sex Buying Guide
Ingredients
Shower sex lube generally contains silicone to keep it from washing off under the running water.
Silicone lubes are usually very simple in terms of ingredients, often having just 3 or 4 hard-to-pronounce words like Cyclopentasiloxane. Sounds like a Superman villain.
A few, like Gun Oil, contain extra ingredients that boost sensation or are better for your skin.
---
Size
Bottles of lube come in all sizes, often going from a teeny tiny 1 oz to a literal gallon.
Before you go buying a few pints of slippery stuff, you'll want to test it out with a smaller bottle. Make sure you and your partner both enjoy it without any side effects before investing in the big guns.
---
Features
Being usable in the shower is already a neat feature, but others can set a lube out of the crowd.
For example, some lubes are fortified with minerals or other botanical ingredients. This is to make them feel better, smell better, or be kinder to your and your partners' skins.
---
Budget
With lubricant, you typically get what you pay for. More expensive lubes are likely to have better ingredients, less chemical smell, or additional ingredients to make it work better or feel better for everyone involved.
---
Shower Sex Tips
Store Your Condoms In The Bathroom
Keep a supply of condoms close at hand when shower sex is on the menu.
Nothing kills the mood like having to get out of the shower, dripping wet and looking for the condoms in your drawer, leaving puddles of water everywhere while your partner waits expectantly still in the shower.
So, like with any sexual encounter, BE PREPARED.
Keep your condoms somewhere in the bathroom where they're out of sight and safe. That way, you'll have them right when and where you need them.
---
Get Soapy
This applies to getting clean and also enjoying yourselves. Who doesn't love the feeling of soaped-up skin against yours? It makes for more fun and unique foreplay you can't do anywhere else.
Just make sure to keep the soap away from your genitalia as the chemicals are likely to cause irritation.
---
Keep Both Feet Firmly Planted
It doesn't matter how sexy it is when your partner lifts one leg up or when they hold on to you while you take both people's weight.
Don't do that in the shower for reasons that should be painfully obvious. Emphasis on PAINFULLY.
The bathroom is one of the most dangerous parts of your home before you start trying to have sex in it. So be safe, and make sure everyone has their feet firmly planted on the floor.
Better yet, get a non-slip bath mat.
It might not look very cool, but would you rather have a fractured tailbone? Didn't think so.
---
Use the Right Lubricant
Using any old lube in the shower is not enough. Water-based lubes will wash off quickly, so you'll want a silicone-based lube that sticks around while providing the necessary slickness.
Oil-based lubes will also work for shower sex, as long as you don't rely on condoms – the oils will damage the latex material. Besides, silicone has the best water resistance anyway.
---
F.A.Q.
My first instinct was to answer, "What the HELL? No!"

But then I looked it up, and it turns out a better answer is technically… maybe. But still, what the HELL? No!
Most soaps contain perfumes, harsh chemicals, and all kinds of things that will mess with your internal vaginal environment and sensitive skin.
They're also likely to be very irritating. Case in point – put some hand soap on a cut next time you nick yourself shaving. Feel that? Is that sexy? Didn't think so.
However, some soaps are free of chemicals and made of natural, non-irritating ingredients. They're still likely to mess with someone's internal environment, but you might be ok.
So in a pinch, if you have no other option and you're desperate to have shower sex right this second, then you might get away with it.
But don't make a habit of it.
---
Can you use body wash as lube?
Like soap, the answer is, I guess, but I sure as hell wouldn't. The same applies to the chemicals messing up your mucus membranes and all kinds of bacterial issues that are likely to occur.
Plus, it's probably going to irritate both of you.
And remember – body wash is designed to be easy to wash away.
So you'll have to keep putting more and more on there until you've gone through a whole bottle of her favorite shower gel…
She's mad because it cost like $15 for that bottle, and you say, "what? How can a little bottle of shower gel be $15? That's crazy," then she gets mad at you for wasting it, and guess who's unsatisfied and in trouble.
So just buy proper lube, guys, damn. IT'S NOT THAT EXPENSIVE.
---
Can you use water as lube?
It might seem counterintuitive, but water is actually a pretty bad lubricant.
Don't believe me?
Wash your hands and rub them together while they're still wet. Sure they're more slippery than when they're dry, but there's still way too much friction for comfortable sex.
That's why vaginas don't lubricate themselves with plain water; it just wouldn't work.
So no, you can't use water as a sex lubricant.
---
Conclusion
Now, you can live out the wet, soapy fantasies of your dreams with no chafing or discomfort. Just remember to use the right bottles for the right activity. These lubes are fantastic for shower sex but make a god-awful shampoo. HAVE FUN!