Your days of being hesitant to use lube due to your sensitive skin are over! We give you the safest & best lubes you can use for your sensitive skin. Read on: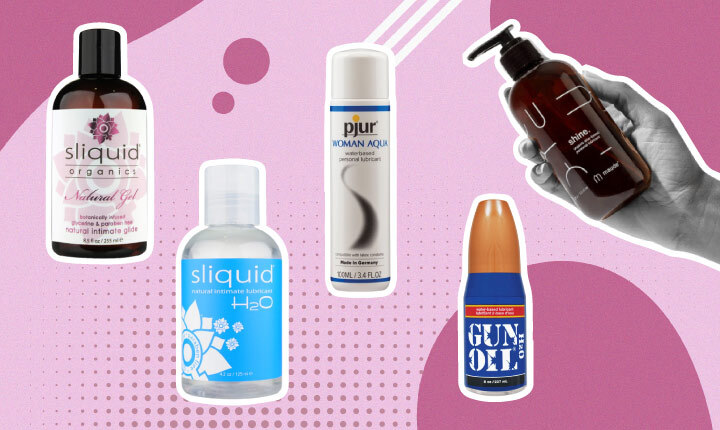 Picking a lube isn't the most straightforward process. If you have sensitive skin, it becomes even more complex.
The good news is that many lubes are now available for sensitive skin.
Finding the right lube for you is imperative to avoid irritation caused by the lube's ingredients and vaginal dryness. You just have to know where to start.
And that's why you're here. We rounded the best lubes for sensitive skin for different use cases.
Sliquid H2O is a bang-for-the-buck water-based lube with a great smooth texture, perfect for sensitive skin. It's non-irritating as it's hypoallergenic, paraben-free, glycerin-free, and vegan-friendly.
Best Lube for Sensitive pH
Good Clean Love BioNude is a water-based lube that promotes a healthy pH balance in your private parts, especially the vag. It has an isotonic water-based formula, so it's safe and natural.
Best Silicone Lube for Sensitive Skin
Überlube is a premium silicone-based lube that feels so luxurious. It glides nicely, feels super silky, and lasts a long time with just a tiny amount. It's also so hydrating that you can use it to keep your skin moisturized.
---
Best Lube for Sensitive Skin in 2023
Sliquid Naturals H2O is a really good pick if you have sensitive skin. It's glycerin-free, paraben-free, hypoallergenic, non-toxic, and vegan-friendly.
H2O is a water-based lube that's actually the base for all of Sliquid's Naturals line.
Basically, it's made to emulate the body's lubrication, so it feels as natural as it gets—which they achieved, IMO.
H2O is quite thick, but it's thinner than other Sliquid lubes. I recommend it better for vag use than anal because it lacks cushioning.
Other than that, you'll really enjoy this lube in use! It's also affordable and easy to clean as it's water-soluble.
Another upside? You can use it for all types of sex toys, condoms, and sexual activities. Yey!
---

Good Clean Love BioNude is formulated to ensure pH balance and protect the vaginal ecosystem, which is very sensitive.
Like Sliquid H2O, it's a water-based lube that gives you a natural-feeling glide.
BioNude focuses its formulation on promoting a healthy vag environment.
For instance, it uses plant cellulose instead of glycerin or other petrochemical glycols to thicken the lube's consistency.
It also has lactic acid to grow healthy bacteria for that balanced pH.
This lube also uses an isotonic water-based formula, which means its solution has a similar water concentration to the human body.
It's as "clean" as it gets. No artificial fragrance, flavor, or scent.
I find it quite watery and runny, but it has a natural feel. Especially considering it only uses natural ingredients.
---
Überlube has a cult following for a reason. It's a silicone-based lubricant that feels SUPER luxurious.
It's such a gem because it's not that easy to find hypoallergenic silicone lubes.
The glide is silky and smooth, and it's SO hydrating thanks to its Vitamin E.
In fact, you don't have to use it ONLY for sexual stuff.
You can even use it to keep your skin hydrated. And you don't have to wash it after use to keep the moisture IN in your vag.
Gynecologists also recommend it because this lube doesn't affect pH levels and does not harm your sensitive parts' healthy bacteria.
It's THAT safe.
It's a premium lubricant and, yes, pricey.
But you only need a small amount when you use it, which you can factor in the price. It's not wasteful at all and lasts super long.
---
If you're looking for a glidey buddy for your sex toys, get the Gun Oil.
It's a water-based lubricant, so it's safe for all sex toys and condoms.
This formula is infused with natural ingredients—aloe vera to protect the skin, hydroxyethylcellulose to increase moisture, and ginseng and guarana extracts to boost sexual stimulation.
Plus, it's so easy to wash off.
It dries a bit faster than other lubes, but then again, the trade-off for using any toys you want is great.
You can just easily reapply anyway if you feel it drying up a bit.
---
Pjur Woman Aqua is made for women.
It's a water-based lubricant that doesn't feel too sticky. Instead, it seems to enhance and supplement your natural juices by moisturizing and lubricating them.
Another thing I like is how it has no buildup. Instead, it leaves your skin feeling soft and silky. And, of course, it doesn't cause irritation.
It's also safe for condoms and sex toys.
Note, however, that it's not the glide-iest or thickest lube.
The lubrication it provides feels better for the vag, but not so much for anal play as it lacks the cushioning you might look for.
---
Water-based lubricants are always better for people with sensitive skin. But they usually don't last as long as other lubes like silicone.
However, Coconu is a plant-based water-based lube that lasts loooong. I'm quite surprised it didn't dry up yet by the time I was done.
It's made with natural ingredients—a blend of coconut oil and sunflower.
In fact, it's totally edible.
Also, it's one of the only USDA-approved organic lubes on the market.
As you might expect, it sits on the pricier end for lubes. But I'm willing to pay more for its natural ingredients and longevity.
---
Good Clean Love Almost Naked is a really good thick water-based lube.
Based on its ingredients, it's infused with a hint of lemon and vanilla. You can barely smell the vanilla—which I like because it smells like a cookie or pastry.
It's edible, but I didn't quite enjoy the slight taste.
It has a more gel-like consistency, which makes it less messy than liquid lubes. But it doesn't contain chemicals like glycerin!
I find it dries a bit faster than my other lubes, even compared with water-based lubes.
But if you're looking for a non-irritating lube to add lubrication, this one's for you.
---
The Sliquid Organics Natural Gel is a water-based lube with a clear and cushy gel that is THICK. It gives you more cushioning, making it really great for anal play.
This consistency lets you coat your anal toys or ze penis without frequent reapplication. It also seems to last longer when you use it for thrusting.
It's an aloe-based gel infused with organic botanical extracts for a really hypoallergenic and non-toxic lube.
You might need to be careful if you're sensitive to citric acid, though. While it's a natural ingredient, a few people are sensitive to it.
---
If you're looking for a non-irritating lube that's oil-based, the best one is Coconu Oil-Based Organic Lubricant.
It's a USDA-certified organic lube, so you can ensure its ingredients are organic.
It only contains all the good, natural, organic ingredients like sunflower seed oil, coconut oil, beeswax, shea butter, sweet almond oil, and more.
This lube stimulates your body's natural lubrication to moisturize your vaginal and anal tissues.
Plus, you can use it as a massage oil from regular to sensual massages. *wink*
Since it's oil-based, it's not safe for latex condoms. But you can use it with polyurethane condoms.
---
Maude Shine Organic is a water-based lubricant made with natural and organic ingredients. It has an aloe-based formula, so it's truly hydrating.
It also has sodium hyaluronate.
Don't know what that is? It's basically the salt form of hyaluronic acid, which you may have heard if you're into skincare, as it's everyone's favorite in their moisturizers.
The formula has a gentle pH balance. It doesn't irritate the skin. Instead, it's soothing.
I also like its handy pump bottle, so you can quickly get the product. Also, its bottle looks pretty for the nightstand, giving you quick and easy access anytime.
---
Another aloe vera-based lube, AH! YES WB is one of the thicker water-based products at the moment. The aloe gives it a nice gel-like consistency, making it easy to apply and stay where you want it.
Its thickness makes it last much longer than other water-based lubes, but it's still not ideal for anal sex since it will dry out eventually. It uses a short list of 96% natural and certified organic ingredients.
It does, however, include phenoxyethanol. This is a germicide used to preserve the lube. However, a tiny percentage of people will have reactions to it. It's also harmful to babies, so if you go for this lube, keep it away from them.
For most adults, however, AH! YES WB is a perfectly safe and hydrating lube, thick enough to last as long as you do!
---
If you love the idea of the AH! YES WB lube, but want something you can use for anal sex, then AH! YES OB is for you. This oil-based formula is made with 99% organic ingredients, most of which are plant oils.
It's made from a slick and hydrating mix of sunflower seed oil, shea butter, sweet almond oil, beeswax, and cocoa seed butter, with added vitamin E to really pamper your skin.
Of course, if you have nut or seed allergies or are vegan, this might not work for you.
Because this lube is oil-based, it doesn't dry out, which makes it perfect for anal sex. However, it also means it's not safe to use with latex condoms, dental dams, polyisoprene condoms. It can be used with polyurethane, nitrile, or lambskin condoms, though!
---
If you're not planning on using any silicone sex toys, this silicone-based lube from Pjur is a fantastic option. It only includes three ingredients – dimethicone, dimethiconol, and cyclopentasiloxane – each a type of silicone used in the cosmetics industry and tested for safety.
Many users who report irritation or bad reactions to other silicone-based lubes don't have the same problem with this formula, probably because it doesn't contain any extra random ingredients.
If you've used silicone lube before, you'll know it's super slick – silky, even. It also doesn't dry out, so you can keep going, and going, and going.
---
The Best Lube for Sensitive Skin Buying Guide
Base
Lubricants aren't made equal.
One of the first things you should keep an eye out for when choosing a lube is its type, whether it's:
Water-based – Safest bet, because these are ideal for people with sensitive skin, thanks to its mostly gentle and natural ingredients. You can also use it with any sex toy or condom. The tradeoff is that it dries faster than other formulas, but you can easily reapply it as needed.
Silicone-based – Smooth, silky, and long-lasting, this one's your best choice if you want a more extended session without reapplying as much. You can also use it for shower sex because it doesn't wash away so easily. The catch? It's also harder to clean. Plus, it shouldn't be used with silicone toys.
Oil-based – Slippery and lasts longer than water-based lubes; this one's also really good. It can even double as a massage oil. They are usually more affordable than silicone-based as well. But—they're usually not compatible with latex condoms and sex toys.
Hybrid – Hybrids are a combination of silicone and water formulas. They take the best features from each type—smoother and creamier, last longer, are easy to clean, and are usually less expensive than silicone lubes.
---
Ingredients
Safe Ingredients
'Safe' will mean different things for different people, since allergies and sensitivities vary from one person to another.
Generally, natural ingredients are less likely to cause reactions but if you know you have an allergy or sensitivity to nut oils, seed oils, or certain plants, make sure you always check the ingredients.
We love lubes that are based on water, aloe, or plant oils, since, for most people, these ingredients are safe to use.
---
Unsafe Ingredients
Glycerin – Could lead to bacterial growth like yeast infections and UTIs.
Petrochemicals – Interferes with how the skin naturally functions, like changing the vagina's natural pH.
Preservatives (citric acid, parabens, benzyl alcohol) – Might have burning or itchy sensations.
Benzocaine – Numbing effect, which isn't safe for anal play.
---
Texture & Consistency
Everyone's preference is different, which is why we've covered a wide range of consistencies and textures here. Some people prefer more liquid formulas to keep things wet and slick, whereas others like thick lubes that stay in place.
Generally, liquid lubes are best for vaginal sex, and thick lubes are best for anal sex.
---
Budget
The great thing about most water-based lubes is that they're usually more affordable, especially compared to silicone lubes.
Of course, some lubes are more expensive based on various factors.
Ultimately, there are many good options to choose from based on what you're looking for AND your budget.
---
Features
Lubes come with different features. Here are some you should consider:
Compatibility

– Check if your lube is compatible with these two:

Latex condoms – Water-based is safe. You can't use oil-based toys with it.
Sex toys – Again, water-based is the safest option. Silicone-based lubes shouldn't be used with silicone toys. Meanwhile, oil-based lubes aren't safe for some sex toys as well, especially latex.

Types of sex – There are also different lubes for different purposes. So, one of the things you should consider first is where or what you're using it for:

Vaginal – Some women experience vaginal dryness while others only need an extra boost of wetness. Regardless, the vag is a very sensitive part. Hence, you should be careful in picking a lube—hypoallergenic and well-balanced pH.
Anal – Lubes for anal are quite different because the anus doesn't self-lubricate. You should find a lube designed for anal, like one that's thick for extra cushioning, superrr smooth, slippery, and long-lasting.
Handjobs – With handjobs, the wetter, the better. And if it's really on the handsome, you can use almost any lube out there—especially one that's long-lasting.
Masturbation – You'll most likely use sex toys during masturbation, so go for lubes safe to use with your sex toys.

Fertility-friendly – While it shouldn't be used to prevent pregnancy, some lubes aren't sperm-friendly. Be careful what you choose whether you're trying to get pregnant or not.
Water play – If you want to hoo-ha in the shower, pool, or hot tub, use a waterproof lube like silicone-based lubes. You can't use water-based lubes for this.
---
FAQs
Why use lube for sensitive skin?
Using lube specifically formulated for you is a no-brainer. But it's not just for those with sensitive skin on other parts of their bodies that can benefit from this lube.
The skin on your genitals is thin, delicate, and full of mucus membranes. This makes it much more sensitive to irritants and changes in pH.
A specially formulated lube reduces the chances of bad reactions to the lube's ingredients, meaning you can focus on your pleasure instead!
---
Are lubes for sensitive skin safe to use?
There's no single answer to this question since that depends entirely on your particular sensitivities and allergies, the ingredients in the lube itself, and the way you use it.
Be aware of your allergies, read the ingredients, and to be totally sure, you should always try a patch test before using a new lube. Dab a tiny bit in the inside of your elbow. Wait 24 hours to make sure you don't have any bad effects before using it on your most sensitive areas.
Also, make sure you're using the right lube for the right purpose. Using a lube designed for vaginal sex if you're engaging in anal penetration might end up in pH imbalance or friction.
---
How do you use lubricant?
Apply lube as much as you want, wherever you want it. It could be on the vagina, penis, anus, or sex toys.
If using it anally, lube shooters or lube launchers can help spread the lube evenly into the anal canal.
---
Is lube safe to swallow?
Some lubes are labeled "edible." In general, it's safe to swallow A BIT of lube. But avoid swallowing lubes in large quantities.
---
Are there any side effects of using lubricants?
Most lubricants are safe to use and shouldn't cause any side effects. Supposedly.
But you should avoid lubes that contain chemicals like glycerin as it may cause irritation or allergic reactions in some people.
Stick to lubes that are hypoallergenic, non-toxic, and made with natural ingredients.
---
Can lube affect your chances of getting pregnant?
Some lubes, yes.
Ingredients like glycerin, parabens, petroleum, and propylene glycol could affect sperm motility for some people. That means the sperm can't move properly throughout the woman's reproductive tract.
That said, it's not a birth control solution. So you shouldn't rely on lube itself to avoid getting pregnant.
---
Which is better—silicone-based or water-based lubricant?
The better lube is what's best FOR YOU.
Each variant has its own strengths and downsides. It only really depends on what you're looking for.
Prioritize longevity and smoothness over one that's compatible with silicone toys? Go for silicone lube.
Want one that's gentle, safe for condoms and sex toys, and doesn't care about longevity? Water-based is better for you.
---
Final Thoughts
Finding the best lube, especially if you have sensitive skin, is like following the plot of a bad thriller movie: SUPER CONFUSING.
That's why we got you this compilation. And for sure, there will be at least one that matches what you're looking for.