Have you been looking for the best lube for gay men? We've reviewed these silicone, water, and oil-based lubes to help you choose what's best for you.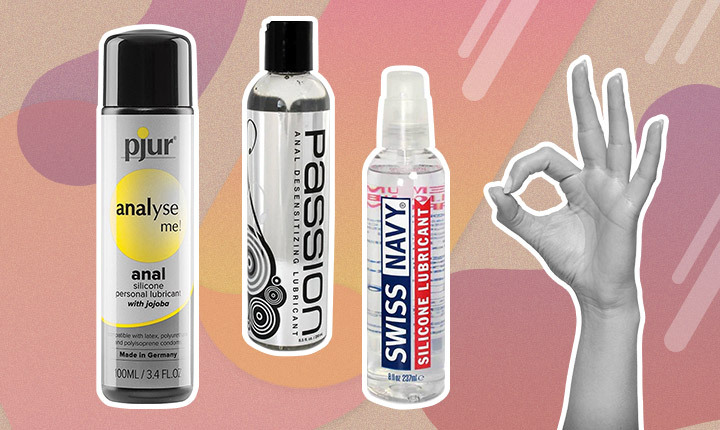 Darling, it's better
Down where it's wetter
Take it from me
Yeah, it's a Disney song about mermaids, but it is also true about sex.
*To the same tune* under the sheets… under the sheets …
Lube is a MUST during intercourse, ESPECIALLY when it comes to anal sex. Because of that, for gay guys, it's almost impossible to be intimate without a proper lubricant.
Proper is the key word here – not all lubes are created equal, and a bad one won't do you any good. Gay men need something that not only reduces the friction during sex but also doesn't dry out, doesn't have any harmful ingredients, and so on.
There are many kinds of lube on the market, and you might get overwhelmed when deciding what to choose. That's why I made this list of the best lubes for gay men, and I'm certain it will help you find the best product for YOU.
Let's start with the TOP 3 products:
Wet Water Based Premium Lubricant
This water-based lube has a gel-like consistency, giving more cushioning than traditional water-based lubes. It might not last as long as some silicone lubes, but since it's water-based, you can use it with all condoms and toys, and it even washes off real easy!
Best Anal Relaxer Lubricant
Great for beginners if you're having a tough time accommodating your partner, this lube has a slight numbing effect to help you ease into things. Also, since it's water-based, it's safe with most condoms and toys and won't leave a stain anywhere.
Best Silicone-Based Lube For Anal Sex
As the name suggests, this potent silicone lube provides nice slick cushioning and lasts as long as you do! It has no added fragrances, which means no chemicals that might irritate. The added vitamin E will leave your skin feeling nice and soft.
---
The Best Lubes For Gay Men in 2023
It's not all about silicone lubes – there are also some pretty great water-based lubes suitable for gay men!
First things first – yes, water-based lubes aren't as slick or as long-lasting as silicone lubes, and Wet Water Based Premium Lubricant is no exception.
BUT!
This lube has a special formula and a gel-like consistency, so it lasts way longer than other water-based lubes on the market and also protects your body from friction-related injuries better.
And the best thing is that you can use it freely with any sex toys or condoms you might want to use. You're never at risk of damaging them with a water-based lube, no matter what they're made out of.
---
Anal sex can be a bit painful if you're not used to it. That is a common problem among young or "freshly out of the closet" gay men.
So what do you do if you want to be intimate with your partner but just can't get the hang of bottoming yet?
Well, along with open communication with your partner and taking it one step at a time, you could also try and get a desensitizing lube, like Passion Lube.
This lubricant has 2% Lidocaine for a slight numbing effect to help you relax your sphincter muscles and enjoy the ride!
It's also water-based, so it's latex and silicone friendly – use whatever condoms or toys you want!
The packaging leaves something to be desired because the smooth bottle can be difficult to handle if your hands are covered in lube. However, that's easily solvable – just wipe your hands before reaching for the lube.
---
It's important you get a lube that doesn't dry out quickly, so you get a longer and uninterrupted play session. Swiss Navy Silicone Lubricant is designed just for that – it lasts longer, so you can have fun longer.
Since it's silicone-based, this lube won't get sticky – one of the most annoying things about (bad) water-based products.
It's also completely body-safe and hypoallergenic, with no added flavoring or fragrances, so there is nothing that could irritate your private parts. On top of that, it is enriched with vitamin E, which is great for your skin.
On the downside, it is quite expensive, but it's well worth the price. Also, you only need a little bit of silicone lubricant, so you'll probably be using it sparingly.
---
Contrary to its name, Gun Oil does not have any oil in it – it's a slick silicone-based lube that, unlike oils, is perfectly safe for all latex condoms.
This lube is hypoallergenic, so it's perfect for even all of you with extra sensitive skin.
Not only is this lube safe – but it also has some ingredients with added health benefits. Aloe vera prevents inflammation, while vitamin E revitalizes your skin.
I think that packaging could be better – I'm not a fan of the bullet shape because it is hard to hold when your hands are slippery. On the plus side, you can choose from many sizes, and larger containers have a pump for easy mess-free dispensing.
---
Überlube is a very high-quality product. You will see that immediately after getting it on your fingers. It's extra smooth and slippery without getting too thick and feels great on your skin.
Silicone-based lubes don't have a pH level but can be pH neutral. This one is, so it won't disturb your balance and cause you problems.
Uberlube is very long-lasting, as all silicone lubes are. You will rarely feel the need to reapply. If you do, the pump on the bottle makes dispensing easy and mess-free.
This isn't just a sex product. It can be used all over your body to prevent friction while doing sports or ease your hair's frizz.
Keep in mind that Uberlube WILL damage your silicone sex toys, so DON'T use them at the same time. It's also a little pricey, but considering the versatility and quality, I think it's worth it.
---
Pjur Analyse Me is SPECIFICALLY designed for anal play and has all the qualities a good lubricant should have. Don't be fooled by the "developed for her" title – it's perfectly good for guys as well.
This lube is silicone-based, so it lasts longer, and you don't have to reapply it constantly. It's also slippery, which will protect you from injuries and pain. A little goes a long way, so even though it's not cheap per se, it will save you money in the long run.
Also, this lube has a RELAXING EFFECT. Anal can be a bit tricky – you have to learn to relax your sphincter muscles to enjoy it. This lubricant includes jojoba oil, which helps you relax your muscles and also soothes and hydrates your skin.
The downside is you can't use this lube with silicone toys because it will damage them (contra-intuitive, I know). However, you could freely use it with other body-safe toys, like ones made from glass or metal.
---
If you want something long-lasting but also natural, you want an oil-based lubricant, and Ah! Yes is the perfect pick.
This lube is made with all-natural oils and is hypoallergenic, so it's completely safe for your body. It actually NOURISHES your skin, so you'll be taking care of your body in more than one way during sexy time.
Oil-based lubes last very long and leave no residue – it all gets absorbed by your skin, so you don't even have to wash it off.
And if that wasn't enough, it also doubles as a massage oil, so reach for it at the start of your play session and kick things off with a sensual massage.
The only downside is that oil-based lubes are not condom friendly and will break them down. Latex condoms, that is – you can always go for a non-latex condom option.
---
If you're worried about pain during anal sex, or have trouble fully relaxing your muscles, but don't want to lose sensation entirely, Pjur has managed to find the perfect balance with their Back Door Silicone Anal Lube.
I love that this formula uses jojoba oil for its natural effects. It's a slight anesthetic, dulling some of the pain that might come from anal, and it's also a gentle muscle relaxant, which helps literally everything. What's great though, is that it's not so strong that it cuts you off from the experience entirely. You still feel very in touch with your body which is such an important thing when using numbing products.
It's a hard balance to strike, but Pjur has nailed it, so someone else can nail you. Plus, the silicone formula is very slippery and slick, and lasts for ages. They even tout this lube as being compatible with latex, polyurethane, and polyisoprene condoms. Don't ask me how, just color me impressed.
---
If you want a water-based lube, Swiss Navy is easily one of the best on the market. It's got a great, almost gel-like consistency so it stays where you put it and, for a water-based lube, it lasts surprisingly long.
This lube isn't made specifically for anal sex but is definitely thick enough to be used for that. And if you enjoy using lube for masturbation, toys, or you also have sex with vagina-owners, Swiss Navy is versatile enough to be used there too.
The best part? This is one of the best value lubes out there. I can't stress that enough. If you're on a budget, or you're trying out a few different brands, this is an easy purchase. And if you discover you really love it, you can buy a whole gallon if you want!
---
This lube powder has amassed a cult following, especially amongst anal sex and fisting enthusiasts.
It was originally made for the veterinary industry, but people quickly figured out it's an amazing way to take control of your own lube. The most common approach is to mix a small amount of powder with boiling water, and adjust the ratios according to how thick or thin you want your lube to be.
If you prefer oil-based lube, you could add a liquid oil for a super slick experience.
The fact that one small bottle makes up to 8 gallons of lube means you'll probably only have to buy a bottle every five years or so (depending on how busy you get, of course) making it the most cost-effective way to buy lube.
Preparation does take a little while, so I recommend making up a batch at a time. It does go off eventually though, so don't make more than you'd use in a week or two.
---
Another popular name in ass-play and fisting, Slam Dunk Original Anal Fisting Creame really does what it says on the pack.
This lube is thick, creamy, and fluffy all at the same time. It's made from a base of hydrogenated and mineral oils, so it's slick and incredibly long-lasting. Unfortunately, this also means it's not compatible with latex or polyisoprene condoms.
If you do plan to use this for fisting, it's still safe for latex gloves and rubber gloves.
Because it's made for anal play, Slam Dunk includes a little clove oil to help you relax a little and to slightly numb wherever you're slathering this lube. Don't worry, it's not so numbing as to be dangerous, and you'll still feel plenty.
There's a reason this lube is beloved by queer men – it does exactly what you want it to do and never dries out. And for an oil-based lube, it's surprisingly easy to clean. Just make sure you use polyurethane condoms, not latex.
---
Who doesn't love a good cum shot? The only problem is, you usually only have a few seconds to enjoy it as it's happening. Well, luckily someone figured out how to enjoy the look and feel of cum literally whenever you want.
And hey, it just so happens to double as a lube. Or do I have that the wrong way around?
In any case, Spunk Hybrid Lube is not only visually appealing, it's amazing for anal. Because it's a water-silicone hybrid it's light but, at the same time, long-lasting. It has a great slippery texture as you'd expect from a silicone lube, and a little goes a long way.
Because it contains only a little silicone, it's safe to use with your toys, even silicone ones.
Of course, not everyone is into this particular kink, but if you already know you love the cum-factor, or you're curious to try, it's definitely worth getting.
---
If you and your partner are fluid-bonded (you don't use condoms) and you want a natural alternative to some of the other lubes on the market, this could be just the thing you're looking for.
This lube is made from a mixture of all-natural certified organic plant oils. It comes in two forms – a squeeze tube, and individual single-use applicators. The applicators, strangely, have a different formula to the tube.
The applicators are designed for introducing the lube inside your body, so they're perfect for anal sex. Unfortunately though, they're very wasteful.
The other downside is that both the tubes and the applicators tend to get clogged. It depends a lot on your ambient temperature, but if your room is below the melting temperature of the oils, you might spend a very frustrating fifteen minutes trying to get the lube where you want it.
When it works though, it's amazing!
---
This lube is probably one of the thickest formulas I've seen out there, especially for a silicone lube. Depending on your preference, that could be a good thing or a bad thing. Personally, I prefer a thick lube for anal sex because it stay where I want it to stay, but everybody's different.
The silicone base means that even though it's thick, it's still incredibly silky and slippery. Plus, the addition of clove oil makes this lube slightly numbing. If you prefer to stay away from chemical numbing agents, you'll appreciate the natural approach here.
The other side of that though, is that some people mind find the clove oil irritating or even painful. If you have sensitive skin, you might prefer to look at other options.
---
Another product from ID for those who want long-lasting silicone lube but without a numbing agent. There's so much to love about this lube, but it really all boils down to the fact that it just feels good.
If you like more liquidy lubes, this is a great choice. It spreads easily and lasts for ages, making it great for anal sex.
Unfortunately, a great product is let down by its terrible packaging. There's a known (but apparently not-to-be-fixed-anytime-soon) fault with the bottle's lid that means, unless it's kept constantly upright, it will leak everywhere.
If you do buy this lube, buy it in a store, not online (it will leak in the packaging), keep it upright on the way home, and then immediately transfer it to another bottle.
---
Safety is important for any sex act, but especially when it comes to anal play. Not to put a dampener on your good time, but bacteria can be a risk if you're not using a barrier. Bio-static lube like this one inhibits bacterial growth, so everyone stays safe!
Apart from that, it's also damn hot to look at. This hybrid lube is another spunk-mimicking bedroom helper that's awesome for fantasy and kink play. Plus, it lasts for ages and feels great.
Unfortunately it only comes in 1.7 oz and 8.8 oz bottles, so you'll have to restock pretty often.
---
If you love the original Boy Butter, but want a little something to help everything run smoothly, allow us to introduce Boy Butter Extreme.
As long as you feel comfortable using benzocaine as a numbing agent, this could be your new favorite lube. It has only 5% benzocaine, so the numbing effects aren't too intense while still getting the job done.
The rest of the formula is just coconut oil and silicone, making it thick and slippery at the same time. Plus, I didn't know I wanted a lube that came in a mayonnaise bottle until now.
Just make sure you're not using this with latex or polyisoprene condoms as the oil and silicone will degrade them.
---
The Best Lube For Gay Men Buying Guide
How to choose a lube? It's not as difficult as you might think. Consider these points:
Base
There are 3 main kinds of lubes: silicone-based, water-based, and oil-based. There are also hybrid bases.
Silicone-based lube is the smoothest type you can find. It lasts longer than water-based lube, which is great for long play sessions – you can go at it without needing to stop and reapply too often. Silicone-based lube also has a thicker consistency, which protects your insides from getting hurt.
Because of these benefits, silicone lube is considered the best for anal sex.
Water-based lube is the most versatile option – it works great, is available everywhere, and won't damage any toys or condoms you use. It dries out rather quickly, but you can always use more. Most water-based products may be too thin for anal sex, so look for a water-based lube with a thicker consistency.
Oil-based lube lasts long and is very slick. You don't have to wash it off because it gets absorbed by the skin. However, you have to keep in mind that it damages condoms, so you must avoid them when using them.
---
Ingredients
It's very important to get a lube with ingredients that are safe for your body, so you avoid irritation or infection.
Some SAFE ingredients are water, hydroxyethylcellulose, cellulose, propylene glycol, carrageenan, agar-agar, lactic acid, citric acid, vitamin E oil, or naturally-derived oils like plant oils.
Aloe vera gel or juice is not only safe but has some benefits – it hydrates and has some anti-inflammatory properties.
Another thing that you should consider when buying a body-safe lubricant is osmolality. Osmolality measures the concentration of ingredients in a lubricant that are not water. The highest osmolality that's regarded as safe is one that's less than 1200 mOsm/kg. However, it would be even better if you use something a tad bit below 380 mOsm/kg.
But why are we talking about this? Aren't all sold lubes body safe by definition?
Actually, a lot of lubes out there have unsafe ingredients. Some unsafe ingredients are even quite popular with cheaper lubes, so you must be careful what you buy. Here are some of the ingredients you should avoid:
Glycerin /glycerine/glycerol
Parabens/methyl parabens
Capsaicin
Benzocaine
Petroleum
Mineral oil
Added fragrances, dyes, or chemical flavorings
All of these can be toxic and cause you a whole lot of problems.
Don't forget to avoid any ingredients you specifically are allergic to, even if they are normally "safe."
---
Size
Smaller containers are easier to carry around (if you're going on a date and want to be prepared), and you're more likely to finish your lube by its use-by date.
Larger containers are cheaper, and a lot of them have pumps that make lube dispensing easier and mess-free.
Consider what your specific needs are.
---
Features
The features of each lube mostly depend on its base. You should consider how thick your lube is, how slippery, and long it will last.
Lube with a thicker consistency will protect your inner tissue from damage better but might also leave a lot of residues behind. Water-based lubes are naturally thinner than silicone or oil ones, but SOME have ingredients that make them thicker. They are the best option for using anal toys.
A more slippery lube will also make penetration easier and smoother. Silicone lubes are the slipperiest.
If your lube lasts longer, you won't have to interrupt your playtime to reapply. As a general rule, thicker lubes don't dry out as quickly.
Silicone- and oil-based lubes last longer than water-based ones. Oil absorbs into the skin after a while, while silicone doesn't and has to be washed out with water and soap.
---
Budget
Consider the size-to-price ratio when buying your lube.
Some more expensive lubes have fancier ingredients that make the lube slicker, anti-inflammatory, more long-lasting, and so on. If you can afford a more expensive lube – go for it.
However, plenty of quality lubes are also budget-friendly, so don't worry – there is something for everyone.
---
FAQ
Why is lube so important?
Lube is a MUST for anal sex, no matter who practices it. The anal cavity does have some natural lubrication, but it's far too insufficient for penetration. Plus, if you tend to clean up right before sex, you will most probably wash out all the natural lubrication anyway.
Dry anal sex is a HUGE NO-NO. It can lead to irritation, inflammation, and injuries caused by friction, leading to all kinds of problems and making you prone to STIs.
Not to mention dry anal sex just FEELS bad. Hard friction will be painful rather than pleasurable.
Lubricants ease friction, make penetration smoother, and protect your insides from getting hurt. Some even have added benefits, like ingredients that prevent inflammation, help you relax, soothe your skin, and so on.
---
Which type of lube is recommended for gay men?
The best lubricant for gay men should be long-lasting (so you don't need to reapply constantly), be totally safe for your body and protect you from friction-related injuries.
Silicone is the best way to go as long as you're not using silicone toys – it protects your tissue, it's slippery, and doesn't dry out.
Oil-based lubes are also great as long as you're not using condoms. They last the longest and can have additional health benefits for your skin – moisturizing, revitalizing, and improving skin elasticity.
Water-based lubes aren't on the top of my list just because they dry out quickly, some cheaper ones can leave a sticky residue, and many are too thin for anal play.
HOWEVER, a lot of them are hypoallergenic and completely safe to use with both toys and condoms. They're also safe for oral sex. If you choose a water-based lube, go for one with a thicker consistency.
---
Where can I buy lube for gay men?
Most sex shops and even pharmacies carry products that are completely adequate for anal sex. I personally would recommend you get your stuff at SheVibe or The Enhanced Male.
They offer a wide range of quality products, and you can be certain you'll get just what you ordered. And while you're at it, you might also take a look at all the fun sex toys they offer.
---
What are the best lube alternatives for gay men?
I'm certain you've had this happen to you – you're all hot and ready, but at the very last minute, it turns out you're out of lube. Doing anal with no lube isn't an option, but there are some things lying around your house you can use.
If you aren't using condoms, oils are a great substitute for lube. Olive oil, coconut oil, or just plain old cooking oil. It's completely safe and even good for your skin.
Using aloe vera gel instead of lube can be a good idea. The gel has anti-inflammatory properties and hydrates and soothes your skin.
Cornstarch mixed with water is also another body-safe option. Just look up "how to make lube with cornstarch."
---
Conclusion
Lubricants are vital for anal sex. This is true for all orientations and genders, but even more so for queer men since, generally speaking, it makes up a bigger part of sex than it would for other couples.
I hope this article helps you guys find the right lube for you. Try out different types and see what works best – the most fun way to decide what you want is hands-on experience!